The ABCs of a Warehouse Management System
Originally published on June 1, 2022 by Logiwa Marketing, Updated on June 2, 2023
In the ever-expanding ecommerce environment, it is no longer possible to run a successful warehouse with manual tools. Basic spreadsheets and manual data entry and management will keep you at the back of the back, affecting your ability to scale your operations.
A warehouse management system allows high-volume operators to manage all aspects of your business, from fulfillment to inventory management to your labor force. Through automation, the right system will allow you to scale your operations to improve efficiency, increase sales, reduce labor costs, and ultimately serve your clients and customers better. 
In this guide, we'll explore:
What Is a Warehouse Management System?
Components of a WMS System
What Is an EDI in a Warehouse Management System?
Warehouse Management Receiving and Returns
What Additional Features do I Need in a WMS?
How to get started with Logiwa's WMS
What Is a Warehouse Management System?
Warehouse management systems can help you streamline and optimize your operations by consolidating multiple management processes into one solution. Warehouse management software keeps inventory moving through a warehouse most efficiently and cost-effectively as possible.
Cloud-based systems with mobile access provide practical inventory management to optimize actions taken within a given workflow. If it impacts your warehouse or fulfillment center operation, a warehouse management software will have a record of it. That includes inbound and outbound processes.
Components of a WMS System
A great WMS will have three main components: location management, item management, and partner integrations. Let's explore them in greater detail.   
WMS – Location Management 
Together with material flow control, location management is the heart of warehouse management. It includes the storage, retrieval, and transfer of items to or from the storage location in your warehouse.
Order picking represents up to 55% of a warehouse's operating costs, so improving your organizational process will significantly impact your overall warehouse efficiency and costs. Making products easy to locate can reduce the amount of time spent looking for an item and the distance pickers walk, thus improving shipping times and ensuring your clients and customers stay happy.
Defining locations in your WMS will allow you to generate algorithms to inform directed putaway, picking and packing, job creation, and billing. It can include
 

Bin locations

 

Location groups

 

Location zones

 

Location capacities

 

Code management

 

Dimensions

 

Mobile locations

 

Picking carts, and

 

Business stations
WMS – Item Management 
Employees wandering around your warehouse trying to figure out where to store products is inefficient. The same goes for storing popular items in difficult-to-reach locations. Your WMS software will let you easily configure directed putaway algorithms to optimize inventory based on velocity, volume, fragility, temperature requirements, cross-dock, zone, or any other criteria critical to your warehouse efficiency.
Track items through every stage of your workflows, cycle counting, wave planning, and order allocation for accurate and up-to-date records of everything you have on the shelves. 
Establishing correct item attributes creates multiple levels of inventory control and can be used on putaway algorithms and job creations. You can create many user-defined attributes such as size, color, and style, or you can choose from pre-set features, including 
 

Country of origin

 

Item image

 

Reorder and replenishment quantities

 

Sales and purchase prices

 

Tariff codes and customs descriptions
Additionally, your item management can include kitting and bundling information, consignment inventory, substitute items, multiple barcodes, and multiple vendors. 
WMS – Integrations 
There is no time to lose in a busy warehouse environment, and you can't afford to lose time because your systems don't talk to each other. Your WMS needs to integrate seamlessly with marketplaces, web stores, and shipping and accounting platforms to keep your processes running smoothly. With the right integrations, you can
 

Create multiple store connections for your clients

 

Enjoy real-time synchronization of inventory with your connections

 

Download orders and items from online storefronts

 

Send inventory levels and shipment details for each store

 

Allocate stock to specific stores
You can connect with popular carriers for international shipments, create and receive commercial invoices, ship dangerous goods and alcohol, or access markup rates. You can also shop around among shipping providers to compare your negotiated rate and get the best deals for your clients and customers. 
Types of Integrations
Your WMS should allow for integrations across all your operations, including ecommerce, shipping, accounting, robotics, electronic data interchanges, and APIs. Popular integration partners include
 

Amazon

 

EasyPost

 

CommerceHub

 

DHL

 

eBay

 

FedEx

 

QuickBooks

 

UPS

 

and

many more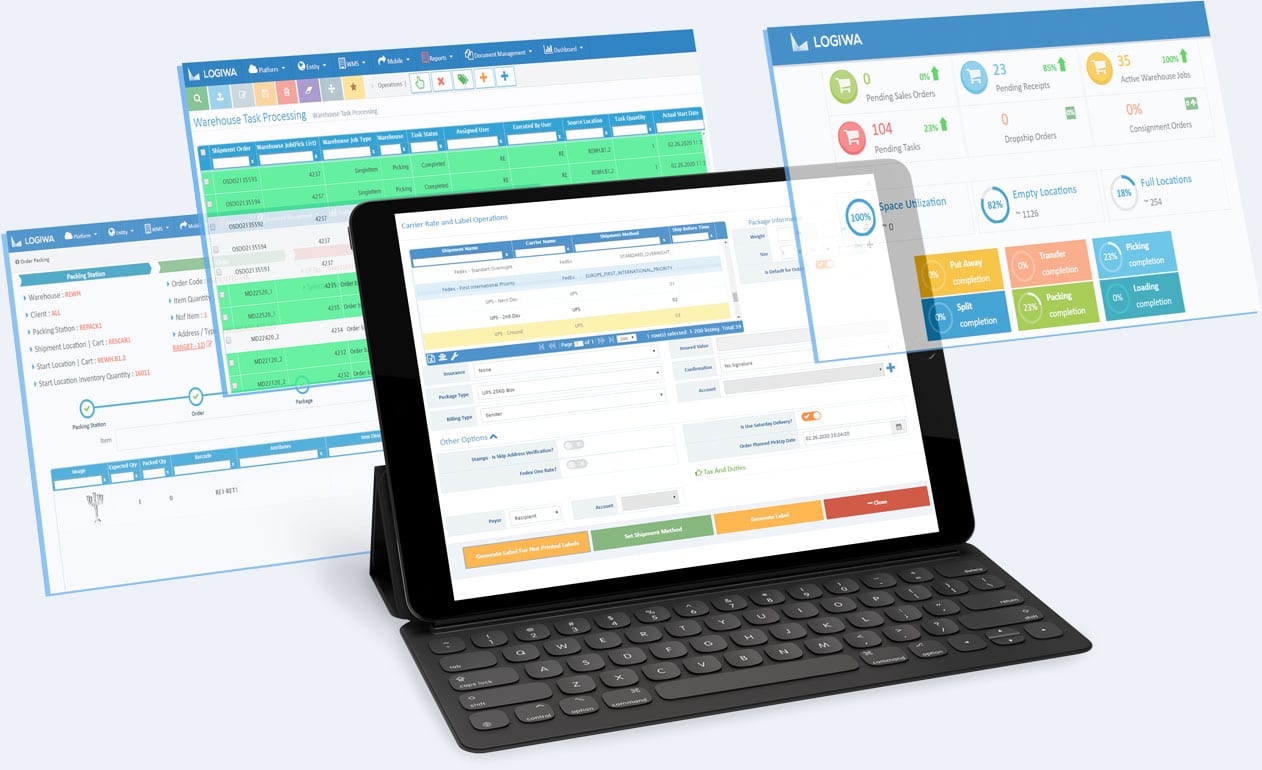 Transform your warehouse to a DTC fulfillment center with cloud WMS
What Is an EDI in a Warehouse Management System? 
On average, businesses process seven documents during each purchasing cycle. If you are still using manual processes to share information, that's seven chances for error. Electronic Data Interchanges (EDI) allow you to share information and documents electronically with suppliers, shippers, the accounting team, and other key members of your operations.
Your WMS should be able to connect directly with commerce partners such as SPS Commerce, TrueCommerce, B2B Gateway, Amazon Vendor Central, Wayfair, and Commerce Hub while standardizing your relationship with buyers and sellers.  
Some EDI transactions that are useful for warehouse operators include
 

Purchase order transaction set

 

Instruction to ship orders

 

Routing instructions

 

Inbound freight

 

Purchase order acknowledgment

 

Invoices and receipts
By reducing manual document entry, you can eliminate redundant steps and move tasks like sending an invoice through the system in minutes or hours, not days. 
And with the right WMS, you can create new EDI formats that seamlessly integrate with your chosen commerce partners, creating a smooth electronic document exchange system and reducing the number of pain points in the supply chain. 
Warehouse Management Receiving and Returns 
Managing products that enter your warehouse, whether you receive new inventory or are processing returns, is one of the critical processes in managing your supply chain. Warehouse management system software can streamline these processes for improved accuracy and efficiency. 
Receiving
Mobile receiving functionality allows your team to receive inventory in three ways:
 

Receive with scanning on the mobile receiving tool

 

Receive the whole order without scanning

 

Receive the order using the inventory adjustment screen
Once an order is received, you can assign functions to the next steps of the process, including suggested putaway, control of excess quantities, pallet receiving, and damaged item receiving. Complete the process with hand-held devices such as scanning guns, tablets, or mobile phones with a mobile app.
Receiving Reports
Keeping track of your receiving activities is vital to successful warehouse operations. You need reporting tools based on industry best practices and the most common key performance indicators (KPIs), and the ability to customize your reports to suit your needs. Common receiving reports include
 

Comparison of receiving with PO

 

Receiving serial report

 

LP/Pallet transfers
Returns
The return process can often be frustrating and drawn out for both customers and warehouse staff. This process can be simplified with a WMS, letting you scan or enter the order and item codes and then return the inventory to the selected location. 
Outbound Operations 
If you can't get your orders out the door, what's the purpose of your business? Your WMS can support all of your outbound operations, including order management, picking and packing operations, and shipment reports. 
Order Management
As soon as an order is made, whether through an online store or EDI connections, manual order creation, or clients uploading orders to their system, your employees will be alerted, and the order processing can begin. Group orders with jobs for optimized processing and quickly execute functions from printing shipping labels, packing lists and slips, and verifying a customer's address. 
To further increase efficiency, you can group orders with jobs and assign them to pickers based on identical items, SKUs, fragile or oversized items, or store-, customer- or carrier-based picking. 
Picking and Packing
Streaminling and automating your picking and packing processes increase your warehouse efficiency and reduce costs. Your WMS should be able to automate these processes based on your needs. 
Picking types include order-based picking, bulk, batch or cluster picking, put to wall, and full pallet picking. 
Standardizing your packing process will increase the accuracy of your packing process, reducing errors and minimizing returns. Ways you can improve your packing process with a WMS include
 

Scanning each product to ensure you're shipping the right product

 

Shopping for rates to decrease your label cost

 

Using shipping box suggestions to save on shipping costs

 

Customizing packing slips

 

Designing your packing process to match your operational needs

 

Sharing gift notes and packing instructions with packers

 

Integrating with scales to send the exact weight to your carriers
Shipment reports allow you to log and track tracking numbers, postage, lot or expiry dates, and product serial numbers and can be arranged by shipment transaction, warehouse progress, order sales, store-based sales, consolidated shipments, or shipped serial numbers. 
What Additional Features do I Need in a WMS?
There are several additional features to consider when choosing the best WMS for your warehouse operations:
Billing

: Client-based contracts can be generated automatically within pre-defined periods, such as monthly, weekly, or biweekly. You can also create line items based on various inbound and outbound processes, storage, and VAS operations, such as total orders received, pallets shipped, location storage, or per kit item produced. 

Count operations: Keep your inventory data up-to-date with easy options to count your inventory through instant count or cycle count operations. You can also reduce errors caused by manual counting with simple barcode scanning. 
Order routing: If you manage multiple warehouses, you need to quickly and accurately decide which warehouse should fulfill an order. Your WMS should allow you to configure an order routing algorithm to integrate with incoming orders from stores, channels, and marketplaces. Set up routing options based on the delivery address, inventory availability, items, channels, or carrier and shipment method. 
Automation rules

: Automate your order process to minimize resource drain by applying rules automatically to orders as they are received. 

Replenishment: Replenishment is the movement of inventory from upstream (bulk storage locations) to downstream (picking locations). Replenishment keeps inventory flowing through the supply chain by maintaining efficient order and line item fill rates. Your WMS will allow you to create replenishment tasks to refill pick areas automatically.
How to get started with Logiwa's WMS
Ecommerce is here to stay. With the right WMS, you can transform your warehouse into a new-age fulfillment center, whether you serve B2B, B2C, or DTC clients or are a 3PL provider. Capture every order from routing, picking and packing, shipping management, putaway, kitting, inventory and receiving, and reporting, and give your clients visibility into warehouse operations to ensure peace of mind. 
Logiwa's warehouse management system can help you maximize your warehouse operations in all areas outlined above. And you won't have to do it alone. Our implementation team can provide in-depth logistics and warehousing expertise to design and customize your system based on industry best practices. Our onboarding team can provide guided hands-on practice sessions, testing and simulated exercises, on-site training, and ongoing support.
If you're interested in learning more, contact a Logiwa team member today or request a demo of our systems. 
Automate jobs within your fulfillment center – either through robotics, smart batching