Logiwa Integrations
Logiwa's cloud fulfillment platform comes highly connected to leading ecommerce, shipping, accounting and robotics partners to ensure our customers are the most well-connected brands, retailers and 3PLs worldwide. Our solution provides end-to-end network visibility and flexible integrations to simplify ecommerce operations while bolstering the efficiency of B2B, DTC, and hybrid fulfillment.
From receiving and distributing online orders to automating carrier selection and billing processes – Logiwa's integrations keep your operational data unified and flowing harmoniously. If there is an integration you need that we've not yet established, our flexible API, EDI and webhooks tools make it easy to establish whatever custom connections are needed to help you succeed.
Pre-integrated with the leading ecommerce, marketplace, shipping, robotics and accounting platforms. Connect Logiwa with any of these systems in just a few clicks.
Logiwa Ecommerce & Store Integrations
Logiwa Integrates with Popular Ecommerce Channels for Limitless Scalability
Fulfillment excellence is the new competitive advantage, and it starts with flawless order management.
By streamlining online order directly to your fulfillment centers, you empower your warehouse operations to execute fast, accurate and cost-effective direct-to-consumer (DTC) fulfillment. Grow your customer base and fulfillment reach with Logiwa ecommerce integration technology.
Logiwa Shipping Integrations
Logiwa WMS Ensures Orders are Packed, Shipped, & Delivered as Promised
Extend your fulfillment reach and ensure shipping network flexibility.
Logiwa's multi carrier shipping integration functions connect your warehouses with today's top shipping companies to ensure accurate, on time deliveries without exception. Maximize cost-savings and customer satisfaction with shipping features like carrier rate shopping, automated box selection, smart label printing, order tracking and more.
Logiwa Billing & Accounting Integrations
Integrate Your Preferred Billing and Accounting Solutions for Seamless Revenue Management
Grow your online sales and manage your bottom line with confidence.
Sync real-time inventory levels and revenue information within one intuitive interface. From overseeing billing for different clients to managing multiple revenue streams, Logiwa's warehouse and billing management software makes it easy to stay on top of accounting activities and business administration.

Logiwa's Robotics Integrations

6 River Robotics Integrations
Take Automation to the Next Level with Logiwa's Robotics Integrations
Improve the safety and efficiency of warehouse operations using the power of modern robotics.
Connect with Logiwa's robotics partners to leverage transformative machines like Autonomous Mobile Robotics (AMRs), picking bots, drones, and AI-powered facility solutions. Logiwa offers free integrations with any robotics provider to help your warehouse take the next step in fulfillment evolution.
Integrate Your Warehouse with the Most Flexible WMS for B2C and DTC Businesses.
Logiwa WMS API and WMS EDI make it easy to connect.
 Logiwa's Open Rest API enables you to easily connect to stores/marketplaces, custom websites, other warehouses, vendors, ERPs, BI tools, and more. Push and pull your product, orders, and reports whenever you need them. Logiwa WMS supports webhooks and EDI transaction sets and file types needed for logistics and warehousing businesses. 
Check out our open API developers' document.
Logiwa supports a number of EDI transaction sets or file types that are useful for logistics and warehousing businesses, including:
EDI 850: A purchase order transaction set used to place a purchase order for goods or services.
EDI 856: Refers to an advance ship notice (ASN) used to describe the contents of each shipment and how items within the shipment were packed.
EDI 940: Used to instruct remote warehouses to ship orders.
EDI 945: Refers to the warehouse shipping advice transaction. It is used by warehouses to notify a trading partner that a shipment was made.
EDI 753: Refers to the Request for routing instructions document. A supplier uses this code to ask a purchaser how they want their products to be shipped. It is generally used for shipments originating from a single location and bound to be delivered to one or many destinations.
EDI 754: Used in retail to manage inbound freight from suppliers. A retailer sends a message to suppliers indicating who the carrier is and when the shipment will be picked up. An EDI 754 is used in response to an EDI 753.
EDI 810: Used to sent and invoice to request payment for products and/or services.
EDI 846: Inventory inquiry or advice is an electronic document that allows suppliers to share inventory information with their trading partners.
EDI 855: Purchase order acknowledgment is an electronic version of a phone call or fax. It tells the buyer (who issued a purchase order) that the supplier will be filling the purchase order as requested.
UCC-128 Shipping Label: The UCC-128, along with an ASN (856), deliver the relevant details of a shipment to the retailer. Each label has information about the origin, destination, and contents of the shipment.
We are also able to create new EDI formats for our customers, and integrate seamlessly with B2B Gateway, CommerceHub, and SPS Commerce.
Keep Your Warehouse Data Running Efficiently with Webhooks.
Logiwa webhooks make it easy for systems to communicate.
Webhooks are a way for two systems to talk to each other to share data, similar to an API. Unlike APIs, which rely on sets of requests and responses, webhooks are event-driven, and they are a great way to keep your other systems, such as your OMS or ERP, updated with what's happening inside your warehouse. Webhooks data is sent in real-time, and sent only when the desired event occurs. This means fewer calls happening between systems allowing your applications to run more efficiently.
Logiwa has a number of events already enabled for webhooks, and are continually adding more. The following events that occur in your WMS would be important for your other systems to know about:
Shipment, Purchase, and Receipt Order Status Update
Inventory Change
Location Update and Movement Info
Order Shipment Info
Shipment Tracking Info
Receipt Info
Order Consolidated Shipment Info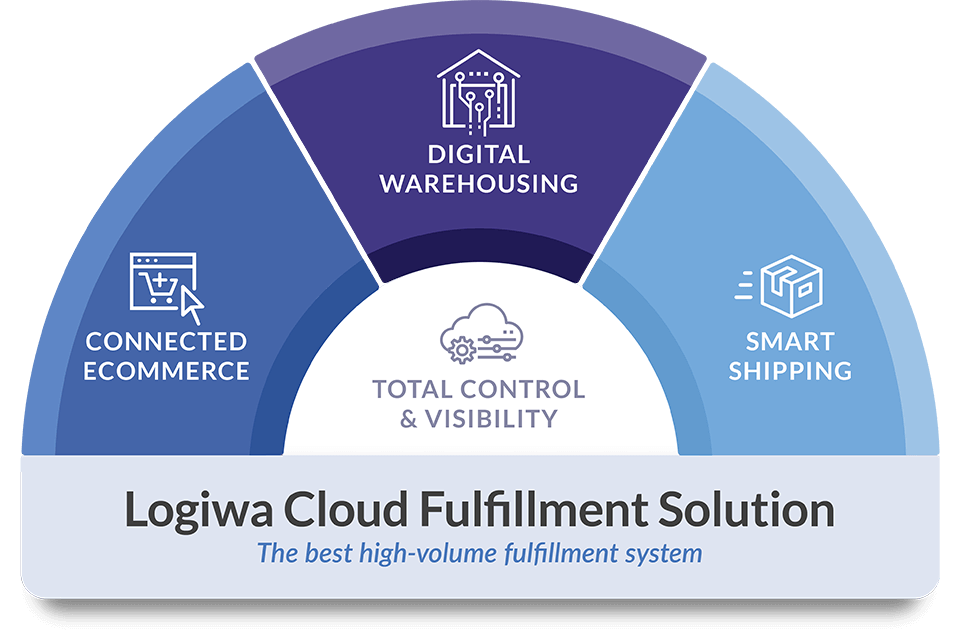 Modern cloud fulfillment solution built specifically for B2C and DTC businesses
The Logiwa Cloud Fulfillment Platform is a fully integrated WMS and order fulfillment system that empowers companies to run a fulfillment experience and grow your direct-to-consumer business – without additional headcount.