3PL Central vs. Logiwa
Originally published on February 22, 2022 by Logiwa Marketing, Updated on September 2, 2022
Are you a 3PL operator looking to incorporate a reliable software solution but don't quite know where to start? This is a common occurrence, as there are numerous 3PL software providers on the market today to choose from.
We have taken Logiwa and compared our solution to another popular 3PL software in a comprehensive review to make your decision a little easier. Keep reading to see our findings of key differences we discovered when evaluating 3PL Central vs. Logiwa.
In this guide, we'll explore:
Comparing Features of 3PL Central and Logiwa
Logiwa 3PL Software – Main Benefits

Directed Putaway (and the algorithms that power it)
Automated Job Creation
Walking Path Optimization
Flexible System Configuration
Most Integrations in the Market

Logiwa vs. 3PL Central – Main Differences, and Who Comes Out on Top?
Comparing Features of 3PL Central and Logiwa
When it comes to picking a 3PL software solution for your company, it's serious business. For this reason, we've provided this high-level comparison between two 
WMS systems in the 3PL software industry: our own Logiwa software and the WMS software provided by 3PL Central. Ultimately you have to decide which system fits your business needs best – this WMS Functional Requirements document can help guide your decision process and ensure you aren't leaving out any key WMS capabilities in your search.
This comparison of 3PL Central vs. Logiwa WMS covers key criteria, such as functionalities, setup process, benefits and drawbacks, and more. While we did find benefits throughout our research, we also found some differences and missing features in 3PL Central when compared to Logiwa.
Logiwa 3PL Software – Main Benefits
3PL software provides those who manage fulfillment networks with tools they need to maintain visibility and control over all their operations. But not all WMS software for 3PL is made the same. This is why it is essential to research and compare brands and companies before trusting and investing in a specific 3PL software solution.
The good news is that we have done some of the leg work for you. Let's talk about Logiwa now, specifically what differentiates Logiwa WMS from other market solutions such as 3PL Central.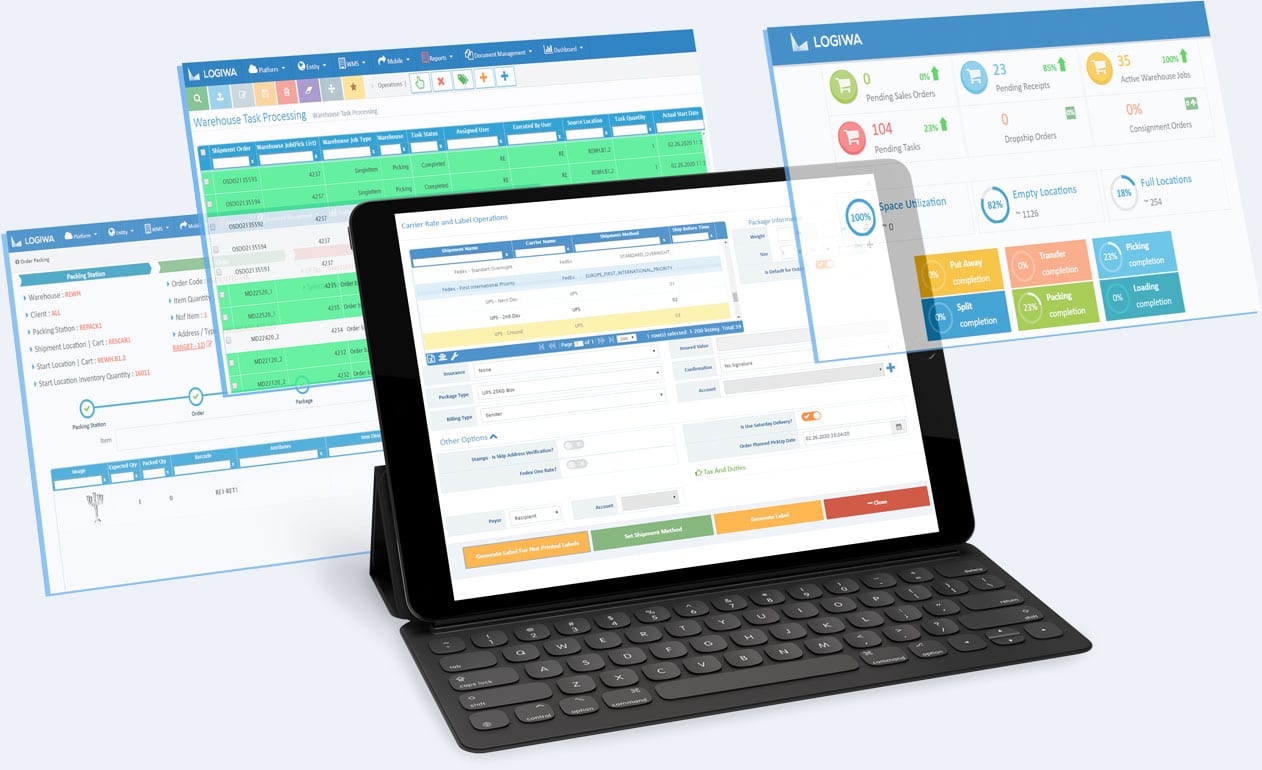 Transform your warehouse to a DTC fulfillment center
1. Directed Putaway (and the algorithms that power it

) 

 
Thanks to Logiwa's easy-to-configure, directed putaway algorithms, you can optimize your inventory based on velocity, volume, fragility, temperature requirements, cross-dock, zone, or any other criteria critical to your warehouse efficiency.
2. Automated Job Creation
Logiwa's modern mobile operations enable users to mobilize everything, allowing them to keep tabs on how employees are operating in distribution centers. This feature includes the ability to create smart order batching to maximize picker efficiency—thanks to scanners sending information about every item at receiving, put away, picking, packing, shipping, counting, and transfers directly into the Logiwa Cloud WMS System. Logiwa then uses this information to generate mobile reports that let everyone see real-time inventory, order progress, and jobs from any mobile device.
3. Walking Path Optimization
Logiwa's smart picking path algorithms dynamically map the best pick-and-pack paths through each warehouse based on proximity, product weight, or fragility. It makes real-time adjustments when exceptions arise—a feature that reduces walking distance by an estimated 30% while saving you time and helping you ship more.
4. Flexible System Configuration
Logiwa helps your company stay agile thanks to its flexible WMS that can adapt and support your constantly evolving operations as you bring on new warehouses, new clients, and fulfill an ever-growing portfolio of products.
5. Most Integrations in the Market
Logiwa has already done the work of pre-integrating with all of the ecommerce platforms, carriers, accounting, ERP, and robotics systems out there, which means that all users have to do is simply connect and get going! Logiwa also boasts a network of consultants specializing in modern warehouse and fulfillment operations.
 And talk about integration, with Logiwa's software, everything—including the ability to find the best rates—is right at your fingertips. This is because, with Logiwa, you can conduct your rate shopping directly from the platform.
Imagine, your warehouse labor costs are cut by 70%. Your warehouse operates during the day and night with equal costs. Your inventory counts are updated daily. Learn more about Locus Robotics.
Logiwa vs. 3PL Central – Main Differences, and Who Comes Out on Top?
While comparing 3PL Central vs. Logiwa both software solutions offer users advantages, there are some notable features not present with 3PL Central when it comes to automating and optimizing warehouse operations, including:
No automated grouping function

Item-based setup for picking strategy

No smart batching for picking
These issues tend to tip the scales in favor of Logiwa as an alternative to 3PL Central. But don't just take our word for it; check out SelectHub's reviews.  According to their data, 3PL Central has an analyst rating of 84% and a user sentiment rating of "great." In comparison, Logiwa earned an analyst rating of 92% and a user sentiment rating of "excellent."
Needless to say, your choice of WMS software for 3pl will depend on many factors and we encourage you to explore all your options in the market. The information in this Blog is intended to equip you with questions you need to ask when choosing the best technology for your high-volume DTC fulfillment operations.
If you would like to explore whether Logiwa WMS is the right solution for you, please book a short product tour with us and take a personalized look at how we're helping to power DTC fulfillment excellence.
Scale up B2C fulfillment with an integrated digital warehouse and fulfillment system
3PL
Cloud 3PL software for high-volume fulfillment excellence