Warehouse Robotics: Combining Locus Robotics With Logiwa Warehouse Automation
Originally published on April 25, 2022 by Ayca Ozcan, Updated on May 25, 2023
Many challenges exist for warehouses, distributors, and wholesalers, including ever-evolving consumer demands and rapid supply chain changes. Luckily, warehouse robotics can help warehouses meet these challenges head-on.
In this guide, we'll discuss how you can utilize Locus Robotics in partnership with Logiwa's AI-powered warehouse management software to your advantage.
The Beginning of Robotics in Manufacturing and Warehousing
With 2.7 million industrial robots currently in use around the world and 400,000 new robots arriving on the market every year, one thing is abundantly clear: robots are here to stay.
Ever since the first industrial robot design in 1954, robotics technology has continued to evolve and support the operations of the modern world. It all started with George Devol seeking a patent for his Unimate design in 1954.
Seven years later, with the help of Joseph Engelberger, he succeeded in implementing the first industrial robot on a General Motors assembly line in New Jersey in 1959. By 1961, the Unimate 1900 series had become the first mass-produced robot for factory automation.
The Unimate, short for "Universal Automation," was essentially a large, mechanical arm that could perform repetitive tasks like metalworking and welding. That single robot transformed manufacturing and gave rise to a living legacy that is the modern robotics industry.
Today, there are more than 500 companies producing robots for countless services and industries.
Robotics Technology Has Greatly Improved
The primary function of robotics has always been to make things easier and safer for humans, as well as increase the efficiency of human operations. In their earlier stages of development, robots only took on jobs that were too dangerous for humans to do. Now, they're actively helping in warehouses and manufacturing plants as a supplemental workforce.
As robots have gotten smarter, they've been able to take on more complex roles. Unlike initial models, which were limited to basic tasks like welding, metalworking, and moving short distances, robots can now serve a variety of functions while working collaboratively and autonomously alongside humans.
Groups, like Locus Robotics Inc., have worked hard over the years to integrate new technological developments, such as artificial intelligence (AI) and the Internet of Things (IoT), with automated robotics technology to take robots further.
Sensors and response capabilities have been added, as well as the ability to integrate with warehouse management software so that robotics can become active participants in their environments.
Despite skeptics' resistance to adopting warehouse robotics, these technological advancements have made robots more appealing and beneficial than ever. As warehouses and supply chain operations continue to adopt this technology in pursuit of a competitive edge, those without it may run the risk of falling behind.
The Necessity of Warehouse Robotics
Online sales have reached record highs since the start of the COVID-19 pandemic in 2019. Changes brought on by stay-at-home orders and supply chain shortages have permanently impacted consumer trends and made online shopping the preferred method of purchasing items for many.
The growth of ecommerce has generated unprecedented levels of demand for fulfillment services. As a result, the pressure on manufacturers and supply chains has dramatically increased, as well as for warehouses, distributors, and wholesalers.
As more people buy online, fulfillment operations need to adapt to continue to meet the needs of online buyers.
This explosion within the ecommerce space has made the use of robots invaluable for warehouse and supply chain operations. By leveraging warehouse robotics, many direct-to-consumer (DTC) operations found an efficient solution capable of maximizing high-volume fulfillment, shipping output, and order accuracy–all while saving warehouses time and money.
In a time when few things are certain, robotics provided a dependable solution. That's where Locus Robotics comes in.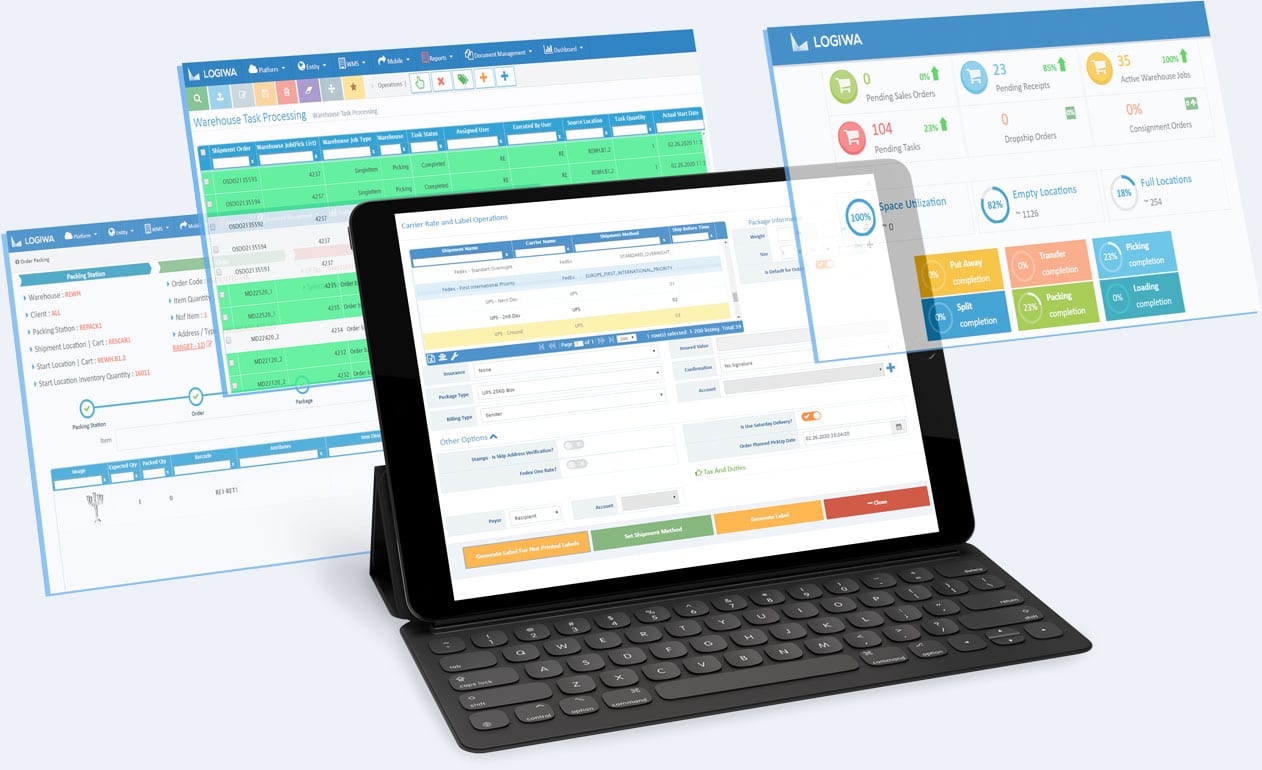 Transform your warehouse to a DTC fulfillment center with cloud WMS
Who Is Locus Robotics?
Founded in 2014, Locus Robotics Corp. is one of the world's leading logistics automation companies, offering warehouse robots to improve fulfillment productivity. Their founders were early adopters of robotics technology and have continued to dedicate themselves to improving the efficiency of warehouses with their technology.
Locus's deep understanding of warehouse logistics and the needs of warehouse operators has helped them build highly effective "LocusBots" for the obstacles faced by B2C/DTC and B2B companies.
Their powerful and intelligent autonomous solution surpasses the limitations of capital-intensive, grid-based automation systems. Instead, their robots work collaboratively alongside humans rather than replacing them.
The Locus Robotics system tackles the evolving needs of today's complex and demanding ecommerce fulfillment environments by providing robotics that work with warehouse and inventory management software.
Their in-depth, first-hand experience with the development and evolution of warehouse automation has made them a leader within the robotics industry.
How Locus Robotics Benefits Distributors, Warehouses & Wholesalers
Powered by LocusOne, Locus has the industry's only fully integrated system that seamlessly orchestrates and manages all movements of a product within a given environment. Their fleet integrates with warehouse automation technology to create a digital space for their LocusBots to understand.
Paired with their warehouse orchestration platform, Locus bots can help with putaway, directed picking, P2P transportation, and even mezzanine management for multi-level operations. The best part? Locus robots can be deployed with virtually no disruption to your established operations.
Integrating robots into your workforce is proven to have several benefits. For distributors, warehouses, and wholesalers, the benefits of warehouse robotics include:
Lower error rates (because robots do things right the first time!)
Adaptable workforce (you can add or subtract robots based on capacity demand)
Increased warehouse safety
Higher customer satisfaction
Innovative brand image
Better material handling
Less manual labor
Types of LocusBots Offered by Locus Robotics
Now that you know the benefits of implementing robotics into your warehouse operations, let's dig into the Locus bots themselves. Locus WMS includes three types of robots for ultimate warehouse management.
Each has its own unique advantages, but all are geared towards optimizing and assisting warehouse operations. There are three types of LocusBots:
Locus Origin: This Locus picking robot is a nimble autonomous mobile robot (AMR) designed to double and triple productivity in the most dynamic fulfillment environments. The Locus Origin is built for agile maneuvering and speed, has a payload capacity of 80 lbs., and has flexible configurations for adapting to your specific facility. It works easily with human pickers thanks to its cutting-edge navigation and vision system technologies.
Locus Vector: This AMR is ideal for material handling and logistics applications. It features an industrial-strength chassis, omnidirectional mobility, and compact design, so it can be used in virtually any environment. The Vector's shelf system holds goods securely, with a payload capacity of 600 lbs., and can assist with fulfillment, transportation, and putaway. This impressive robot can be used in multiple ways, from shelf/rack moving and discrete order picking to point-to-point material handling. Using its roller-top configuration, Locus Vector easily connects to conveyors, sortation, and other mechanized automation workflows.
Locus Max: The Locus Max is specifically designed for the safe, autonomous transportation of large and heavy payloads throughout your fulfillment centers. With its unparalleled flexibility and capacity to transport a wide variety of materials, cartons, or pallets, it can hold up to 3,000 lbs. safely alongside your other warehouse associates. According to Locus, the Locus Max is ideal for nearly all types of use cases, including case picking and pallet movement. One of the most appealing features about this particular robot is that it can be called and sent over to where it is needed instantly.
Both the Locus Vector and Locus Max have intuitive and easy facility mapping and mission set-up, as well as the ability to charge themselves (this feature is called "opportunity charging"). That said, all three serve 3PL, retail, healthcare, and industrial industries with their innovative features.
So, how does Logiwa WMS work with Locus?
Logiwa's Partnership With Locus Robotics
LocusEmpower makes it easy to integrate with any warehouse management or warehouse control system using reliable APIs. Getting robots into your warehouse no longer takes complicated configuration or specialized coding, as you might believe. With Logiwa WMS and Locus Robotics' compatibility, it can happen in a matter of clicks.
Locus Robotics and Logiwa have already done the work of pre-integrating our systems, so you can start working with warehouse robots with little to no interruption of your current operations.
With Logiwa WMS, you're already operating with a fully digitized warehouse where you know exactly where all the items in your warehouse are located. Plus, the organization of your facility is optimized for smoother picking and fulfillment processes. That makes adding robots even easier!
Locus Robotics' integration technology is so effective, they guarantee a 2X-3X increase in productivity and throughput.
How Locus Works With Logiwa
Because Logiwa is pre-integrated with Locus Robotics, you don't have to worry about whether or not the software running your robots is truly compatible with your WMS system. Instead, you'll have an easy, pre-established partnership between the robots aiding your warehouse and the WMS driving them, as you can see in this robotics case study video with MPR Logistics.
Our software works together so that orders can be seamlessly received from your online ecommerce stores, optimized for picking efficiency by Logiwa's smart picking algorithms, and communicated to the LocusBots operating in your warehouse environment.
With the combined power of Logiwa WMS and Locus Robotics working together, you'll be able to access live operational performance data (such as UPH, LPH, and robot productivity and status), while maintaining effective inventory management and order fulfillment via your Logiwa WMS system.
Locus Robotics Price: Robotics as a Service (RaaS)
One of the primary deterrents for many B2B and B2C businesses in adopting robots is the perceived cost of purchasing them. That's why Locus created an affordable, subscription-based system for using their technology.
Locus Robots as a Service (RaaS) is an intuitive subscription-based program that makes it easy to add powerful autonomous mobile robotics to your warehouse operation as demands change for your business.
With RaaS, you simply incorporate robots as part of your warehouse operations without taking on overwhelming financial commitments or stressors that often come with deployment, integration, and ongoing maintenance.
With Locus RaaS, you delegate capital expenses you might have otherwise spent on automation to other operational and labor expenses. The minimal initial investment allows you to operate with a simple budget approval process. It's flexible and allows for robots to be used as temporary workers when demand is high and your bandwidth is low.
Logiwa knows that robotics are the future of competitive, high-volume DTC operations. That's why we offer free robotics integrations with any robotics platform, including Locus Robotics.
The Real-Life Results of Warehouse Robotics: MPR Logistics
Want to see what happens when you combine AI-powered warehouse management with top-tier robotics technology?
Hot Shot Services, a division of MPR Logistics, opened a new 75,000 sq. ft. warehouse in Garland, Texas, with the aim of providing unmatched high-volume DTC fulfillment for their clients. Less than six months after opening their warehouse doors, that goal was met—all thanks to Logiwa WMS and Locus Robotics.
With Logiwa WMS at the center of their 3PL operations, Hot Shot Services continues to scale up their fulfillment operations while maintaining a 100% shipping success rate. And by putting Logiwa's integration with Locus robots to work, they're managing all of this with a fraction of the staff of other traditional operations.
See how transforming to a digitally-powered warehouse with Logiwa WMS has helped MPR Logistics transform technology into business success in the video below.
Additional Process Advantages With Warehouse Robotics
The benefits of implementing robots into fulfillment operations speak for themselves, especially when it comes to taking on more orders or expanding your fulfillment network. But the truth is, the benefits go beyond better order fulfillment and customer satisfaction. Studies have shown that the average savings secured by the implementation of robots in the industrial workplace is a robust 17.71%.
Robots also help shift the physical burdens faced by employees by reducing the number of miles they have to walk within your warehouse each day. On average, each robot deployed can reduce the need for 2-3 warehouse staff. And in doing so, they also reduce the physical burdens placed on your staff, allowing them to focus on the tasks that require critical thinking to complete.
Learn More About Warehouse Automation Robotics
As warehousing becomes more competitive and demand continues to rise, it only makes sense to consider the benefits warehouse robots could have on your overall operation. Rather than thinking of robots as a burden for your business, they could be your single greatest asset in the days ahead.
To learn more about how Logiwa WMS and Locus Robotics can benefit your warehouse, request a demo today!
Automate jobs within your fulfillment center – either through robotics, smart batching