What to Look for in the Top WMS Software for 3PL
Originally published on July 14, 2022 by Logiwa Marketing, Updated on March 3, 2023
Order fulfillment is a complex affair. It's a multifaceted process that begins when a customer places an order for items they need. These items are then picked, packed, processed, and dispatched.
Simple enough, right?
Now, imagine having to process hundreds (or even thousands) of orders daily. Imagine trying to figure out what's in stock and what's run out; getting in touch with various suppliers to top up your inventory; identifying the warehouse locations that have the specific items in stock; having the products shipped to the customer alongside their other orders.
Don't get us started on returns and exchanges, either.
You can see how quickly the entire thing can turn into a logistical nightmare unless, of course, you have the right WMS software for 3PL to help you with your warehousing operations.

In this blog, we'll explore:
The Definition of 3PL WMS Software
The Users of 3PL WMS Software
3 Critical 3PL WMS Requirements
Features To Look for When Choosing WMS Software
4 Things to Keep in Mind When Selecting the Best 3PL Warehouse Software
Answers to Frequently Asked Questions
What Is 3PL WMS Software?
3PL is short for third-party logistics. WMS stands for warehouse management system. Combine the two, and you have a system that manages every aspect of your outsourced supply chain activities. 3PL WMS Software is designed to manage your inventory and order fulfillment processes by streamlining and automating them to save you time, money, and headaches.
Who Uses 3PL WMS Software?
Public Warehouses
3PL warehouse management systems come with specific built-in functionalities for managing inventory. It's designed to automate orders and customer alerts to inventory activity and track items within an organization's warehouse. These capabilities make it an invaluable tool for warehouse managers working for 3PL providers or companies that design their products themselves.
Distributors
Distribution centers are a lot like warehouses, except that they hold products for a shorter period. Think of them as transit centers that quickly transfer products from the warehouse to the customer. 3PL WMS Software for distributors is equipped with barcode/serial number scanners to make it easy to track products. They also have a customer portal with billing, reporting, and inventory information.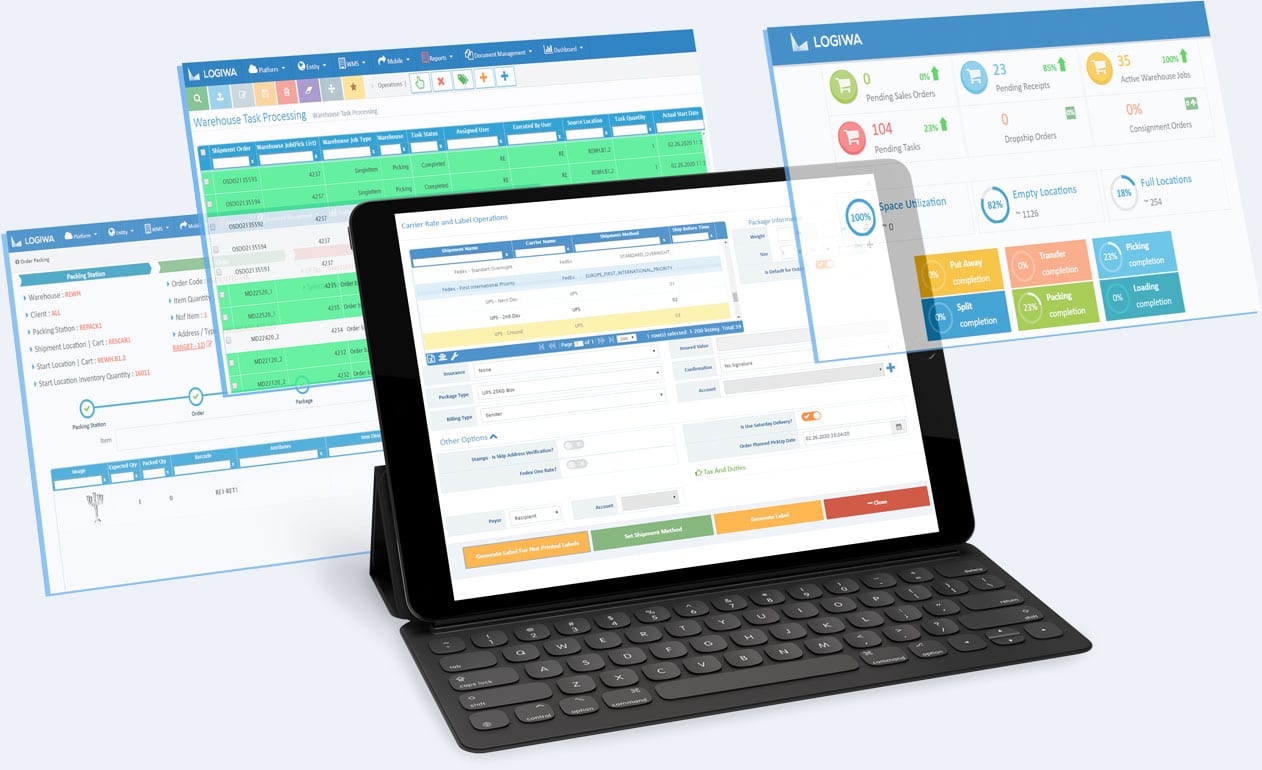 Transform your warehouse to a DTC fulfillment center
What Should My 3PL WMS Requirements Be?
Deciding on which WMS software for 3PL to choose is one of the most important decisions you'll ever make for your organization. Below are three critical questions you need to ask when selecting a provider.
Can the system be implemented through a web-based portal, or is it designed to be in-house?

Does it include advanced tracking and billing tools to help with order management?

What options for stock rotation and pallet tracking does it offer?
The answers to the above queries will inform your decision as to whether a particular solution meets your customers' shipping, order fulfillment, and warehousing needs.
What Features Are Important When Selecting WMS Software? 
The supply chain process is peppered with several intricate steps. Understanding the specific software features you'll need for your operations is important before settling for a particular solution. Below are some must-haves.
Warehouse Management
With so many products moving through a warehouse, lot number allocation and customer profiling are two critical features any robust 3PL software should have.
Shipping & Receiving
A solid 3PL system must have transportation management capabilities. It should be able to automate printing inbound and outbound shipping labels.
Order Fulfillment
WMS software should be able to handle all the make-to-stock (MTS), build-to-order (BTO), and assemble-to-order (ATO) capabilities typical with most order fulfillment systems.
Billing
The software must complete all billing schedules based on storage use and the associated order fulfillment costs.
Analytics and Reports
WMS software for 3PL should have built-in reporting tools to display real-time data and information on completed jobs. It should also provide a standard set of visual metrics and reports to get insights into the business' performance.
Integration
You want a system that integrates with supplier portals, carrier portals, analytics platforms, CRMs, ERPs, purchase order management tools, eCommerce tools, and any other system critical to your day-to-day operations.
Selecting the Right 3PL WMS
So far, we've looked at the basic features any robust 3PL software should have. With that in mind, here are a few things you need to consider when choosing the right system for your warehousing operations.
Multiple Client Framework
Choose WMS software for 3PL capable of managing order fulfillment and inventory for multiple clients. If your company uses 3PL providers, warehouse management software like Logiwa will come in handy, particularly if you have multiple divisions within your organization.
Value
When selecting SaaS software, look for WMS technology that meets your warehousing needs and is chock-full of features that automate your 3pl operation processes. However, for it to make good business sense, it must also be affordable. Logiwa's pricing is, by far, one of the most competitive in the industry.
Scalability
Your company has outsourced (or is thinking about outsourcing) to a 3PL provider because it has grown to the level where you can no longer manage the supply-chain process in-house. Ensure the software you select can scale along with your organization. Logiwa is built to do just that.
Up-To-Date Technology
The 3PL WMS Software you go with should run on the latest technology. It should be capable of streamlining and automating processes while reducing costs and keeping errors to a minimum.
With so many different options for 3PL warehouse management systems on the market, choosing the right one can be daunting, especially when you're unsure what to look for in a solution. You want something that optimizes every aspect of your supply chain operations beyond simple warehousing. Logiwa is designed to do just that within a single, unified platform.
Get a demo today and discover how WMS software for 3PL can streamline your warehouse operations.
FAQs
What is 3PL in WMS?
3PL is short for third-party logistics. 3PL for WMS manages outsourced supply chain activities for companies that don't have their own warehouses.
What Is Logiwa WMS?
Logiwa is a fully integrated cloud order fulfillment and warehouse management system solution. It allows 3PL, D2C, and B2C providers to run their digital order fulfillment networks and scale up their operations.
Is Amazon a 3PL?
Amazon is the world's largest third-party logistics provider. Businesses leverage their massive infrastructure to provide order fulfillment for their customers. To learn more, you can take a look at our Amazon FBA vs 3PL article.
Grow your 3PL fulfillment business – without additional headcount.