Deliverr
Originally published on October 2, 2020 by Logiwa Marketing, Updated on October 21, 2022
What is Deliverr? How Does It Work for Ecommerce, Warehouses & Wholesale?
It should come as no surprise that US ecommerce sales have risen to record amounts since the start of the COVID-19 pandemic in 2019. Changes brought on by the stay-at-home orders and supply chain shortages have permanently impacted consumer trends and made online shopping the preferred method of purchasing items for many.
To put it in perspective: in 2022, US ecommerce sales will surpass $1 trillion for the first time in human history. That amounts to 34.5% growth over 2020.
This global ecommerce boom has generated a huge demand for fulfillment services. While Fulfillment by Amazon (FBA) remains one of the top providers, many emerging platforms have also gained popularity due to their excellent service reputations and cost-effective strategies. Deliverr is one such fulfillment service.
Founded in 2017 out of San Francisco, Deliverr provides fulfillment, logistic, and shipping services for a wide range of ecommerce businesses. The Deliverr platform helps any online marketplace to meet shipping standards and avoid late shipment penalties.
The company is driven by a mission to enable sellers of any size to serve their customers with fast and cost-effective fulfillment. The technology-based platform offers flat fulfillment pricing to sellers with an extensive network of warehouses that guarantee two-day delivery. If you compare Deliverr vs. FBA, the former frequently meets or beats Amazon on delivery speed and price. Recently, Deliverr has more than doubled its warehouse capacity, adding thousands of new merchants, and the company recently raised $170 million in funding.
In this guide, we'll help you understand:
How does Deliverr work for ecommerce brands?
How does Deliverr benefit distributors, warehouses & wholesale?
Where Deliverr ends, Logiwa continues
Deliverr integrates seamlessly with Logiwa
Why do warehouses in the Deliverr network prefer Logiwa?
The Deliverr Warehouse Network
Warehouse process improvement example: Improved Order Picking
Where many warehouses and distributors can improve
How does Deliverr work for ecommerce brands?
Deliverr makes it easy to fulfill ecommerce marketplace and shopping cart orders. Plus, it provides transparent pricing that competes well with Amazon's multi-channel order fulfillment. The way it works for ecommerce is very straightforward:
STEP 1 – Get connected
Ecommerce brands connect their listing tool or shopping cart to the platform. Then they choose from different cost previews for each catalog item.
STEP 2 – Send inventory
The Deliverr platform guides sellers during the entire shipping process. In some cases, they even offer discounted shipping rates.
STEP 3 – Activate Deliverr Fast Tags
By implementing fast shipping tags in Deliverr, ecommerce brands can see an improvement in search engine results to reach more buyers. This leads to a boost in listings across ecommerce sales channels.
STEP 4 – Start selling
Once inventory gets stocked, Deliverr syncs with sales channels. As orders begin to come in, the platform manages the fulfillment process.
How does Deliverr benefit distributors, warehouses & wholesale?
It's easy to see why so many warehouses are getting on board with Deliverr lately. First of all, it offers nationwide two-day delivery for merchants on marketplaces such as Walmart, Shopify, Wish, eBay, and Amazon. Even better, distributors and wholesale businesses can save on sales and marketing since the platform handles most of the outreach work.
Furthermore, warehouses that on-board with it have fewer merchant management chores. The fulfillment platform takes over many of the front office warehouse tasks. This benefit logically extends into unified billing, invoicing, and tracking.
Where Deliverr ends, Logiwa continues
Deliverr certainly provides significant advantages for any ecommerce brand or warehouse business. However, there's another key component required to leverage the full benefits of Deliverr. Remember, what happens behind your warehouse doors is still up to you.
For example, if your warehouse has significant pick and pack delays, it can't meet its two-day shipping guarantee. Therefore, the other critical piece to the puzzle is high-efficiency warehouse management with a solution such as Logiwa.
When you optimize your warehouse and inventory management with a platform that integrates well with Deliverr, the positive impact gets magnified.
Deliverr integrates seamlessly with Logiwa
The Deliverr fulfillment platform can fully integrate with Logiwa. Connecting Deliverr with Logiwa Open API enables it to sync key processes, such as:
Logiwa product creation.
Purchase orders are pulled by Logiwa. Then when inventory arrives, it's automatically received against the receipt order.
Send orders to Logiwa's Pick & Pack optimization platform which reduces lead time.
Shipment labels are automatically generated via integrated Logiwa and Deliverr API services.
Both domestic and international labelling services are supported.
Deliverr receives regular inventory updates from Logiwa to improve inventory accuracy.
Once orders are shipped, Deliverr immediately gets shipment information from Logiwa.
Today's digital solutions offer the promise of end-to-end improvement through warehouse automation and process optimization with the help of advanced computing algorithms. The overall benefit is even more powerful when solutions work well together.
Why do warehouses in the Deliverr network prefer Logiwa?
While Deliverr and Logiwa platform integration is essential, overall warehouse operations are an extension of the entire process. Beyond the scope of Deliverr, many operations affect cost and efficiency. Deliverr partners with thousands of warehouses, and the secret to success also depends on how well the warehouse's internal operations work.
The ultimate goal is to streamline and eliminate all inefficiencies from end-to-end. While it takes care of the front end, a warehouse and inventory management software like Logiwa covers the back end and more. For example, Logiwa provides:
Full Third Party Logistics (3PL functionality): Client management, Client Portal, 3PL Billing
Advanced Fulfilment Options: Batch Picking,

Cluster Picking,

Put Wall Picking
Intuitive, user-friendly interface
95% of warehouse operations are supported by Logiwa on mobile devices
Affordable pricing on cloud
Advanced inventory management
Multichannel inventory management
A comprehensive fulfillment strategy requires Deliverr to integrate well with a warehouse solution that contributes to overall warehouse productivity throughput. A variety of efficiency measures such as smart job creation, strategic order picking, directed putaway, walking path minimization, inventory replenishment, and cycle counting can all be impacted to drive warehouse KPI improvement.
Another key success factor is the ability to monitor and provide reporting for warehouse supply chains and operations. Since distributor and wholesale activity is dynamic, it requires the ability to quickly detect bottlenecks and inefficiencies to keep things running smoothly.
The Deliverr Warehouse Network
The Deliverr Warehouse Network has expanded rapidly, and the company's high standards allow it to provide superior customer satisfaction. When warehouses apply to become part of the network, Deliverr asks questions like:
Given Deliverr wants to handle 20-30% of your daily volume, what is your goal orders per day added from this partnership at this location?
Deliverr requires all orders that are sent to the fulfillment center by 2PM local time to ship the same day. If it cannot be shipped the same day, it must be cancelled. Does this work for your business operations?
Describe your receiving/picking/packing/shipping.
As you can see, these factors are a priority for Deliverr when choosing warehouse partners. Qualifying warehouses have solid responses to these questions. The questionnaire also asks what deliverr warehouse software the applicant uses, and Logiwa is one of the few acceptable answers.
Warehouse process improvement example: Improved Order Picking
Some intrinsic warehouse issues fall outside the influence of Deliverr, and these factors impact performance outcomes and resource use. For example, intelligent well-organized pathways and thoughtful warehouse layout will minimize picking times and maintain worker health.
Warehouses can also select from various picking models to improve lead time metrics. For example:
Pick to Order – Using an order list, the warehouse employee picks items one by one. This is a common method for small warehouses, but it doesn't work well for larger, more complex facilities.
Batch Picking – Workers assemble batches of the same item from different orders to be picked at once. This works for warehouses with a wide variety of SKUs. One drawback is that the items must be separated out from the batches into each order later.
Wave Picking – Workers go out in coordinated waves of batch picking throughout the day. This is one of the most effective methods for larger warehouses.
Zone Picking – Workers are designated to specific zones while order cartons move through those areas. Items selected by workers are placed in the cartons as they move through each zone.
Cluster Picking – Using multi-tote or multi-bin collection, workers pick items for multiple orders at the same time.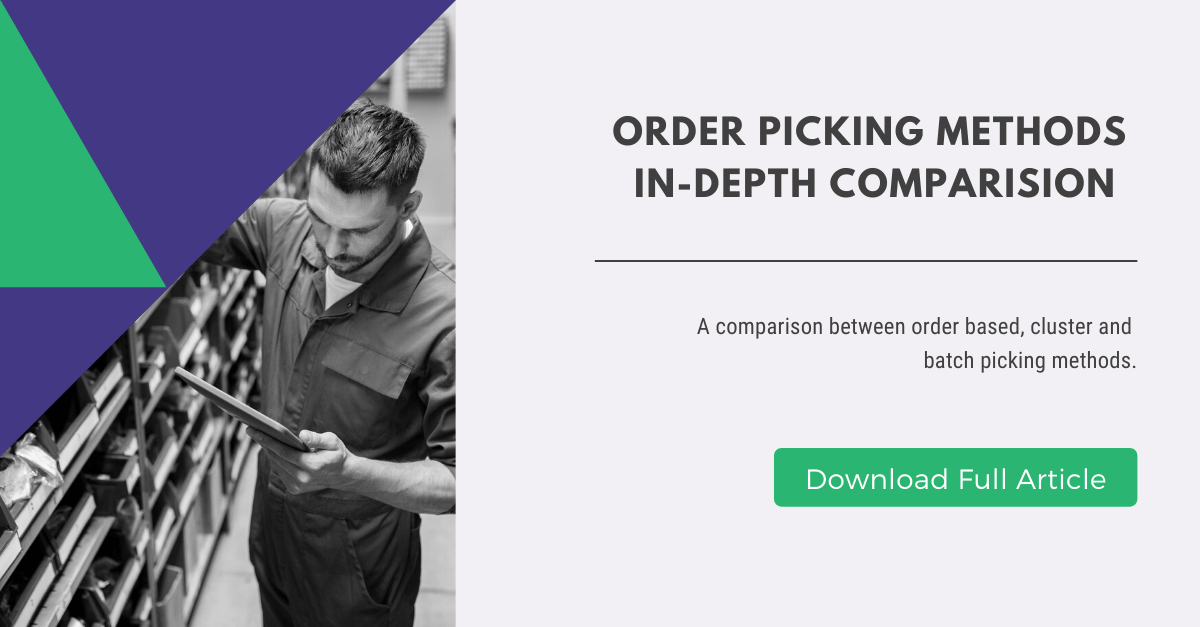 Where many warehouses and distributors can improve
One of the problems with some deliverr warehouse software providers is that they try to sell a one-size fits all solution. Instead, platforms are specifically designed for ecommerce fulfillment, and that's why it's taking off like a rocket. However, what many fail to understand is how the Deliverr warehouse partners should handle process efficiencies on the backend.
For example, Enterprise Resource Planning (ERP) systems aren't designed specifically for warehouse management processes. The nuances of warehouse management (picking, packing, floor layout, walking paths, etc.) go beyond ERP capability. This means distributors and wholesalers might combine multiple systems to manage different portions of the warehouse management process which generates confusion and hidden inefficiencies. For larger enterprises, they may have many B2B warehouses (e.g. from business acquisitions) that don't use the same software across their facilities.
Choose the right solutions
For ecommerce, distributors & wholesale, and 3PL companies, Deliverr is an exceptional option for fulfillment services. When combined with the right warehouse specific management solution, such as Logiwa, the entire operation gets improved. The end results are time and resource savings with significantly improved business outcomes.
FAQs
What does Deliverr do?
Deliverr helps ecommerce businesses offer fast fulfillment at low cost by using a smart fulfillment network, high-performance prediction, and optimization models.
Does Deliverr own warehouses?
Deliverr does not own warehouses; they operate a warehouse network. They store the products in available warehouse space and use the warehouse's own picking systems to fulfill the orders.
Where is Deliverr located?
Deliverr Headquarters is in San Francisco, CA and the warehouses in Deliverr's network are located across the United States.
How many customers does Deliverr have?
As of 2020, Deliverr reported over 7 million users of it's Fulfillment Network
Deliverr Warehouses can manage 100% of their 3PL WMS operations with Logiwa WMS Software.
Automated ecommerce shipping software pre-integrated with your carriers
Warehouse Management
Modern WMS cloud fulfillment powers a modern experience
Inventory Management
Improve your inventory across your supply chain.