Holiday Season Order Fulfillment & Warehouse Management System
Originally published on October 7, 2019 by Logiwa Marketing, Updated on September 2, 2022
It's the most lucrative time of the year… The holidays are like the championship game for online retailers. It's when all of their people, processes, technology, and training are put to the test–and a big win can mean big profits. Only their championship game is about two months long. 
That's right. If you're an online retailer, you have to prepare for more than just Cyber Monday. You need to prepare for a two-month-long shopping frenzy. All through November and December, consumers flock to online stores to buy gifts for everyone from their significant other to a random colleague. Hello, Secret Santa!
In fact, some retailers get started as early as August. Why? Well, maybe your okay warehouse layout and a not-so-great inventory management system get you by during the rest of the year. Not to mention, you can use a little creativity to manage crises. However, during the holiday season, duct tape and smooth talking won't cut it. These are people's gifts we're talking about and customers will remember a retailer that disappointed them.
If you want to participate in the retail boom and gain more happy customers, you'll need to inspect and improve your holiday fulfillment operations from top to bottom.
Don't panic though – we're going to walk you through how to do it.
BONUS: Before you read further, download our Warehouse Management Software Whitepaper to see how Logiwa uses real-time data to help you get up to 100% inventory accuracy and execute advanced fulfillment strategies like wave planning.
Make Sure You Have an Effective Warehouse Management System
Your warehouse is the heart of your fulfillment operation. If your inventory is the lifeblood, your warehouse is the muscle pumping the right goods in the right direction. It needs to receive the goods, process them, and send them off to the right customers on time.
A WMS helps you do this. It'll streamline the day-to-day operation of your warehouse by automatically directing workers to which items to pick, pack, and putaway, and when to do so.
Ideally, your WMS will also integrate with other systems that streamline your holiday fulfillment, including an inventory management system (IMS), order fulfillment system, transportation management system (TMS), and others.
First, you'll need to conduct a needs assessment that includes feedback from various stakeholders. The outcome is a document that outlines exactly what you need in a system in order to meet business goals.
Once you've conducted a needs assessment, do some research to find vendors offering suitable solutions. If you have complex requirements, you may consider sending out a brief Request for Information to gather data from multiple vendors.
Once you've chosen a vendor, you'll need to ensure your warehouse will be able to use the system in time for the holiday rush. This includes: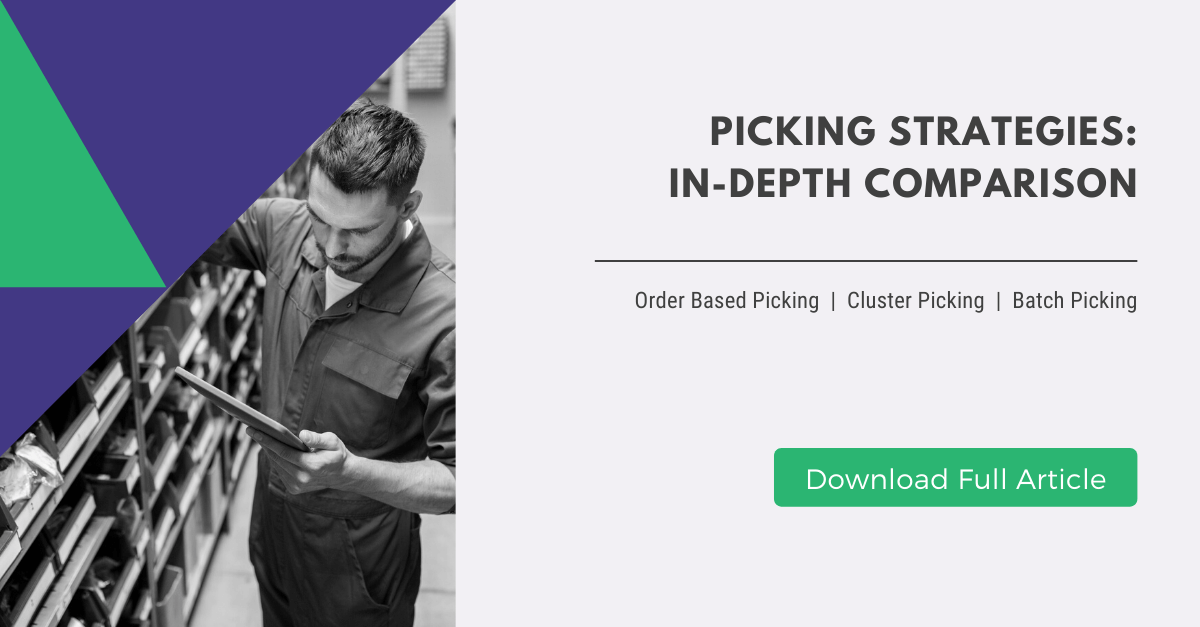 Your software vendor should provide an implementation plan and timeline that clearly details what they need from you to get your system up and running.
Generally speaking, the implementation will be a joint effort between staff from your WMS provider and your own team.
While this can be a laborious process, it's important to be diligent and patient. For instance, taking the time to properly integrate your Inventory Management Software (IMS) or order management system with your WMS is critical.
The last thing you want during the first week of December is orders getting lost or inventory failing to sync up.
Train Your Employees
Invest enough energy and resources in the training process. After all, the holiday season is when you want everyone to bring their A-game. Your holiday season order fulfillment operation needs a motivated, engaged workforce to succeed.
Even if you know your system will be better for everyone involved, you still have a workforce of people who must adjust to a new way of doing things. Throw in the inevitable glitches, and you'll have a frustrated staff.
Poor communication during the implementation stage and a bad training program during the post-implementation stage can have negative repercussions. It can lead to disengaged employees, holiday season order fulfillment errors, and even increased turnover when you need your team the most.
Ask your provider if they offer training materials or workshops as part of the implementation plan.
You should also be mindful to offer user-specific training. Specialized workers will use the system in different ways.
Testing and Dry Runs
Before fully switching over to the new system, test the following critical elements of your warehouse management system:
Inventory syncing: Does your inventory system sync correctly with your new WMS? If your system records an outgoing shipment of 30 units, your IMS should reflect a corresponding decrease. If it doesn't, your customers could order items that are no longer in stock.
Order management: Is your system properly receiving orders from all of the sales channels you use? You don't want to lose business because your system never gets the message from your website, your brand's mobile app, or any third-party online marketplaces you use.
Picking process: Does your system properly execute the instructions you chose? For instance, if you've decided wave picking or zone picking suits your warehouse best, your system should be able to create pick lists for your workers based on transportation schedules.
Packing process: If you chose a system that automates pack type selection, you'll want to see whether this function works properly. Verify that it chooses the appropriate packaging materials and generates the correct shipping label.
Once you've tested these features independently, conduct a dry run to ensure they all work together properly. During your dry runs, you should test several different scenarios.
Go Live and Optimization
Once you're confident in your warehouse management system, it's time to go live.
At this point, your system will be able to properly carry out its function. But remember: working properly isn't the same as working at your best.
As you use the system in the months leading up to the holiday season, you may notice areas for improvement and optimization. Generate weekly reports and schedule time to analyze them.
You can derive great insights from your WMS data. These insights will guide your continuous improvement efforts and empower you to have productive conversations with your system provider about system changes.
Real-Time Management
Technically, everything after the go-live data requires real-time management. But, in this context, we are referring directly to the months of November and December. During this time, you may want to assign an individual to monitor your sales channels and your inventory system.
If your tests, dry run, and business-as-usual operations after the go-live date went well, there shouldn't be a problem. But, don't underestimate how quickly things can spiral when there's serious pressure on the system.
Having someone around to identify and resolve small issues – before they become huge catastrophes – presents enormous benefits.
Better Warehouse Performance = Higher Profit Margins: Logiwa syncs accurate data across your entire interface so the inventory numbers you see on your dashboard are what your employees see on their devices. Learn how Logiwa uses real-time data to help you get up to 100% inventory accuracy and 2.5x shipments.
Design a Bulletproof Shipping Strategy
Every year, there's a hefty portion of the population that saves its holiday shopping until the last minute. Then, they scramble to find a retailer who will ship their gifts fast. 
On the one hand, this represents a huge business opportunity for retailers. On the other hand, this poses a logistical nightmare if handled poorly.
If you're going to promise same-day delivery or "by December 24" delivery, you'd better be 100% confident that those gifts will get there. If not, you're looking at a lot of frustrated customers who will be empty handed on Christmas morning after paying big bucks in rush delivery fees.
Trust us: Pointing to the words "force majeure" in the fine print won't stop your customers from blasting your brand on social media.
Determine What Is Realistic For Your Company
Avoid overpromising. Sure, it's tempting to offer two-day shipping. You want to snag a nice chunk of the holiday ecommerce market. Remember though, you also don't want to overwhelm your holiday season order fulfillment operation. Better to make money shipping the right goods to the right customers on a manageable schedule.
Decide How Much Cost You're Willing To Absorb
Before you can outline your holiday fulfillment strategy, you'll need to determine your shipping strategy. Specifically, do you want to:
Pass the entire cost of shipping on to your customers
Pass on a portion of the cost using fixed fees
Absorb the entire cost of shipping
Each strategy has its pros and cons.
Passing on the entire cost of shipping to your customers makes sense for your profits, but this approach sometimes backfires. For instance, it's often difficult to predict exact shipping rates, particularly if your goods travel across borders. You don't want your customers to experience sticker shock when they receive a bigger bill than they expected.
On the other end of the spectrum, you could entirely absorb your shipping costs. The pro is obvious: your customers will be happy. Moreover, they'll be less likely to abandon their carts since they won't be hit with a $10 shipping fee.
A hybrid solution is to absorb a portion of the costs by extending a fixed shipping rate. Customers know exactly how much they're paying for shipping, and you don't take on the full cost burden. Sometimes you win, sometimes the customer wins.
Early in the shopping season, you may want to offer fixed prices or free shipping. Being surprised by the shipping rate is one of the main reasons customers abandon their carts.
Imagine, if you will, a customer getting to the checkout page, ready to spend more than $500 on merchandise, only to say, "forget it," because of a $15 shipping fee.
Nightmarish, right?
For purchases over a certain dollar amount, consider offering fixed shipping rates. As you get closer to the actual holidays, you can switch over to a model where the customer covers the entire cost.
Figure Out If You Need More Carriers
If you usually work with one carrier, consider adding some additional reinforcements to get through the holiday rush.
Don't forget: the holidays are just as busy for carriers. What's more, carriers can charge higher rates. Before you get into the thick of the shopping season, research other carriers so you have flexibility.

Update, Clarify, and Educate Customers on Your Return Policy
Customers return about 10% of all sales. What's more, approximately 6.5% of all returns are labeled as fraudulent returns or abuses of return policy. This is an unavoidable part of running a retail business. What is avoidable is financial losses and logistics hassles from processing these returns.
Now, why go through the bother of a returns policy in the first place? Because a fair return policy often helps customers click "buy." When they think a retailer will do right by them, customers will give them a chance.
Here are some things to keep in mind when writing your ecommerce return policy:
Do what's right for your business. You don't have to offer a full refund just because a big box retailer does. You can offer partial refunds, returns, and even store credit.
Clearly outline the return procedure. A confusing returns process, or a returns process that isn't as described, can be incredibly frustrating for consumers. Clearly outline expectations in your policy, including where returns are accepted, how to initiate one, and how long it will take to reimburse a customer's account.
Make timelines clear. Will you accept returns after two weeks? Do you accept returns after two weeks, but only for store credit? Be clear about how long a customer has to return an item, and about how much they'll get back, if any.
You want to be generous and fair, but you also want to protect your business from unscrupulous customers. Remember that the returns process itself (not the refunded money) costs your business money.
Use E-Marketing Tools to Keep Customers Informed
Don't forget to market your promotions! Use email marketing to broadcast your holiday promotions to customers and to drive traffic to your stores. If you plan to offer reduced holiday shipping rates, create tailored email campaigns around the best deals.
Email is also a great tool for delivering real-time updates about the status of an order. Automatic emails that confirm orders, alert customers when goods have been shipped, and provide an ETA on shipments are highly valuable during the holiday season. Not only will they increase customer loyalty, they can also reduce calls to your call center.
A Solid Holiday Order Fulfillment Strategy Leads to Solid Holiday Earnings
The holiday shopping season offers huge earning potential for retailers. That said, there's also the potential for logistical nightmares. If you want to make the most of this holiday season, analyze and improve your existing processes and invest time into revamping your holiday fulfillment strategy now — before the holidays hit.
Logiwa WMS pre-integrated with the leading ecommerce, marketplace, shipping and accounting platforms
3PL
Cloud 3PL software for high-volume fulfillment excellence