Time, Cost, and Quality – Smart Shipping as Your Competitive Advantage
Originally published on October 6, 2022 by Logiwa Marketing, Updated on March 13, 2023
Moving products off your shelves and into the hands of customers is the backbone of your business. Shipping needs to happen quickly, but orders also need to be accurate. It's a delicate balance to manage to keep your clients and customers happy.
As we shift from ecommerce 1.0—when brands and sellers were simply able to put their goods online—to ecommerce 2.0 which allows smaller brands to sell online as well as multichannel and omnichannel shopping, shipping speed and accuracy is becoming increasingly important.
Smart shipping functionality in your warehouse management system can save time and money, reduce the likelihood of returns, and improve client and customer satisfaction. It is one of the critical factors in keeping up with the growing ecommerce marketplace.
In this guide, we'll be looking at:
How Smart Shipping can reduce time spent on shipping

How Smart Shipping can reduce costs associated with shipping

How Smart Shipping can improve customer satisfaction
Time: Reduce Labor Hours with Smart Shipping
From two-day to same-day delivery, consumers want their items now. A recent PwC survey shows that 41% of consumers are willing to pay extra for same-day delivery.
Using smart shipping tools in your WMS, you can get orders out the door quicker than before.
Don't waste time finding the best shipping box for an order. Your WMS can help you choose the best box or mailer based on the product dimensions.

Print shipping labels in bulk for identical orders with batch label generation. This tool can be beneficial when a seller is having a sale or promotion on certain items.
Automate the shipping process by defining rules for auto-printing labels, creating packing lists, and developing custom forms.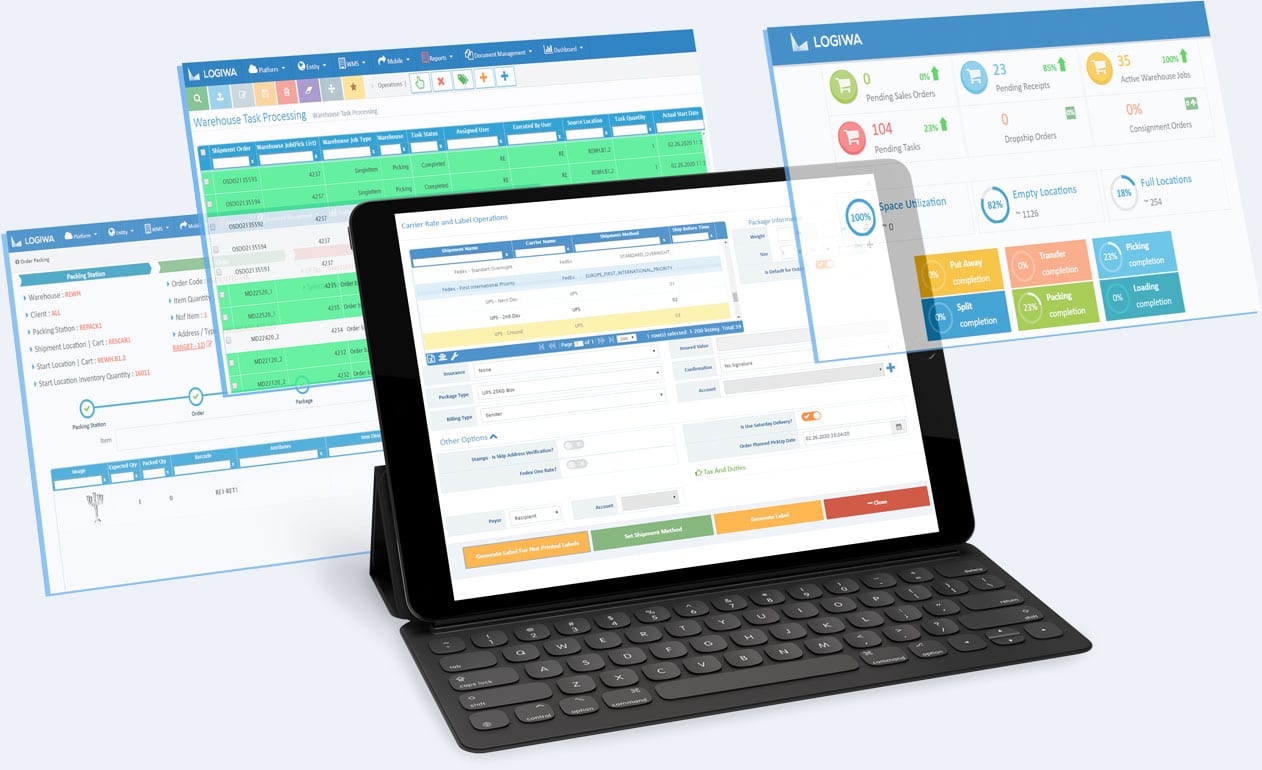 Transform your warehouse to a DTC fulfillment center
Cost: Reduce Expenses with Smart Shipping
If you're among the more than half of fulfillment businesses not using rate shopping when it comes to shipping, you could be costing your business and your clients thousands of dollars every year.
Rate shopping allows distributors, warehouses, and fulfillment centers to reduce costs by finding the best shipment method and shipping price for each order. Negotiating flat and discounted rates using standard package sizes is also possible. Add in address correction fees, and your shipping costs can add up quickly.
With a WMS that connects with many of the popular shipping and freight suppliers, you can reduce your shipping costs and increase profits for both you and the clients you serve.
Quality: Use Smart Shipping for Improved Order Accuracy
According to the National Retail Federation, the average return rate on ecommerce orders in 2021 was 20.8%. And all of those returns cost your business time and money. Processing returns is the most time-consuming part of fulfillment, with no added value to your company.
As ecommerce demands grow along with the desire for faster shipping times, companies need to get orders picked, packed, and shipped even quicker than before. But with increased speed comes an increase in the number of errors.
Smart shipping features in your WMS ensure the employees have picked the correct items by verifying order details before you seal a box or mailer. When returns do happen, understanding why they happened will provide valuable data to your clients and your warehouse operations, including quality control reports, forecasting, and finding the root cause of returned orders.
Smart shipping functionality also allows you to create return labels with an order, making it easier for the customer to benefit from your services.
Three Quick Takeaways about Smart Shipping
Streamline shipping operations by utilizing automated warehouse processes to eliminate non-value-adding actions.

Find the best shipping rates with Carrier Rate Shopping, reducing operational costs.

Foster a more remarkable customer experience through fulfillment accuracy, updated shipping information, and an efficient return process
In the direct-to-consumer ecommerce space, time is money. The faster you can get orders out the door with minimal errors, benefits you, the brands you serve, and their customers. With Smart Shipping, you can streamline your shipping operations, find the best shipping rates, and keep your customers satisfied.
For more info about Smart Shipping, contact our sales team or request a free demo.
Run a digital fulfillment experience with a fully integrated Cloud WMS