Secure Your Shipments with FedEx Drop-Off
Originally published on January 13, 2022 by Logiwa Marketing, Updated on September 2, 2022
COVID-19 is an ever-present threat to the world and, even with the vaccine and booster shots, people are still dying from the disease. 
As such, the world continues to fluctuate between trying to follow CDC guidelines to stay far away from anyone else in the world, and others are trying to return to "normal life." 
Either way, you might be looking for a way to not have to leave your house very often.
If this is the case, you should consider checking out FedEx Drop-Off as a possibility for your package needs. It is an extremely convenient method for handling your packages, and it can also keep you safe from being around other individuals who might put you at risk of COVID. 
In this guide, we'll explore:
What Is FedEx Drop-Off?
How Does FedEx Drop-Off Work?
Why Is FedEx Drop-Off Important?
Pros and Cons of FedEx Drop-Off
FAQs
What Is FedEx Drop-Off?
Of course, you must now be wondering what FedEx Drop-Off is. Indeed, it's as you might gather from its name – it's where you take a package that you are attempting to send out, and you drop it off at FedEx.
This package will have to have been labeled and the package must be secured. Keep in mind that you can also get a shipping label on your phone to scan at the location – the employee at the drop-off location will then print out a label for you.
Whether you have a physical label or a digital one, your package must be completely ready to be given over to a FedEx employee. With FedEx Drop-Off, you can't just show up with an unpackaged item – it has to be completely secured and ready to be delivered to the recipient.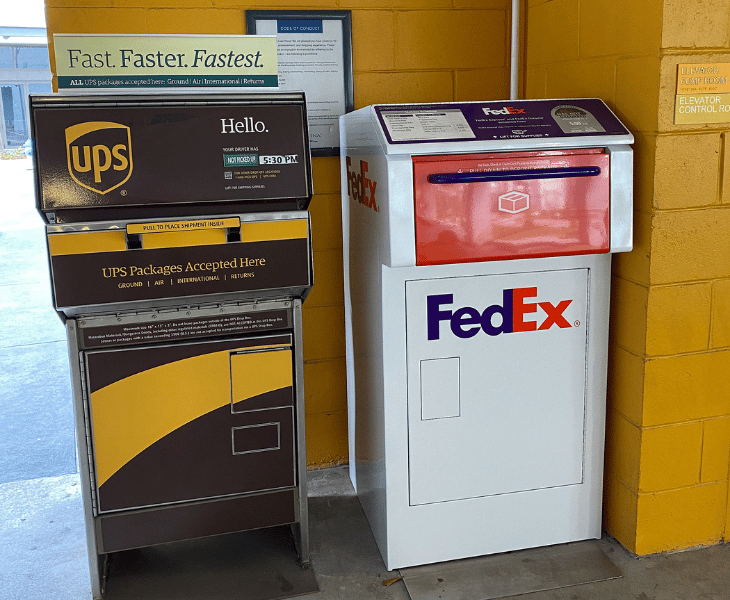 Similar to dropping off a package with USPS you will prepare all parts of your package and then drop it off at a FedEx location.
Quick note: it doesn't have to only be a FedEx location. Many locations near you might be willing to pick up a FedEx package and get it to its destination. In fact, you can drop off FedEx packages to USPS and even UPS.
However, if you do this, keep in mind that your package might experience delivery delays. When you drop off a package at a non-FedEx location (or non-FedEx affiliated location), the location you drop it off at will then have to figure out how to get your package to FedEx. Only once your package is at FedEx will it start the delivery process to your recipient.
The final hurdle to successful fulfillment is the Last Mile Carrier's area. In this article, we shed light on this vital role in the supply chain.
How Does FedEx Drop-Off Work? 
As you might be able to guess from the name of it, FedEx drop-off is a service where you drop off a package at FedEx.
However, it does go slightly deeper than that. Indeed, FedEx drop-off requires a few things from you before you can use it as a service:
Figure out how much it will cost to send your package with a

shipping cost calculator

.

Create a FedEx-specific shipping label for your package – if you go the digital route, make sure that the label is easy to read on your phone. If you go the physical route, secure your label to the package.

You must have a valid

shipping label

adhered to the package/on your phone so that the label is easy to read. If you have a physical label but you're worried it might tear off/become damaged in transport, you can always attach a secondary label inside the package as well.
If you're not certain where to get the shipping label, you can use FedEx shipping software – it is a robust service that will help you detail and package your item at home so it will be ready for drop off.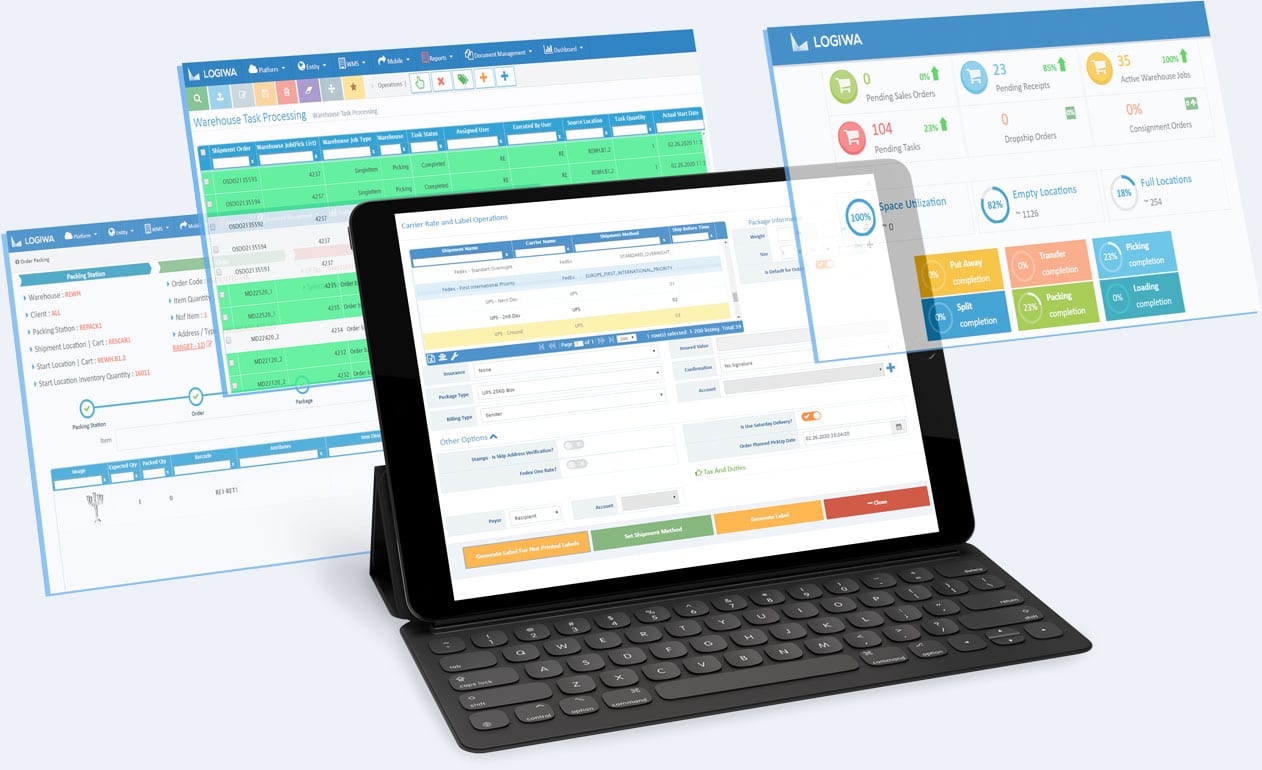 Transform your warehouse to a DTC fulfillment center
Why Is FedEx Drop-Off Important? 
FedEx drop-off is an important element of FedEx's shipping services because it allows smaller businesses or individuals to send out a lot of shipments without having to wait in a long line with other customers. When you decide to use FedEx's drop-off mechanic, you can simply walk into whichever location you choose, and drop your package off.
FedEx drop-off also lightens the load for FedEx employees. When a package is dropped off, the employee only has to scan it, then send it on its way, rather than inputting a bunch of information with the customer before the package can be sealed and sent off.
Also, if you want more security, you can always get your packages scanned and receive a receipt that will prove when you dropped off the package and the tracking number(s) for the package(s).
At the end of the day, FedEx drop-off allows people to have more freedom and to customize their schedules so that they're not beholden to specific timeframes and opening/closing times of FedEx shipping services.
When it comes to convenience and protection from COVID-19, FedEx drop-off is a great choice.
Pros and Cons of FedEx Drop-Off
Pros
You can drop off packages at any location, although a FedEx location is the preferred drop-off place.

More convenient for smaller businesses/individuals

Saves time when it comes to shipping out packages from FedEx

Allows you to stay safe in this COVID-ridden world

You can have a physical or digital shipping label.
Cons
Requires that you have all the tools required to complete your package at home (this includes a scale, dunnage, packaging tape, boxes, etc.)

Ensuring you have all the materials required to have a complete package might cost a lot of money.

If you drop off a package at a non-FedEx location, you may experience delays in your shipment.
FAQs
Where can I drop off a FedEx package?
You can drop off a FedEx package at any location that is registered with FedEx as a company. This can mean that you will be going to a location that has FedEx in the title (such as a FedEx Kinkos), but it may also mean that you can drop off your package at a nearby Walgreens or CVS. Just check for locations near you that accept FedEx drop-offs. 
You can also drop your package off at a US post office or even UPS, although the delivery of your packages is not guaranteed if you drop it at UPS. There's a chance that if you drop your package off at UPS, they will return it right back to you.
Can you drop off a FedEx package at the post office?
You might find this surprising, but yes, you can! Although you may not receive the same shipping speeds as you're hoping for, you can drop your package off at the post office. 
Realize that when you drop a FedEx package off at a post office, you are adding a step to your shipping process. The staff at the post office now has to get your package to a FedEx delivery driver, which, depending on how quickly the USPS person works, can take a couple of days. 
This is why it is best to deliver your package to a FedEx or FedEx-adjacent servicer to make sure that your package arrives promptly. 
How do I contact FedEx?
Contacting FedEx couldn't be easier, and there are many ways to do so depending on your preferences. You can call FedEx – they made their number clever and easy to remember: 1-800-GO-FEDEX. And if you wish to contact them online, just reach out to them at FedEx.com. 
Is FedEx slow?
FedEx isn't necessarily considered slow! It, of course, depends on which shipping service and the shipping speed you choose for your package, but FedEx shipping speeds are pretty average across the board. They might even be faster than USPS, depending on the distance. If you're looking for fast shipping, FedEx is a great candidate to check out. 
Ship more with a fully integrated WMS that connects with 200+ ecommerce
3PL
Cloud 3PL software for high-volume fulfillment excellence