A Comprehensive Guide to Cloud WMS Software for Your Business
Originally published on July 26, 2022 by Logiwa Marketing, Updated on March 17, 2023
Cloud WMS software is the next frontier in supply chain operations. High-volume DTC and B2C enterprises can no longer afford to run on sub-par on-premise legacy systems.
Traditional warehouse software cannot scale, track, and manage warehouse operations in real-time. Most can't even integrate between different systems. As a result, these organizations miss out on the opportunity to leverage new platforms and technologies as soon as they become available.
Cloud fulfillment platforms are the future, and Logiwa's is helping drive supply chain modernization.

In this guide, we'll look at:
What Is Cloud WMS Software?
A cloud-based warehouse management system is WMS software implemented in a software-as-a-service (SaaS) model. It is designed with a web-based interface, and users can access it from any device with an internet connection.
Cloud WMS software stores all data on external servers (the cloud), managed by the software provider. Businesses don't need to host any hardware on their premises. Instead, organizations pay a monthly fee for the license without absorbing the costs associated with the purchase, installation, and subsequent maintenance of the infrastructure required to run the WMS.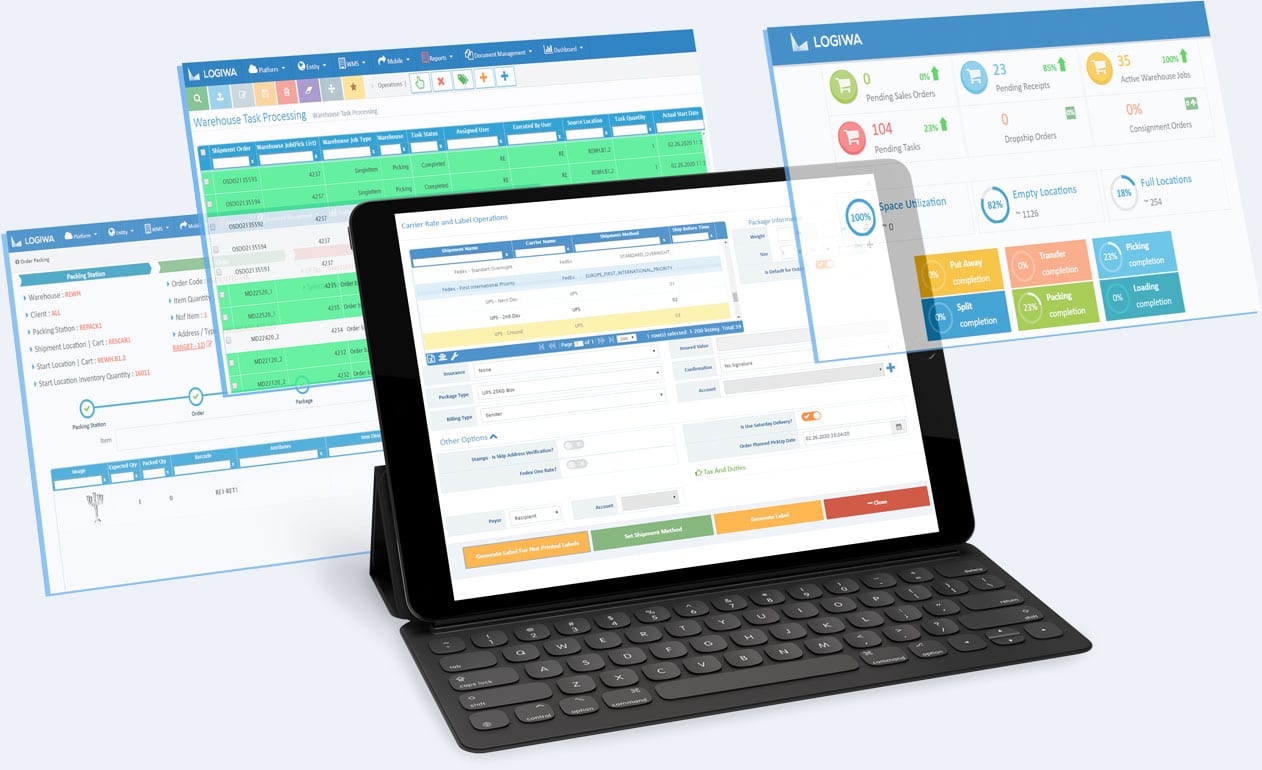 Transform your warehouse to a DTC fulfillment center
Benefits of Cloud Warehouse Management Software
Several benefits come with using a SaaS WMS for your warehouse operations:
Real-Time Visibility
With cloud WMS software, warehouses can update their inventory continuously. Anytime a product is received at the warehouse, placed in storage, or dispatched to the customer, these details are uploaded to the cloud in real-time.
Scalability
Legacy WMS systems can't manage increasing stock-keeping units (SKUs). You eventually end up with severe bottlenecks and unprecedented delays in fulfilling customer orders. WMS warehouse software is designed to scale with the business. It can support numerous warehouses, products, orders, and users.
Real-Time Access to Data
Working in a cloud-powered, mobile-friendly WMS environment gives you the freedom and convenience to work virtually from wherever you are. It gives you real-time access to data, allowing you to respond quickly and manage every aspect of your warehouse operations remotely.
Multi-User
Depending on the product demand and subsequent workload, cloud WMS software gives organizations the flexibility to scale up or down accordingly. It's as easy as increasing or reducing the number of licenses as need be.
Multi-Device
SaaS-based warehouse management software is accessible to users anywhere, anytime, and from any device. Whether using a smartphone, tablet, or PC—provided the device has an internet connection—you can access the cloud WMS and track your warehouse operations.
Secure
Top-of-the-line cloud WMS software like Logiwa enforces industry-accepted best practices for network-level and application-level security. It means that your warehouse data is closely guarded by various security protocols designed to limit who can access the data and what they're allowed to see.
SaaS-based warehouse systems also back up data automatically, eliminating any risk of accidental data loss.
Cost-effectiveness
On-premise solutions typically offer solution guidance, setup, implementation project management services, and maintainance to you as a customer. However, this can incur significant costs as your provider will have to come on-sight to your warehouses centers in order to help. Without cloud-based access, these service fees can get costly – especially if you need to try and scale or evolve quickly. 
With cloud-based solutions, setup and maintenance fees is part of your initial agreement. Because your provider has full access to the infrastructure from their end, they can provide lower cost configurations and strategic support faster – without having to visit your warehouses or disrupt operations. In addition to not having to purchase and configure the servers required for on-premise solutions, the as-needed support services of a cloud solution are often more cost-effective.
Explore the eight critical benefits of warehouse management system software implementation to help your business grow and serve your clients.
What Features Should You Look for in Cloud WMS Software?
Regardless of the cloud WMS software you choose, there are a few must-haves you need to keep an eye out for. It should meet all of your WMS Checklist requirements and have the capabilities and tools required to match your specific warehousing needs. Here are the top five.
Picking
Your WMS warehouse software should be capable of generating pick orders for more efficient warehouse order picking. That way, products can get out the door in the shortest possible time and in the most efficient order.
It's also a good idea to check for software that comes with picking tools that are ideal for the size of your enterprise and can accommodate multiple layouts. Bonus points if it supports options such as put-to-wall systems and wave picking. If you run a larger warehouse, options for zone picking on a single order will come in handy for your operations.
Receiving
The receiving features embedded into cloud WMS software are just as important. The system should be able to process all inbound shipments and integrate them into your warehouse inventory.
It shouldn't just manage the physical products transferred into storage; it also needs to check the received orders against the purchased ones. Doing this reduces errors and what would otherwise be a mountain of paperwork.
Inventory
Automated inventory cycle counting is perhaps one of the most time-saving features any robust WMS warehouse software can have. It supports several counting options, allowing users to keep track of products. It even performs multiple inventory checks throughout without disrupting the day-to-day activities of warehouse employees.
Keep an eye out for WMS software with advanced counting tools such as rank-based selection and random audits.
Locators
The best cloud-based warehouse management software should have a locator feature that lets users monitor where their goods are within the warehouse. This must-have capability allows you to optimize workflows and locations and even works with serial and lot trackers to monitor inventory counts.
Customizable planning and picking
The ability to plan wave-picking activities has become a mainstream feature in top-tier cloud WMS systems. These planning tools allow users to create different order clusters and set up different picking priorities. That way, you can customize the system to meet specific order and product demands and even adapt it to your employees based on their respective shifts.
Shipping and Receiving
Shipping and receiving are two of the most essential steps in the fulfillment process and maximizing throughput.Top-tier WMS systems offer the ability to easily process new batches of inventory with smart inventory management and execute orders to ensure warehouse operations flow seamlessly. Ecommerce shipping software also helps to expedite distribution processes: from printing shipping labels, comparing carrier rates and automating shipping box selection to routing orders, monitoring shipments, and ensuring last-mile delivery.
Reporting and Analytics
Modern warehouse management systems should come with an embedded BI tool that aids benchmarking, live reporting, and predictive analytics to support informed decision-making and improving operational efficiency. With WMS reporting and analytics, you will be able to drill down to specific bottlenecks, as well as prevent issues from causing significant damage. This allows you to eliminate guesswork and enhance visibility into the areas that matter most to your network's success. 
Integrations with Other Software Systems
When it comes to cloud WMS solutions and integrations, the ability to easily integrate with other systems helps unite the different parts of your fulfillment operations and achieve fulfillment excellence. By bridging the gap between your warehouse data and online ecommerce platforms, robotics systems, accounting software, and shipping providers – you make it possible to sync stock with orders, route orders closer to online buyers, and streamline internal operations.
How to Get Started with Logiwa's Cloud WMS Software
Logiwa's secure cloud platform offers more automation capabilities than any other warehouse and shipping product on the market. Our SaaS WMS software is remarkably easy to set up and even easier to update. You can have the system up and ready to go in weeks, as opposed to several months or years, like with traditional on-premise WMS solutions.
Logiwa comes with a ton of built-in automation rules designed to speed up your operations. It allows you to optimize everything from inbound procedures to pick-pack-and-shipping processes, cutting down the turnaround time for high-volume warehouse operations.
Are you ready to leverage the benefits of Logiwa's enterprise-class WMS platform?
Book a demo today and learn why our cloud warehouse software is specifically built for high-volume DTC and B2C businesses.
FAQ
What is the difference between ERP and WMS software?
Enterprise resource planning (ERP) software is an all-in-one system that facilitates the flow of information between all areas of your business – including processes and human resources related to financing, production, trade, supply chain, and customer relations. In contrast, warehouse management systems (WMS) software operates as a standalone solution for managing internal warehouse operations. For more insights on the differences between these solutions, check out our ERP and WMS comparison.
What are the different types of warehouse management systems?
There are four primary categories of WMS solutions: freestanding warehouse management systems (WMS), Cloud WMS software, supply chain execution systems, and enterprise resource planning (ERP) systems. Each solution has its own unique benefits and is suited to different warehousing needs.
What is SaaS WMS?
Software-as-a-service warehouse management systems (WMS) technology is a type of Cloud-hosted warehouse management solution that allows you to track your warehouse activity and inventory data in real-time across your entire fulfillment network. No matter how many warehouses or fulfillment centers you add to your network, SaaS WMS acts as a single digital control center for all your operations.
How is Logiwa's cloud WMS software different from traditional on-premise WMS software?
Logiwa's cloud fulfillment platform does not require on-premise hardware or in-person maintenance to ensure end-to-end fulfillment management. Our WMS software syncs the data throughout your operations to provide live visibility and control over your digitized fulfillment network – including ecommerce data, inventory levels, order statuses, accounting and billing information, and more. With cloud accessibility, you and your customers can monitor the health of business operations, scale flexibly, and resolve setbacks quickly (if not prevent them from ever even occurring).  
How does Logiwa's cloud WMS software improve inventory management?
Logiwa's cloud WMS uses smart inventory management and warehouse automation technology to optimize the storage and organization of inventory in warehouses. Using customizable rules and intelligent putaway algorithms, our solution ensures items are placed in the absolute best location for the efficiency of your larger fulfillment operations. Our system can evaluate the popularity of certain inventory items, prioritize fast-moving products, and change facility layouts to ensure productivity and safety. 
Can Logiwa's cloud WMS software integrate with other software and systems?
Yes. Logiwa's cloud WMS offers more integrations than virtually any other provider on the market, including 200 major ecommerce platforms, shipping carriers, robotics providers, and account/billing solutions. To support high-volume fulfillment, our WMS was designed with OPEN REST API, EDI and webhook functionality, and more. Plus, if one of our customers needs an integration we have not yet established, we can easily work to produce a custom integration. 
How secure is my data with Logiwa's cloud WMS software?
Logiwa's cloud WMS was built on Microsoft Azure with industry-leading security practices at the core of our product. Both at an application level and a network level, Logiwa uses sophisticated AI-based algorithms to detect security threats and keep your data safe at all times.
Run a fully digital warehouse with mobile apps, smart job batching, automation rules