Top 8 WMS Software Benefits for Your Business
Originally published on July 21, 2022 by Logiwa Marketing, Updated on March 3, 2023
No matter what type of clients your warehouse serves—business-to-business (B2B), business-to-consumer (B2C), direct-to-consumer (DTC), or third-party logistics (3PL)—manual processes are costing you time and money. They can negatively impact your client and customer satisfaction ratings. WMS software benefits your business in myriad ways. 
In addition to improving your inbound and outbound inventory management processes, numerous warehouse management systems (WMS) can help your business reduce costs, improve warehouse efficiency, and grow your operations. Whether you have one warehouse or many, WMS software can help you meet the growing ecommerce demand, bring on new clients, and streamline processes like never before. 
In this blog, we'll explore:
Why Effective WMS Software Is Important
8 Critical WMS Software Benefits

Optimized warehouse flow
Reduced operating expenses
Inventory visibility
Labor efficiency
Customer and Supplier Relationships
Optimize Inbound and Outbound Logistics
Internal automation benefit
Effective shipment management

How to Select the Right WMS Software
Why Logiwa Leads in WMS Software
Answers to Frequently Asked Questions
Why Effective WMS Software Is Important
Data is great. It can help you establish business goals, set key performance indicators, and motivate your employees. But effective warehouse management is more than simple data. With integrations available across all your business functions, warehouse management is a staging ground for a robust, customized set of solutions for your workflows. Great 3PL WMS software, inventory management software, and ecommerce WMS software will tie teams beyond your warehouse walls, looping in sales, engineering, IT, customer relationship managers, and more to create transparency and cooperation across the board.
8 Critical WMS Software Benefits 
Staying competitive and on top of your game isn't a one-person job. It takes a team and the right tools. One of the most critical tools for warehouse operators is warehouse management software that can improve and streamline processes, increase employee efficiency and morale, and build stronger customer and supplier relationships. WMS software benefits are wide-reaching for all businesses. 
1- Optimized warehouse flow 
Warehouses are big spaces, often with lots of shelving and storage spaces. Inventory can be up high, in temperature-controlled areas, or even stored at another location. 
Knowing where to store an item, how to find it, how to retrieve it (safely) for picking and packing tasks, and where to send it for shipping are all part of your warehouse flow. Having employees walking from one end of your warehouse and back again (and again) is inefficient and costs you time and money. Warehouse and inventory management software can help you optimize the flow of your warehouse to help you improve all your inbound and outbound processes, from when inventory arrives at your loading dock to when it is shipped to a customer.
2- Reduced operating expenses
In the warehouse business, space equals money. Inefficient use of space can cost your operation more money, thus reducing your revenue. Another vital benefit of WMS software is the ability to design your warehouse layout to optimize your space, considering seasonal inventory increases or even just-in-time inventory practices. 
For example, inventory management software can help you plan the best warehouse layout for improved material rotation. It doesn't matter if you operate on a first-in first-out (FIFO), last-in, first-out (LIFO), or first-expired, first-out (FEFO) system, which can help reduce costs related to expired or retired inventory. WMS software benefits include keeping track of these systems as well as reducing operating expense. 
3- Inventory visibility 
Cloud-based warehouse management software can give employees, suppliers, and customers accurate, real-time visibility into your inventory, which can reduce out-of-stock notices and backorders. Automating processes with the help of barcode scanning, RFIDs, and other location-tracking methods can be easily implemented with WMS software, further improving inventory accuracy and real-time visibility into inventory levels.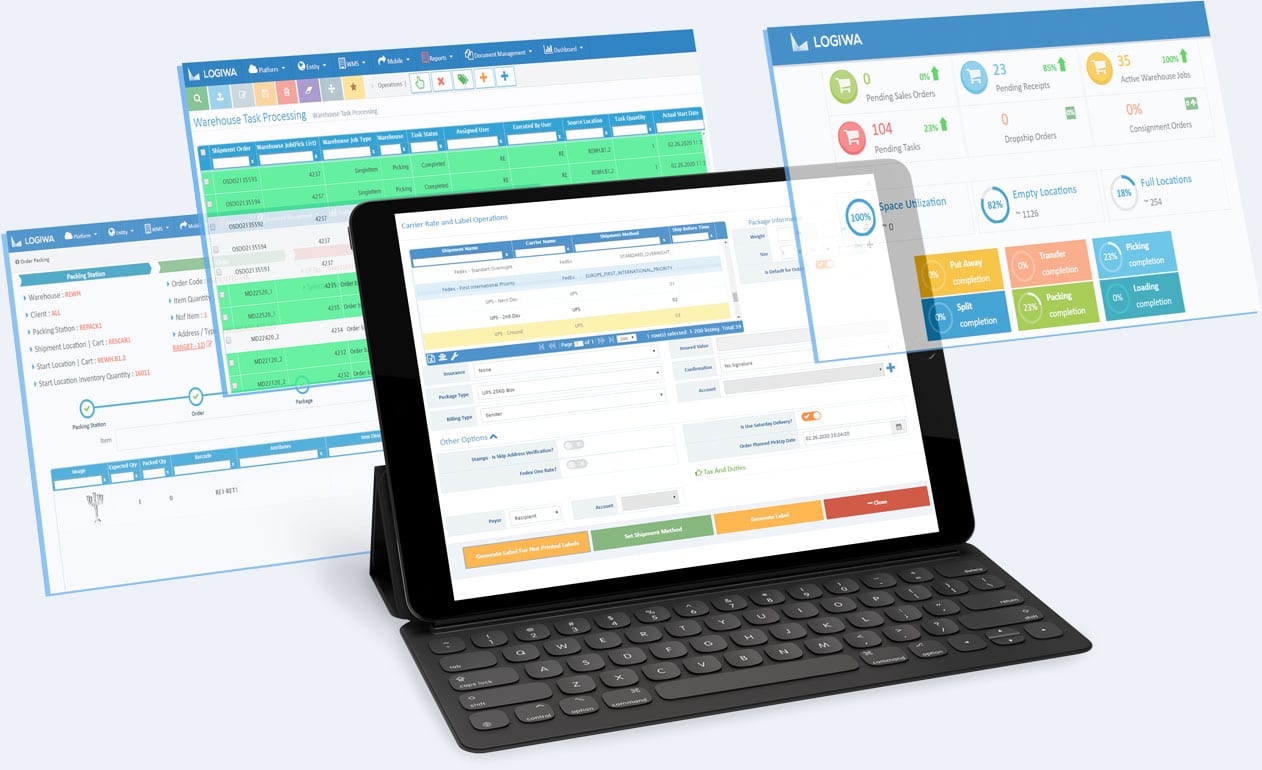 Transform your warehouse to a DTC fulfillment center
4- Labor efficiency 
With tools such as walking path optimization, you can make more efficient use of your employees' time by finding the fastest way to navigate the warehouse to pick products quickly, accurately, and efficiently by using various picking methods such as wave picking and zone picking. With knowledge of your employees' skill sets, you can further optimize your labor force by assigning duties based on skill level, location in the warehouse, experience with certain types of equipment, and the tasks available during their shift. WMS software order fulfillment can also helo with labor efficiency.
With real-time feedback on workers' performance, warehouse managers can provide feedback and suggestions and identify training opportunities, resulting in more engaged employees. According to research from the Kenco Group, increased employee engagement decreases absenteeism, turnover, theft, and safety incidents. 
5- Customer and Supplier Relationships
Recent SelectHub data shows another important benefit of WMS software: improved customer and supplier relationships. By providing visibility into inventory levels and scheduling shipments receipt, warehouse operators can help improve the supply chain. Customers benefit through improved order fulfillment, reduced delivery times, and fewer order inaccuracies. 
6- Optimize Inbound and Outbound Logistics
Warehouse loading bays can be some of the building's busiest and most congested areas. A great WMS software allows you to establish shipment management protocols to reduce backlogs at receiving areas, loading docks, and shipping areas to ensure inventory gets in and out of your warehouse as quickly as possible. WMS software order fulfillment allows users to optimize outbound logistics. 
7- Internal automation benefit
Inventory management is only part of your business. Properly serving your customers requires a host of other processes, including human resources, resource planning, and accounting. With the best WMS software, you can easily integrate with the other systems you currently use within your business.
8- Effective shipment management
When customers place an order, they want it delivered to their door as quickly as possible for the lowest price. Many warehouse management systems can integrate with popular shipping companies to give you access to the best prices and shipping times, as well as auto-printed shipping labels that process orders to get them out the door faster.
How to Select the Right WMS Software
The top WMS software vendors have slightly different offerings, benefits, and price points, so it's essential to research beforehand and ask questions to determine your needs. 
Determine the people, processes, data, technology, and organizational needs of your warehouse operations.

Ask your employees where you can make process improvements or where errors commonly occur.

Think about system usability, implementation requirements, product support, and ease of use. Even the best system will be useless if your employees can't use it properly. 

Plan for growth with a product that can scale with your company.
Why Logiwa Leads in WMS Software
If you've read this far, you better understand there are many WMS software benefits. Since you're reading this on our website, we hope you're starting to realize that Logiwa is one of the top WMS providers in the industry. Our software can help meet your business needs, including cost reductions, improved efficiency, and increased customer and supplier satisfaction. 
Our cloud-based system is easy to update with new features that reflect current industry best practices, no coding required. You can be up and running in as little as four weeks, and our helpful service teams can assist with any issues in under 10 minutes, not hours.
To explore the benefits of our WMS software, request a free demo. If you have further questions, reach out to a member of our sales team. 
FAQs
What type of clients do warehouse management systems serve?
Warehouse management systems can help you serve all types of clients, including business-to-business, business-to-customer, and direct-to-customer suppliers. 
What types of integrations are available with WMS software?
A great WMS will integrate with popular ecommerce and online shopping suppliers, as well as popular accounting and shipping companies, to help you meet your client and customer needs.

Sometimes, yes. But some WMS sofwares (like Logiwa) are multi-functional. 
What are the main WMS software benefits?
There are eight critical benefits to implementing WMS software:
Optimized warehouse flow

Reduced operating costs

Inventory visibility

Improved labor efficiency

Improved customer and supplier relationships

Optimized inbound and outbound logistics processes

Internal automation

Effective shipment management
Run a digital fulfillment experience with a fully integrated Cloud WMS System