Barcode Inventory System & Inventory Management Software
Originally published on February 12, 2021 by Logiwa Marketing, Updated on January 6, 2023
Barcode Inventory System Benefits Your Business Operations
Everybody knows that barcodes were a supersonic leap over pen and paper inventory tracking. Still, many warehouses and companies have yet to tap into the full potential of a modern inventory system with barcode capability. Now, with connected technology and advanced warehouse algorithms, another quantum leap in performance may be possible.
By merging mobile, internet, and ecommerce technology, Barcode inventory systems are more powerful than ever. The end results are higher inventory accuracy, improved warehouse efficiency, cost savings, and more customer satisfaction. Many companies have already deployed these systems, and the results are compelling.
We have covered the following topics in this content for you:
How a barcode inventory system works
The barcode frontend and backend
Barcode scanner types
1D vs. 2D barcodes. What's the difference?
How to choose barcode scanner hardware
Moving to the barcode scanning system backend
How a barcode inventory system works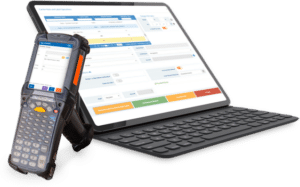 A barcode system consists of a collection of tools that enable product inventory data to be transmitted, stored, and managed electronically. Components of a typical barcode system include:
Handheld scanners
Mobile apps
Web apps
Printers, labels
On-premise or cloud based servers
Inventory management software
Not all inventory scanning systems have all of these elements, but when used together effectively, major operational improvements can be achieved.
95% of the activities recorded on Logiwa are executed through our mobile inventory app.
The barcode frontend and backend
For any warehouse barcode system, the frontend basically consists of the handheld device that does the scanning, labels, and any label making equipment. The backend is made up of anything that manages the data ingested by the scanners, and that's where the big advantages can be found. Let's look at the front end components first.
Barcode scanner types
Laser barcode scanners use a red diode to read the black and white markings on a label in a linear or omnidirectional pattern. Omnidirectional scanners are easier to use since they have a wider reading area.
Imaging barcode scanners work by capturing a barcode image (not laser based, but digitally). The image then gets decoded on back end software.
1D vs. 2D barcodes. What's the difference?
1D barcodes display information in a linear fashion (one direction) with vertical lines. 2D barcodes store data in multiple directions with two dimensional shapes. QR codes are 2D barcodes, and are often used in retail applications. Two dimensional codes can store richer information, such as website URLs, geolocation data, plain text, and other information.
How to choose barcode scanner hardware
Several factors will influence your choice of a scanner device. Things to consider include:
Warehouse environment: Temperature, indoor vs. outdoor, environmental hazards
Symbologies: Need only standard symbols? Types of scanner symbologies include PDF417, Postal, OCR, DPM, and others.
Scanning distance: If you need to scan at a distance, you need a long range scanner. Long distance scanning can save time and resources since one person can scan from a central location.
Mobile app: Some scanners can download an inventory app to open up even greater inventory management capabilities. Even mobile phones can now be equipped to become warehouse scanning devices.
Did you know that Logiwa can work on all Android and iOS phones and tablets, including Android RF guns? We provide the exact apps and tools you need to get started.
Moving to the barcode scanning system backend
While the handheld scanner choice is vitally important, the real power lies in the data collected by the scanner. It goes far beyond just keeping track of product inventory levels. The reason is that your warehouse data influences a wide range of factors, from resource use to operations and even to the commercial success of your business.
Improved data visibility & value
For starters, barcode systems enable a real-time view of stock levels, even across multi-warehouse management environments. However, this is only the beginning. For instance, having accurate, up to date inventory data enables you to:
Detect problems faster – Companies can quickly analyze why order returns are occuring. For example, one particular batch of products may be of lower quality or even expired.
Map trends – Accurate scanning data shows when high demand occurs for certain products. Then, adjustments to purchasing, shipping, and warehousing can be made. Inflationary and seasonal fluctuations can be detected since you can track lot numbers that match a specific date.
Respond to recalls – By rapidly generating a list of recalled products and their destinations, you can comply with regulations and improve customer safety.
Stay compliant – The Food and Drug Administration (FDA) and the International Organization of Standardization (ISO) enforce specific regulations and certification requirements that require accurate inventory management data.
Minimize warehouse waste – Especially for items with expiration dates, lot batch analysis can optimize inventory management by shipping items close to expiration first.
Reduce human error – With automated inventory tracking, management errors can be eliminated.
Augmented warehouse resource savings
Another major advantage to data collected from barcode scanners is worker resource savings. A large warehouse is like a mini-city. Getting around to pick and pack complex, large, or varied orders is not simple by any means. Kitting and assembly are good examples of how complex things can get since you may have to package many different kits from a wide range of parts.
The right software platform can use data collected from barcode scanning systems to optimize order fulfillment processes and, therefore, reduce your costs. For example, complex picker paths can be organized to set the shortest routes even for complex assemblies.
Walking can make up to 60% of warehouse labor time and cost. The average picker walks 6-8 miles a day in an unoptimized system. Logiwa can decrease the walking distance by at least 26%.
Historically, there are many different approaches to warehouse picking path optimization. However, instead of trying to map this out on your own, modern warehouse solutions are commercially available that do it for you automatically. Your overall warehouse layout can be changed to improve efficiency. Finally, as business conditions change (seasonal, new products, business growth, etc.), the most efficient methods can be updated on the fly when you have an integrated, smart solution.
The ecommerce impact
Having up-to-date inventory data also provides a major benefit on the other frontend: your online store. Remember, customer satisfaction has a profound impact on your bottom line. With precise data collected by an integrated barcode system, order errors become much less likely. Also, when your online portal is linked to your warehouse data in real time, you can quickly replenish items low on stock to make sure buyers can complete their orders the first time.
Even when it comes to handling returns, an integrated system makes a difference and can boost your profit margins. For example, by automating the ecommerce returns management you can:
Enable the customer to initiate the return process for both blind returns and authorized returns.
Have data entry automatically between systems to eliminate errors.
Reconcile inventory automatically.
Track returns and inform customers automatically on return status.
Accelerate the return process with automated return labels.
Minimizer touchpoints required to manage and monitor the returns.
More ways barcode scanning helps your warehouse business outcomes
When you combine barcode methodologies with intelligent warehousing tactics, other benefits are realized, such as:
Minimized stock handling: With greater insight into inventory, less handling is required. This minimizes worker effort and equipment wear and tear.
A more efficient warehouse: When inventory is properly tracked, methods, such as the put wall picking U-cell approach for high volume operations can be automated and optimized.
Leverage warehouse space: With accurate data, warehouse managers can pack goods more effectively and free up warehouse space.
Fully integrated solutions work best
This may sound like a lot of work that stems from a simple barcode reading system, because it is. However, innovators, like Logiwa, offer comprehensive, end-to-end solutions for companies and warehouse operators. The barcode reader is one important element of an overall strategy to produce the best outcomes and make warehouse management easier.
Superior platforms will already have all the features built in. This is critical since if you try to build it piece by piece, integration glitches may affect performance and accuracy. On the other hand, if it's already developed, deployed, and running effectively for other businesses, you know it has been tested. This reduces your up front risk to essentially zero.
On-premise or in the cloud
Some organizations may choose to update or install server hardware to fully leverage their barcode system. However, entire cloud based platforms are just as effective and avoid the up front cost of installation. You could even open up a warehouse halfway around the world and integrate it instantly into your systems.
Time for innovators to thrive
In many ways, a new era of warehousing and fulfillment is just beginning to take shape. The tools are out there and continue to be developed and improved. The most innovative brands are continuously finding new ways to increase their margins by leveraging technology that's easy to deploy, understand, and scale.
With solutions such as automated warehouse workflows, seamless ecommerce integration, and robust centralized support, what began with a simple barcode has near limitless possibilities.
Implement a powerful, affordable barcode system with Logiwa. Our cloud based inventory management software makes it easy.
Scale up B2C fulfillment operations with an integrated digital warehouse and fulfillment system