WMS vs. WES vs. WCS: A Holistic Approach to Intelligent Fulfillment
Originally published on October 28, 2022 by Logiwa Marketing, Updated on May 22, 2023
As the demand for online goods continues to rise and supply chains are pushed to their limits, the importance of having an efficient and profitable warehouse operation also increases. Without intelligent fulfillment technology, warehouses will find it increasingly difficult to keep up with ordering demand while maintaining customer satisfaction.
In this guide, we'll explore:
To keep pace with the demands of today's digital supply chain, warehouse automation adoption is growing rapidly. As warehousing evolves to meet the demands of market forces, so do the management systems. The three most common systems used today include warehouse management systems (WMS), warehouse execution systems (WES), and warehouse control systems (WCS).
Invest Wisely: Determine Business Needs First
While these are the three main types of software solutions that can be deployed in a warehouse, it can be confusing to determine which functionality each type provides and which is the right system to meet your warehouse needs.
Before selecting a warehouse management system, the first step is to evaluate your business needs. As warehouse systems continue to merge and evolve, it's becoming increasingly important to identify your business needs first and find the system or systems that are best suited for your warehouse operations.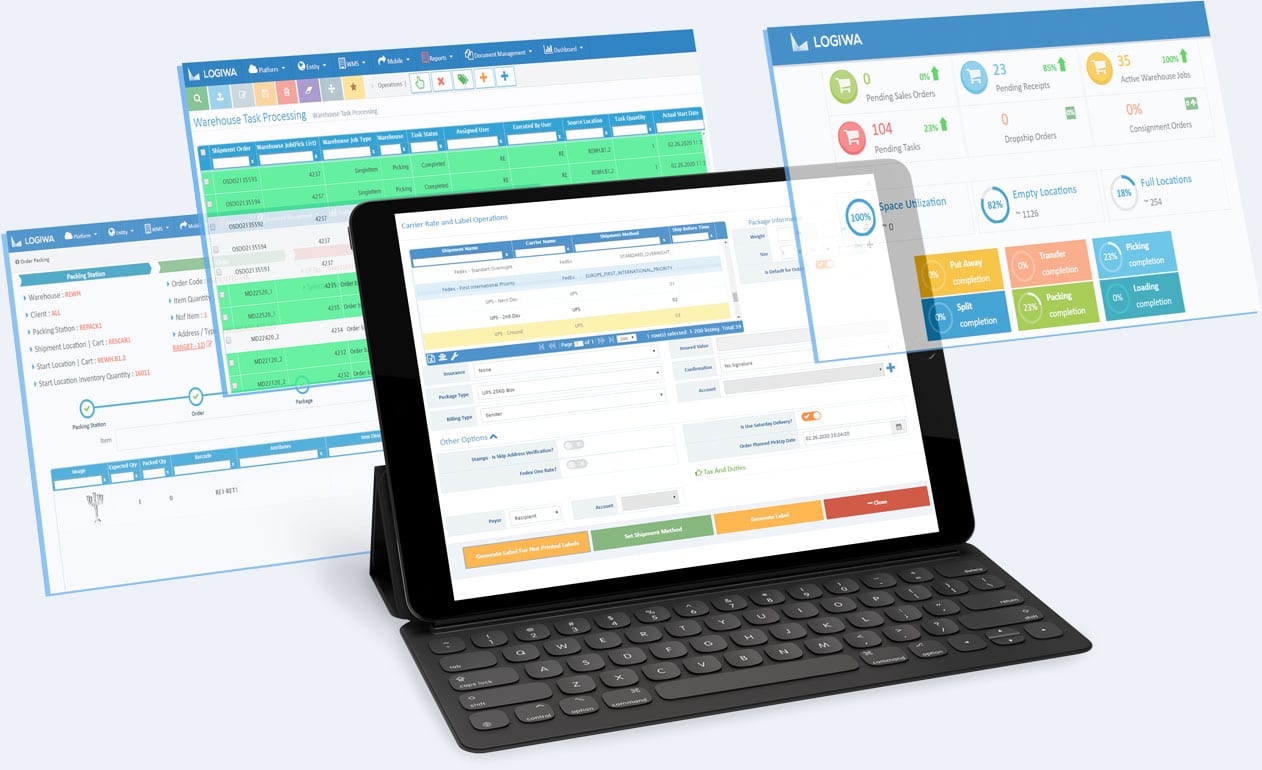 Transform your warehouse to a DTC fulfillment center
Defining the Differences
We explored the difference between a WMS and a WES in an earlier blog, but let's dive a bit deeper to learn where a WCS fits in and how the three systems complement each other for operational success.
WMS:
A Warehouse Management System manages inventory flow throughout your warehouse and its inbound and outbound processes. A WMS can assign labor tasks to optimize employee efficiency and help plan the warehouse layout to ensure the most effective use of the space. Standard WMS software has reporting capabilities and can connect to third-party platforms such as ecommerce and marketplaces, shipping services and customer service tools.
Benefits of using a WMS include:
Integration with transportation management and order management systems, as well as ERPs
Advanced receiving capabilities
Management reporting
Reverse putaway and slotting capabilities
WES:
Warehouse execution systems (WES) are meant to complement your WMS, not replace it. Once inventory arrives at the warehouse, a WES takes over and works in real-time to organize, sequence, and synchronize warehouse resources. From people to equipment, the main function of a WES is to get incoming inventory back out the door.
Additionally, a WES can maximize warehouse productivity and labor efficiency using workforce planning functionality. This can benefit worker safety through hands-free and eyes-free applications, such as robotics and artificial intelligence, to increase accuracy with picking, transfer and packing validations.
WCS:
Warehouse control systems send directives to material handling systems such as conveyor belts, automated storage and retrieval systems (AS/RS), pick-to-voice subsystems, sorters and other material handling systems in automated facilities.
The main function of a WCS is to ensure that automated facilities run smoothly by tracking orders as they travel within the four walls of the warehouse.
Warehouse control systems include:
Integrations with fixed and mobile scanners
Ability to print and apply labels
Ability to measure package weight while in motion
Combining Functionality in Warehousing Systems: A Holistic Approach
While all the three systems may seem unique and distinct, there are overlaps between them. Combining a WMS with a WES and a WCS will provide a more holistic approach to fulfillment. While your WMS can manage the general flow and transactions in the warehouse, a WES/WCS can add machine control and labor management for end-to-end visibility and control of the order process.
WMS and WES systems can overlap in the following functions:
Shipping, inventory and replenishment management
Small-parcel manifesting
Non-automated pick management
Voice data capture
WES and WCS systems can overlap through:
Pack sorter management
Shipping sorter management
Automated pick management
Pick-to-light management
If you'd like to learn more about WMS, WES, and WCS software and how they can help your warehouse or fulfillment operations, reach out to a member of our team to discuss your business needs, check out our recent webinar about the topic or request a free demo of Logiwa's products.
Run a fully digital warehouse with mobile apps, smart job batching, automation rules