Simplifying Multi-Carrier Shipping With WMS Software
Originally published on April 4, 2023 by Erhan Musaoglu, Updated on April 20, 2023
Just as technologies evolve to support the needs of modern fulfillment operations, the logistics industry is also changing with each technological advancement. Take shipping, for example. It was once considered a common practice to partner with one carrier for all outgoing orders. Now, thanks to the robust integration and automation capabilities of modern warehouse management systems (WMS), many companies are switching to a multi-carrier shipping approach.
However, multi-carrier shipping can be tricky to manage. Luckily, warehouse management software can help make it a worthwhile process for your business. Below, we discuss what multi-carrier shipping is, its many competitive benefits, and how a WMS can simplify multi-carrier shipping for your business.

In this blog, we will discuss:
What Is Multi-Carrier Shipping?
In simple terms, multi-carrier shipping is the process of using a variety of carriers to fulfill your order delivery needs. In a more complete sense, it includes switching between various carriers, coordinating with warehouses based on inventory availability, and picking delivery options which guarantee the most efficient route to customers.
There are a lot of moving parts to consider when adopting multi-carrier shipping, so it is important to plan for the unique needs of your business. For example, if you're shipping locally, it might be more cost-effective to use a local carrier to pick up and deliver orders. However, for packages that need to be transported across state or international lines, you will need a carrier capable of safe, long-distance shipping.
The Benefits of Multi-Carrier Shipping
While there are challenges when utilizing multi-carrier shipping, it's still a popular practice throughout the logistics industry due to its benefits. These benefits can include better delivery success rates and cost savings to customer satisfaction and fulfillment network growth.
Multi-carrier shipping helps to reduce shipping costs by enabling you to choose from the best rates, routes, and transit times for each of your direct-to-consumer (DTC) or B2B orders. And with a leading WMS solution, you can even automate carrier selection based on pre-set criteria and order-specific needs – empowering your team to make the best choice every time.
Multi-carrier shipping ultimately streamlines shipping processes to provide a better experience for your end consumers. When you can select a carrier based on the quickest transit time, it becomes much easier to meet steep consumer demands. Overall, multi-carrier shipping provides the most flexibility for both consumers and your fulfillment operations.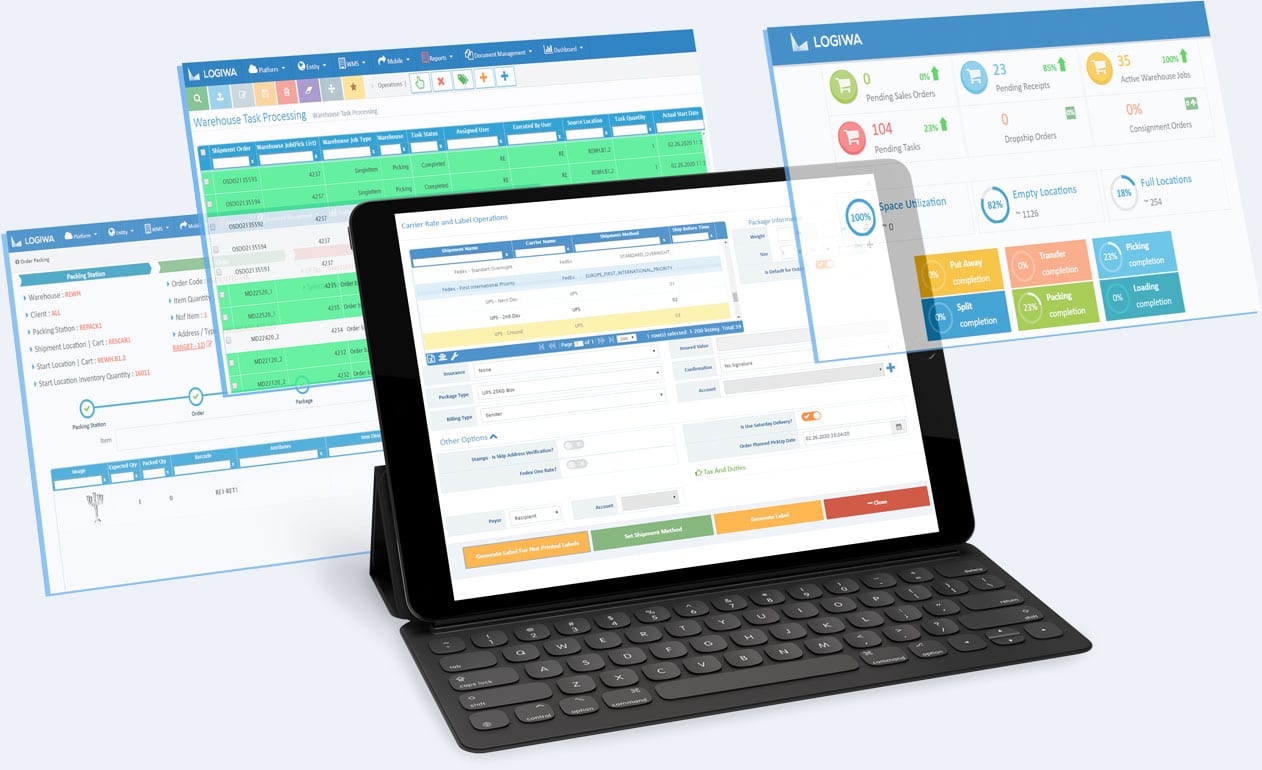 Transform your warehouse to a DTC fulfillment center
How WMS Software Simplifies Multi-Carrier Shipping
The complexities of multi-carrier shipping can be reduced by implementing warehouse management software (WMS). This is because a WMS:
Provides access to all carriers in one place. Rather than having to hunt down the carriers who might be available for you, WMS software pulls them all together for you in one place.
Automates rate shopping and more. Great WMS software makes sure you always have the best rates, carriers, and delivery options for your shipments.
Increases visibility through analytics. Having access to all the data you need can ensure you make the most informed decision about which carrier to use for each shipment.
Easily integrates with other multi-carrier solutions. The right WMS software will integrate with other tools you use in your multi-carrier shipping process, such as your ecommerce platform.
#1. Provides Access to All Carriers in One Place
Tracking down and managing all the carriers who might be available to help with your shipping operations can be overwhelming. A WMS can help with pivoting to multi-carrier shipping by offering access to carriers within its systems and organizing them all in one place. By providing direct integrations to reputable carriers, it ensures you have the best options for your specific needs right at your fingertips.
Some WMS platforms, such as Logiwa WMS, come integrated with all the most popular carriers. This makes it simple to start taking advantage of multi-carrier shipping right from the start.
#2. Automates Rate Shopping & More
Multi-carrier shipping is only as effective as your ability to consistently shop for and choose the best shipping rates. Great WMS software will automate the entire rate shopping process, so you don't have to spend time manually comparing rates and carriers before each of your shipments.
Logiwa WMS can automate rate shopping, as well as processes like inventory management, labeling and shipping box selection, so multi-carrier shipping can be completed quickly and simply.
#3. Increases Visibility Through Analytics
To make the most of multi-carrier shipping, you need access to reports that can show this method is helping reduce your costs, move shipments faster, and increase customer satisfaction. If you aren't able to validate whether or not multi-carrier shipping is helping your company, then you could be wasting your efforts.
Logiwa Analytics was created to provide fulfillment operations with the powerful data insights needed to root out inefficiencies and promote informed decision-making. Trusting your multi-carrier shipping data to Logiwa WMS ensures you get every insight you need when you need it.
#4. Easily Integrates With Other Multi-Carrier Solutions
Even if you aren't currently using WMS software, you might already be investing in multi-carrier shipping. Thankfully, the best WMS software solutions will provide a way for you to stay connected with your preferred multi-carrier shipping software, so you don't lose precious data or time.
Logiwa WMS comes packed with over 200 integrations, and more are being added. With so many integrations to choose from, you never have to worry about carrier issues with Logiwa WMS or leaving behind the tools and resources you've come to rely on.
How the Logiwa WMS Cloud Fulfillment Platform Can Help
As we have already mentioned, Logiwa WMS is a premier WMS software tool. Our Cloud Order Fulfillment Platform comes packed with shipping automation features and pre-integrated carrier connections to ensure you have everything you need to execute multi-carrier shipping successfully.
Logiwa offers everything from simplified reporting and analytics to industry-leading automation for optimized shipping processes. While there are many WMS software solutions on the market, few are as prepared for multi-carrier shipping as Logiwa WMS.
Logiwa: Multi-Carrier Shipping Made Easy
Overcoming the challenges of multi-carrier shipping is nothing new for Logiwa's cloud fulfillment platform. By providing easy access to hundreds of carriers, simplified data analytics, and customizable shipping rules, Logiwa WMS sets itself apart from other WMS solutions on the market.
To learn more about how Logiwa might fit your warehouse, book a demo today to talk with one of our warehouse management experts.
Ship more with a fully integrated WMS that connects with 200+ ecommerce
Warehouse Management
Modern digital WMS powers a modern fulfillment experience