WMS Robotics: Top Providers & What to Look For
Originally published on June 1, 2023 by Erhan Musaoglu, Updated on June 2, 2023
Robotics isn't the future of warehouse management and ecommerce fulfillment—it's the present. For warehouse logistics operations looking to boost efficiency and reduce costs, investing in robotic systems to further warehouse automation is a sure way to ensure long-term, competitive success.
That said, there are many warehouse robotics companies out there today, and partnering with the wrong one can do more harm than good.

In this guide, we discuss the top warehouse robotics companies and how to select the best one for your B2B or DTC warehouse. We also discuss the benefits of automating your warehouse with WMS robots.
The Benefits of WMS Robots
Warehouse management system (WMS) robots are machines programmed to fulfill tasks such as receiving, putaway, picking, sorting, packing, and transporting goods around your warehouse. Automating your facility with solutions from warehouse robotics companies has several benefits:
In summary, automating with warehouse robotics can help your warehouse improve operational efficiency, order accuracy, productivity, adaptability, and workplace safety.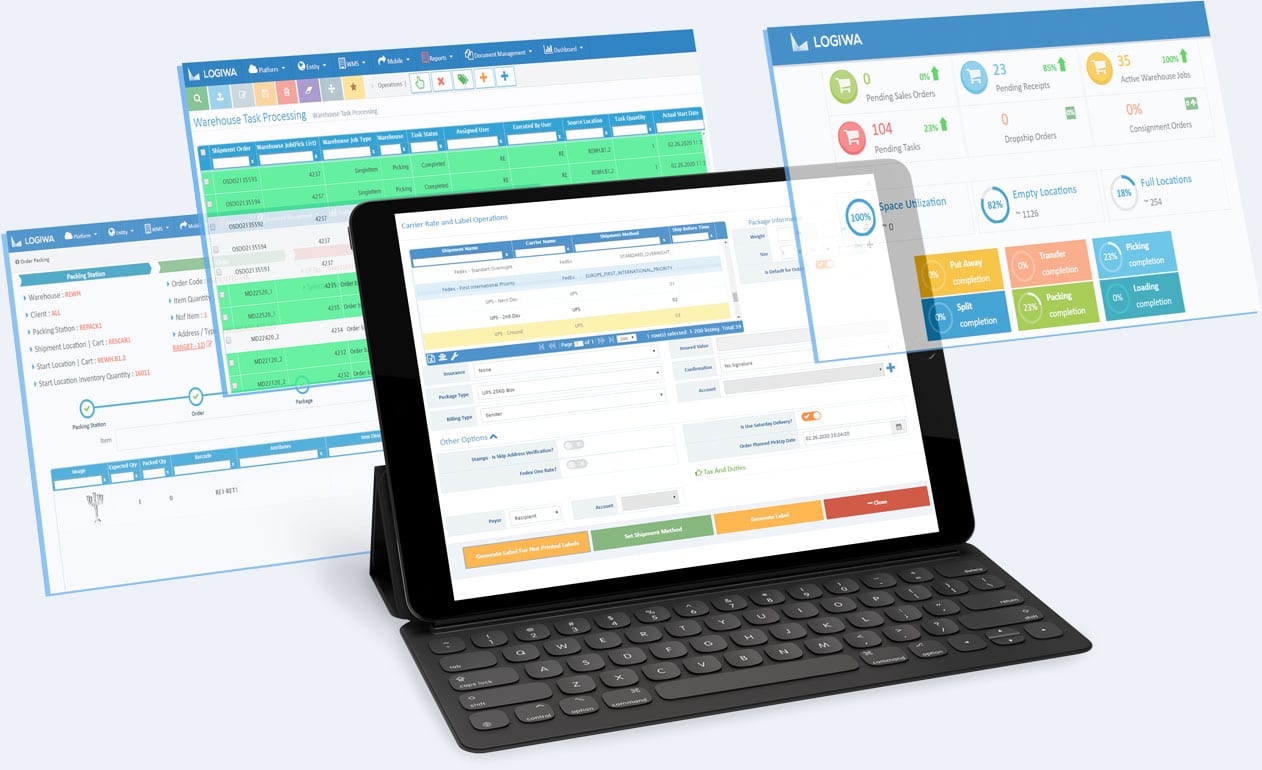 Transform your warehouse to a DTC fulfillment center
Warehouse Robotics Companies: What to Look For in a Partner
There are many warehouse robotics companies to choose from nowadays. Partnering with the right company is essential for maximizing the benefits and ROI of your robotics investment. Below are the features to prioritize in order to pick a warehouse robotics provider that best fits your unique operational needs.
WMS Software Integration
A warehouse management system (WMS) is software used for controlling and managing daily warehouse operations. If you already have a WMS, the robotics solution you choose should be able to seamlessly integrate with your WMS. This is crucial as you will use your WMS to control and monitor the installed robots.
Choosing a robotics provider with robots that can't integrate seamlessly with your existing WMS may cause issues like:
Reduced automation capabilities
Inefficient task allocation
Inaccurate inventory management
Increased downtime and processing errors
Capabilities
What exactly do you want robotics to help you accomplish in your warehouse? Your answer to this question will help you identify the best robotics system for your operation.
For instance, Autonomous Mobile Robots (AMRs) can retrieve items and deliver them to designated pickers, as well as guide personnel on optimized routes throughout your facility. Alternatively, you may need Automated Guided Vehicles (AGVs) that autonomously transport items to designated warehouse locations.
Since warehouse robotics companies offer different types of robots, look for a provider that has your preferred robot type with features best suited for your warehouse. Some other robotics systems you can put to work within your warehouse include:
Goods-to-Person systems
Automated conveyor systems
Robotic picking systems
Autonomous forklifts
Automated packaging systems
Customer Service
Last, but not least, look for a warehouse robotics company that offers top-notch customer service. Quality, dependable support is non-negotiable—it's the first place you will turn to for help if something goes wrong with one or more of your robots.
In addition to helping resolve issues, your provider should facilitate the integration of their robotics into your warehouse and provide ongoing support until you've mastered the system.
Choosing a robotics company with a fast, reliable, knowledgeable, and polite customer service team will have a significant impact on your overall experience. Make sure their customer service is accessible 24/7 via your preferred communication channel, whether it's email, live chat, or phone.
Top Warehouse Robotics Companies
Below are industry-leading warehouse robotics companies delivering competitive automation solutions for B2B, DTC, and hybrid B2B/DTC operations.
Locus Robotics
Locus Robotics is a leader in the warehouse robotics industry, providing autonomous systems for directed picking, putaway, P2P transport, and more. The company serves businesses in various industries, including 3PL, retail, healthcare, and more.
Besides being able to automate several warehouse processes, Locus Robotics systems are highly scalable and adaptable to match your needs. Also, systems from this brand provide live data insights you can use to optimize your warehouse processes.
Logiwa WMS is pre-integrated with Locus Robotics, giving you complete control over several warehouse processes to boost your facility's productivity and efficiency.
Dematic Robotics
Dematic Robotics offers almost every robot type you need to fully automate your warehouse, such as transport, picking, storage, and receiving robots. The brand's top-selling warehouse robots include AGVs, AMRs, conveyor and sorting systems, and palletizing systems.
With Dematic Robotics, you can resolve most of the issues that today's warehouses face, such as labor shortages and inaccurate order fulfillment. However, systems from Dematic Robotics work best when paired with a powerful WMS. Fortunately, Logiwa comes prepackaged with a Dematic Robotics integration to simplify connecting and leveraging the two solutions.
6 River Systems
6 River Systems is a leading warehouse robotics provider for 3PL, B2B, healthcare, retail, and ecommerce operations. In fact, over 70% of the top 3PLs use 6 River Systems. The brand's leading WMS robot is Chuck, a versatile robot for automating putaway, picking, counting, replenishment, and sorting tasks.
The smart and fully configurable robot uses machine learning and AI to automate and optimize warehouse processes and deliver the best results. In addition to executing fulfillment functions, Chuck bots can automatically charge themselves, giving you one less thing to worry about.
You can pair Logiwa with 6 River systems easily, thanks to Logiwa's free, built-in robotics integration option.
Omron
Omron has over eight decades of experience providing warehouse automation solutions. The brand offers Autonomous Mobile Robots (AMRs) for pallet and tote moving and Collaborative Robots (cobots) for order picking and palletizing.
Another feature that separates Omron from its competitors is its end-to-end engineering support, which clients can access at any time. Lastly, Omron offers control and IIoT solutions that provide insights into machine status and performance so you can make necessary adjustments for better results.
Fetch Robotics
Fetch Robotics offers automation solutions for warehousing, 3PLs, and distribution facilities. The brand's top robotic systems include AMRs that optimize order picking, batch picking, replenishment, and more.
This brand also provides distribution solutions for automating case picking, cross-docking, and other pallet conveyance workflows. Fetch Robotics' wide range of AMRs and other robotic systems simplify finding a solution that best fits your warehouse. You can even have a custom AMR solution built for your specific warehousing needs.
Partner With Logiwa & Take Advantage of WMS Robotics
Are you looking for a user-friendly WMS that can work with multiple robotic systems from different warehouse robotics companies? If so, look no further than Logiwa WMS.
Our digital warehouse management system comes ready to use out of the box with Locus Robotics, Dematic Robotics, and 6 River Systems integrations. Also, unlike other WMS providers, we do not charge for robotics integrations. No matter the provider you choose, we'll integrate your WMS and robotics systems for free.
Create a fully digital warehouse by partnering with Logiwa and using our WMS to take full advantage of WMS robotics. Regardless of which warehouse robotics companies you choose, you can integrate them with our WMS to control and monitor your installed warehouse robots. Contact us today to schedule a demo and experience the power of Logiwa WMS.
Adjust quickly to ever-changing fulfillment requirements with the most flexible WMS
Warehouse Management
Modern digital WMS powers a modern fulfillment experience