Logiwa's Peak Season Warehouse Report
Originally published on September 7, 2023 by Elizabeth Walsh, Updated on September 21, 2023
Key Insights into Meeting High-Volume Seasonal Demand
Each peak season, warehouse operators not only face elevated demand and increasingly competitive fulfillment standards, but unforeseeable logistical challenges related to supply chain management, labor planning, and warehouse management technology.
As a leading warehouse management systems (WMS) provider, Logiwa set out to identify the top peak season challenges faced by today's warehouses and prove that leading WMS technology makes the difference in overcoming them.
Logiwa's peak season impact report, "Driving Impactful Peak Season Results," provides a snapshot of the current direct-to-consumer (DTC) market, the fulfillment challenges to expect during the upcoming peak season, and real examples of how companies are using the next generation of WMS technology to adapt. Keep reading to discover some of the highlights within the report, as well as how to access the full piece.
Key Takeaways
Logiwa's peak season report covers the state of the fulfillment industry, peak season challenges, and game-changing technologies for overcoming high-volume DTC demand.
Rising ecommerce demand and returns are forcing businesses to outsource logistics to retailers, fulfillment networks, and third-party logistics (3PLs) providers, adding to the pressures faced by fulfillment operations during peak season.
Challenges related to labor, outdated WMS solutions, reverse logistics, and inventory management are among the top challenges for fulfillment operations during peak season.
More than 70 percent of survey respondents use WMS technology and attribute connected ecommerce, reporting and analytics, and smart shipping features as the most impactful to their operational success.
Modern WMS solutions provide the adaptability, flexibility, and functionality needed to overcome high-volume demand and volatile market conditions during peak season.
The Methodology Behind Logiwa's Peak Season Warehouse Report
The aim of today's fulfillment operations isn't just to survive peak season, it's to conquer it. In order to create the peak season impact report, Logiwa partnered with ConsituentWorks to gain insights into the areas that matter most to brands and DTC operations, including: the status of ecommerce growth, the most significant challenges impacting fulfillment success, and the solutions helping businesses surpass their goals.
In addition to incorporating survey results from more than 400 direct-to-consumer (DTC) professionals, the peak season impact report comprises insights from a variety of market experts and examples of how Logiwa customers have leveraged Logiwa WMS to streamline high-volume order fulfillment and grow year-round. Aggregating data from more than 20 major clients, Logiwa reveals which competitive features are vital for maximizing speed, labor efficiency, cost-savings, and throughput.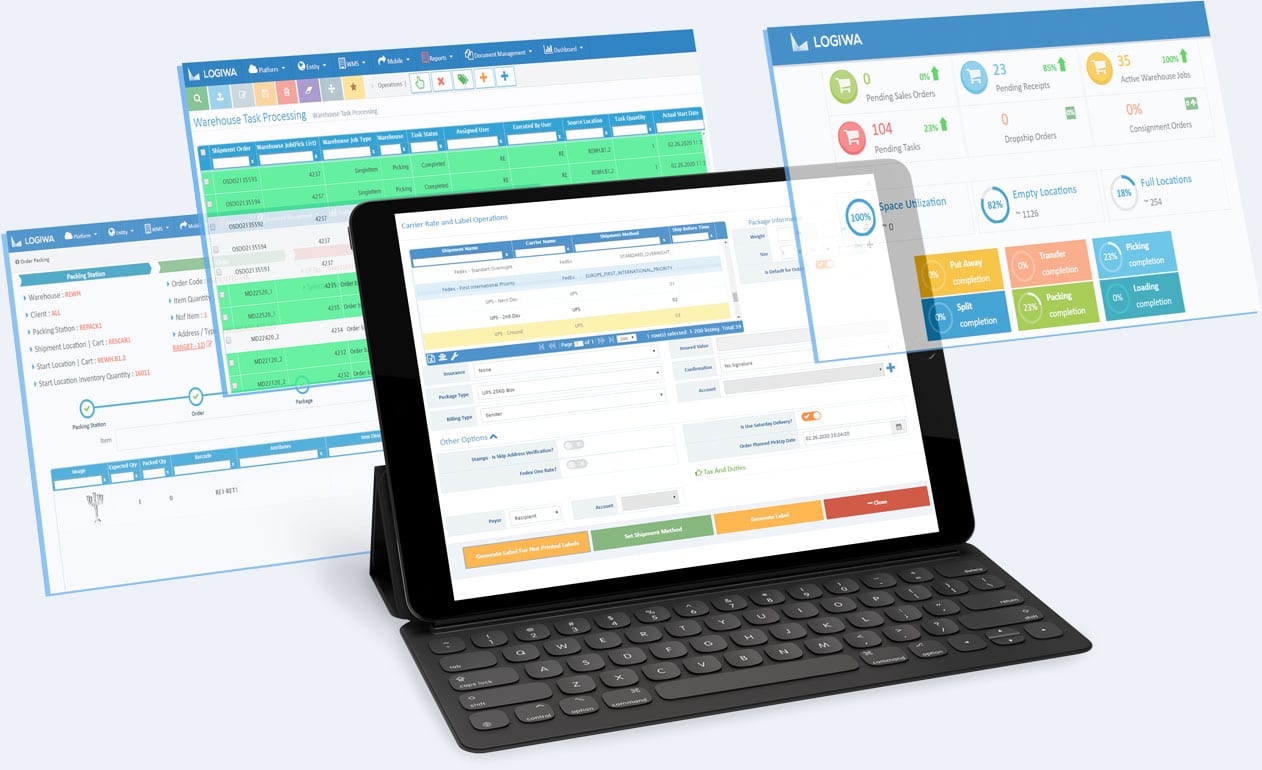 Transform your warehouse to a DTC fulfillment center
Highlights of Logiwa's Peak Season Warehouse Report
Logiwa's peak season impact report covers a lot of ground, from the state of the fulfillment industry and peak season forecasts to game-changing technologies and strategies for mastering ecommerce trends. Here are a few key highlights.
The expansion of ecommerce is adding pressure to fulfillment operations.
The DTC Peak Season Benchmark Report showed that 100 percent of survey respondents saw a year-over-year increase in order shipments and returns, with 75 percent citing at least a 10 percent increase in orders. Not only is ecommerce rising, but more businesses are outsourcing their fulfillment logistics on account of higher order volumes and growing fulfillment challenges like returns.
In addition to cyclical spikes in demand brought on by peak season, warehouses and fulfillment networks must be ready to handle the expansion of the logistics sector and the complex evolution of modern consumer demand. Both yield a greater number of returns and the need for efficiency-boosting fulfillment solutions to maintain order accuracy, execute on-time deliveries, and retain customer satisfaction.
Labor remains as one of the largest industry-wide fulfillment challenges.
Of those surveyed, 33 percent of respondents indicated that hiring seasonal labor was their biggest challenge last year. Managing labor effectively has always been a facet of the peak season landscape, but is it clear that operations must now be able to forecast the number of workers needed, hire and train seasonal staff efficiently, and reduce the need for temporary workers by adopting automation.
Warehouse technology helps with predicting the number of workers needed to fulfill orders during periods of high demand, while eliminating the number of manual tasks necessitating additional workers. This proved to be a key element in having enough employees to operate, but ensuring fewer workers were needed to maximize warehouse performance and oversee successful fulfillment operations.
Legacy WMS solutions are a hindrance, and time-to-value matters.
Issues with legacy WMS solutions contributed heavily to fulfillment struggles last year. In fact, more than 30 percent of respondents of the Constituentworks survey indicated that reverse logistics, inventory management, and system outages were among the biggest problems in 2022. Modern warehouse management solutions, which prioritize fast implementations and ensure a rapid return on investment (ROI), address the pain points recognized by today's operations through a variety of features.
These features include order routing, expedited receiving, smart inventory management, and automated picking, packing and shipping rules. In order to meet consumer expectations during peak season, companies need a WMS capable of handling more than just warehouse operations. They must be able to aid supply chain management, support rapid deliveries and make returns as easy as possible for consumers. In other words, operations need a complete fulfillment solution.
For more insights on overcoming peak season challenges, check out Logiwa's blog, "How to Solve Peak Season Challenges with Fulfillment Technology."
The Secret to Peak Season Warehouse Success
Logiwa's peak season impact report uses a variety of statistics and examples to show how modern digital WMS maximizes peak season performance. It shows how companies, regardless of size or market presence, are able to differentiate themselves through the use of high-efficiency WMS technology.
More than 70 percent of respondents of the Constituentworks survey indicated the necessity of WMS technology for order routing, receiving, inventory, put-away, picking and packing, and shipping. The report goes on to break down the percentages of operations utilizing a WMS to facilitate these workflow functions and identify the features that have the greatest influence on peak season success, including connected ecommerce, reporting and analytics, and smart shipping features.
Operations that adopt warehouse automation, implement smart picking and packing rules, and leverage features like walking path optimization and shipping rate shopping empower warehouse staff during peak season by minimizing decision-making, limiting the distance traveled, and maximizing warehouse performance without added effort.
Upgrade Peak Season Warehouse Results with Logiwa WMS
Partnering with the right WMS provider is essential to overcoming peak season demand and scaling operations successfully each year. It safeguards fulfillment operations with technical support, promotes faster issue resolution, and makes it easier to adapt fulfillment strategies without disrupting operations. It also leads to more successful peak seasons.
Through the use of highly configurable automation rules, streamlining integrations and competitive inventory and order management, Logiwa helps its customers increase the number of orders that can be processed each day without adding headcount. One Logiwa customer saved $11K per month by automating label printing for multi-item orders, while another saved $23K per month by shortening order life cycles using Logiwa's smart picking and packing algorithms.
Learn from Logiwa's own customers how Logiwa's WMS and fulfillment solution is able to help operations save invaluable labor hours and thousands of dollars each month by downloading the peak season impact report.
Download the Guide
Logiwa's peak season industry report takes a deep dive into the results that are possible with a modern WMS solution, but it highlights three primary features for managing today's volatile market conditions: adaptability, flexibility, and functionality. Investing in a modern WMS can go a long way in helping companies address new and long-standing logistical issues.
Having the right technology in place makes the difference between having a successful peak season or a costly one. Logiwa has helped countless fulfillment networks, third-party logistics (3PL) providers, and retailers confidently face spikes in demand and changing industry standards through smart inventory and order management, easy-to-configure automation rules, and pre-established integrations for most leading ecommerce and marketplace partners.
Improve your warehouse efficiency with insights from Logiwa's latest report, and see how Logiwa's cloud fulfillment platform can help you have your most successful peak season yet. For access to the complete report, download "Driving Impactful Peak Season Results" today.
FAQs About Peak Season Warehouse Operations
What is peak season in warehousing?
Peak season corresponds to the specific time of year when consumer demand, particularly ecommerce activity, surges. It requires warehouse and fulfillment networks to process more orders without sacrificing operational speed or accuracy. This uptick in high-volume DTC orders places significant pressure on retailers, fulfillment networks, and third-party logistics (3PL) providers overseeing supply chains and fulfillment processes due to intricate logistical hurdles that arise.
When does peak season start for warehouse operations?
Peak season has historically shown to start earlier each year, but is typically defined as the time when back-to-school sales begin all the way through the month of December. Online shopping holidays like Amazon Prime Day, Walmart Plus Week, and other ecommerce celebrations (which take place mid-summer) launch the slow rise in orders all the way through Black Friday, Cyber Monday, and the holiday season.
How does a WMS impact warehousing results during peak season?
WMS solutions safeguard and boost warehousing results through smart order and inventory management, workflow automation, and powerful integrations. They streamline orders from online ecommerce channels and oversee warehouse operations for faster, more accurate fulfillment operations during peak season. The results include increased warehouse performance, improved fulfillment results, higher labor efficiency, and flexibility as consumer demand changes.
What are the benefits of using a WMS during peak season?
Warehouse management and fulfillment solutions like Logiwa WMS help customers save invaluable labor hours, maximize cost-savings, and process more orders due to its ability to automate manual warehousing tasks, streamline workflow operations, and optimize efficiency for each stage of the fulfillment process. In addition to aiding supply chain visibility, its highly flexible system can be customized to meet the unique peak season challenges faced by individual operations.
How should a warehouse prepare for ecommerce peak season?
Plan ahead for peak season, and prepare each aspect of your fulfillment operations in order to be successful. To ensure that your DTC fulfillment network is ready for high-volume periods, evaluate and fortify your warehouse infrastructure, equipment and supplies, software solutions, inventory strategy, labor planning, shipping operations, and any areas of your supply chain you directly manage.
Optimize multi-warehouse and multi-client operations at both the macro and micro levels
Warehouse Management
Modern digital WMS powers a modern fulfillment experience