WMS Implementation Speed: Maximizing Results for Ecommerce Warehouses
Originally published on February 16, 2023 by Erhan Musaoglu, Updated on February 17, 2023
Adopting a new warehouse management system (WMS) is a significant decision for any fulfillment operation. It is an undertaking that impacts warehouse efficiency, order fulfillment results, and the success of client and consumer relationships. For that reason, many warehouse operators resist implementing new technologies for fear it will disrupt established processes (even inefficient ones). 
If you are looking to implement a new WMS, your concerns are likely how long the WMS implementation will take and how much halting operations will cost. It takes an average of 6-8 months to implement most WMS solutions, but that time frame is not true for all warehousing technologies. Cloud-built WMS solutions, like Logiwa, can be implemented even faster, so you can start benefiting from optimization in weeks instead of months!  
Let's discuss the ideal speed of WMS implementation, why speed matters in the face of modern ecommerce, and some tips for ensuring high-efficiency implementations. 
In this guide, we'll explore:
Ideal Speed for Warehouse Management Systems (WMS) Implementation 
If you are preparing for a new WMS implementation, you know that time-to-value matters. Too long of an implementation period, and you invite excessive downtime and sacrifice orders that could otherwise be filled. Too fast of an implementation, however, and your team may have genuine concerns about your go-live results and ROI. 
The truth is that the ideal speed for WMS  implementation is fast, but it largely depends on the size and complexity of your operations. Implementation speed should reflect the needs of your warehouse operations through each phase of WMS implementation, not just what a WMS provider can accomplish. By working closely with your WMS provider, you can create a tailored approach that promotes speed at a pace you're comfortable with.  
Your supply chain, the accuracy of your data, and your desired integrations also play a part in how fast WMS implementation can be completed, so it is important to have a well-structured plan to keep things moving. Even if it means altering the timeline or a longer implementation,  WMS implementation should follow a collaborative process that can speed up or slow down as needed.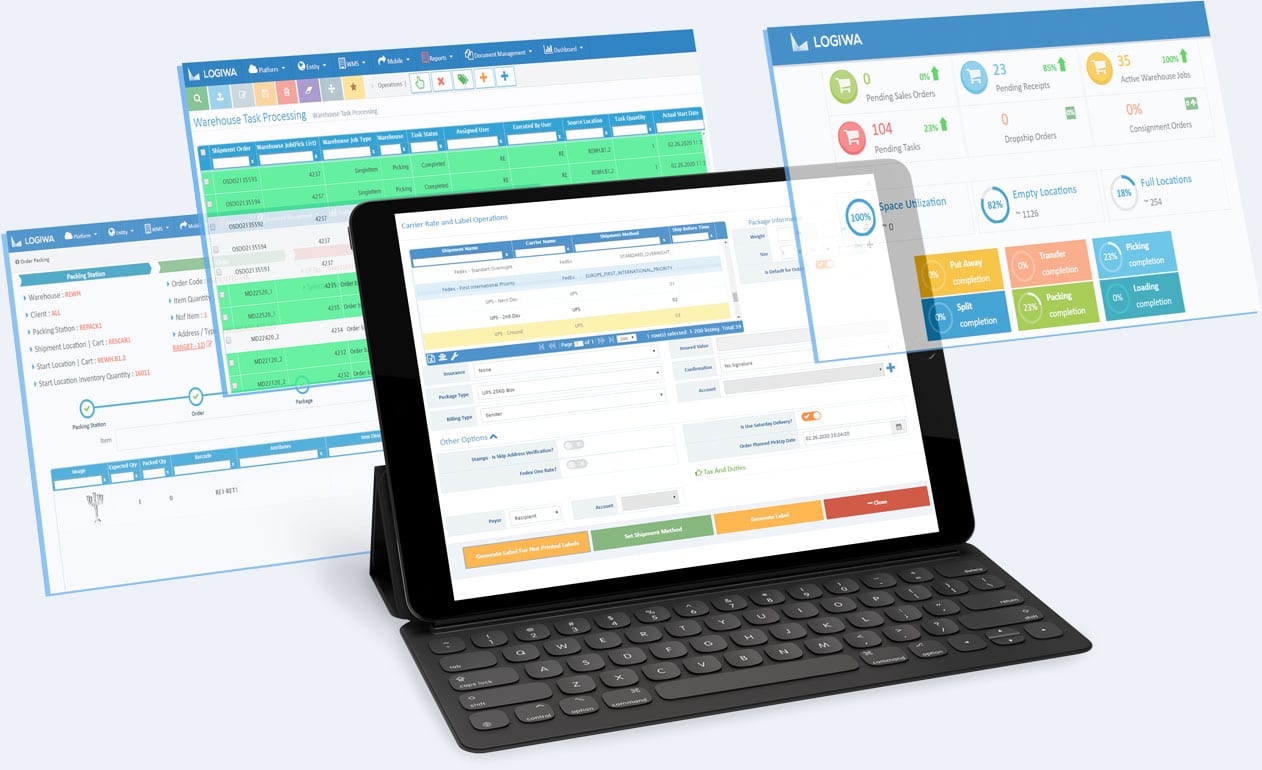 Transform your warehouse to a DTC fulfillment center
Fast WMS Implementation as Your Competitive Advantage
As previously mentioned, the faster you can get a new solution up and running, the sooner you can start optimizing your business. So while a fast WMS implementation (some as short as 4-6 weeks) can seem rushed compared to historically longer WMS implementations – it's really the new gold standard for leading cloud WMS solutions. 
Due to the lack of on-premises hardware, time-consuming IT maintenance, and arduous manual processes associated with legacy systems, cloud WMS implementation makes it easy to digitize your fulfillment network, add new warehouses, upload inventory and ecommerce data, and sync integrations at higher speeds. 
As a result of a fast WMS implementation, your warehouse can expect to see: 
Quicker improvements to warehouse performance (cost-savings)

Heightened ability to fulfill more orders and expand your fulfillment network sooner

A competitive edge over operations using outdated WMS technology

Higher customer/client satisfaction with your technological advancements
Ensuring a Strong WMS Implementation Process
The speed of your WMS implementation is affected by the type of warehouse management solution you choose, your provider's approach, and the unique aspects of your business. That said, there are other ways you can help speed up the implementation process without risking oversights and unnecessary hiccups. 
Consider the following to ensure a successful, expedient WMS implementation:  
Prioritizing planning

: Whether you are changing from paper-based systems and separate workflows to a streamlined all-in-one WMS, ensure you are taking stock of all the critical data elements of your business, so your provider can provide faster implementation execution. Take the time to map your warehouses and create SKUs for all your inventory items early-on, so your implementation process can begin as efficiently as possible. 

Standardize support and communication channels:

Ensure you and your WMS provider have clearly defined roles and responsibilities before your WMS implementation begins. To achieve fast, profitable integrations, you should establish the best ways for technical support staff to communicate questions, updates, and problems directly to your WMS provider. 

Train your staff as you go

: Holding training sessions for your warehouse employees throughout your WMS implementation is another way to speed up the overall WMS implementation process. This gives your employees more time to get used to system changes, familiarize themselves with the technology, and feel confident operating it once you are ready to officially launch operations. 

Conduct testing for double assurance:

It goes without saying, but each stage of your WMS implementation should end with plenty of testing and dry-runs to ensure all your processes are operating successfully (system testing, integration testing, user acceptance, volume testing, etc.). Consider having your staff run through a variety of scenarios to ensure all order types, inbound and outbound operations, internal workflows, and integration connections are flowing how you anticipated. 
Implementation  with Logiwa WMS
Logiwa has perfected the art of WMS implementation with our cloud fulfillment system, expert onboarding engineers, and highly responsive technical support team. Over the years, we have decreased our implementation time by learning from our clients and elevating our approach to a fine-tuned, four-stage process. 
Implementing Logiwa WMS involves four distinct phases to address the unique needs of your operation, including business process and change analysis, configurations testing, training and practices, a series of dry runs, assisted go-live care, and follow-up support for a positive post-implementation experience. When possible, we even complete your first order with you.
For more insights on Logiwa's fast, effective implementation strategy, check out our success stories for major customers like ShipCube. We helped them implement and rollout Logiwa WMS at their first warehouse in just 3 weeks! To speak to one of our team members about a non-commitment demo, visit: https://www.logiwa.com/request-a-demo. 
With Logiwa WMS bring on more clients, add new FCs, and grow your 3PL business
Warehouse Management
Modern digital WMS powers a modern fulfillment experience