Which WMS Features for SMBs are Needed Most?
Originally published on March 23, 2022 by Logiwa Marketing, Updated on March 3, 2023
The rise of ecommerce in the last ten years has created an increased demand for warehouse and shipping operations around the globe. Consumers want easy and quick access to products, and companies often struggle to meet the demand. Warehouse providers can help ease the supply-and-demand burden with a tremendous growth opportunity for owners and operators. But, which WMS features for SMBs are needed most?
Manual processes can slow down operations and increase the likelihood of errors in SMBs (small- to medium-sized businesses), reducing profits for both you and your clients. That's where warehouse management systems software comes into play, giving SMBs a competitive edge. But how do you know which WMS software is best for operations, and what features do you need for success and growth?

In this guide, we'll explore:
What Defines a Small to Medium-Sized Business
Ideal WMS Features for SMBs

Reduce fulfillment error rates
Manage inventory every step of the way
Build an effective billing system
Improve customer service

When do SMBs Need to Add a WMS?
FAQs
What Defines a Small to Medium-Sized Business
It seems that everyone has a different idea of what defines a small- to medium-sized business (SMB). Is it the number of employees? How about the amount of revenue a company generates each year? Not surprisingly, standards for defining SMBs vary worldwide and within U.S. government entities.
The United States Census Bureau defines small businesses by their revenue and number of employees. The Small Business Administration (SBA) sets these limits at $1 million to more than $40 million in revenue and 100 to 1500 employees.
However, classification also varies by industry. For warehouse operations, the SBA sets limits of $30 million in revenue. A medium-sized business could have anywhere from $10 million to $1 billion.
Let's define SMBs as having annual revenue between $1 million and $1 billion. No matter how we define SMBs, optimizing your warehouse operations is key to building your company, maximizing profits, and helping your clients effectively serve their customers.
Ideal WMS Features for SMBs
An effective WMS will improve warehouse operations and business outcomes. SMBs can leverage the benefits of warehouse management systems in several ways, including:
  reducing fulfillment error rates;
  managing inventory, from receiving and putaway, to picking and packing;
  creating effective billing systems, and;
  improving customer service.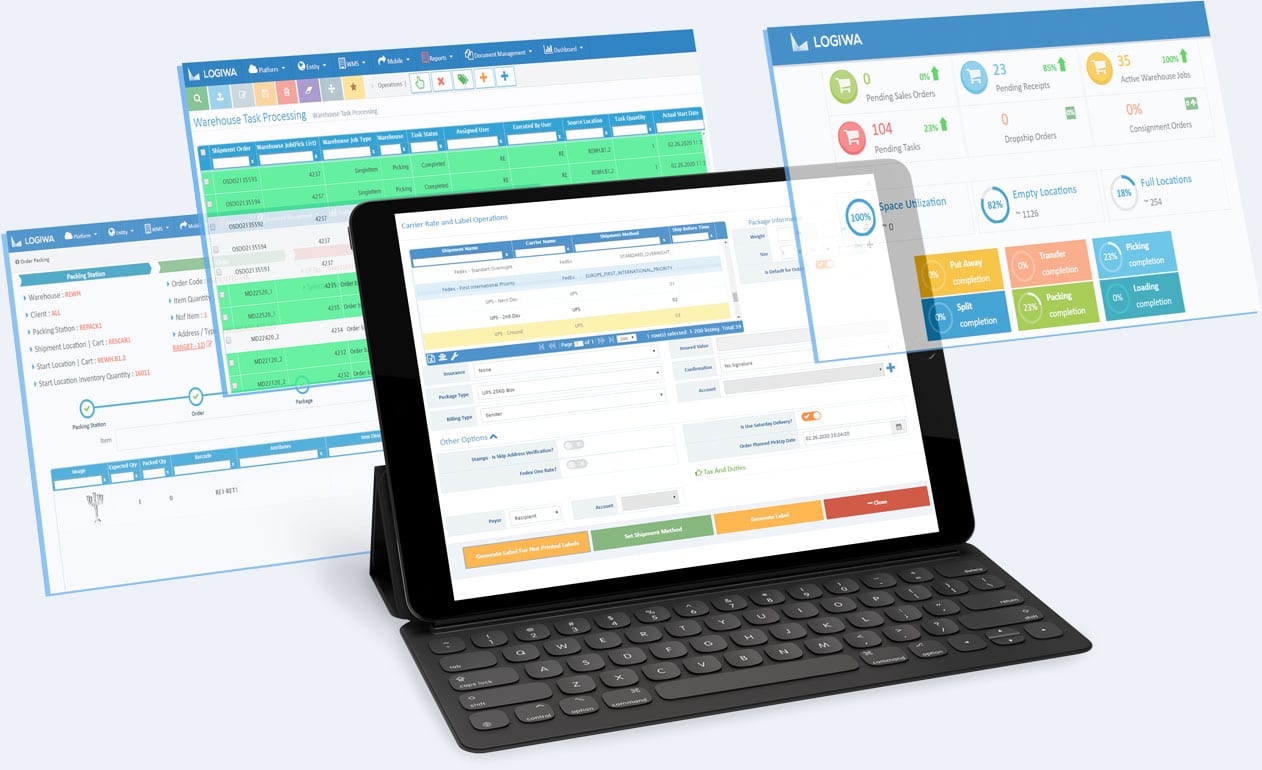 Transform your warehouse to a DTC fulfillment center
Reduce fulfillment error rates
Fulfillment errors can cost businesses between $35 and $50 per error. Manual business-to-consumer operations have an average fulfillment error rate of 3%, adding up to seven-figure losses each year for medium-sized businesses. That's money you're throwing away and customer satisfaction ratings that affect your entire business.
A practical and optimized warehouse management system can standardize your processes with automation, reducing errors and improving revenue.
Manage inventory every step of the way
From the moment the truck arrives at your warehouse with inventory to when it goes out for delivery to customers, inventory management is an essential but time-consuming aspect of effective warehouse operations.
With practical inventory management tools and rules to optimize actions taken within a given workflow, warehouse management software keeps inventory moving through your warehouse most efficiently and cost-effectively possible. This includes inbound and outbound processes and can incorporate mobile devices, barcodes, and RFID scanning to streamline operations from organizing inventory, automating internal warehouse processes, and integrating with online channels.
Build an effective billing system
Everyone hates paying bills, but it's a necessary burden of life and business. Your WMS should make the billing process more manageable and allow you to create billing contracts the way you want for inbound, outbound, and storage operations. Easy integration with Quickbooks enables you to build a seamless invoicing process and, using your billing rules, automatically generate client-based contracts within scheduled periods.
Improve customer service
Unhappy customers can lead to a decrease in trust from your clients and a loss of revenue. An effective WMS allows you to provide an up-to-date catalog that reflects actual inventory, avoiding stock-outs and customer frustration. Interact with customers through the system about returns and shipment errors, provide accurate information for standard inquiries, and allow customers to check their order status in real-time, freeing up your customer service team to deal with more complex issues.
When do SMBs Need to Add a WMS?
If your warehouse operations are running smoothly and your clients and customers are happy, why would you implement WMS software? The downtime, training, and learning curve could impact your bottom line, right? Maybe you'll wait until your business grows further to bring in new systems.
We hate to be the bearer of bad news, but now is the perfect time to start using a WMS. You may think your operations are working great, but have you taken the time to look at the numbers? If you're seeing increased error rates, missed deadlines, lack of storage, or even high turnover, it's time to invest in warehouse management system software. It will help you solve these problems (and more); it will set you up for future growth and expanded operations.
FAQs
Below are some typical questions about WMS features for SMBs.
What Should I look for in a WMS?
Look for a WMS that is quick to install and implement. The easier it is to work with, the better adoption will be.
Why Does a Company Need a WMS? / What are the benefits of WMS?
The short answer is better visibility of operations. You can track inventory, the location of inventory, and warehouse operations.
How Big Should my Business get Before I add a  WMS?
A WMS can be beneficial for warehouses of any size. Don't think your operation is too small. It's much easier to scale operations if you install a WMS early on.
How to Get Started with a WMS
Unlike other software implementations, getting started with Logiwa's WMS is simple. You'll have access to a dedicated implementation consultant, experts in logistics and warehousing, and qualified trainers to help you get up and running as quickly as possible. Your WMS will be customized for your current needs and easily upgraded as your operation grows. If you run into problems, you'll have access to speedy customer support. Seriously, our average response time is seven minutes!
Connect with a sales team member for a demo to find out how our warehouse management system software can help you improve your warehouse operations, connect with a sales team member for a demo.
Ship more with a fully integrated Cloud WMS that connects with 200+ ecommerce