WMS Analytics: Introducing Logiwa Analytics
Originally published on March 1, 2023 by Ayca Ozcan, Updated on March 1, 2023
Since day one, the philosophy behind Logiwa's cloud WMS solution has always been to
empower warehouse operations through
data-driven fulfillment
. It has fueled our approach to smart inventory management and flexible warehouse automation and made us a trusted fulfillment solution for major brands, retailers, and third-party logistics (3PLs) providers around the world. 
Logiwa Analytics is part of Logiwa's complete cloud fulfillment platform, and helps our B2B, DTC, and hybrid fulfillment clients unlock the potential of their warehouse operations. As part of our Tier-1 WMS, Logiwa Analytics leverages data to identify hidden opportunities for optimizing warehouse performance, labor management, and fulfillment success.

This blog provides an overview of Logiwa Analytics and insights into its key benefits.
Logiwa Analytics – A Powerful BI Tool
Manual data tracking is not a viable option for handling today's high-volume ecommerce trends or planning effectively for demand. In fact, many would argue not having access to dependable WMS analytics is a recipe for costly setbacks and fulfillment mistakes. That is why competitive operations use solutions like Logiwa Analytics to help maintain visibility over complex logistics and improve inefficient processes. 
From receiving, putaway, and storage to picking, packing, and shipping – Logiwa Analytics offers a multitude of reporting capabilities to promote transparency into operational performance and streamline decision-making. With pre-built dashboards to choose from, as well as the option to customize your own, our WMS analytics solution helps visually capture what is going right and wrong throughout your fulfillment network.
The Benefits of Logiwa Analytics – A Tailored Approach to Data
As ecommerce grows and supply chains become increasingly complex, having the ability to pull live data and quickly generate reports is a major asset when unforeseen challenges arise. Logiwa Analytics promotes flexibility and eliminates guess-work for your team by keeping your data in sync and empowering users with cloud accessibility to their dashboards. 
Because our WMS analytics solution connects multiple data sets, your team can pull raw data for insight into shipping carriers, tasks, shipments, job types, job volumes by client, order aging, warehouse space, inventory levels, order status, and more. 
Here are the top ways that Logiwa clients use Logiwa Analytics to improve fulfillment: 
Generate reports that identify specific weaknesses in warehouse performance

Optimize labor productivity by analyzing team effectiveness and individual user performance 

Track hundreds of data points/key performance indicators (KPIs) for competitive benchmarking

Flag system discrepancies to instantly resolve problems and prevent setbacks further downstream

Eliminate guess-work with multi-channel and multi-client management
Boost cost-savings with highly accurate demand forecasting 
The list goes on. For now, let's focus on the top three features of Logiwa Analytics and give some examples of how they might apply to your business.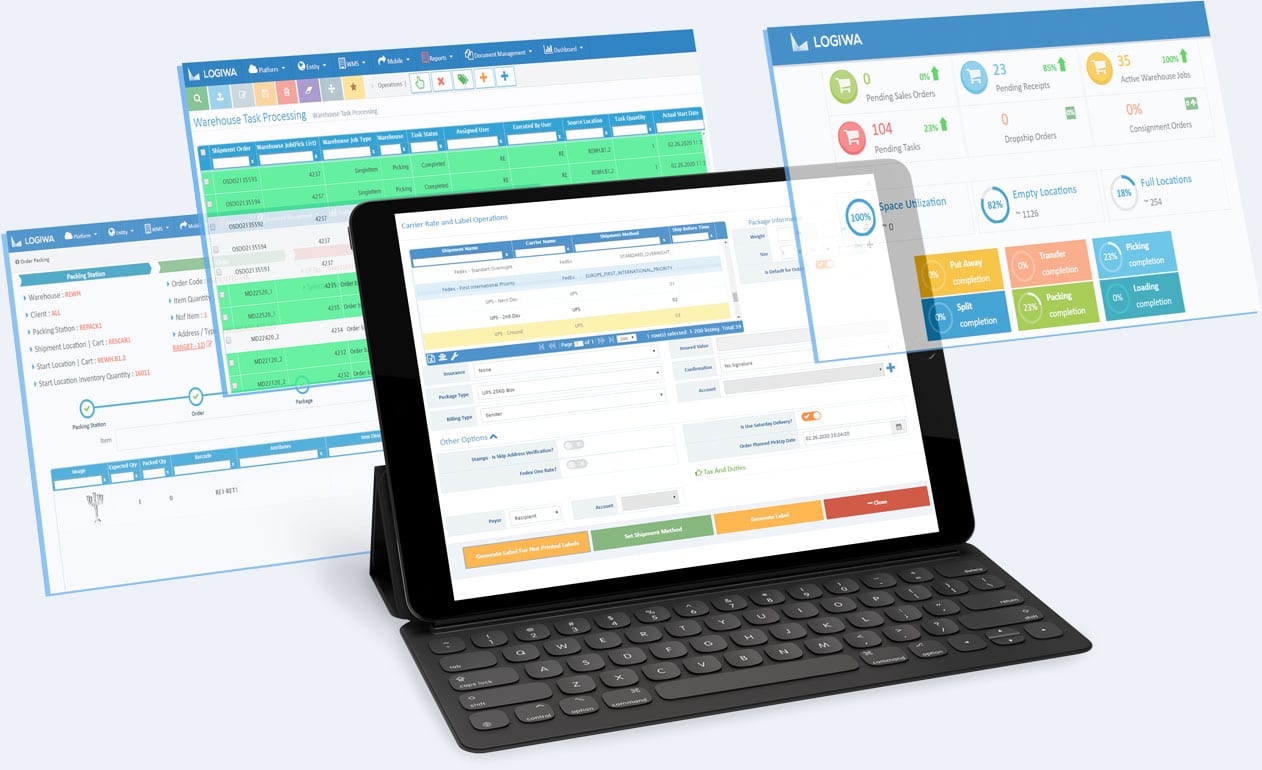 Transform your warehouse to a DTC fulfillment center
Benefit #1: Pre-Built and Customizable Dashboards
As previously mentioned, Logiwa Analytics offers dashboards and visuals to give our clients all the information they want to see, exactly the way that they want to see it. Custom visuals make it easy to view the performance of your team, quickly make observations, and start asking questions that could have a significant impact on next-steps for your operations. 
Logiwa's pre-built and customizable dashboards make it easy to see and understand what actions, if any, need to be taken. Even at a glance, these dashboards can help you see overarching trends or drill down to identify the heart of an issue. Here are some examples of potential dashboards (or dashlets) and the metrics you may choose to track in order to determine the effectiveness (efficiency) of specific teams: 
Inbound:  # receipts done, # putaways completed

Outbound:  # picks done, # orders packed 

Operational:  total tasks completed per user
With this information available, you are able to see the productivity of your workers. Are some pickers or packers more effective than others? Is productivity the same every day, through every hour of the day? At the end of the day, you know what is most important to your success. With Logiwa Analytics, you (and your clients) can prioritize only the information that impacts your operations and focus on sharing the reports that matter most.  
Benefit #2: Optimizing Fulfillment Results – Daily Reporting
Crunching numbers can lead to manual errors, but managers need access to the status of daily operations. Luckily, Logiwa Analytics does all the heavy lifting (or calculating) for you. Our WMS analytics tool allows our clients to create action-based reports that drive daily activities. Some examples of these types of reports include: 
Orders to Process by EOD

Orders Out of SLA

Today's Missing Inventory

Client Orders in Check Inventory

Partially Allocated Status 

Open Receipts
Whether you're trying to determine which receipts your team still needs to get done or how many inventory discrepancies still need to be resolved… Logiwa Analytics can provide you with an answer and make you aware of any other items you cannot afford to overlook. 
Benefit #3: Optimizing Fulfillment Growth – Reporting Over Time
When it comes to WMS analytics, it can be easy to get caught up in the day-to-day. That said, Logiwa Analytics clients learn more about their operations by making our BI tool scalable for larger time intervals. You may choose to stay on the lookout for inefficiencies hour-by-hour, but tracking week-over-week or even month-to-date can result in some eye-opening discoveries. 
Within Logiwa's WMS analytics solution, there are hundreds of KPIs to choose from. Measuring and monitoring the ones that matter most to you will help you track the success of your operations over time. Some of these common measures could include: 
On-Time Shipments

Returns
This allows you to measure long-term trends, stay on track to meet certain goals, and root out inefficiencies as you can grow. For more insight on getting the most out of your warehouse data approach, check out our WMS analytics blog, "Optimizing Warehouse Data: KPIs, Reporting and Analytics." 
For more information on Logiwa Analytics, visit: https://www.logiwa.com/products/logiwa-wms-analytics.
Adjust quickly to ever-changing fulfillment requirements with the most flexible WMS
Warehouse Management
Modern digital WMS powers a modern fulfillment experience