Why Every Warehouse Needs Mobile Scanning in 2023
Originally published on December 14, 2022 by Logiwa Marketing, Updated on March 3, 2023
When it comes to fulfillment operations, especially high-volume direct-to-consumer fulfillment, accuracy is everything. Relying on manual methods to track inventory and shipments can be costly, with delayed shipments and higher numbers of returned orders creating complexity. Implementing a warehouse barcode scanning system in your operations will improve your efficiency and lower costs across all aspects of your inbound and outbound processes, allowing you to serve your clients and brands better, and increase customer satisfaction.
In This Guide, We'll Cover:
Why Mobile Scanning in DTC Fulfillment Operations is Necessary
Warehouse Barcode Components
Using Warehouse Barcode Scanning for Fulfillment Tracking
The Right Warehouse Scanning Solutions for Mobile Barcode Scanning
Why Mobile Scanning in DTC Fulfillment Operations is Necessary
If you're considering expanding your operations to DTC fulfillment in 2023, you must consider implementing warehouse scanning solutions. When you start dealing with high-volume fulfillment scenarios, where you are shipping thousands of small packages daily, often with one or two items, the likelihood of errors increases.
Inventory accuracy
Inventory accuracy is critical in DTC fulfillment operations, especially where omnichannel ecommerce is involved. Knowing how much inventory you have on hand will help minimize out-of-stock or low-stock messages. A warehouse barcode system allows you to keep track of inventory levels in real-time, even in multi-warehouse operations and can alert you when you need to replenish a product.
Warehouse efficiency
Using barcode scanning systems can also improve the efficiency of your warehouse. Barcodes can help categorize your products to ensure they are stored correctly and, thus, found quickly. Barcodes can also make the picking process easier by ensuring employees pick the correct item—especially useful when handling similar items from different vendors.
Reduce errors
Scanning barcodes across each stage of the fulfillment process—picking, packing, and shipping—lets employees verify that the correct items are in the box or mailer before it is sealed for shipping, reducing the likelihood of returns. If an order is returned, scanning the barcode will help employees quickly get the item back on the correct shelf. 
Multi-platform selling
Many ecommerce and DTC brands sell their items on multiple platforms, such as Amazon, Walmart, and Shopify. Brands using barcodes make it easier for fulfillment centers to fill orders by ensuring proper inventory levels across all platforms, allowing them to reach more customers.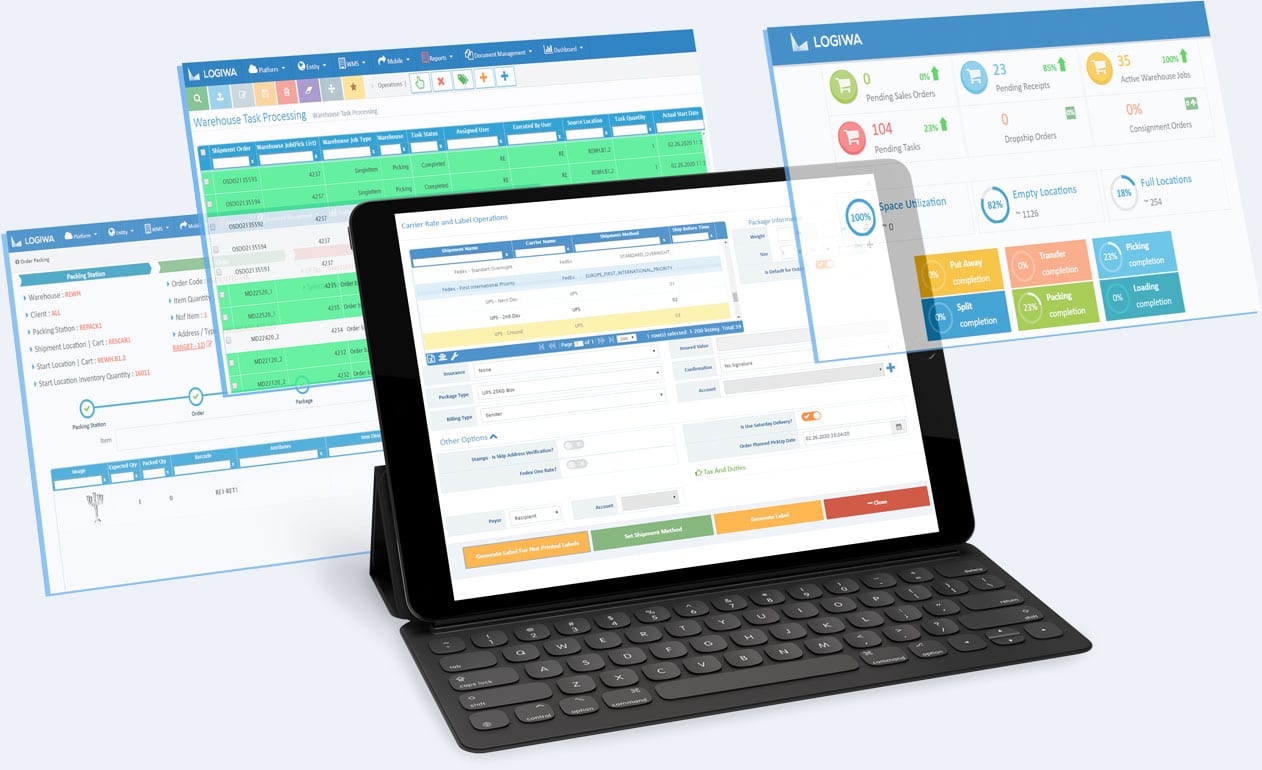 Transform your warehouse to a DTC fulfillment center
Warehouse Barcode Components
A warehouse barcode scanning system comprises tools that enable product inventory data to be transmitted, stored, and managed electronically. This can be done through a cloud-based system (like Logiwa's) or a locally hosted platform… although we recommend a cloud-based system so you can have access to data from anywhere, on any device.
In addition to your primary inventory management or warehouse management system, the components of a warehouse barcode system include the following:
Handheld scanners to quickly scan items as they arrive, as they are picked and packed, and prepared for shipping;

Mobile and web-based applications to access accurate and real-time data no matter where you are in the warehouse or the world and;

Printers and labels to quickly print shipping labels once orders are picked and packed.
Types of Barcodes
Within the fulfillment process, two types of barcodes are typically used: shipping barcodes and product barcodes.
Shipping barcodes:
Are included on shipping labels and receiving slips.

Are scanned during inbound and outbound processes.

Keep track of everything going on in the warehouse and with products, such as inventory replenishment or delivery exceptions.

Information in barcodes includes the customer name, box contents, shipping method, and delivery address.
Product barcodes:
Are used to find the storage location of the product in their bins, shelves, or pallets in the warehouse.

Are placed on all products received, stored, or shipped
Additionally, there are two barcode formats used in warehouse barcode systems:
1D barcodes display information in a linear fashion (one direction) with vertical lines

2D barcodes store data in multiple directions with two-dimensional shapes. 2D barcodes can store more complex information, such as website URLs, geolocation data, plain text, and other information.

If you've ever had to scan a QR code on a document or in a restaurant, you're scanning a 2D barcode!
Using Warehouse Barcode Scanning for Fulfillment Tracking
As we mentioned earlier, warehouse barcode scanning systems make every part of the fulfillment process easier.
Provide a real-time view of stock levels, even across multi-warehouse environments.

Identify items in high demand, make adjustments to purchasing and shipping, and determine if seasonal fluctuations are at play.

Reduce picking errors.

Ensure items are correctly stored based on information contained in a barcode (e.g., temperature controlled, expiry dates, etc.).

Minimize the number of times employees handle stock by ensuring the correct item is picked every time.

Reduce the time (and cost) spent processing returns by getting items back on the shelf and reconciling inventory quickly.

Provide visibility into order shipping and tracking for customers.
The Right Warehouse Scanning Solutions for Mobile Barcode Scanning
Logiwa's fulfillment software offers cloud-based and mobile solutions that work on Android and iOS systems, with mobile applications to scan shipments the moment they arrive at your warehouse and can track products through the inbound process. You'll also be able to use mobile applications to guide your warehouse employees through each day's pick, pack, and shipment process to ensure that every order that goes out the door is 100% accurate.
We make it easy to implement a barcode system in your warehouse, saving you time and money in your inbound and outbound process while keeping your brands, retailers, and customers happy. Barcode systems are critical for winning in today's competitive supply chain logistics environment when accuracy and speed are critical.
To learn more about the benefits of a warehouse barcode system, check out our webinar on how to tune up your warehouse to meet the demands of DTC fulfillment.
If you have questions about barcode systems and how they can benefit your business, reach out to our team or request a demo.
Adjust quickly to ever-changing fulfillment requirements with the most flexible WMS