Shipping Rate Shopping: What It Is & How It Benefits You
Originally published on April 11, 2023 by Ayca Ozcan, Updated on April 20, 2023
When it comes to ecommerce fulfillment, shipping rates can eat into revenue faster than nearly any other expense. That is why shipping rate shopping is necessary for your B2B, DTC, or 3PL enterprise.
If you aren't constantly seeking out the best shipping rates available, you are wasting money and diminishing your overall profits. Thankfully, you can ensure competitive cost-savings without added hassle with shipping rate shopping software that streamlines the rate shopping process.
In this guide, we explain what shipping rate shopping is, as well as its benefits, how it works, and how you can leverage rate shopping software to achieve better fulfillment results.
What Is Shipping Rate Shopping?
Shipping rate shopping is the process of browsing different carriers to determine which one will provide the lowest shipping rates possible without sacrificing quality. While traditionally completed manually, rate shopping software can now execute the process automatically and in real time.
The Benefits of Rate Shopping
Shipping rate shopping offers significant value, as it's about more than just negotiating the best rates or finding a competitor with lower prices. It's about guaranteeing the best shipping options every time. While it will reduce your costs, it will also significantly improve customer experience.
Reduces Costs
If you think shipping rate shopping software will help you reduce costs by finding cheaper shipping options, then you'd be right. But that's just scratching the surface. Shipping rate shopping can help you reduce operational costs in other ways, such as:
Rate shopping, which is one aspect of smart shipping, can save your ecommerce operations a lot of time, energy, and money if your operations are willing to remain flexible. And as previously mentioned, you might even be able to bolster customer and client satisfaction along the way.
Improves the Customer Experience
Consumer expectations are high when it comes to order delivery. According to a recent study by X Delivery, 62% of shoppers expect their orders to arrive in less than three business days when choosing free shipping. In other words, consumers want their shipping cheap and fast.
To deliver on those expectations, you must find a balance between cost and speed. The simplest way to do this is through rate shopping software. By comparing carrier rates, you can improve your customers' experience while simultaneously reducing delivery time and cost. This can result in even more sales and revenue, as it promotes customer loyalty and increases your fulfillment capacity.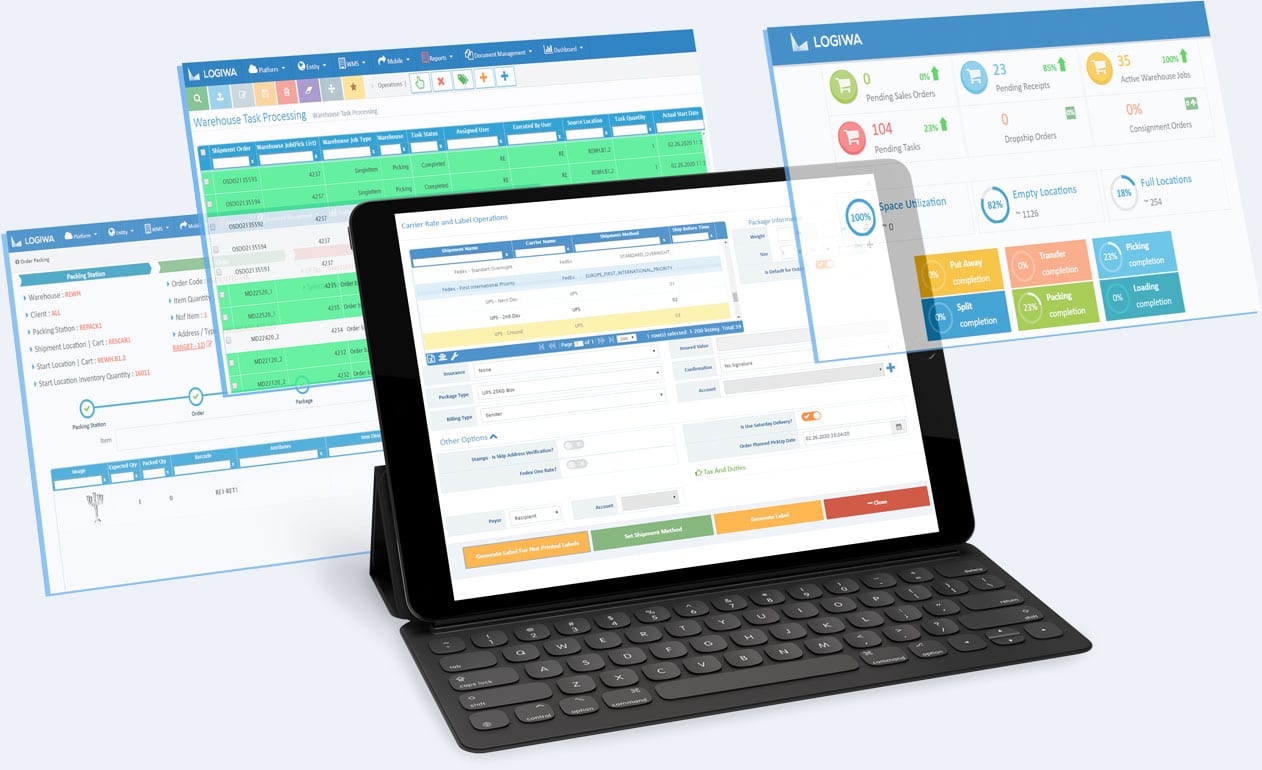 Transform your warehouse to a DTC fulfillment center
How Does Rate Shopping Work?
Traditional methods of rate shopping once required you to manually search through multiple pages of carriers and rates. You would need to price each carrier out and then compare and contrast to find the best available option for all your orders.
Luckily, this does not need to be the case anymore. Shipping rate shopping software does the heavy lifting for you, so you can compare real-time rates with just the click of a button and one intuitive interface.
What Is Rate Shopping Software?
Shipping rate shopping software is a solution that can compare and contrast the rates of a variety of carriers automatically. Beyond shipping rates, rate shopping software can also compare carrier service levels.
This software adjusts to your needs, whether you're a small, direct-to-consumer (DTC) ecommerce warehouse or a large 3PL network spanning multiple states.
Rate shopping is typically a feature of full-scale warehouse management system (WMS) platforms as well. If your current WMS software doesn't include rate shopping, it might be worth considering switching to one that has a built-in tool.
The Benefits of Shipping Rate Shopping Software
When it comes to using shipping rate shopping software, the obvious benefits are cost savings and an improved customer experience. However, there are plenty of other benefits worth noting.
A high-quality shipping rate shopping solution helps mitigate the number of manual tasks required to identify the best rates. Since carrier rates are updated in real-time, you do not need to depend on guesswork and cross-checking to make sure you're working with the most up-to-date information.
Likewise, robust shipping rate shopping software ensures you are always able to provide the best shipping speeds. You won't need to look up dozens of reviews to figure out which carrier is truly the fastest choice, because all of the real-time data is immediately accessible. This makes it much easier and simpler to meet your fulfillment needs.
The process of managing shipping rates and choosing the best one can be time-consuming. An ideal shipping rate shopping software reduces your time spent selecting the most cost-effective carrier, every time.
Logiwa WMS offers built-in smart shipping software as part of our complete Cloud Fulfillment Platform. Our smart shipping software automates the rate shopping process so you always have updated shipping rates, speeds, and comparisons ready at a moment's notice.
Achieve Fulfillment Success With Logiwa WMS
Shipping rates can eat into the gross revenue of B2B and DTC warehouse operations. Simultaneously, shipping costs are one of the major factors consumers consider when choosing where to purchase a product. That is why it is so important for operators to find carriers that can provide quality last-mile deliveries at optimized cost and competitive speeds.
Shipping rate shopping software helps growing fulfillment networks reduce shipping costs and enhance customer satisfaction without creating more work for your busy team. Logiwa WMS can help you streamline the rate shopping experience with our robust smart shipping features, which include pre-established integrations with many of today's most popular shipping carriers.
Learn more about Logiwa's industry-leading approach to high-volume fulfillment, and request a demo today.
Pre-integrated with the leading ecommerce, marketplace, shipping and accounting platforms
Warehouse Management
Modern digital WMS powers a modern fulfillment experience