What if Every Day Was Black Friday?
Originally published on August 25, 2023 by Erhan Musaoglu, Updated on August 31, 2023
If you operate a DTC fulfillment business, then you are well-aware of the challenges brought on by Black Friday and Cyber Monday. Love them or hate them, they continue to be the dominant shopping days in the U.S.—2022 peak season data shows consumers spent
$9.12 billion
online during Black Friday, and a
record $11.3 billion
on Cyber Monday alone.
These annual shopping holidays place intense pressures on high-volume DTC fulfillment businesses. In addition to keeping up with unprecedented order volumes, operations must maintain customer satisfaction in a concentrated amount of time. But what if this high-demand, high-volume period became an everyday reality?
How do you turn a hyperactive market into an opportunity for sustained growth and DTC success? The answer lies with high-efficiency software like Logiwa WMS. Read on to learn exactly how Logiwa can help you prepare for a never-ending Black Friday.
Did You Know
Mobile orders accounted for more than 44% of Black Friday revenue in 2022, up from 42% the previous year, according to Adobe.
Streamline Your Processes (and Your Stress)
In high-volume fulfillment, every corner of your warehouse needs to work in sync to get (and stay) ahead of the rush. Logiwa WMS acts as the conductor of this complex symphony, ensuring your various processes work harmoniously together.
Logiwa's WMS excels at:
Labor Logistics: When it's crunch time, a scalable WMS allows you to easily add seasonal employees and assign tasks based on skills, helping prevent burnout and keeping productivity high during peak seasons.
Advanced Analytics: Warehouses equipped with WMS benefit from data-driven insights that can flag performance gaps and process bottlenecks. This frees up your DTC business to stay responsive and agile in the face of fluctuating demand.
Equipment Utilization: If the thought of equipment breaking down leaves you in a cold sweat, your WMS can save the day. It keeps a close eye on equipment utilization and maintenance schedules, reducing downtime and preventing costly breakdowns.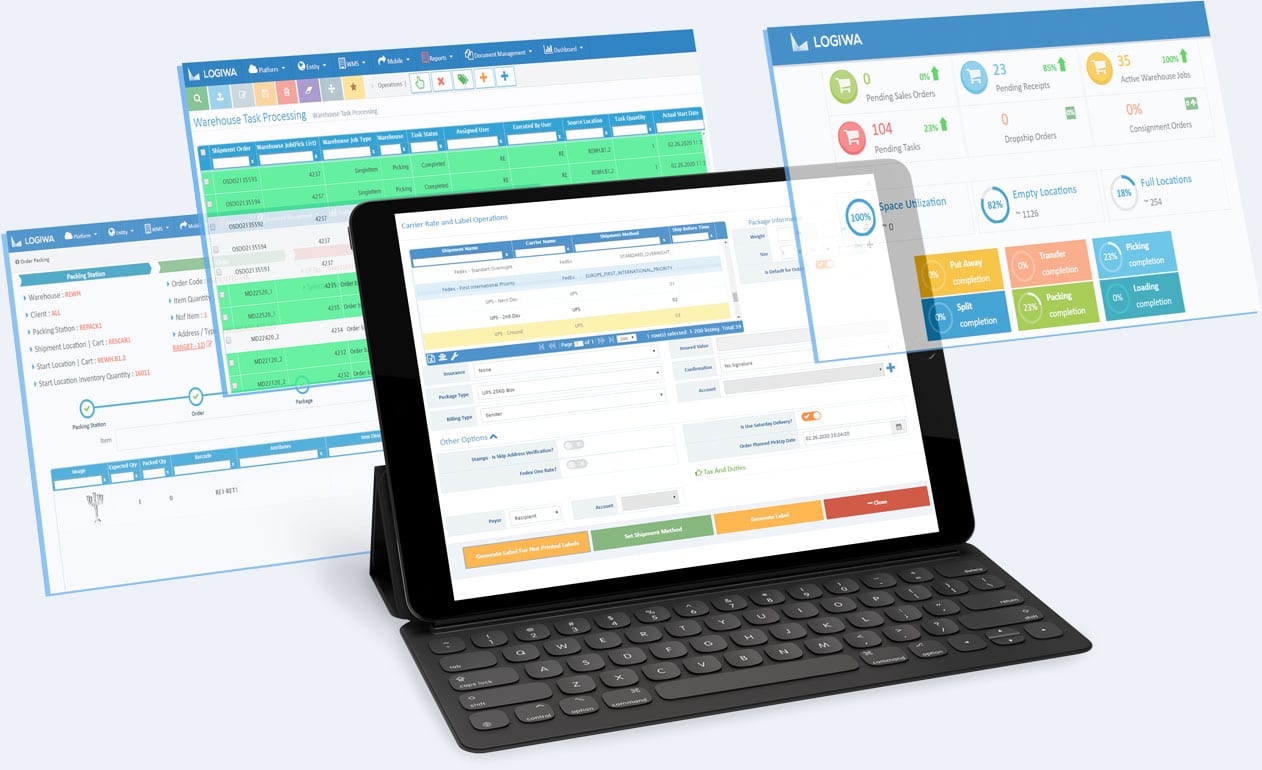 Transform your warehouse to a DTC fulfillment center
Manage Inventory at Warp Speed
In a perpetual Black Friday scenario, efficient inventory management is key to maintaining successful DTC warehouse operations. Logiwa's robust, cloud-based SaaS WMS acts as the brain of a warehouse, continuously monitoring inventory levels, tracking stock movement and automating replenishment processes.
Leveraging real-time data, Logiwa WMS helps identify what items are most in demand, so you can stay ahead of restocks and backorders without slowing down. You can also create a forecast for future sales, so you know exactly when to purchase more inventory.
Additionally, top WMS solutions can help optimize inventory storage, ensuring that fast-selling items are strategically placed for quick and easy access during order picking. A streamlined approach like this reduces travel time within the warehouse, maximizing efficiency even in the face of relentless demand.
Want to learn how Logiwa helps customers get up to 100% inventory accuracy and increase shipments by 2.5x? Just download our warehouse inventory management whitepaper.
Automate Your Way to Loyalty
The heart of any successful DTC business lies in its ability to fulfill customer orders accurately and promptly. It's what keeps shoppers happy and coming back. In a perpetual Black Friday scenario, DTC businesses must embrace the most efficient and agile order fulfillment processes possible.
This is where Logiwa WMS shines, with:
Pre-built API integrations and webhooks
Flexible mobile-friendly platform
Seamless integrations and effortless scalability
Rapid configuration and implementation (6-8 weeks)
AI-powered algorithms
From predictive analytics to order routing technology and smart inventory management, Logiwa leverages AI to optimize the accuracy and efficiency of warehouse processes. Automating order routing, picking path optimization, and shipping tasks reduces fulfillment time and minimize errors for your DTC brand. And as we all know, timely and error-free order fulfillment is a game-changer for customer satisfaction.
Related: Best Customer Experience in Peak Season—Is Your Business Ready?
Logiwa WMS's integrations include pre-established connections to ecommerce platforms (such as Amazon and Shopify) and shipping carriers (including UPS, FedEx, and USPS) to ensure seamless communication and data synchronization. Plus, it keeps order status and tracking information readily available for customers to enhance transparency and trust.
Logiwa's cloud-based SaaS WMS software can help you navigate the demands of an always-on marketplace and seize the potential for growth (and success) with every sale. Get ready now by visiting logiwa.com/request-a-demo.
Logiwa helps minimize your loss caused by returns by providing an easy way to quality check, split their status and identify the resaleable items
Warehouse Management
Modern digital WMS powers a modern fulfillment experience