Your Warehouse Setup Project Plan is the First Step to a Successful WMS Implementation
Originally published on July 4, 2023 by Erhan Musaoglu, Updated on July 5, 2023
A well-executed warehouse setup project plan can go a long way towards ensuring a new warehouse gets up and running smoothly. Fulfillment excellence is not achieved with random setups or by organizing inventory organically as it arrives; it takes a deliberate strategy around where certain processes should happen, how specific items should be stored, and long-term operational goals.
Unfortunately, many operators do not realize the importance of a strategic warehouse design, or the consequences of a bad one, until it is too late. Let's discuss the benefits of creating a warehouse setup project plan, what you should factor into your design, and why this process should be done before a WMS implementation.
In this guide, we'll discuss:
Why a Warehouse Setup Project Plan Matters
A warehouse setup project plan addresses all the critical elements of your business in order to ensure you execute the most effective fulfillment environment possible. It accounts for the type of operations you will be overseeing, the conditions needed to manage you or your clients' products, as well as the effect each of your workflows will have on each other. For example, the setup for a B2B operation will be quite different than that of a direct-to-consumer (DTC) or hybrid operation because they require entirely different approaches.
Crafting a thoughtful warehouse setup project plan is important for several reasons:
#1 It impacts the efficiency of your internal warehouse operations.
Say you have some popular DTC items that are constantly being ordered scattered throughout your distribution center, or you have items that often get purchased together on opposite ends of your facility. If you do not plan for each of these scenarios and situate items in strategic zones the right way (such as together or near your sorting and packing stations), you will create an excessive amount of walking for your pickers, unnecessary amounts of facility traffic, and delays in fulfilling orders.
#2 It affects your ability to meet SLA's.
When it comes to managing logistics and fulfilling fluctuating demand, you have a lot to consider in the design of your warehouse. From ensuring accurate, on-time deliveries to keeping perishable items refrigerated and expired items from leaving your warehouse, it is paramount that your facility incorporates your unique business needs and is designed to support all your fulfillment processes flawlessly.
#3 It influences the effectiveness of the technologies you adopt.
Without accounting for all your fulfillment processes or mapping out an intentional design, your ability to adopt and deploy technologies effectively will be limited. In fact, the solutions you choose may not even be able to accomplish what you intend for them to. Because automated storage and retrieval systems (AS/RS), warehouse management systems (WMS), and modern robotics reinforce and optimize existing warehouse processes, you have to have a solid foundation in place for them to succeed.
In order to create a well-structured warehouse environment, one ready for a WMS implementation, you need to take the time to take stock of your inventory, plan out your facility and brainstorm all the scenarios you can.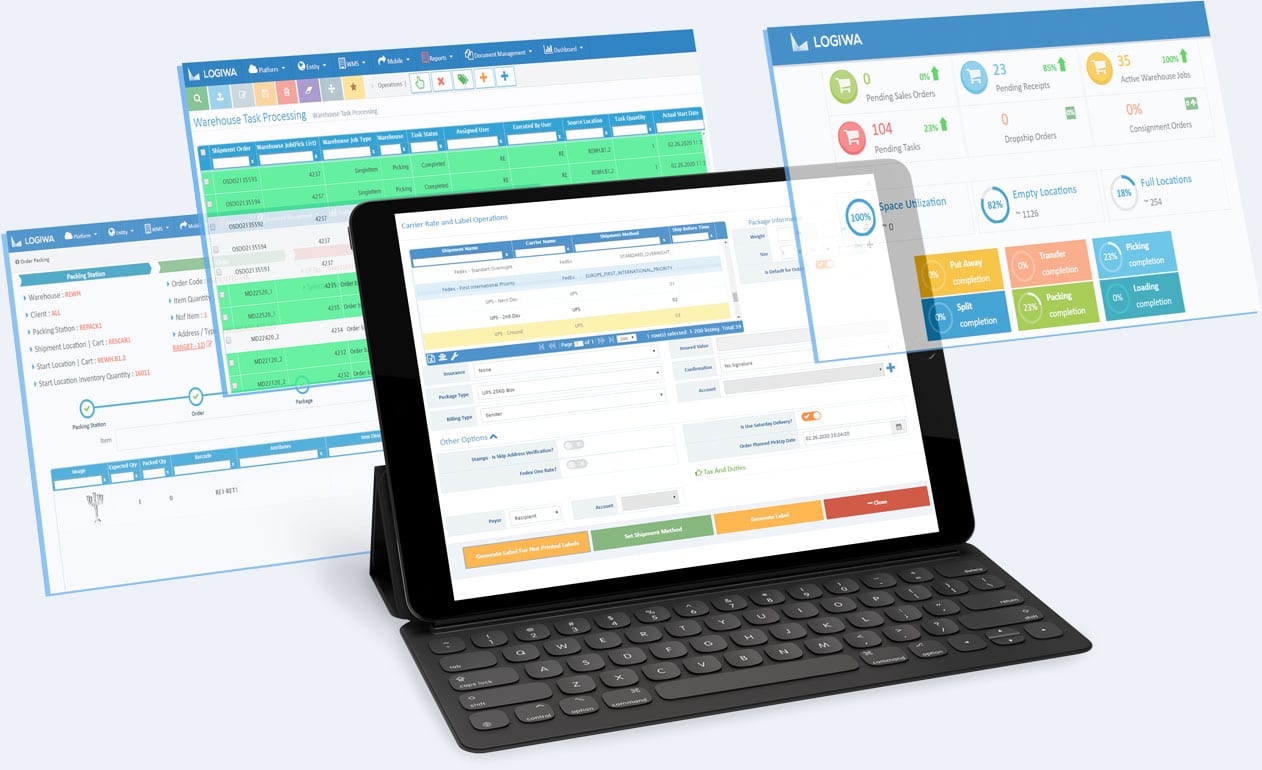 Transform your warehouse to a DTC fulfillment center
Warehouse Setup Project Plan: Questions to Consider
A good warehouse setup project plan starts with identifying the characteristics of your stock, what types of storage and retrieval systems are best suited for your inventory, and the fulfillment processes you will be managing. In addition, you should contemplate the potential operational hurdles that might arise based on your intended workflows and setup.
As a first step, consider your inventory and operational objectives to create zones that make the most sense for your warehouse. Where should certain processes (i.e. receiving, storage, picking, sorting, packing, etc.) take place for optimum efficiency? Do you need wide racks for B2B pallets or compact storage solutions for holding many, individual DTC products?
How will you handle putaway, picking, and replenishment efforts? Should you take the route of LIFO (last in, first out) or FIFO (first in, first out)? How can you best organize your warehouse to prioritize broken or oversized items, products for different clients, and inventory with expiration dates?
Do you need multiple sorting stations? How many areas for kitting and bundling make sense? How many packing stations are needed to prevent bottlenecks, and where should they be situated? How much space is needed for handling returns?
The more functional your plan is before you begin, the less bottlenecks and inefficiencies you will face when it comes time to set up your operations.
Setting Up Your Warehouse Before WMS Implementation
The opportune time to create your master layout, inventory counts, SKU creation, barcode implementation, and workflow strategies is before adopting or deploying a WMS solution. Doing so beforehand guarantees a fast implementation and fewer disruptions after your go-live.
WMS Software reinforces that which already exists, and a WMS implementation will fail if it does not have clean data or a process to work off of! Even the most robust and flexible fulfillment platforms cannot optimize a facility without clear inventory data or strategic zones in place. These solutions will sync flexibly with operations who have taken the time to execute a warehouse setup project plan.
For more insights on preparing a new warehouse for a WMS implementation, check out Logiwa's blog, "7 Ways to Have a Successful WMS Implementation Without Disruptions."
Get Help Deploying Your New Warehouse
Whether you're opening a new warehouse, restructuring an existing distribution center, or building out a full-fledged fulfillment network – Logiwa's team of warehouse technology experts is here to help you optimize your facilities and deploy our Tier-1 fulfillment solution successfully.
We have helped countless clients create a warehouse setup project plan that works to support their unique operational goals. We believe in a tailored approach to fulfillment and doing everything possible to ensure a speedy and positive WMS implementation experience.
Download our guide, "New Warehouse Deployment Guide" for insights into optimizing your warehouse layout, implementing digital and mobile technologies, and securing the hardware you need to win in the ecommerce fulfillment race. For more information on our cloud WMS platform, request a demo today.
Run a fully digital warehouse with WMS software implementation, mobile apps, smart job batching, automation rules
Warehouse Management
Modern digital WMS powers a modern fulfillment experience