Top Warehouse Management System Features for Your Fulfillment Network
Originally published on October 26, 2023 by Erhan Musaoglu, Updated on October 26, 2023
Same- or next-day deliveries don't just happen; they are the result of high-functioning fulfillment networks and competitive
warehouse management system features
. From inventory management to shipping logistics, leading WMS solutions are designed to support seamless multi-warehouse operations and high-efficiency fulfillment results.
Logiwa WMS ensures fulfillment networks have the scalability and robust functionalities needed to attain fulfillment excellence and help clients grow. Let's discuss the features that can help you streamline your fulfillment network operations to optimize inventory levels, maximize labor efficiency, lower shipping costs and execute fast, accurate deliveries.
Key Takeaways
Fulfillment networks provide small ecommerce operations with a way to achieve today's competitive standards and grow without having to manage complex logistics on their own.
With an average CAGR of 13.9 percent from 2023 to 2030, fulfillment service providers need future-proof solutions that can scale and adapt to changing consumer trends.
Logiwa's cloud native application makes it easy to add new warehouses, clients and inventory lines to your fulfillment network, as well as train new employees.
Logiwa WMS offers smart inventory management features, automated job creation, open API and webhooks, streamlining shipping and packing functionalities, quality control alerts and more.
Logiwa's the ultimate fulfillment network partner, one that provides fast time to value, dependable results and nurtures long-term relationships.
Fulfillment Network Growth Requires Future-Proof Solutions
By giving all ecommerce operations – regardless of size or fulfillment model – access to competitive fulfillment resources, fulfillment networks are contributing directly to the democratization of fulfillment. Even the smallest retailers and online merchants can achieve competitive fulfillment standards and grow by outsourcing their warehousing, shipping and other value-added services to a fulfillment network.
According to Grand View Research, the projected revenue earnings for the fulfillment services market is set to reach $272.14 billion by 2030. With an average CAGR of 13.9 percent from 2023 to 2030, fulfillment networks need future-proof solutions that can handle growth and changing consumer trends.
Top fulfillment platforms, like Logiwa WMS, ensure:
Scalability that promotes fast implementation and onboarding for new warehouses, clients and product lines
Configurability that streamlines automation workflows and makes it easy to integrate with your existing or evolving tech stacks and infrastructure
Reliability around high-volume inventory management, real-time data synchronization and dependable network security year-round
Transparency and accessibility for tracking the health of operations and leveraging metric data
Strong partnerships that offer consulting and continuously improve product architecture
Successful growth at the speed of ecommerce is the greatest challenge facing today's fulfillment networks. Outdated warehouse technology can make or break your operations, and many solutions can't scale and grow- or are too expensive and slow to implement and maintain.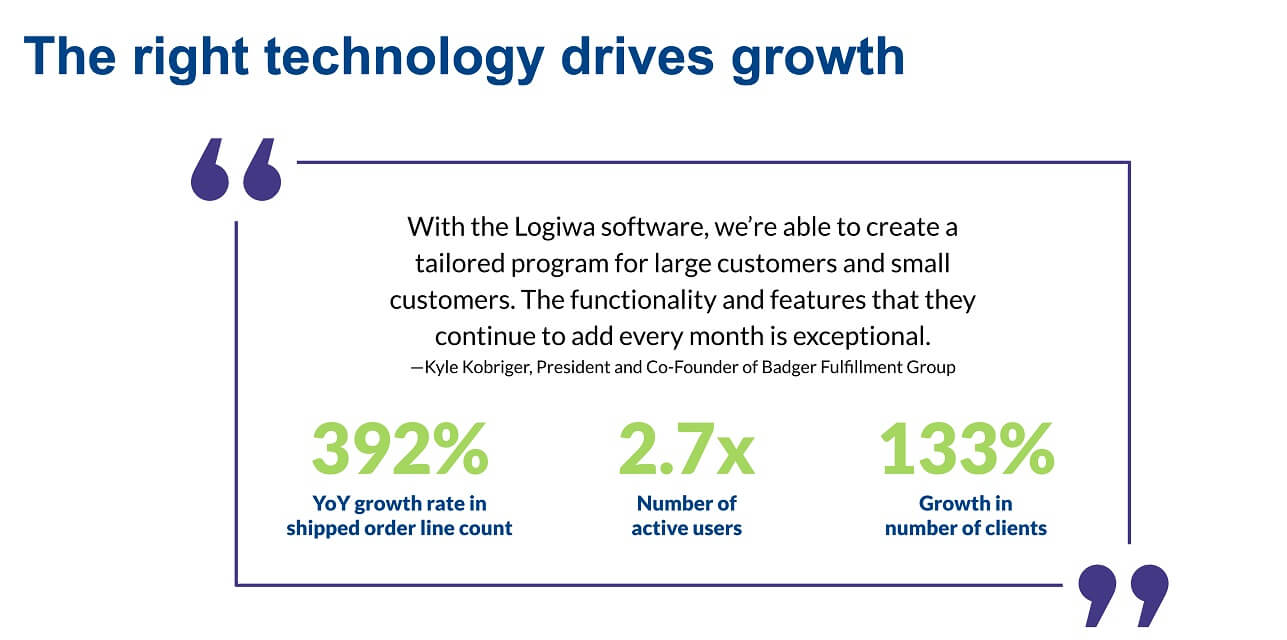 Logiwa's High-Value Warehouse Management System Features
At Logiwa, we pride ourselves on being a provider that seeks to understand your growth ambitions and invest in your fulfillment network with a solution that works. Logiwa WMS was built to address these concerns and empower DTC growth. Here are some of the top warehouse management system features we offer that empower fulfillment excellence.
Cloud Native Application
Logiwa's cloud technology makes it easy to scale, collaborate with other warehouses and fulfillment partners, enhance data security and reduce overall IT expenses as you grow. Our cloud native application ensures streamlined connectivity and 100 percent uptime throughout your fulfillment network (even during peak season), no matter how many warehouses or clients you have.
With cloud accessibility, you are able to maintain visibility and control over your fulfillment operations, optimize inventory management, effectively route orders to save on shipping costs and track the performance of various fulfillment activities in real-time. This helps increase productivity and efficiency throughout your fulfillment centers and ensures orders are delivered on time.
AI-powered Inventory Management
Logiwa WMS optimizes inventory management and all its related processes.  From our directed putaway algorithms and replenishment functionalities to our holistic approach to inventory tracking – Logiwa helps ensure you and your clients know exactly how much stock is in each of your warehouses and where they are located without exception.
Logiwa makes managing inventory accuracy across multiple warehouses quick and easy by providing accurate snapshots of inventory levels, along with details like expiration date, how long items have been in storage, level of demand and more. This helps inform efficient logistics operations, maximize order accuracy and expedite fulfillment speed.
Intelligent Warehouse Jobs
Logiwa combines ecommerce order details, live inventory data and smart automation rules to optimize picking and packing jobs. Our software generates high-efficiency picklists (that support methods like batch picking) and maintains continuous operations by incorporating new orders, changes in inventory levels, shipment schedules and other details in real-time.
Logiwa's smart job creation minimizes the total number of locations and times warehouse employees have to visit locations, and it ensures that highest priority orders are always completed first. With smart job creation and picking features, your fulfillment network is able to shorten your lead time and achieve competitive shipping logistics like same-day and next-day shipping with greater ease.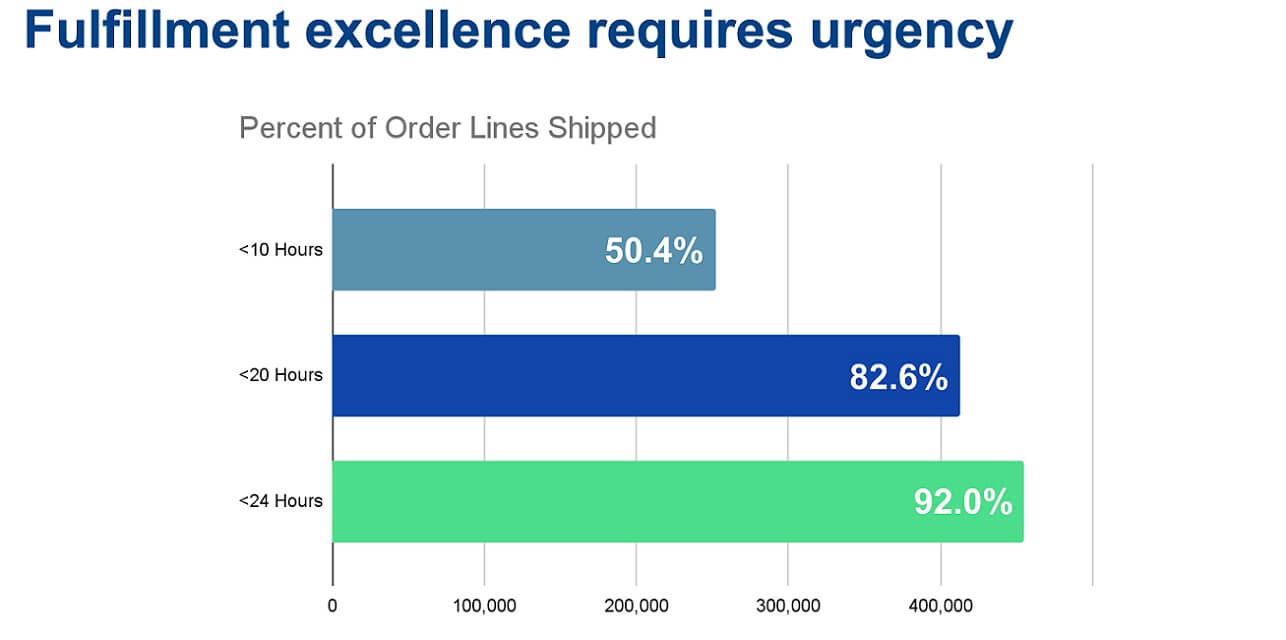 Fulfillment excellence requires urgency. A customer averaging 500K order lines per month can ship more than 50% of their order lines within 10-hours. 
Open API & Webhooks
Logiwa's robust integration capabilities include our Open API, which enables your fulfillment network to seamlessly connect with other technologies (i.e. ecommerce platforms, order management systems (OMS), enterprise resource planning (ERP) solutions, etc.). Logiwa provides many API endpoints to ensure business continuity for your operations and your clients.
Moreover, our solution utilizes webhooks to keep warehouse operations flowing and in sync. With these live notifications in place, you are able to increase the accuracy and speed of your workflows. Our webhooks are designed to be intuitive, easy to set up, and enhance clear, secure communication between integrated technologies for better system functionality.
Automated Shipping & Packing Station Functionalities
Logiwa WMS offers critical shipping features like carrier rate shopping directly within our platform, as well as configurable automation and packing station features that minimize decision-making, maximize order accuracy and ensure fast shipping at the lowest possible rates.
Using smart automation rules, the Logiwa system can automatically prescribe the ideal shipping container and carrier for orders based on criteria like size or distance to a consumer. Our system can also generate packing slips, shipping labels and return labels the moment an order is received, meaning your employees can print what they need and assemble shipments in record-time – leading to cost-effect, same-day and next-day shipping.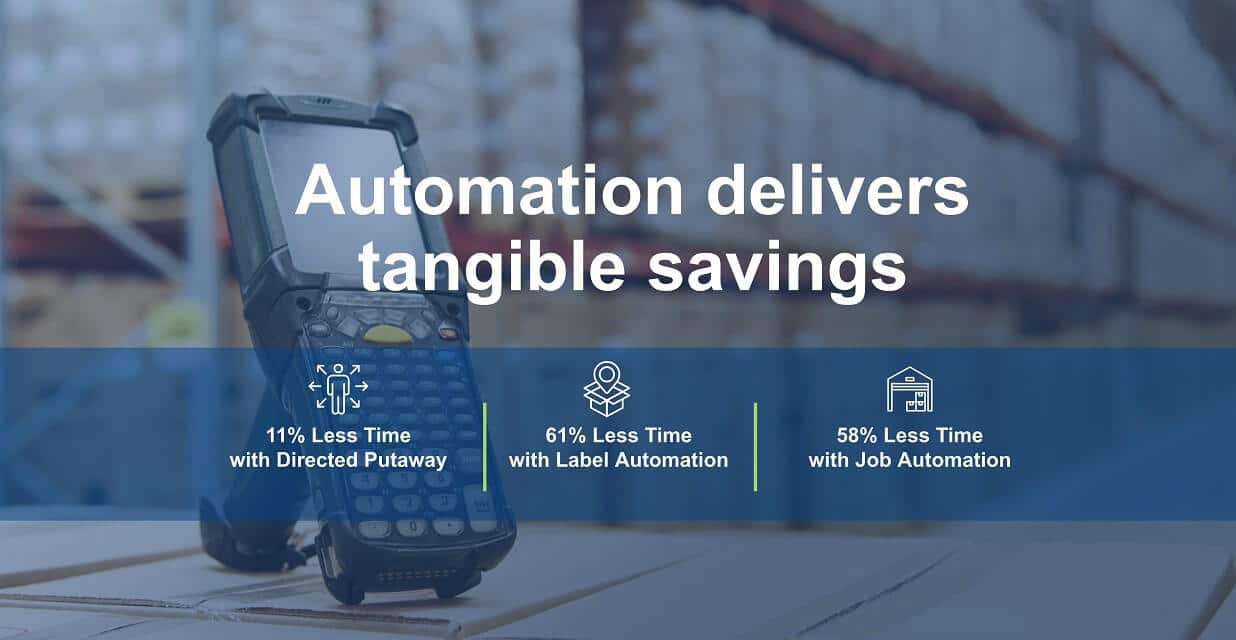 Logiwa's automations improve labor efficiency and produce measurable results—helping fulfillment networks democratize high-volume DTC fulfillment for their clients.
Quality Assurance Measures
Logiwa's smart UX limits user mistakes thanks to built-in safeguards like error messages, missing action alerts, and so on. These QA notifications pop up to quickly inform system users of an issue. You can even require your employees to scan items at each stage of the fulfillment process to eliminate the possibility of mistakes occurring anywhere in your fulfillment network.
For example, once an employee receives items from a picker, they can scan the order number, as well as each of the items about to be added to the box. If one of those items is not scanned, the picker will be alerted that they cannot finish processing the item for shipment. If one of the items is, say, the wrong color, the employees and system will be alerted so that the order can be processed correctly and inventory reset correctly.
The Ideal Partner for Growing Your Fulfillment Network
When it comes to cost savings, increased efficiency and solving pain points, Logiwa delivers.
We provide fast time to value.
Logiwa provides remarkable time-to-value by ensuring a speedy implementation, user-friend functionality (employees can be trained to use our software in a single day), and the ability to quickly onboard new warehouses and clients. Most importantly, we continue to provide value by incorporating the feedback from our other users to ensure you always have access to the latest fulfillment features, strategies and industry insights.
We are relationship-driven.
Logiwa drives sales and ROI with our forward-thinking technology and user-centric initiatives. Our team is committed to being more than just your solutions provider, but your consulting partner as well. We work with you to personalize and configure workflows to meet your unique operational needs, uphold high service level agreements (SLAs) and construct product roadmaps that incorporate your feedback directly. Since we consider ourselves as your long-term partners, our professional services come with minimal added cost.
We prioritize labor efficiency.
Logiwa handles every major warehouse process and improves them with cutting-edge automation technology. We help you to run fully mobile environments using AI-enabled tools that bolster worker productivity, fulfillment speed and order accuracy. As a result, Logiwa WMS creates a 40 percent increase in labor efficiency for our customers on average without sacrificing fulfillment results.
Logiwa's analytics platform provides powerful insights into your KPIs, as well as forecasts around projected demand and how many temporary workers you will need during the next peak season. By aggregating the data flowing throughout your fulfillment network, you can maximize throughput without adding headcount.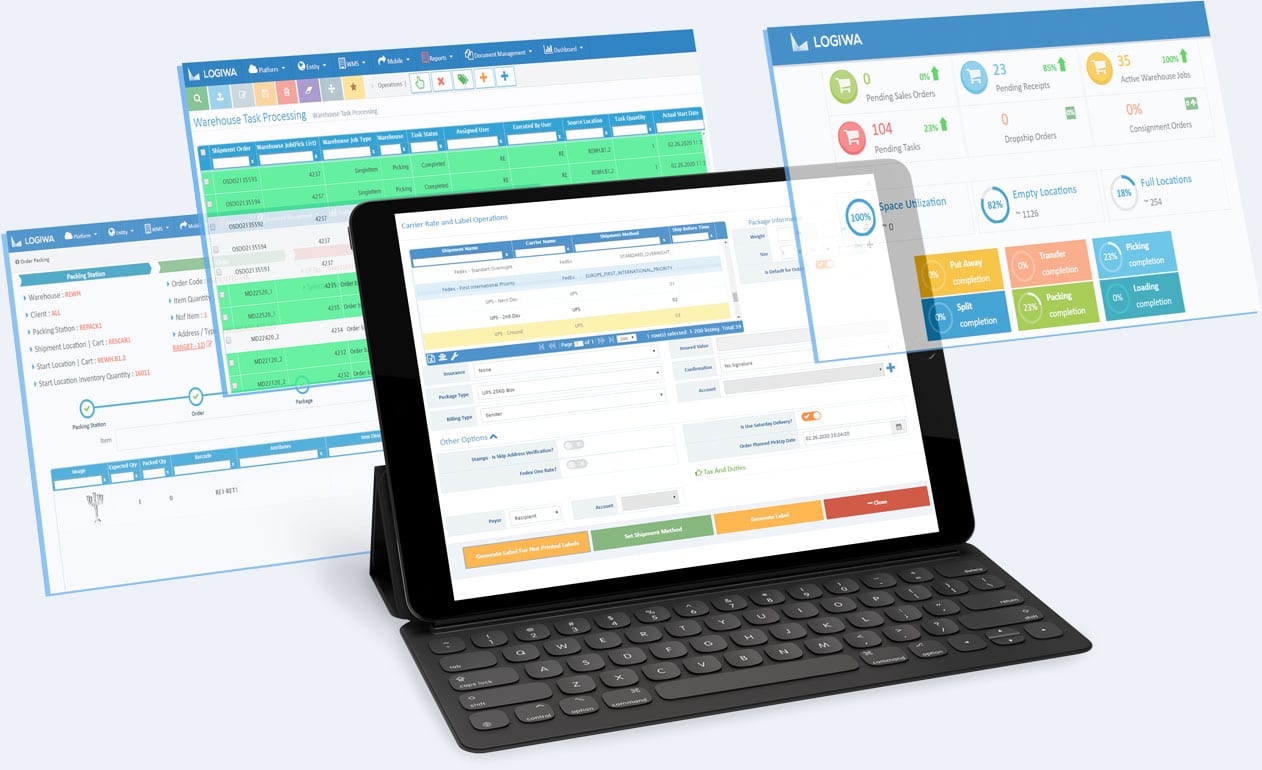 Transform your warehouse to a DTC fulfillment center
We take fast onboarding to the next level.
Logiwa WMS is a cloud native platform, which means it only takes 6-8 weeks on average to roll out (and even less time to add new warehouses to your existing network). We designed our solution to be highly configurable and flexible with existing tech stacks, making it easy to replicate your preferred configurations in new warehouses and fine tune them for individual facility needs.
Moreover, our system was built to be intuitive. In fact, it is so user-friendly, that employees can be fully trained to use our solution in a single day. Mobile screens with intuitive and easy-to-use UI/UX lead to fast onboarding and training, and fewer human errors during training and use.
Security is our middle name.
Logiwa WMS provides dependable levels of observability and transparency, meaning we can quickly identify and resolve potential issues within our solution. We closely monitor the health of our systems, and offer 24/7 technical support should ever an issue or bug arise. We offer the highest level of network security and Soc 2 compliance to safeguard you and your clients' data.
For fulfillment networks seeking to achieve fulfillment excellence and master high-volume DTC ecommerce, Logiwa provides a scalable, cloud-native WMS solution that delivers the unparalleled operational efficiency and time-to-value needed to win in today's market. Request a demo today.
FAQs Related to Warehouse Management System Features for Fulfillment Networks
What warehouse management system features does a fulfillment network need?
Logiwa WMS offers fulfillment networks a cloud-native application ensuring 100 percent uptime, AI-powered inventory management, smart job creation, open API & webhooks, automated shipping, and quality assurance measures. These features guarantee efficient, accurate, and secure fulfillment operations.
How does Logiwa WMS optimize inventory management and order accuracy across growing fulfillment networks?
Logiwa uses AI for precise stock tracking and smart job creation, minimizing employee movements and ensuring priority orders are processed first. This leads to maximized order accuracy and seamless expansion.
Why does fast onboarding and robust security matter to fulfillment networks?
Fast onboarding is crucial for fulfillment networks to swiftly integrate new warehouses and employees, ensuring operational efficiency and quick response to market demands. Robust security is essential to protect sensitive data and maintain customer trust, safeguarding against potential breaches and ensuring uninterrupted business operations.
How can Logiwa WMS increase labor efficiency with warehouse processes?
Logiwa handles every major warehouse process and improves them with cutting-edge automation technology. More importantly, we help you to run fully mobile environments using AI-enabled tools that bolster worker productivity, fulfillment speed and accuracy. As a result, Logiwa WMS creates a 40 percent increase in labor efficiency for our customers on average.
Automate jobs within your fulfillment center – either through robotics, smart batching
Warehouse Management
Modern digital WMS powers a modern fulfillment experience