Optimizing Warehouse Data: KPIs, Reporting and Analytics
Originally published on February 7, 2023 by Ayca Ozcan, Updated on February 17, 2023
Assessing warehouse data and tracking key performance indicators (KPIs) is arguably the fastest way for businesses to root out inefficiencies and improve operations. But tracking inventory levels and number of products shipped is simply not enough data tracking to ensure stability and growth in today's fulfillment industry. In order to ensure your operations are headed towards success, a personalized approach to monitoring and leveraging warehouse data must be adopted.
Modern fulfillment networks are embracing competitive, metric-based benchmarking and custom reporting strategies to reap the full advantages of their operational data. Let's discuss some ways your business can upgrade your approach to KPIs and analytics to more easily achieve fulfillment excellence. 
In this guide, we'll explore:
Why Your Approach to Warehouse Data Matters
From day-to-day warehousing metrics… to advanced client reports and demand forecasting… Data is at the heart of your business and key to ensuring a stable supply chain, high-performing fulfillment network, and customer satisfaction. But no two operations are exactly the same, which is why no two approaches to data should be the same either. 
Your approach to warehouse data should factor in the unique characteristics of your business, especially: 
The type(s) of order fulfillment you oversee 

Whether you are a brand, online seller, or 3PL provider

How many clients/customers, locations, and consumers you serve on average

How your fulfillment network is set up/internal workflows (Fulfillment centers, distribution warehouses, return centers, etc.) 

The types of inventory you process or number of product lines you are responsible for

How many employees you have within your workforce

Whether or not you use automation (smart warehouse management software, robotics, etc.) 
Your ecommerce, shipping, accounting, robotics, and other system integration connections

And more
The list goes on, but the point is clear: your approach to warehouse metrics and KPIs must take into account your unique operational characteristics, as well as current and future goals. If you want to succeed, you need a tailored approach that gives you the information you need most. 
For example, if you are a business-to-business (B2B) operation, you will not be as concerned about fulfillment accuracy rates or returns as a direct-to-consumer (DTC) operation. If you are a third-party logistics (3PL) provider, you may have multiple sets of data to keep track of for your various clients and products. 
Let's go over some best practices for ensuring you are thinking about your warehouse data in the most productive way.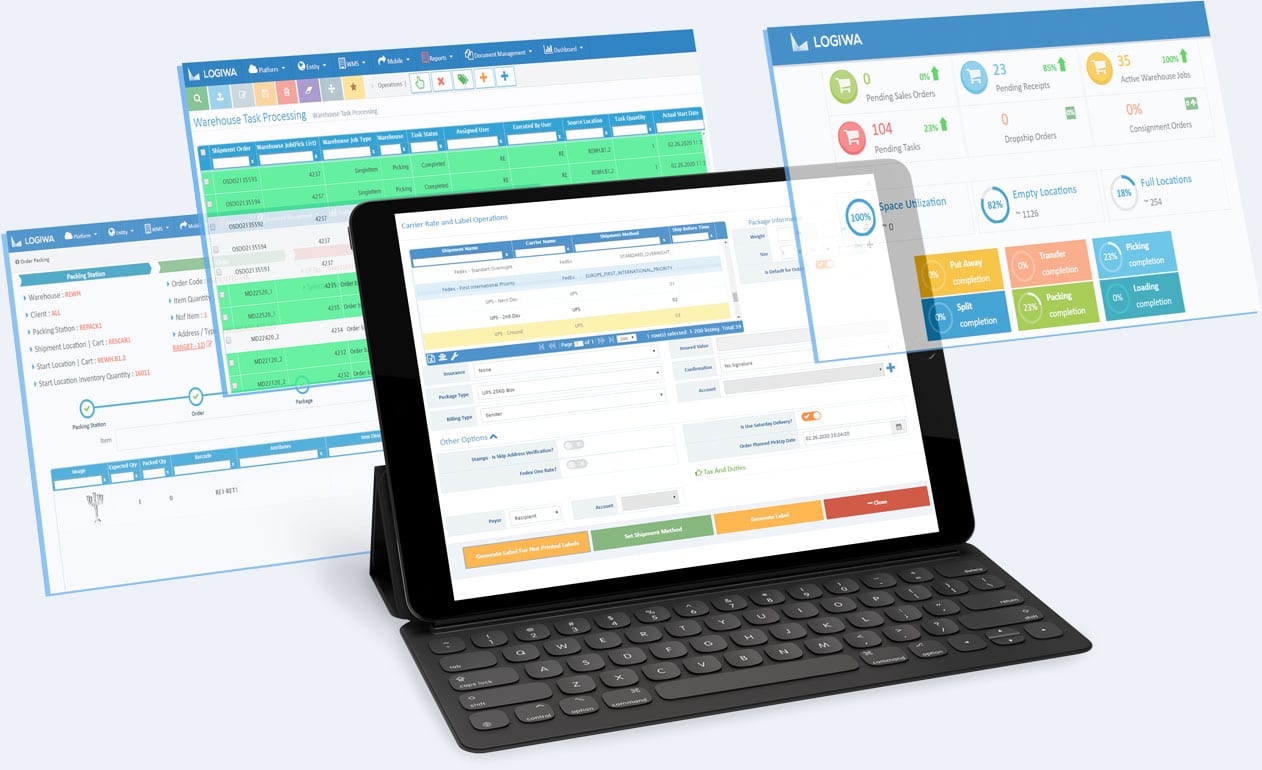 Transform your warehouse to a DTC fulfillment center
Knowing Where Your Warehouse Operation Stands
As previously mentioned, it is important to start by identifying the unique characteristics and goals of your operation, so you can sync your data practices to support them. In Logiwa's QuickTake, "Winning DTC Fulfillment with Analytics" our expert suggested asking yourself the following questions: 
Do you know what to measure (or which warehouse KPIs are relevant certain goals)? 

Do you know what the data you've accumulated is telling you about your operations? 

Do you know what a healthy metric is for your operations? Across all categories? 

Are you trying to meet target goals or surpass them? 

Is your warehouse management solution capable of tracking the

top warehouse management KPIs

?

Are you focused on streamlining daily processes or overarching business growth?

Do you know how much progress you are making on each of your goals, or if you need to try a new approach? 

Are you tracking accurately, and how often are you measuring performance? 
In order to know how your operation is performing, you must ensure you have a solid grasp of your operational health, goals, and metric baselines. Data is not always about quantity, but quality and usefulness. 
Prioritizing Actionable Reports and Analytics
Once you've identified your baseline metrics and unique operational goals, changing your approach to data management has a lot to do with customizing your reporting and analytics tools. The key rule to keep in mind is this: only make use of reports that are useful to your business goals and clients. Avoid reports that do not provide vital information or allow you to take action.
Rather than crowd your computer screen with useless data, curate your KPI dashboards with option-based analytics reporting (multiple formats of visual data). Do away with complicated titles, and name reports based on intended use-case, dates, clients, etc. to avoid confusion. 
In addition, check that WMS allows you to make adjustments to reporting, so you are always able to pivot and retrieve relevant data as your operations evolve. Leading warehouse management systems offer customizable reporting and analytics capabilities to ensure flexible, agile, and informed decision-making.  
Adjusting Your Scope to Identify Trends
Depending on the KPIs you choose to track, and for how long, you can identify a variety of issues. For example, if you wanted to see labor statistics over time rather than the individual performance of certain employees during a given week. To that end, consider both the short-term and long-term effects to warehouse metrics to gain new trend insights about your operation. 
If you are looking to flag inventory discrepancies, slowed efficiency in an area of your warehouse, identify bottlenecks, or daily issues – you will want to drill down to metrics on an hour-by-hour basis because those are considered current metrics. However, if you are trying to anticipate emerging issues, your reports should capture the overview of at least the last seven days. To solve long-term strategy issues, look for month-over-month trends. 
Choosing the Right BI Tools 
There are many ways to improve the way you handle reporting and analytics, and not being afraid to upgrade your business intelligence (BI) tools. Choosing a cloud fulfillment solution with robust reporting capabilities, one that makes communication easier between you and your clients, and streamlines live reporting and analytics is a guaranteed way to start improving your bottom line. Logiwa Analytics, a part of our complete WMS, was built to be able to connect multiple data sets, produce on-demand reports and pull raw data for insight on your shipping carriers, tasks, shipments, job types, job volumes by client, order aging, warehouse space, inventory levels, order status, and more. Learn more at Logiwa WMS Analytics.
Grow your DTC fulfillment business – without additional headcount.
Warehouse Management
Modern digital cloud WMS powers a modern fulfillment experience