The True Cost of a Custom WMS
Originally published on June 8, 2023 by Erhan Musaoglu, Updated on June 8, 2023
A warehouse management system (WMS) is the ultimate tool for successfully managing warehouse operations to improve your 3PL, B2C, or DTC organization's efficiency. However, many WMS platforms are available and each one is different. How do you choose the best fit for your warehouse?
Many organizations consider springing for a custom WMS tailored to their unique requirements. And while this may seem like the best plan for you, there are some things to consider.
Here, we discuss the true cost of a custom WMS so you can decide if it's the right choice for your warehouse.
How Much Does a Custom WMS Cost?
A WMS is a platform you use to manage and control daily warehouse operations. Advanced WMS solutions, such as the Logiwa WMS, can track and manage everything from receiving and storing items in your warehouse to fulfilling orders and shipping them out.
A custom WMS is built on a basic software and tailored to meet your unique warehouse needs. Building such software will require performing a requirement analysis and designing the system to match your customer-specific requirements.
As such, a custom WMS can cost thousands more to build and implement than an off-the-shelf or SaaS WMS. Other factors that affect custom WMS costs include:
Scope and complexity: How big and complex your warehouse is will influence the cost of getting a custom WMS. Larger warehouses with more complex processes and high SKU counts require a more advanced warehouse management system, leading to higher development costs.
Capabilities: If you want special features and functionalities, expect the estimate for your custom WMS to be higher. For example, asking the developer to add advanced features like rate shopping and robotics integrations will increase the price.
Licensing fees: User licenses permit people to use the software. The more user licenses you need for your custom WMS, the more it will cost.
Technology infrastructure: Pre-built, cloud-based WMS solutions are ready to use right out of the box. If you choose to build a customizable WMS, you must get your own hosting and other technology infrastructure for the software. The hosting option you choose will contribute to the cost. For instance, a private hosting server is secure but the most expensive option. You will also shoulder the cost of maintaining any hardware included in your infrastructure.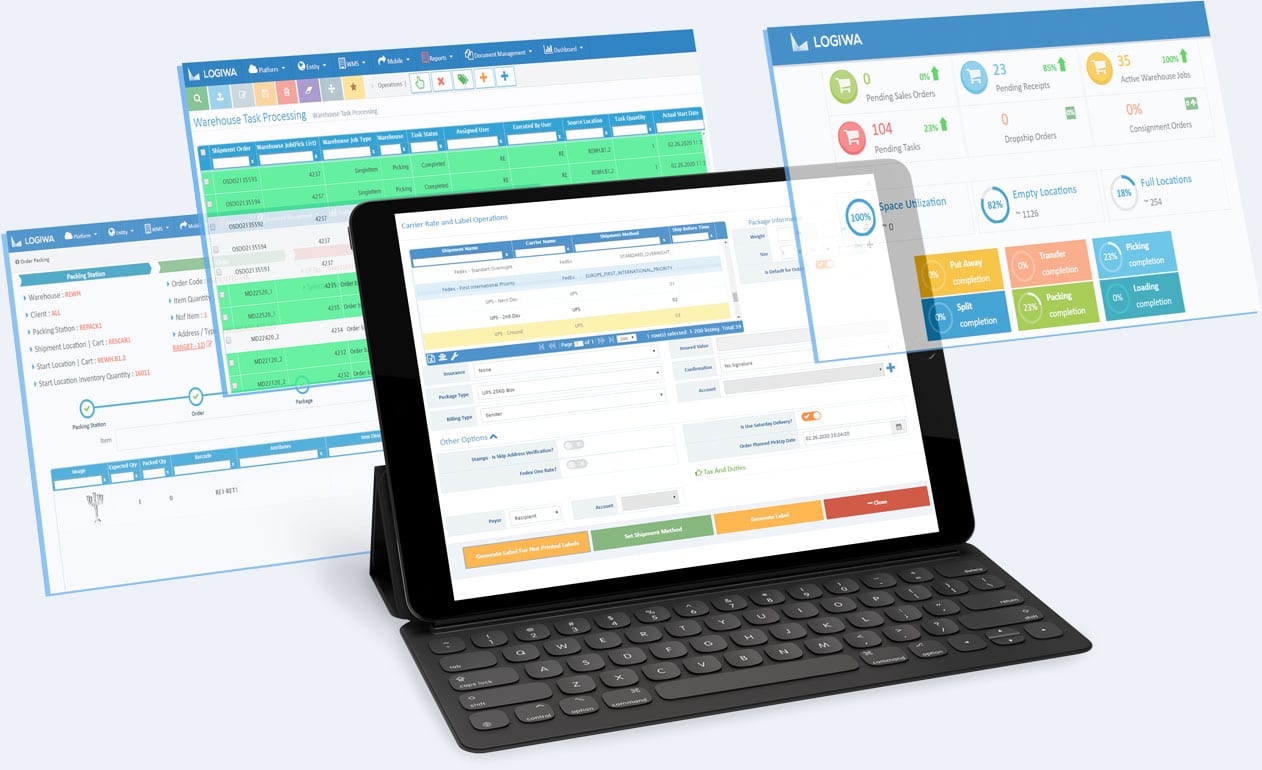 Transform your warehouse to a DTC fulfillment center
Hidden Costs Associated With a Customizable WMS
Besides the factors we just discussed, a custom WMS comes with hidden costs that become apparent only after implementation. The biggest of these hidden costs include:
Custom coding and testing: The developer must write code from scratch to create a custom WMS that fits your functionality and capability requirements. The developer will charge you more for the extra work. Plus, this new code will require extensive testing to verify that it works, delaying project completion. Unfortunately, software development costs more the longer it takes to complete.
Ongoing support and maintenance: After your custom WMS goes live, you'll need ongoing support until you understand how to use and integrate it into your existing system. These support services often come at a high cost. Also, if the software has malfunctioning features due to broken code, you may have to pay to fix it. Ongoing support and maintenance costs can accrue quickly, especially if you need extensive customization or integrations.
Team training: Your customizable WMS will be something your warehouse team has never seen. This means your team will need specialized training to make the most of the tool, which can get expensive. There's also the hidden cost of losses from employees making mistakes while trying to use the custom WMS.
Custom vs. Configurable: What's the Difference?
As discussed above, a custom WMS is tailor-made to match your requirements. Launching such software typically requires custom implementation. Also, tweaking or integrating the software may require custom coding by a developer.
A configurable WMS, on the other hand, comes ready to use out of the box. Launching, integrating, or using the software in any other way will not require coding. Instead, a configurable WMS will have inbuilt options for tweaking settings and configuring the software to match your needs or preferences. How much configuration you can do will vary between solutions.
Why a Configurable WMS Is the Best Choice
A custom WMS allows you to fully customize your software, but changing needs mean that software comes with ongoing costs. A configurable WMS offers everything most warehouses need to track and manage their processes and is better prepared to meet new challenges quickly. Even better, compared to a custom WMS, a configurable WMS costs less to purchase and implement.
You can easily adjust a configurable WMS to match your warehouse's needs by simply flicking settings and features on/off. There's no need for costly and time-consuming custom coding.
Plus, there are plenty of other benefits that make a configurable WMS the best choice:
Faster implementation: Implementing a configurable WMS takes less time because it comes ready to use out-of-the-box with pre-built features and functionalities. The reduced implementation time means you can experience value faster than with a customizable WMS.
Scalability: A configurable WMS can scale to accommodate the needs of your warehouse as it grows or shrinks. On the other hand, a custom WMS will require buying and adding more technology infrastructure so that the WMS can keep up with your warehouse's growing needs. If growth slows or declines, you'll end up with a technology infrastructure you don't need but must maintain.
Regular updates and maintenance: A configurable WMS solutions provider will frequently update and maintain the software for you. The updates are free and ensure you enjoy uninterrupted use of the WMS. If it's a custom WMS, you will bear the cost and responsibility of updating and maintaining the software.
Logiwa WMS: The Configurable Warehouse Management System
If you want a configurable WMS that you can easily tweak to match your preferences and warehouse requirements, Logiwa WMS is a great choice.
Logiwa is scalable and configurable to match the needs of your small or large logistics warehouse. After years of serving various 3PL, B2C, and DTC businesses in different industries, you can count on us to solve your most pressing warehouse issues and give you a competitive advantage.
Also, our user-friendly, cloud-based system simplifies onboarding, so you can start using our WMS to your advantage within weeks instead of months. Even better, Logiwa has pre-built integrations that allow you to connect our WMS to your favorite ecommerce, shipping, accounting, and robotics solutions.
Scale Your Fulfillment Operations With Logiwa
A custom WMS may seem beneficial, but a configurable solution like Logiwa WMS fulfills the same functions at a lower price. Also, you can get Logiwa WMS and have it configured and running within your warehouse facility in as little as four weeks.
Don't delay automating your warehouse and gaining a competitive advantage in your industry. Take the first step toward digitizing and automating your warehouse with Logiwa by requesting a demo today!
Run a digital fulfillment experience with a fully integrated Cloud WMS Software
Warehouse Management
Modern digital WMS powers a modern fulfillment experience