Top WMS Solution – Logiwa's Latest G2 Badges
Originally published on April 25, 2023 by Elizabeth Walsh, Updated on May 3, 2023
When it comes to selecting warehouse management software, there are dozens of solutions to choose from. From inventory and supply chain management solutions, to warehouse management systems (WMS), warehouse execution systems (WES), and enterprise resource planning (ERP) systems – there are more options to optimize fulfillment than ever before.
Making the right choice for your fulfillment operations can feel overwhelming. Luckily, there are trustworthy sources to help guide the way. Sites like G2, Software Advice, Capterra, and GetApp were created to provide dependable insights on top WMS solutions. Amassing information based on real users, these websites offer an easy way to narrow your options and answer the questions that matter most in your decision-making process.
G2, previously known as G2 Crowd, recently ranked Logiwa WMS as a top WMS in several major categories using their G2 Grid reports. According to their methodology insights, G2's algorithms take stock of Logiwa's G2 product reviews, as well as other online sources and social networks to determine the strongest contenders for their category winners.
Let's discuss Logiwa's latest badges – what they are and why they make us a top WMS.
Logiwa Technologies Inc.
From startup to global recognition, Logiwa has become an industry-leader thanks to our advanced, yet intuitive approach to warehouse management and high-volume, ecommerce order fulfillment. Capable of serving B2B, DTC and hybrid operations, our Tier-1 solution Logiwa WMS was built specifically to address the needs of complex, modern supply chains.
Our cloud fulfillment platform provides end-to-end order management with robust, flexible functionalities. It can integrate with more than 200 major ecommerce channels, shipping, accounting/ERP and robotics providers to ensure streamlined operations. As the control center of fulfillment operations, Logiwa WMS aids inbound logistics, inventory management, internal warehouse processes, and shipping functionalities with a variety of customizable automation features.
Logiwa helps retailers, online brands and third-party logistics (3PL) providers optimize each stage of the order fulfillment process to ensure stable, competitive growth without sacrificing accuracy or speed. As a company equally dedicated to customer satisfaction and time-to-value, our numerous awards are a testament to the success of our team and solution.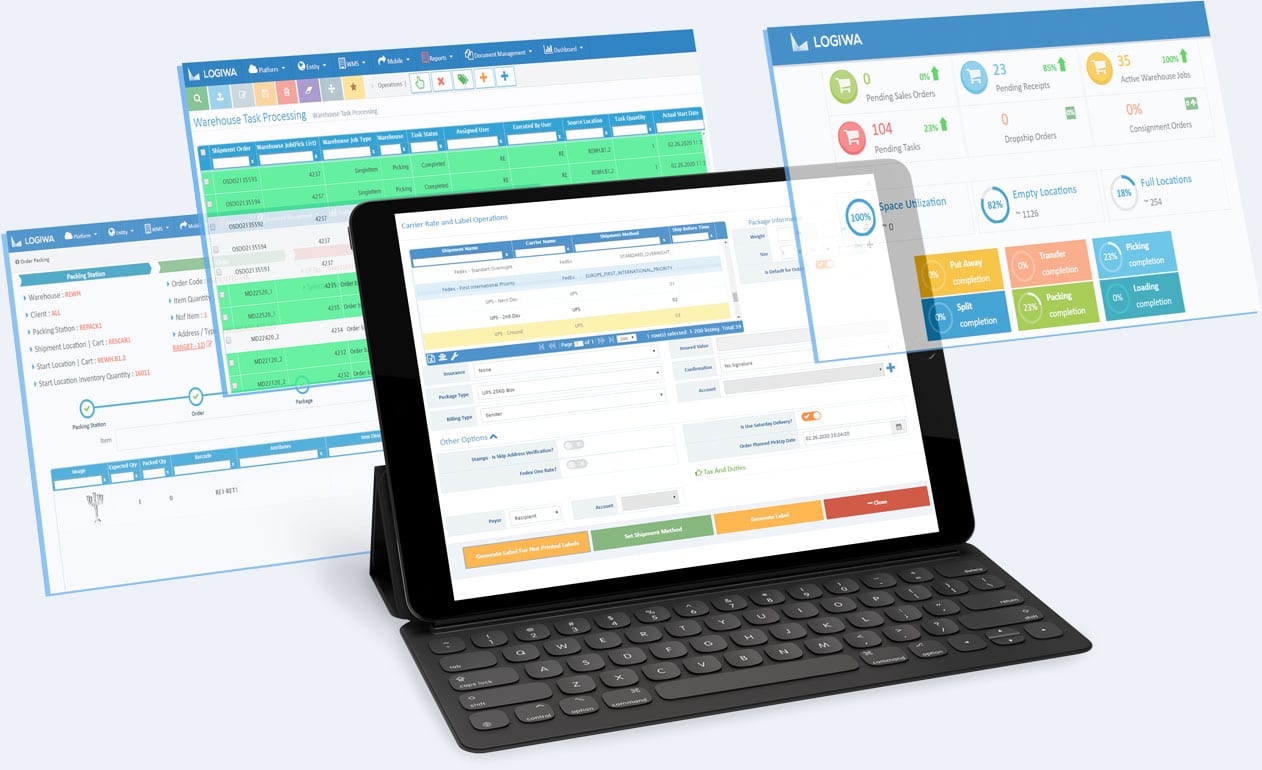 Transform your warehouse to a DTC fulfillment center
Logiwa's G2 Badges:
Over the years, Logiwa has earned a reputation for being easy-to-use and highly tailorable to meet the needs of our clients. Awarded as a top WMS by Capterra, GetApp and Software Advice, Software Suggest, BuiltIn and others – Logiwa WMS has continued to receive consistent recognition for helping operations achieve high-functioning fulfillment operations.
This spring, G2 awarded us in multiple categories based on their user reviews, aggregated industry data and real user experiences across social platforms. Our latest G2 badges include:
High Performer – Spring 2023 Badge: Logiwa WMS earned a spot in the High Performer quadrant in the Grid Report for high Customer Satisfaction scores and low Market Presence scores compared to other competitors in the category.
High Performer (Small-Business) – Spring 2023 Badge: Logiwa WMS ranked in the High Performer quadrant in the Small-Business Grid Report for high Customer Satisfaction scores and low Market Presence scores compared to other solutions.
Leader – Spring 2023 Badge: Logiwa WMS ranked in the Leader quadrant in the Grid Report for its high G2 user ratings and having substantial Satisfaction and Market Presence scores.
Leader (Small-Business) – Spring 2023 Badge: Logiwa WMS landed in the Leader quadrant in the Small-Business Grid Report for being rated highly by G2 users and having substantial Satisfaction and Market Presence scores.
Users Love Us Badge: Logiwa WMS earned the Users Love Us badge after collecting more than 20 reviews with an average rate of 4.0 stars or higher.
Based on the high ratings of satisfaction, market success, and widespread feature recognition, Logiwa WMS was included among the top WMS solutions in the industry.
To learn more about G2's Grid Report or any of their other market reports, visit: https://research.g2.com/market-reports.
Top Areas Where Logiwa WMS Succeeds
Logiwa WMS remains one of the most configurable solutions on the market. It allows ecommerce businesses to meet fluctuating demand, as well as new ecommerce trends and supply chain challenges with confidence. Our approach to smart inventory management makes it easy to meet the needs of individual distribution centers and uphold fulfillment excellence for large fulfillment networks.
As a top WMS, Logiwa WMS is always seeking to upgrade existing processes to better meet consumer demand. What sets our solution apart is its cloud accessibility, intelligent AI-powered algorithms, mobile-friendly applications, and multi-channel integration capabilities. To ensure total visibility and control, Logiwa WMS allows customers to see all areas of their fulfillment processes from one intuitive interface.
Our centralized inventory database and smart inventory management ranked 5% higher than the average WMS, according to G2. In addition, our receiving functionalities were 7% higher and ecommerce integrations 9% higher than other solutions. Some of the key features that set our warehouse management software apart, include:
Digital Warehousing – Logiwa WMS automates warehouse operations to improve productivity and cost-savings. This includes providing real-time cloud visibility throughout your facilities, as well as features like directed putaway for inbound logistics, smart inventory management, walking path optimization, mobile scanning technology, and more.
Connected Ecommerce (Integrations) – Logiwa WMS can track online orders from multiple ecommerce channels, transactional data, shipping carrier rates, and the movement of orders throughout your fulfillment network to keep operations flowing. It can update orders based on real-time changes being made by consumers. In addition to more than 200 integration options, Logiwa WMS is capable of adding custom integrations at the request of our customers.
Smart Automation – The Logiwa WMS system was designed to help businesses accomplish more by doing less. With our solution, it is possible to add new clients, update billing contracts, bring new warehouses online, and accelerate operations using existing or customizable algorithms. These custom rules can help automate fulfillment processes like picking and packing based on product availability, internal warehouse traffic, shipping rate expenses, optimal order routing, and more.
Analytics Reporting – Logiwa Analytics is part of Logiwa's complete cloud fulfillment platform. It leverages data to identify hidden opportunities for maximizing warehouse performance, labor management, and fulfillment success. From bottlenecks in your facility to cost management and client management, our built-in business intelligence tool and customizable dashboards help high-volume operations root out inefficiencies, predict future demand, and monitor the health of daily operations.
Customer Support – Logiwa WMS is more than a solution because it comes with unparalleled technical support. Our engineers and professional services teams are experts in logistics, warehouse operations, and fulfillment technology. But what our users love most is our average response time: only 7-9 minutes! In addition to dedicated onboarding and user training, we offer online meetings and product workshops to ensure users are getting the most out of our solution.
Who Logiwa Serves
Logiwa WMS serves manufacturers, wholesalers and distributors, online sellers, and B2B shippers, as well as third-party logistics providers (3PLs). Regardless of the size of your business, or whether you are a multi-state or global operation, Logiwa's technology can connect all the moving parts of your fulfillment enterprise. Receiving inventory, smart putaway, expedited picking and packing, and cost-effective shipping are only the beginning.
Our top WMS takes supply chain management and warehouse logistics further with multi-solution integrations and AI-powered cloud technology. For more insights into how Logiwa WMS helps major clients like Deliverr, ShipCube, Badger Fulfillment, MPR Logistics, PackDash and others – check out our customer success stories at: https://www.logiwa.com/customers.
Logiwa ensures higher efficiency throughout our customers' fulfillment networks and a better fulfillment experience for their consumers weeks instead of months. Learn more about our top WMS features on our G2 Profile or request a demo of our cloud fulfillment platform.
Turn High Volume DTC fulfillment excellence into your competitive advantage
Warehouse Management
Modern digital WMS powers a modern fulfillment experience