The Future of Ecommerce and the State of DTC Fulfillment
Originally published on December 29, 2022 by Elizabeth Walsh, Updated on March 3, 2023
It's no surprise that the warehousing and fulfillment industries have undergone a massive shift over the past two years. The rise of direct-to-consumer (DTC) fulfillment services has made many rethink our business strategy to serve our brands and sellers better and grow our businesses.
And we all know that we can't be successful in this new environment without the help of technology—manual processes will only slow us down.
In the final quarter of 2022, our CEO and founder Erhan Musaoglu spoke with DC Velocity on the state of DTC fulfillment and business-to-business (B2B) and business-to-consumer (B2C) or DTC warehousing. This blog highlights the key takeaways from those interviews and the industry trends, predictions, and technological insights facing the warehousing and fulfillment industries today and into 2023.
In this guide, we'll explore:
The State of DTC Fulfillment
The DTC Fulfillment Landscape has Changed
Fulfillment Networks vs. 3PLs
Is the DTC Logistics Industry Primed for Change?
What is the Future State of DTC Fulfillment?
The State of DTC Fulfillment
During the pandemic, it wasn't uncommon to see Logiwa's warehouse customers increase their DTC volumes by 700% or more, and the demand for online retail isn't going to go away. Brands want complete visibility into their inventory 24/7, customers want their orders delivered faster than ever, and the return process needs to be quick and easy. Brands are pickier about who they work with to meet their fulfillment needs, and customers look for more sustainability in their online shopping.
The right technology and software tools can help you scale and continue to meet the needs of your brands and the end consumer to keep pace with the ever-changing state of DTC fulfillment.
The DTC Fulfillment Landscape has Changed
Before online shopping, every step of the fulfillment process was left to the consumer. They had to choose the right "warehouse," be their own picker, and sometimes even the packer. And most often, they even had to be the shipper to bring the goods back home.
When online shopping started to grow, the only goal for retailers was to get people to click on the "buy" button. Retailers were more concerned about optimizing the online shopping experience, which resulted in very impressive storefronts, but customer service was lacking. 
Once lockdowns began, things started to change.
"Early on in the pandemic, people started putting a premium on how quickly and accurately they were getting their orders, rather than how or where they were purchasing them," says Musaoglu. And as the pandemic eased, consumers now expect both the convenience of ecommerce shopping and the immediate gratification of a brick-and-mortar purchase—next-day or same-day shipping.
The customer is back in the driver's seat. With more shopping channels and brands to choose from, online retailers must compete in a new field: order fulfillment. A customer's delivery experience is now the key differentiator between successful brands and those that will lag.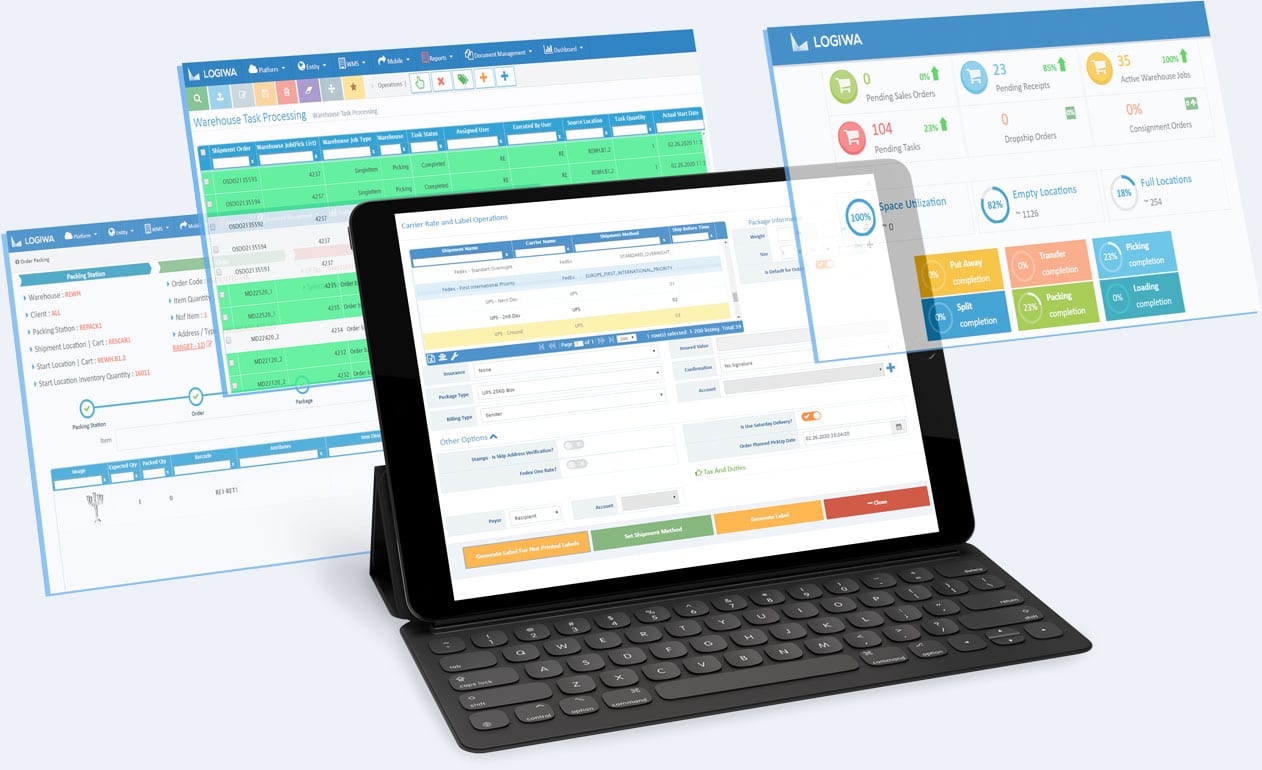 Transform your warehouse to a DTC fulfillment center
Fulfillment Networks vs. 3PLs
As DTC fulfillment services continue to evolve, Musaoglu stresses that third-party logistics (3PL) providers and fulfillment networks are not the same things, and brands and sellers need to think carefully about which service they need to drive sales and profits.
3PLs focus on providing warehouse space and order fulfillment operations for their brands. It's common for a 3PL to be part of a larger fulfillment network.
Fulfillment networks coordinate order management across multiple warehouses and often manage multiple 3PLs to accomplish their tasks.
"Fulfillment networks allow brands to place products geographically closer to their customers via a network of coordinated warehouse locations, often employing micro-fulfillment centers," explains Musaoglu. These networks can provide the same one-day or same-day delivery service to their customers as the industry leader. Some brands are implementing their own fulfillment networks by using brick-and-mortar store locations as micro-fulfillment centers.
Why is proximity important? Speed and accuracy.
By having inventory close to the end consumer, brands can quickly route orders to the best fulfillment center and ensure they have the inventory on hand.
"With the right technology, fulfillment networks can do this seamlessly by coordinating inventory levels across warehouse locations and routing orders in real-time to the best location. They can also use rate shopping across all their warehouses to find the lowest cost that satisfies the consumer's delivery expectations."
Is the DTC Logistics Industry Primed for Change?
Return management is one of the most significant changes on the horizon for the state of DTC fulfillment. In 2021, the rate of return for online purchases was almost 21% showing a dire need to change the way our industry manages the returns process.
The challenge according to Musaoglu, is to give consumers the same exceptional experience when they want to return something as they had when making the original purchase. A lousy return experience could cost a brand a customer.
The solution? Stop handling order fulfillment and returns with the same people, tools, and facilities.
"DTC fulfillment centers are designed to move products out of the warehouse as fast and accurately as possible," explains Musaoglu. "We need the same level of intentional design to go into the way we handle the growing volume of DTC returns."
While this doesn't necessarily mean we need to build dedicated return centers (although some brands choose to do so), warehouse and fulfillment centers create a dedicated space within existing buildings with their own staff, technologies, and processes.
"We have micro-fulfillment centers to shorten the last mile and speed deliveries; why not micro-return centers close to the consumer with dedicated tools, technologies, and staff?" asks Musaoglu.
What is the Future State of DTC Fulfillment?
Changing the state of DTC fulfillment can be successfully achieved with technology. Manual processes won't be enough to meet the growing demands of the industry. Most legacy warehouse management systems are not designed for high-volume DTC fulfillment, nor do they connect to the increasing number of online channels, shippers, and robotics solutions available.
Enter Logiwa! Logiwa's DTC fulfillment solution was explicitly designed to meet the changing needs of the industry.
Pre-built integrations are available right out of the box.

Cloud-enabled, mobile-friendly platform with automation and AI-powered algorithms.

Allows you to meet and beat the Amazon standard and deliver on a promise of DTC order fulfillment excellence.
"The flow of data across your network drives the flow of inventory. Intelligent use and data sharing create more efficient operations, thus better cash flow and profitability," says Musaoglu. "You need fulfillment execution solutions that provide smart order management algorithms, complete end-to-end network visibility, and an analytics engine that helps you make the course corrections necessary to compete in high-volume direct-to-consumer fulfillment."
Of course, technology investment costs time and money, but with the potential for increased sales, more satisfied end consumers, and happier brands and sellers, the investment pays for itself quickly. To learn more, join us for a free demo or reach out to a member of our team.
Ensure your DTC strategy is successful with scalable fulfillment operations