The Amazon Effect – Fulfillment Tech for the Next Era of Warehousing
Originally published on December 22, 2022 by Erhan Musaoglu, Updated on March 3, 2023
There's likely not a day that goes by when you don't see an Amazon delivery van in your neighborhood or an Amazon commercial on TV. Amazon is ubiquitous with online shopping and the growth of ecommerce. You may even feel the "Amazon Effect" in your fulfillment operations, as the demands for next-day and same-day shipping increases, along with demands for easy return management, robotics-powered warehouses, and top-notch customer service.
If you think the only way to meet ecommerce fulfillment demands is by being Amazon, think again! Advancements in warehouse management solutions can help you stay competitive in the third-party logistics (3PL) space to meet the growing demands of customers and support your brands to grow their business.
In this guide, we'll explore:
What is the Amazon Effect?
High Tech Fulfillment
3PL Order Fulfillment and Amazon
How to be a Top FBM Seller
What is the Amazon Effect?
The Amazon Effect, or the continuous consumer shift to online shopping and ecommerce makes it possible to shop from anywhere with an internet connection. It allows consumers to find exactly what they need at the lowest price and to have it delivered quickly.
For brick-and-mortar stores, the Amazon Effect has created a push for more unique in-person shopping experiences, including play areas for kids, spas and lounge areas, and even sporting events. It has also introduced hybrid ecommerce models, like click-and-collect options, and beacon-based technology to help customers locate products and services while also receiving targeted marketing messages.
High Tech Fulfillment
So, how can traditional warehouses and fulfillment operations compete with Amazon? Embrace technology and automation!
Running your warehouse with manual tools and processes will no longer be enough in today's ecommerce environment, as the risks are too high, from picking the incorrect item to charging too much for slow shipping.
Warehouse management systems (WMS) can help optimize your warehouse layout for faster picking and packing, identify bottlenecks in your processes, and even improve your returns management processes.
Additionally, WMS software can make it easy to incorporate technology into your warehouse: mobile scanning to ensure the correct item is picked and packed every time, and robotics and drones to speed up picking and sorting processes, allowing you to fulfill more orders in a day.
Even autonomous vehicles could play a role inside your warehouse and in your shipping processes to speed up your last-mile delivery options.
If you've been on the receiving end of consistent labor shortages, introducing technology and automation into your fulfillment operations can also help you ease the crunch.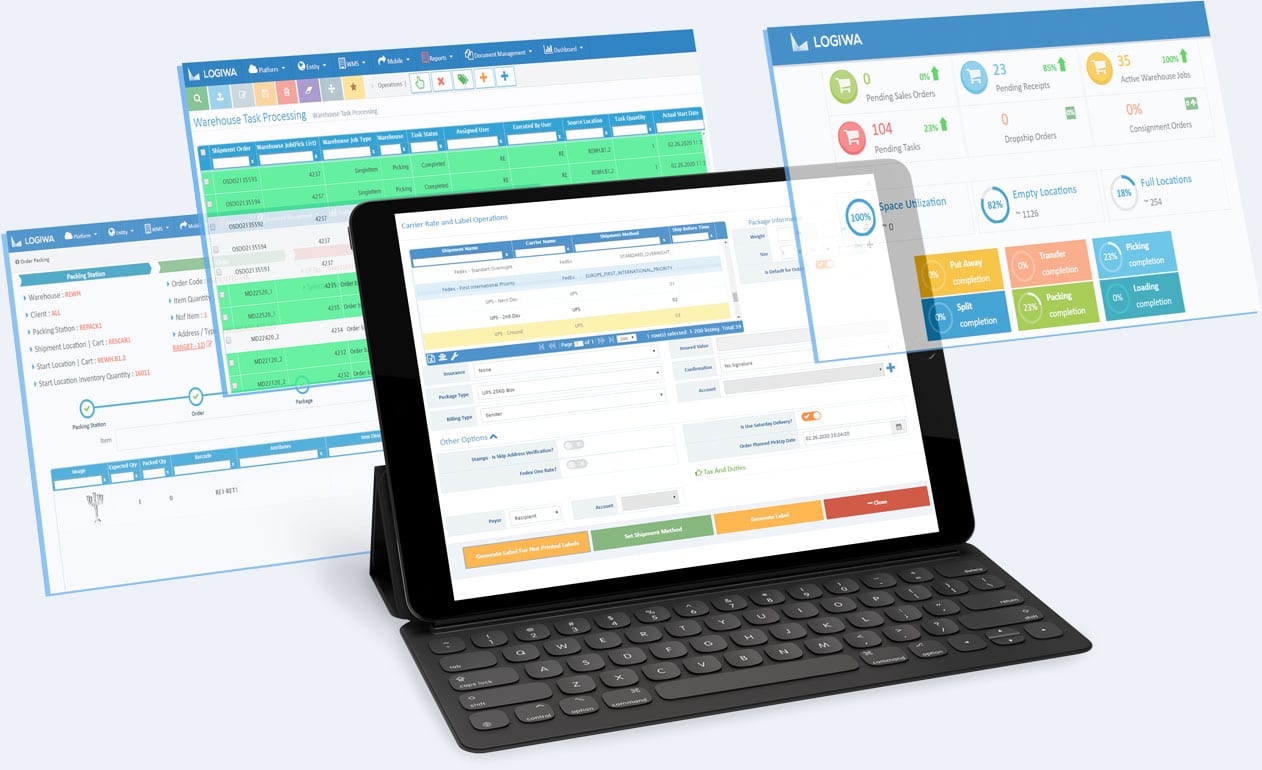 Transform your warehouse to a DTC fulfillment center
3PL Order Fulfillment and Amazon
Why would a brand partner with a 3PL provider rather than using Amazon's fulfillment services or managing fulfillment on its own? Let's explore the difference between the three services.
Fulfillment by Amazon
Fulfillment by Amazon (FBA) is exactly as it sounds: it's a fulfillment process where Amazon handles the entire fulfillment process on a seller's behalf. The seller sends their inventory to Amazon, and Amazon takes on all of the steps in the fulfillment strategy: storing, picking, packing, shipping, returns, and exchanges.
Brands and sellers may use FBA to grow their business and reach more customers. FBA can support a variety of sellers: people selling their product under a unique label, selling items on wholesale, resellers, selling items as a manufacturer, or selling handmade inventory.
Fulfillment by Merchant
Fulfillment by Merchant (FBM) allows sellers to list products on Amazon, but the seller manages the storage and shipping of products and manages their customer service and support. The seller may also choose to use a third party other than Amazon.
Benefits of the FBM model include:
Being in control of the entire shipping and handling process.

Selling items exclusive to the seller allows them to build credibility for their products and online store.

Access to Amazon's set shipping rates on the individual plan or being allowed to set their shipping rates on the professional plan.
Third-Party Logistics
Third-Party Logistics (3PL) refers to companies hired to provide logistics services in all areas of the fulfillment process, including warehousing, inventory management, picking, packing, shipping, reverse logistics, and even kitting and customization.
For brands who don't want to manage their logistics or use Amazon's services, partnering with a 3PL provider can help them save time and money.
How to be a Top FBM Seller
If brands are looking for more control of their customer's experience, FBM with an independent 3PL is likely a better choice than Fulfillment by Amazon while still enjoying the benefits of Amazon's reach.
Some of the advantages of FBM include the following:
fewer fees paid to Amazon;

less paperwork when dealing directly with the customer;

branded packaging;

personalized customer service;

a better understanding of stock levels and popular products, and;

the ability to keep a close eye on finances with no unexpected costs.
Brands can see greater FBM success by:
Making product descriptions detailed and accurate so products appear in search results.

Keeping an eye on your costs and reevaluating regularly. It might make sense to shift to the FBA model or partner with a 3PL provider if costs (labor and actual costs) increase.
While it may seem that Amazon is the be-all and end-all for ecommerce and building an online brand, other options are available thanks to improved warehouse technologies and automation. Whether brands manage fulfillment processes independently or through a 3PL provider, it is becoming easier to avoid being swept up in the Amazon effect.
Learn how Logiwa makes warehouse automation easy!  
To learn more about Logiwa's 3PL solutions, connect with a member of our team or request a free demo.
Ship more with a fully integrated Warehouse Management Software that connects with 200+ Ecommerce