Fulfillment Solutions to Transform Your Operations
Originally published on September 29, 2023 by Ayca Ozcan, Updated on September 29, 2023
Building the Ultimate Solutions Stack for Your Fulfillment Network
For retailers and third-party logistics (3PL) providers, the perfect solutions stack includes all the digital tools, software applications and business-critical technologies needed to meet consumer demand, achieve fulfillment excellence and scale competitively.
But choosing the best combination of fulfillment solutions can be tricky given the complex ecosystem logistics operations need to support, especially if you oversee a multi-warehouse fulfillment network or manage multiple clients.
The right solutions stack makes it easy to run an efficient and profitable operation. Let's look at  the key technologies for streamlining modern ecommerce fulfillment.
Key Takeaways
A well-structured solutions stack not only boosts operational efficiency but can enable greater flexibility and functionality between other solutions.
Ecommerce platforms, order management systems (OMS), inventory management systems (IMS), shipping management software, warehouse management systems (WMS) and enterprise resource planning (ERP) and customer relationship management (CRM) solutions all play key roles in fulfillment success.
In addition to cost, ease of use and system compatibility, it's important to consider the unique characteristics and needs of an operation to choose effective fulfillment solutions.
Fulfillment networks and 3PLs often need a different combination of solutions than brands and online retailers, but all require multiple, integrated technologies to process orders, optimize inventory levels and execute consistent fulfillment operations.
To support long-term business growth, assess your infrastructure and define your long-term goals before adopting fulfillment solutions.
Why Perfecting Your Fulfillment Solutions Stack Matters
Adopting the right solutions ensures swift, accurate and cost-effective order fulfillment in today's evolving ecommerce landscape. Whether you're a brand, retailer or online seller… or a third-party logistics (3PL) provider overseeing a fulfillment network, leveraging the right solutions has become paramount to meeting consumer demand.
From overseeing sales, client management, billing and accounting processes to fulfillment activities like order routing, inventory management, shipping and returns – logistics technology is indispensable for delivering positive B2B, B2C and direct-to-consumer (DTC) experiences. A well-structured solutions stack not only enhances operational efficiency but enables greater flexibility and functionality between all your solutions. As a result, you are able to adapt to shifting market conditions, streamline order fulfillment and outshine competitors.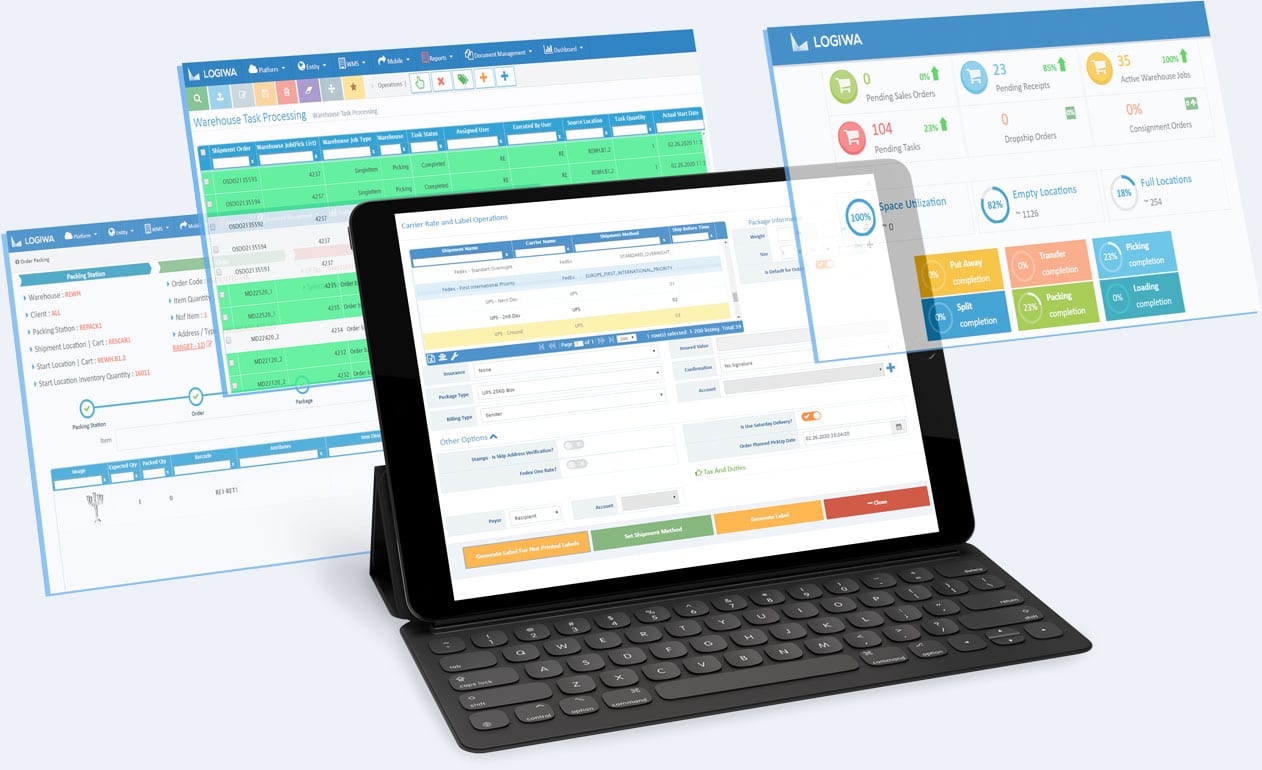 Transform your warehouse to a DTC fulfillment center
Top Technologies for Fulfillment Operations
In a digital age where cross-system functionality, data-driven decision-making and customer-centric approaches are expected, the right tech stack serves as the foundation of empowered fulfillment operations.
Here are the primary solutions required for today's fulfillment operations. 
Enterprise Resource Planning (ERP)
Enterprise Resource Planning (ERP) software is a comprehensive suite of applications designed to manage all the processes taking place throughout your business. It provides a centralized system for collecting, storing, managing and interpreting data from your various departments (e.g. finance, human resources, manufacturing, sales, etc.). ERP solutions enhance internal collaboration between these sectors by offering access to critical transactional data and facilitating data-driven decision-making, production planning, supply chain management and client management.
ERPs act as your source of truth by capturing information from all the solutions fueling your business and fulfillment operations. They help automate processes, streamline collaborative workflows and give valuable insights into the health of operations so you can optimize systems and affordably scale your business.
Ecommerce Platforms
Ecommerce platforms allow you to create and manage online storefronts where customers can browse and purchase products. These websites focus on the customer-facing aspects of online retail and provide tools and features for setting up product catalogs, creating product listings, managing product images and descriptions, configuring pricing and discounts and enabling online payment processing.
Ecommerce platforms are customer-centric and focus on providing a user-friendly and visually appealing online shopping experience with features for customizing user interface, shopping cart functionalities and checkout processes. They offer features like product search, filtering functions, reviews, and customer account management.
Customer Relationship Management (CRM)
A customer relationship management (CRM) solution is designed to manage data related to customer interactions, preferences and trends to enhance your consumers' shopping experiences and maximize the effectiveness of your fulfillment strategies. It focuses on maintaining customer profiles, order histories and communication records to improve customer service and retention.
CRMs will always tie directly into your ecommerce platforms. For brands, retailers and online sellers, these solutions are crucial for strengthening customer relations and brand reputation.
Order Management System (OMS)
An order management system (OMS) solution helps with managing backend operations related to order processing and fulfillment. It serves as a central hub for tracking, processing and fulfilling customer orders coming in through your ecommerce channels.
OMS solutions are focused on recognizing order details and running certain operational aspects of fulfillment: order capture, order routing, status tracking, and more. These solutions help with returns, refunds and exchanges as well. By automating various order-related processes using inventory management data, an OMS can greatly improve order accuracy and fulfillment speed.
Inventory Management System (IMS)
An inventory management system (IMS) helps track and manage the quantity, location and status of products throughout a fulfillment network. Its primary goal is to help ensure that the right products are available in the right quantity at the right location and time to meet demand.
IMS solutions can help with optimizing stock levels, tracking product details (e.g., SKUs, lot numbers, descriptions), forecasting demand, maintaining safety stock and purchasing via suppliers. They can also provide insights into inventory turnover and valuation to reduce carrying costs, as well as prevent overstock and stockouts.
Warehouse Management System (WMS)
Warehouse management system (WMS) solutions manage the physical processes taking place within a warehouse and facilitate key functions of fulfillment operations. They direct and track the movement of inventory from receiving and putaway through picking, packing and shipping. By incorporating barcode scanning, RFID technology and various forms of smart automation, they are able to optimize facility layouts, stock allocation, picking and packing activities and shipping processes.
Modern WMS platforms are highly integrated to serve as complete fulfillment solutions. As a result, they encompass many of the functions of other solutions within one system, including: order processing, inventory management and shipping logistics. They facilitate billing and accounting by integrating with ERP systems, and often have their own labor management and data analytics tools. Using a WMS promotes:
Real-time visibility and control over order processing;
Competitive inventory management (i.g. Receiving, putaway, picking and packing, etc.);
Improved labor efficiency;
Cost-effective shipping;
Optimized storage space utilization; and
Faster and more accurate fulfillment rates.
Read more about the advantages of warehouse management systems (WMS) in Logiwa's blog, "Top 8 WMS Software Benefits for Your Business."
Shipping Management Software
Shipping solutions, also known as shipping management software, focus on the transportation of goods throughout your supply chain. They help with managing inbound and outbound shipping logistics for warehouses and fulfillment networks: from setting pickup times at your warehouse to choosing the best carriers for last-mile order delivery.
When integrated with an OMS or WMS, shipping solutions can also be used for shipping label generation, returns management and other logistical tasks. They offer features like order tracking and rate shopping, which nurture customer satisfaction and cost-savings for your business, and ensure timely and accurate order delivery.
Additional Solutions to Consider
Data analytics and reporting solutions
Mobile scanning and RFID technology
Customer support solutions
Transportation solutions (e.g. a transportation management systems (TMS) for optimizing shipping routes, carrier selection, and delivery scheduling for freights, etc.)
Material handling systems (e.g. robotics, conveyors, dimensioning systems, etc.)
Formulating a Solutions Stack to Fit Your Business
There are a lot of factors to consider when strategizing your ideal solutions stack and how robust it needs to be to support your current and future operations. Cost, ease of use, and system compatibility are a great place to start, but you must also consider the unique characteristics of your business:
Are you a brand, retailer or online seller? Or a 3PL operation managing one or more clients?
Are you overseeing fulfillment directly? Or are you outsourcing to a third-party provider?
How many solutions do you want to be in charge of?
Do you have a centralized platform for managing the data from your various systems?
Are you (or you clients) taking a multi-channel approach? Does that include online sales channels, brick-and-mortar stores, wholesalers, or other channels?
Are you able to easily measure the KPIs across your operations?
Are you overseeing customer service or outsourcing it?
3PLs need a different combination of solutions than brands, retailers and online sellers depending on the processes they are managing, but all require multiple, integrated technologies to process customer orders, optimize inventory management and achieve profitable fulfillment results.
Setting up online storefronts with an ecommerce platform (or connections to them) is the first step in setting up fulfillment operations. As you build a solutions stack to support those operations, you will need an ERP to keep track of critical business data and billing transactions. From there, it's up to you to decide which tools will benefit you the most. Just make sure the solutions you choose provide a way to capture orders, fulfill those orders competitively and get paid for your goods and services.
Logiwa WMS: More than a WMS
When it comes to a solutions tech stack, sometimes less is more. Logiwa's complete WMS and fulfillment solution was built with the needs of modern fulfillment operations in mind. With pre-established integrations to leading ecommerce platforms, shipping carriers, accounting and ERP systems, and robotics solutions – and the ability to establish connections with virtually any platform using our Open API and EDI technology and Integration Orchestrator – Logiwa is a one-stop solution for achieving fulfillment success.
Learn more by requesting a demo of Logiwa's cloud fulfillment platform.
FAQs Related to Fulfillment Technology
What are the core technologies and software required for effective warehousing and fulfillment logistics?
The essential technologies and software for warehousing and fulfillment logistics include: ecommerce platforms, warehouse management systems (WMS), inventory management software,  transportation management systems (TMS) or shipping software, barcode scanners and RFID technology, robotics and reporting and analytics tools.
What factors should I consider when selecting the right technologies and software for my warehouse and fulfillment operations?
Assess your unique business needs, such as order volume, product types, and customer expectations, as well as scalability, integration capabilities, cost vs. ROI, user-friendliness, vendor reputation, compliance and security and customer support services.
What steps can I take to build a technology stack that supports long-term growth in warehousing and fulfillment logistics?
Start by assessing your current technology infrastructure and defining your long-term business goals and growth projections. Then, identify any technology gaps or areas where your current systems fall short in meeting future requirements to ensure the solutions you invest in address critical growth needs. Moreover, you'll want to choose technologies that are scalable that integrate easily with other solutions, leverage data analytics tools, and invest in training, testing and other vendor-related services.
Scale-up high-volume fulfillment operations – without additional headcount.
Warehouse Management
Modern digital WMS powers a modern fulfillment experience