Winning in Today's Ecommerce Environment – Smarter Fulfillment and Improving DTC Operations
Originally published on December 27, 2022 by Erhan Musaoglu, Updated on March 3, 2023
Living in a connected world requires a change in how we approach fulfillment operations, especially in the direct-to-consumer (DTC) space. Smarter fulfillment in the industry's future includes both internal systems and those external to our fulfillment operations, including supply planning, last-mile delivery providers, the suppliers themselves, and the customer.
"To effectively manage high-volume DTC fulfillment, you need to be connected to what is happening outside the four walls of your warehouses." (Erhan Musaoglu, Logiwa CEO & Founder)
What We'll Explore in this Guide:
The challenges of the ecommerce environment
Smarter fulfillment
Three crucial components of smart fulfillment
The importance of system connectivity
Gaining visibility inside and outside your warehouse
Today's Ecommerce Environment
The demanding world of DTC fulfillment offers little margin of error for those looking to be competitive. Every challenge becomes amplified, and the bar for success is extremely high.
With increased order volume in DTC fulfillment, automation and robotics can save the day. Algorithms are your lifeblood. And a distributed fulfillment approach will deliver strong trust between you, the brands you serve, and the end consumer.
Traditional warehouses weren't built for smarter fulfillment in a DTC environment where consumers order things on demand and want something faster. Traditional warehouses were built to move pallets in and out, which worked pretty well.
In the DTC environment, you must deal with multiple customers and smaller orders for the same profit. Old systems weren't built for DTC fulfillment either. The people and processes in place to meet the demands of B2B fulfillment need to be keeping up with the needs of DTC fulfillment.
What is Smarter Fulfillment?
Imagine you're shifting your services from business-to-business towards DTC fulfillment, but you've kept your warehouse layout and systems the same. You come in on Monday morning to see 1000 orders for a funny coffee mug waiting to be processed.
In a traditional warehouse setting, getting these orders shipped could take days as multiple systems work independently to complete each step in the outbound process.
In a smarter fulfillment environment, these 1000 orders can be completed in a matter of hours, thanks to embedded technologies.
While this is a simple example, it demonstrates that a modern DTC fulfillment center is like the car you drive, with multiple technologies and systems working together to get the job done.
In the DTC fulfillment environment, connected systems are not just nice to have; they are a must.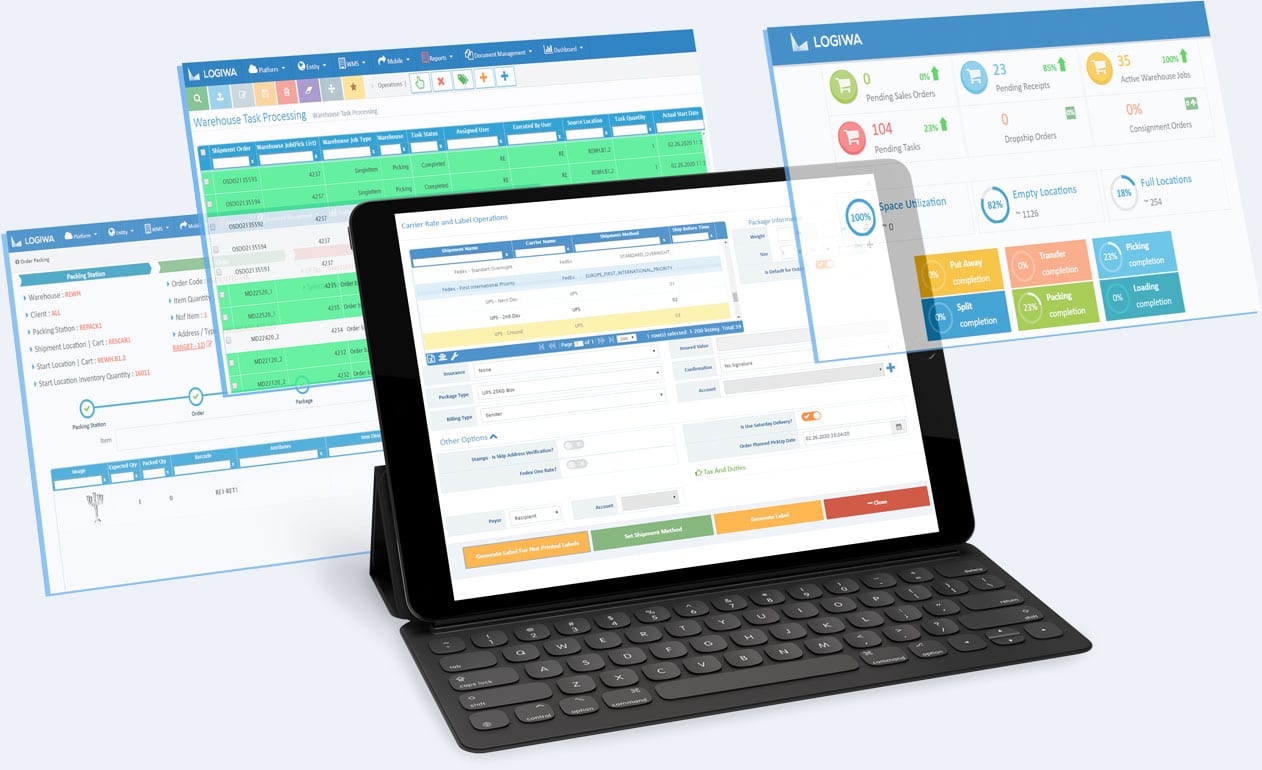 Transform your warehouse to a DTC fulfillment center
Three Crucial Components of Smarter Fulfillment
Smarter fulfillment is about breaking down the silos within your operations and requires three things to work well together for ultimate success:
Shipping
The relationships between these three steps must be tied together from a connectivity standpoint, and they all must work well together for the warehouse to be as efficient as possible.
Smarter fulfillment is also about optimization. If the systems are working together, talking to each other, you can optimize the best of all worlds. Automation, smart business rules, algorithms, and robotics can help you get more out of the people you have to meet the needs of your brands and the end customer.
Connectivity in Ecommerce
Smarter fulfillment isn't just about connectivity but the right kind of connectivity to service the marketplace needs. Every system used inside your warehouse must talk to each other, from your enterprise resource planning (ERP) tool, your accounting and billing systems, your WMS, warehouse execution system (WES), warehouse control system (WCS), and your customer relationship management (CRM) tool. Add in robotics and automation, and system connectivity is even more critical.
Need a refresher on the difference between a WMS, WES, and WCS?
Unfortunately, there isn't a one-size-fits-all solution that can connect to every step of the DTC fulfillment process. Even Logiwa's solutions can't work in a bubble, and we've partnered with some great companies to help give our users integrated solutions that meet their unique business needs.
Logiwa has partnered with Techdinamics to deliver complete shipping solutions. Learn more about Techdinamics.
Gaining Visibility Inside and Outside Your Warehouse
As a warehouse or 3PL operator, you could have numerous brands or sellers you're serving, and each one has different needs, requirements and rules. Each of the brands could have multiple order sources as well, which also have their own needs, conditions, and rules.
With connected systems, you gain greater visibility to everything happening inside and outside your warehouse, allowing you to give a seamless view to your end consumer and the same look and feel across the entire purchasing process.
Connected systems can give you visibility into shipping delays from certain carriers, allowing you to redirect shipments to other carriers if success rates drop.

Having data at your fingertips allows you to adjust on the fly to meet the consumer's demands.
Connectivity with systems inside and outside of your warehouse also improves your ability to meet the growing challenges associated with DTC fulfillment operations:
Labor shortages (using automation and robotics to handle repetitive tasks).

Brands selling across multiple channels and marketplaces.

Negotiating rates as the costs for last-mile transportation rise.  
Three Quick Take Aways
Take advantage of your relationships with your fulfillment centers to make the process smoother and more efficient. Those relationships are an advantage you have over the biggest player in the DTC fulfillment space.

Get rid of touchpoints: fewer steps in the process will help bring the labor factor down, and using technology can improve the fulfillment process and save you money.

Gain efficiencies with intelligent technology. Find partners that can help you improve your processes to meet the changing needs of your sellers and customers.
Smarter fulfillment is no easy feat, and the industry is constantly evolving. Investing in systems and tools that work together throughout your inbound and outbound processes can build a more competitive and successful fulfillment operation.
Watch our webinar to learn more about smarter fulfillment and what to expect in the next year with Reg Adams, President of Techdinamics, and Nick Zabikow, VP of Sales at Logiwa.
To learn more about Logiwa's systems, reach out to one of our team members Contact us  or request a free demo.
Scale up DTC fulfillment with an integrated digital warehouse and fulfillment system