Reverse Logistics, Robotics and Returns: Managing High-Volume Ecommerce Returns
Originally published on January 26, 2023 by Erhan Musaoglu, Updated on April 21, 2023
Though the warehousing sector is known for being slow to technology adoption, the advantages of robotics are finally sinking in… along with growing recognition of its evolving capabilities. Today's warehouse robotics technology can assist with many facets of fulfillment, including optimizing one of the most challenging and expensive processes related to high-volume direct-to-consumer (DTC) fulfillment: returns management. 
Over the years, advancements in artificial intelligence (AI) and machine learning (ML) have allowed the use of robotics technology to expand in scope and complexity in order to better support hybrid warehousing operations. For a growing number of operators, robotics has become an indispensable tool for managing the growing challenges of modern ecommerce and supply chain logistics. 
In this guide, we'll explore:
Robotics in the Era of "Free and Easy" Returns
Saving Time and Money with Returns Robotics
Returns Management Robotics
Warehouse Management Systems (WMS) and Returns Management Robotics
Robotics in the Era of "Free and Easy" Returns
The concept of 'free and easy' returns is easy to promise but harder to accomplish when at least 30% of all online orders end up getting sent back to retailers. Last year, consumers returned approximately $816 billion worth of merchandise, and that number is expected to surpass $1 trillion in 2023. With so many returns on the horizon, many warehouses are turning to automation and robotics to streamline the process. 
Returns have become a major driver of customer satisfaction and market growth, which makes it just as important to achieving "fulfillment excellence" as getting orders accurately delivered on-time the first time. In order to maintain a stable supply chain and optimize your returns process, every technological advantage counts, and robotics are capable of assisting with the time-consuming, traditionally manual process of ecommerce returns.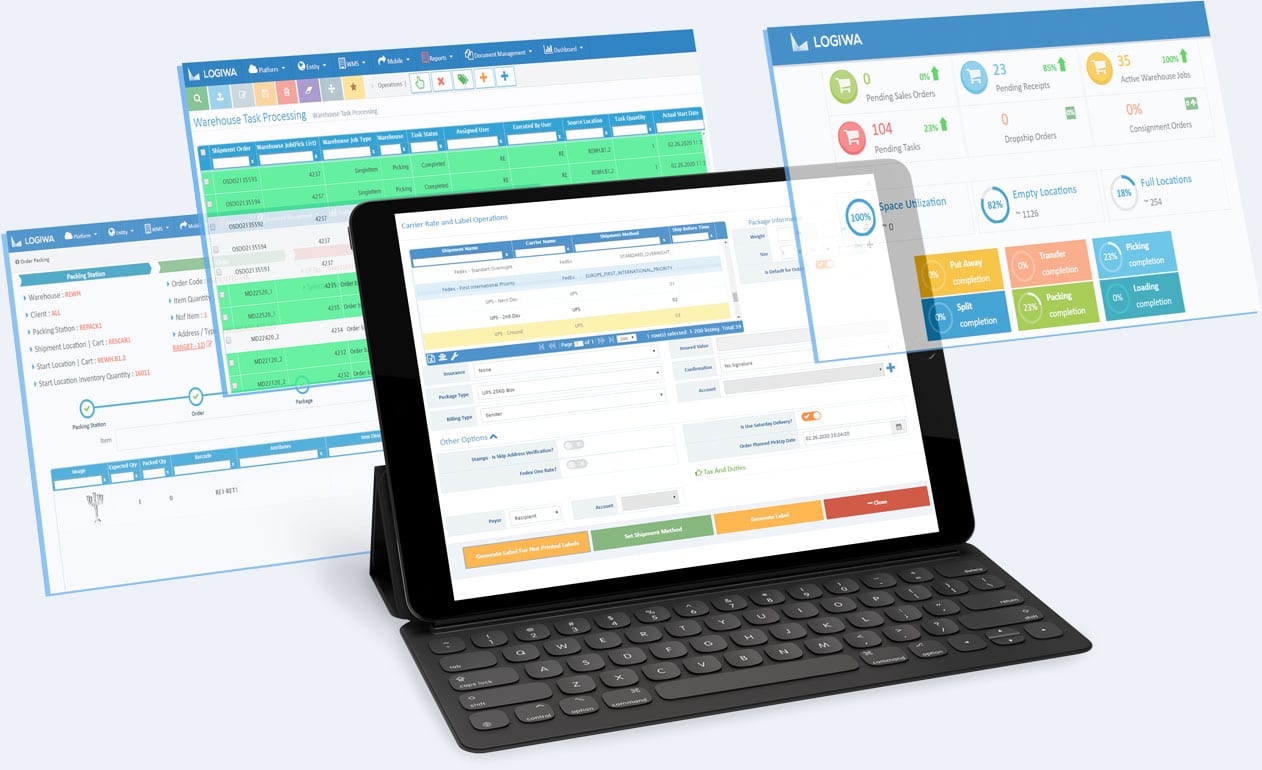 Transform your warehouse to a DTC fulfillment center
Saving Time and Money with Returns Robotics 
Although returns management is more complex than forward logistics, the goal remains much the same: get items in and out of your facility as quickly as possible to attain the most cost-savings/profits. But unlike the forward-moving fulfillment process, returns require additional steps to enter back into the supply chain: from quality control inspections and repackaging items to redistribution and resale processes. 
On average, the cost of ecommerce returns range from $20.75 – $45.25, so the faster and more efficient your returns process the better. Automating with AI-powered robots can reduce the overall time it takes your warehouse or return center to convert returns into resales, just like with optimizing your fulfillment process. . 
Returns Management Robotics
Depending on your robotics provider, and the fulfillment software running your business, modern warehouse robotics can do a lot more with your data than they used to. Thanks to integrations with inventory management tools and enterprise resource planning (ERP) solutions, your warehouse management system can feed your robotics systems the data it needs to streamline your returns processes and ensure higher profitability. 
Robotics technology can help with returns management in the following ways: 
Automating retrieval for mass returns (which can arrive on heavy gaylords in unsorted heaps) and relocating shipments to the correct warehouse locations for next-step sorting, inspections, and removals. 

Helping streamline sorting returns, picking operations, and containerizing assortments prior to quality control inspections alongside your employees to improve the speed of reverse logistics and your labor allocation. 
Leveraging robotic put wall systems to streamline the sorting of return items for faster restocking and resale. 

Transporting returns back and forth between the appropriate warehouse stations without overexerting manual labor teams. Whether an item needs repairs, to re-enter your inventory, to be sent to a wholesaler, or be added to the trash — robotics can take those actions based on the data fed into their operating system to keep returns moving. 

With the addition of mobile scanning technology, robots can work directly with your team members to expedite next steps. If an item is scanned and needs to be repackaged and restocked, or a different strategy taken, AI-powered robotics can tap into their data to help simplify decision-making processes and safeguard costs. 
Today's leading reverse logistics solutions claim they can turn returned items to saleable inventory 25% faster than manual processes and improves labor efficiency up to 35% with AI robotic automation. That's why, at Logiwa, we designed our Cloud fulfillment platform with more than 200 flexible integrations, and offer free robotics integrations to help warehouses get started. 
Warehouse Management Systems (WMS) and Returns Management Robotics
A centralized warehouse management system (WMS) that provides visibility into your ecommerce channels and robotics integrations can help you maximize the profits regained by returns processes and reverse logistics. Having visibility from the start of returns will help know what items are on their way and how to prepare, and seeing the results of your returns process with reporting and analytics can help to inform and improve your process.
See for yourself how the combination of robotics and Logiwa's industry-leading WMS helped grow hybrid fulfillment clients like Badger Fulfillment Group. Learn more about how Logiwa WMS works with robotics to manage receiving, directed putaway, picking and packing, return management, and more at Logiwa Fulfillment Network Solution..
Run a digital fulfillment experience with a fully integrated Cloud Warehouse Management System
Warehouse Management
Modern digital cloud WMS powers a modern fulfillment experience