The Warehouse Returns Process: Streamlining Returns Management
Originally published on December 20, 2022 by Logiwa Marketing, Updated on March 3, 2023
No matter how well your picking and packing processes operate, returns management is an essential part of any fulfillment operation.
Customers return items for various reasons, whether it's a result of inaccurate product descriptions, ordering the incorrect size, shipping the wrong item, or damage caused during the shipping process. Between 2020 and 2021, retail returns increased by 6%, and the average rate of returns for online purchases in 2021 was almost 21%.
Establishing an effective and efficient warehouse returns process will save you time and money while increasing customer satisfaction.
In this guide, we'll explore:
What is Returns Management?
Basic Steps of a Warehouse Returns Process
How is Returns Management Different from Reverse Logistics?
Returns Management Best Practices
What is Returns Management?
Returns management is the flow of a product from the consumer back to the source, in this case, your warehouse. As ecommerce continues to grow, so does the need for a smart warehouse returns process. A sound warehouse management system (WMS) can make this process as efficient as your outbound processes.
Basic Steps of a Warehouse Returns Process
The warehouse returns process should start before an order is shipped, by including a return shipping label or making sure the customer can easily print a return label at home. If a customer decides they want to return an item, there are a few steps involved:
The customer provides the reason for return on the provided documentation and mails it back to your warehouse.

Once it arrives at the warehouse, staff inspect the item for damage, reviews the reason for return, and scans it back into your WMS.

If the item is not damaged or expired, it is returned to the shelf to be picked for another order.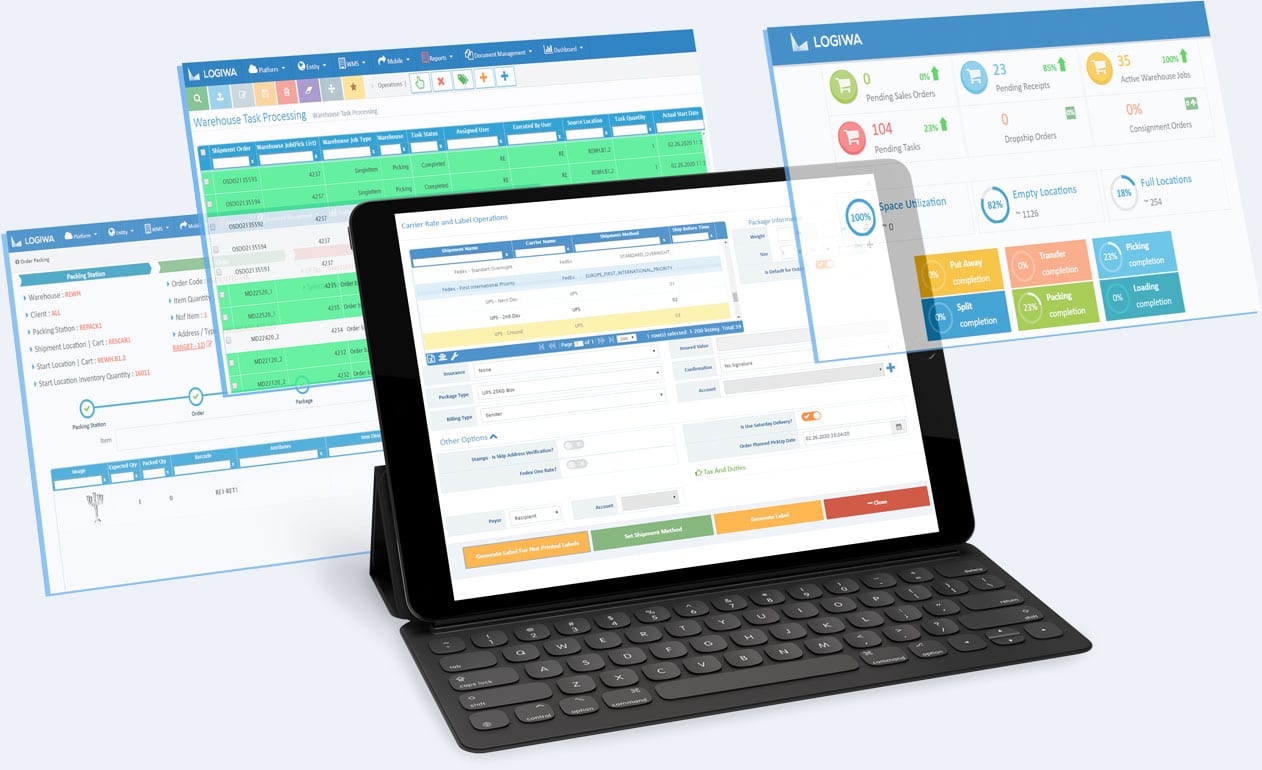 Transform your warehouse to a DTC fulfillment center
How is Returns Management Different from Reverse Logistics?
As mentioned above, returns management handles inventory when it returns to your warehouse. On the other hand, reverse logistics is the process of getting returned items to your warehouse. It's the process of retrieving returned products, including reusable packaging, from customers and sorting and delivering it to the appropriate location (brick-and-mortar store or warehouse).
Reverse logistics could include many aspects of outbound logistics, from using the appropriate packaging or rate shopping with carriers or shipping companies. Even last mile shipping could be taken into account if you're trying to improve the sustainability of your operations by reducing the amount of fuel required and the time used to pick up a returned item.
Returns Management Best Practices
Many of the warehouse best practices you use for picking, packing, and shipping can be applied to your returns management processes. Automation can make returns management more efficient and reduce errors.
Automation tools in your WMS ensure that returned item data moves automatically between systems (inventory management, billing, etc.), eliminating data entry errors and allowing for automatic reconciliation and sending customer updates.
Use automation tools to get alerts when stock is low to avoid selling an item that isn't available or shipping the wrong thing in its place.
Using a WMS also allows you to audit your outbound processes and look for deviations or bottlenecks that increase the cost of handling returns, such as mishandled or misplaced products coming back into stock, packaging delays, or interruptive workflows.
The Return Station in Logiwa's WMS software makes handling returns easy! Scan or enter the order and item codes and return the inventory to a selected location. You can easily customize your reasons for the return and identify returned merchandise in your warehouse. Learn more about returns management's role in your inventory management in our

Warehouse Management Software whitepaper

.
Mobile scanning with barcode scanners and mobile devices can quickly get returned inventory into your inventory management database. It can also direct employees to which bin and shelf the item should be returned.
A WMS can also help you find the most effective warehouse layout for your space, including a dedicated area for managing returns and assigning staff dedicated to handling returns.
Forecasting tools in your WMS can help you plan for the returns peak season and ensure you are well-staffed to meet

increased demands for returns

.
Your WMS can also help you monitor if more returns are happening after being shipped by one carrier over another. Many items are returned because they arrived faulty or damaged. Your outbound processes ensure you don't ship items that aren't perfect, so something likely went wrong in transit.
Some tips to reduce returned orders as a result of shipping:
Inspect every item before the box is sealed.

Use protective materials for fragile items.

Add "Fragile" labels to parcels with breakable items.

Use appropriately sized boxes or mailers to ensure things stay put in transit.
Establishing an effective warehouse returns process is essential for fulfillment services or third-party logistics. Returns can cost your business and the brands and retailers you serve money and can affect your bottom line if gone unchecked.
Using a warehouse management system like Logiwa's allows you to create a returns process that's easy for your customers to use while allowing you to get inventory back on the shelf quickly for future orders.
To learn more about how Logiwa handles returns management and reverse logistics, reach out to a team member or request a demo.
Run a digital fulfillment experience with a fully integrated Cloud WMS