Logiwa is Ready for Ecommerce Peak Season… Is Your Warehouse?
Originally published on August 1, 2023 by Elizabeth Walsh, Updated on October 16, 2023
It's official: peak season has officially begun for retailers, wholesalers, online sellers and third-party logistics (3PLs) operations. Amazon Prime Day, Walmart Plus Week and other virtual shopping holidays, which kickoff the period when orders begin to climb, have already begun to reveal the challenges in store for ecommerce supply chain operations this season.
With back to school shopping underway and Black Friday, Cyber Monday and the Christmas season still to come… warehouse operators must take stock of current logistics trends and continue to prepare for the months ahead. Luckily, Logiwa WMS was built for the challenges of high-volume DTC fulfillment and is ready for it all.
First, here are the key takeaways about ecommerce peak season:
Though the general market has seen dips in consumer spending compared to pandemic years, the general consensus is that consumer demand will continue to grow this year.
With leading virtual shopping holidays now spanning many days and order volumes continuing to rise, it's critical that warehouses prepare for the continued effects these events will have throughout this year's peak season.
The predictions of the 2023 peak season include: complex DTC activity (i.e. multi-item ordering, bundling, etc.), significant fluctuations in high-volume demand, and increased competition around fulfillment standards.
Logiwa's top features for overcoming peak season challenges include: seamless integrations technology, webhooks, directed putaway functions, smart order management, automation around shipping box selection and carrier rate shopping, and analytics features like demand forecasting.
Logiwa helped clients like Deliverr ship 10x more orders during their first peak season using our WMS, and we continue to boost the efficiency of countless other operations with our smart automation technology.
What to Expect from Ecommerce Peak Season 2023
Online shopping events like Amazon Prime Day may only be the start of ecommerce peak season, but they have already shed light on some key peak season trends for the logistics industry.
Trends from Online Shopping Holidays
The first major insight into peak season 2023 comes from the length of these virtual shopping days. While Amazon Prime Day was once only a single day, it now spans two days (July 11-12), and it has driven other major platforms to do the same – some for multiple days. Walmart Plus Week, for instance, set its deal days from July 9-15 in order to compete with Amazon sales and take advantage of the increase in online traffic occurring during that time.
Walmart wasn't alone. Target, Best Buy, and other major retailers followed suit with their own virtual shopping events. The intention: if Amazon cannot meet the needs of a consumer, they will look elsewhere for a competitive deal. As a result, countless warehouse operations were met with high-volume DTC traffic. Effects such as these are sure to continue throughout the holiday season.
Moreover, the profits seen by these annual shopping holidays indicate the continued rise of DTC demand. In a press release, Amazon confirmed the first day of their Prime Days alone marked the single largest sales day in the company's history. And in just two days, Prime members purchased more than 375 million items worldwide. The start of peak season would appear to be starting with a bang, and the increased competition between major retailers is sure to impact small to mid-sized businesses as well.
The Peak Season Challenges Ahead
Though the general market has seen dips in consumer spending compared to pandemic years, the general consensus is that this year's demand will still see growth over last year – especially for multi-channel ecommerce operations and those overseeing DTC fulfillment.
With leading virtual shopping holidays now spanning many days and order volumes on the rise, it's critical that warehouses are well-prepared for the effects these events will have on their own fulfillment operations and consumer expectations. The predictions of the 2023 peak season are clear: increased DTC activity, significant fluctuations in high-volume demand, and a continuation of the industry's competitive fulfillment standards (i.e. bundling, fast shipping, customization options, and more).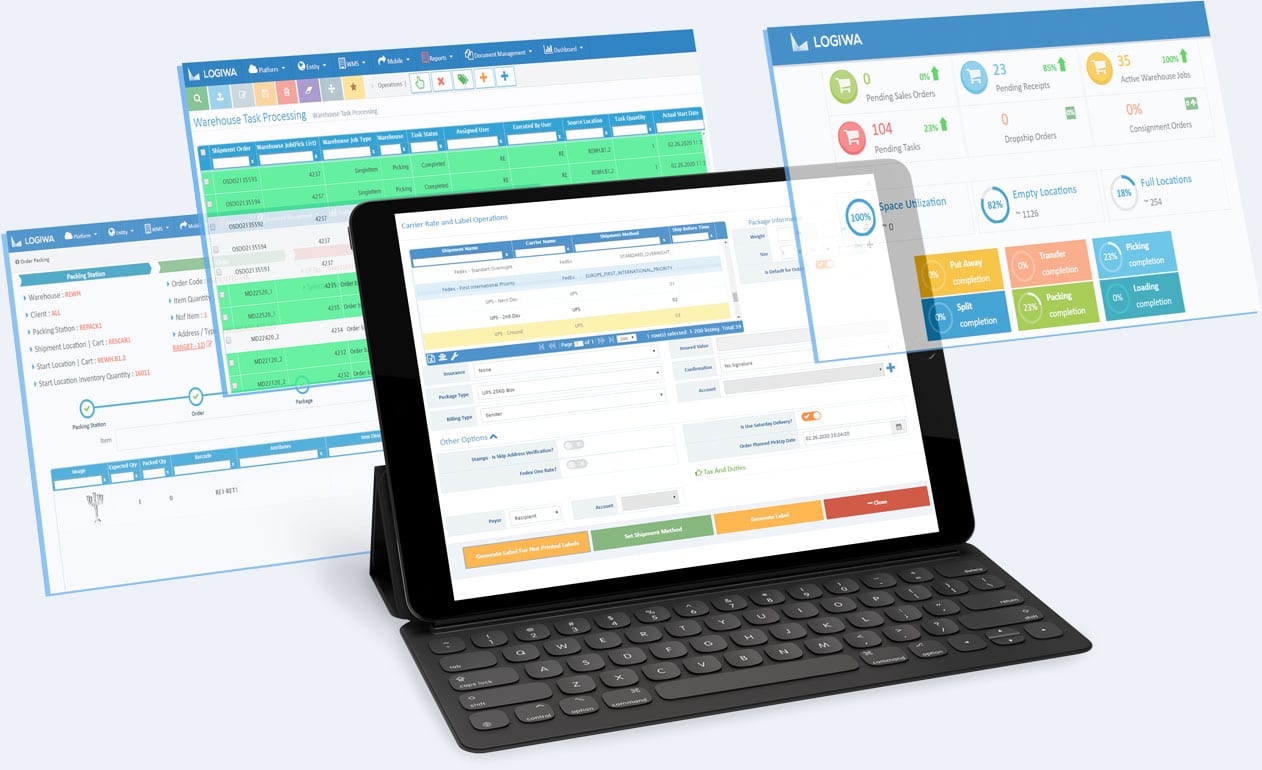 Transform your warehouse to a DTC fulfillment center
Logiwa's Top Features for Peak Season Success
Peak season activity may start with online orders and end with last-mile delivery, but what happens in-between are the most important steps in achieving fulfillment excellence. Let's talk through some of the key features of Logiwa's cloud fulfillment platform for ensuring ecommerce peak season success.
Integration Technology for End-to-End Visibility
During peak season, there are more items moving in and out of your warehouses than other time of the year. Logiwa WMS helps you create an integrated, digitized warehousing network to streamline order processing and end-to-end warehouse processes, including: receiving, inventory management, stock replenishment, and picking, packing, and shipping tasks.
Our WMS provides total visibility and control over fulfillment networks by uniting all aspects of DTC logistics operations within one intuitive platform. In addition to seamless integrations to more than 200 ecommerce, ERP, accounting, and shipping providers with our open API – Logiwa's integration technology also offers webhooks to ensure you are instantly notified of all the most critical events happening in the system. This allows you to increase the efficiency of your integrations and expedite workflows during the busiest time of the year.
Directed Putaway for Increased Efficiency
Every process in your warehouse is dependent on smooth receiving and smart inventory management. After all, if you know exactly where an item is in your warehouse, or where it needs to go, it is also easy to retrieve it. Logiwa WMS is designed with directed putaway features and AI-powered inventory management at its core – allowing you to maintain high-efficiency receiving, item allocation, and picking and packing operations at all times.
With our DTC fulfillment, you can rest easy knowing that your inventory is in the best possible location at every stage of peak season. When consumer trends change, the types of items you carry evolve, or demand drastically fluctuates, Logiwa's cloud fulfillment platform helps you adapt proactively and keep operations flowing smoothly.
Smart Order Processing for Streamlined Fulfillment
Smart order routing is only the tip of the iceberg when it comes to Logiwa's automation capabilities. We recently outlined "5 Workflow Automations to Adopt Before Peak Season" in another article. In addition to being able to direct online orders to the closest fulfillment center with available inventory to a consumer, our technology can automatically generate pick jobs for single item and multi item orders using a variety of predefined, efficiency-boosting picking strategies (i.e. pick and pack approaches, wave picking, put-to-wall, etc.) – eliminating the number one cause of bottlenecks during peak season.
Our WMS maximizes the results of fulfillment workflows by downloading crucial order details, prioritizing pick jobs based on delivery windows, and optimizing walking paths for warehouse teams. That way, you can simplify complex, high-volume DTC operations and execute accurate, speedy picking and packing activities with confidence.
Shipping Box Selection & Carrier Rate Shopping for Better Shipping Results
Consumers expect two things when they arrive at their online checkout point: to be offered a variety of customization options as well as fast delivery dates. That may include the ability to choose whether to have multiple items shipped in one box, selecting a preferred delivery time (to avoid incidents of porch theft), and choosing between standard or expedited shipping methods.
Logiwa's integration technology instantly processes consumers' order details, and aids your warehouse team by automating the shipping materials selection process, assigning the carriers to use, and more. Automated shipping box selection and carrier rate shopping features allow you to execute the best shipping option based on things like product dimensions, customer preferences, and cost for each and every order.
Analytics & Demand Forecasting for Guaranteed Efficiency
Logiwa Analytics offers a variety of powerful insights into the efficiency of your warehouse operations, while features like demand forecasting monitor the state of consumer trends in order to help you meet demand, replenish inventory to cost-effective levels, and stay ahead of potential surges in the online market space.
These built-in BI tools can also help you anticipate what kind of items to keep in stock, manage carrying costs, and inform various other operational decisions. For example, it can guide you on how to rearrange your facility to improve the efficiency of item allocation and reduce warehouse traffic – or identifying sources of bottlenecks and opportunities to improve labor efficiency – all of which can have a significant impact on peak season results.
[Check out our piece on "5 Ecommerce Shipping Best Practices to Improve Logistics" ]
Customer Success During Ecommerce Peak Season
Logiwa WMS has helped countless operations take their fulfillment operations to the next level, especially in relation to managing ecommerce peak season challenges. Our client Deliverr offers a prime example. When their previous WMS system couldn't keep up with their order volumes during the peak season, they knew they needed to make a change.
As an ecommerce shipping company looking to help small to mid-sized businesses compete with Amazon-level logistics, the Deliverr team knew they needed to adopt an innovative warehouse management solution in order to support their clients' multi-channel operations. After evaluating 10-15 solutions, they settled on Logiwa WMS. The result? Processing 10x the order volume of their previous peak season.
Check out a live demo of our solution in our recent QuickTake webinar, to see these features for yourself. Or if you're ready to see what Logiwa can do for you, schedule a personalized demo with one of our WMS experts.
FAQs about How Logiwa Helps Ecommerce Peak Season
What types of peak season challenges does Logiwa WMS help alleviate?
Logiwa WMS streamlines warehouse operations to address the challenges of peak season, including managing increased consumer demand, meeting competitive fulfillment standards (i.e. same day or next-day shipping), overcoming labor shortages, and executing complex logistics accurately without sacrificing cost-efficiency.
How does Logiwa WMS tackle peak season demand?
Logiwa's platform combines WMS and DTC fulfillment technology to streamline supply chain logistics and optimize warehousing processes. Using smart automation rules, powerful integrations technology, and built-in BI and analytics tools – Logiwa WMS helps simplify complex order management; expedite receiving, picking, packing and shipping operations; eliminate bottlenecks; boost labor efficiency; and maximize accurate, on-time deliveries.
What kinds of results does Logiwa WMS have on peak season results?
Logiwa's customers are able to streamline fulfillment operations to capitalize on the surges in demand during peak season. With our WMS system, you can expect to run more efficient warehouses, ship more orders each day, increase your fulfillment accuracy rate, save on labor, and increase your bottom line by way of increased efficiency.