How to Solve Peak Season Challenges With Fulfillment Technology
Originally published on August 22, 2023 by Erhan Musaoglu, Updated on August 22, 2023
To those outside the realm of logistics, peak season presents a seemingly golden opportunity for increased profits and brand growth. But for those fulfilling the orders, the surge in high-volume DTC demand presents the ultimate test of endurance and strategy.
For fulfillment networks, online sellers, and 3PLs, peak season's influx of orders presents a trial which challenges the effectiveness of warehousing technology, fulfillment strategies, and supply chain management. Without proper planning, it can throw even the most competitive fulfillment networks into disarray.
Luckily, warehouse management systems (WMS) and fulfillment technology provide a wide range of capabilities for managing the fluctuations in demand, upswing in orders, and logistical challenges that accompany this time of year. Let's take a look at the ways a modern fulfillment solution resolves these challenges, as well as the tangible results created by today's top solutions.
Key Takeaways
WMS solutions help warehouse and fulfillment operations face the primary challenges of peak season by maintaining stability and efficiency.
In addition to spikes in consumer demand, rises in shipping costs and labor constraints, four primary peak season challenges include: complex order management, multi-channel fulfillment, expedited shipping, and labor efficiency.
WMS solutions overcome peak season challenges with workflow automation, system integrations, and smart, AI-powered fulfillment tools.
Using a WMS improves warehouse performance and cost-savings to bolster profitability and ensure long-term growth through each peak season.
Logiwa's Peak Season Impact Report discusses the importance of having a next-generation WMS to manage peak season and increase fulfillment results, cost-savings, labor efficiency, and more.
Peak Season Challenges Addressed by Warehouse Management Technology
Each year, peak season is anything but predictable, but there is an ironic consistency to the challenges that arise each year, such as spikes in consumer demand and labor constraints. WMS technology helps warehouse operators face the unexpected and maintain stability regardless of circumstances.
Let's talk through several of the top peak season challenges and how a robust WMS fulfillment solution tackles them head-on.
High-Volume, Complex Order Management
Peak season generates higher order volumes, as well as more complex orders. Whether a consumer is buying multiples of the same item, taking advantage of bundled order offers, accepting free add-ons, or wanting all their purchased items shipped in the minimal number of boxes – DTC fulfillment is never more complicated than during this time. That is, unless you have a high-functioning WMS on your side.
WMS solutions utilize predictive analytics and smart automation to forecast and fulfill peak season demand. Using the order information streaming in through integrated ecommerce channels, a WMS helps keep inventory accurately stocked, orders appropriately routed, and picking jobs optimized. It also keeps picking, packing and shipping activities flowing with flexibility and efficiency as things change. In combination with mobile scanning and barcode technology, these WMS functions help validate orders as items are gathered, flag inaccuracies, and boost fulfillment success rates.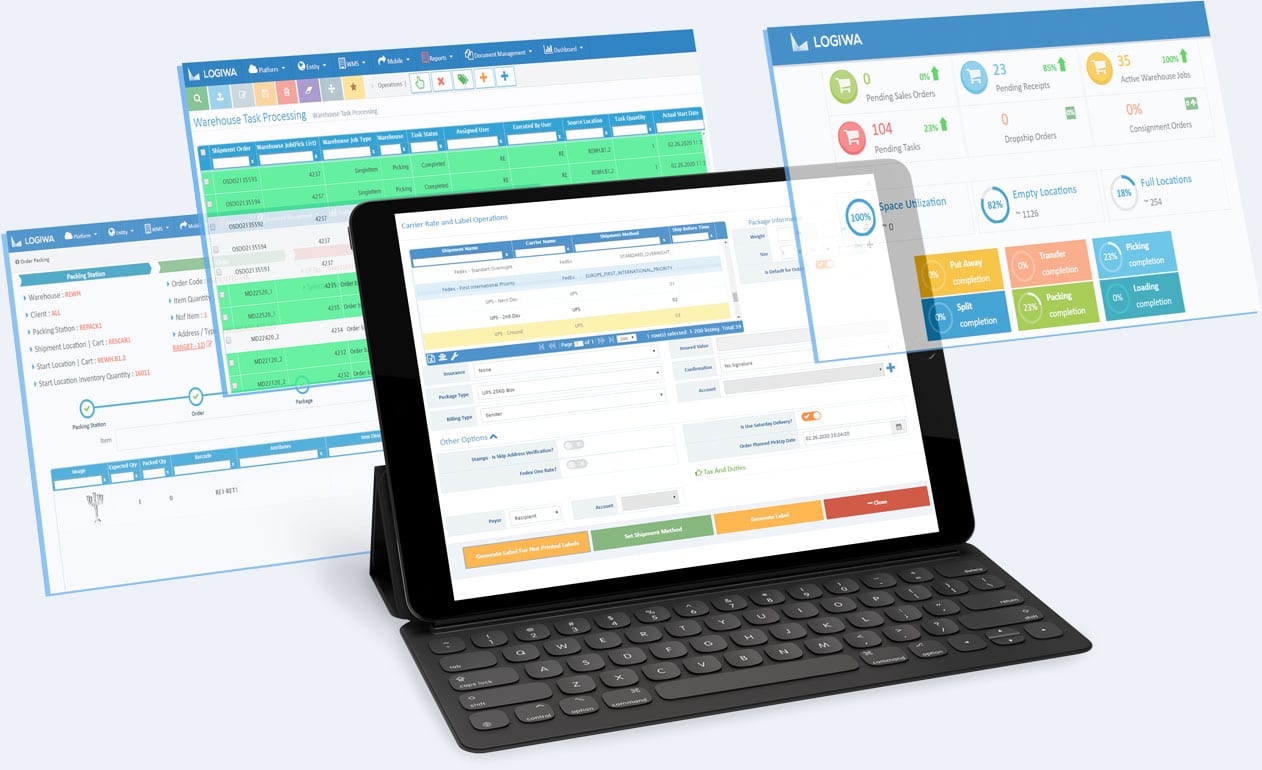 Transform your warehouse to a DTC fulfillment center
Multi-Channel Ecommerce Operations
Nowadays, most businesses use a multi-channel approach to sell their products because it increases revenue by reaching a larger number of consumers. This approach can include websites, popular ecommerce channels, mobile apps, social media platforms, and other digital marketplaces. During peak season, managing all the avenues for incoming orders can become extremely difficult without the help of a WMS.
Modern WMS solutions address multi-channel ecommerce management with integration technology. Whether that be through APIs, webhooks, or other related methods, WMS and fulfillment platforms bridge the gaps between multiple sources and streamline all critical order data into one solution for unified order management. This ensures no orders slip through the cracks during the busiest time of the year and all orders are handled in the most efficient way possible.
Expedited Shipping
It's no secret that next-day and same-day shipping have become the new norm for DTC operations. During peak season, executing 1-2 day shipping is even more challenging in light of the increased orders, warehouse traffic, and industry-wide use of express carriers. Last-mile delivery may be out of your hands, but WMS technology can still help ensure expedited shipping.
Workflow automation is the secret to expedient, accurate fulfillment. It ensures effective order routing, streamlined job creation, and smart picking and packing operations. From the moment a WMS receives an order, it is adding items to the picking queue, preparing the materials needed to complete the order (shipping and return labels, appropriate shipping materials based on item dimensions, and brand-specific accessories), and pre-selecting the cost-effective carriers to make shipping as efficient as possible.
For more insights on peak season workflow automations, check out our blog "5 Workflow Automations to Adopt Before Peak Season."
Labor Efficiency
Peak season often requires additional employees to handle the increase in orders. But labor planning is only half the battle during these busy months. Warehouse operators must also make sure their teams are carrying out tasks efficiently – free of mistakes and without burning out physically and mentally. A proper WMS optimizes labor efficiency in every way.
Not only can a WMS help forecast labor needs and structure employee activities for efficient warehouse traffic – it automates many of the manual, repetitive tasks that slow employees down and decrease productivity. WMS functions like directed putaway, smart picking and packing, and walking path optimization all work to increase throughput and fulfillment accuracy without adding headcount.
Impact of WMS Solutions on Peak Season Challenges
A WMS solution helps warehouses and fulfillment centers of every size effectively meet peak season demand no matter what new challenges arise. Not only does it address the overarching struggles mentioned above, but it creates truly tangible results for performance KPIs and cost-savings to bolster profitability as a whole.
For instance, Logiwa WMS recently helped one of our fulfillment clients achieve 31 percent faster single-item order picking, 33 percent faster package picking, and 60 percent more shipped orders by way of fast employee onboarding and assistive picking and packing capabilities. Others were able to eliminate whole shifts (8 or more hours of work) from their daily operations and scale up daily shipments by 400% thanks to our approach to smart workflow automation.
From increased fulfillment capacity to reducing labor costs (Logiwa users save an average of 40% on labor costs, even during peak seasons), adopting the right WMS solution is crucial for simplifying high-volume DTC challenges, maximizing fulfillment results, and sustaining growth through each and every peak season.
For more insights on Logiwa's WMS and fulfillment platform, request a demo today.
FAQs about Peak Season Challenges
Peak season refers to the months leading up to the holidays when DTC orders spike. This period of high-volume demand is the direct result of online shopping holidays like Amazon Prime Day and Cyber Monday, as well as seasonal sales and end-of-year holidays when consumers do more purchasing than usual. It can also occur throughout the year for holidays like Mother's Day, Fourth of July, and back-to-school season.
Why is peak season so important for warehouses?
Peak season requires extra agility and flexibility from warehouse operations due to the influx in consumer demand, costly fluctuations in inventory, and complex supply chain management required to support it. It also tends to require additional labor and technological support in order to successfully profit from the increase in orders.
Why is peak season challenging for warehouse operations?
Each year, consumer demand, fulfillment standards, and operational costs are higher than the year before. Due to the unpredictable changes in consumer demand, order volumes, inventory levels and market changes (i.g. shipping costs), warehouse operations face even more complex fulfillment and supply chain challenges than other times of the year.
How does a WMS help with peak season challenges?
WMS solutions use smart order management, workflow automation, and powerful integration technologies to streamline warehouse and fulfillment operations during peak season. This helps to increase warehouse performance, improve shipping success rates, boost labor efficiency, and keep operations flexible in the face of changing consumer demand, surges in online ordering, and competitive fulfillment standards.
Run a digital fulfillment experience with a fully integrated Cloud WMS Software
Warehouse Management
Modern digital WMS powers a modern fulfillment experience