Multi-Location Inventory Management for 3PL Fulfillment Operations
Originally published on February 9, 2023 by Erhan Musaoglu, Updated on February 10, 2023
Third-party logistics (3PL) providers carry out cost-effective B2B, DTC, and hybrid operations on behalf of major retail brands and online sellers. For most 3PLs, that means overseeing complex supply chains, inventory management, and omni-channel order fulfillment using an extensive network of warehouses, distribution centers, return management facilities and transportation services. 
Just consider what 3PL services like Fulfillment by Amazon and Amazon Supply Chain are able to accomplish with their wide-reaching fulfillment network: same-day/next-day deliveries and free, easy returns on behalf of all their clients. This is not only because of their industry-leading automation technology, but because they are expected to have at least 355 warehouses covering 319 million square feet by 2023. 
Let's discuss multi-location inventory management, the technology you need to support it, as well as the benefits of multi-location warehousing for modern 3PL success. 
In this guide, we'll explore:
Do 3PLs Need Multiple Facilities? 
Chances are you are already overseeing more than one facility as part of your 3PL network in order to maximize the efficiency and output of your fulfillment operations. Having multiple facilities – whether they are used for inventory, overstock, transfers, returns, or order processing – helps to meet today's growing ecommerce demands and achieve fulfillment excellence. 
As a 3PL provider, having multiple facilities helps you to: 
Manage growing DTC and B2B orders with greater ease

Expand your storage and order-processing capacity

Meet client SLA's by getting products as close to their end destinations as possible

Boost customer satisfaction by increasing your overall delivery speed

Save money by optimizing product distribution and cutting down on logistics costs (ex. shipping)

Lower risk in the case that one or more of your facilities is forced to close (ex. COVID-19)
Businesses turn to 3PLs to save money and take advantage of the infrastructure they do not possess themselves, making an extensive fulfillment network a great asset in growing your operation. But what happens if you do not have the right technology to support multi-location warehousing? Can your current warehouse management solutions accomplish multi-location inventory management?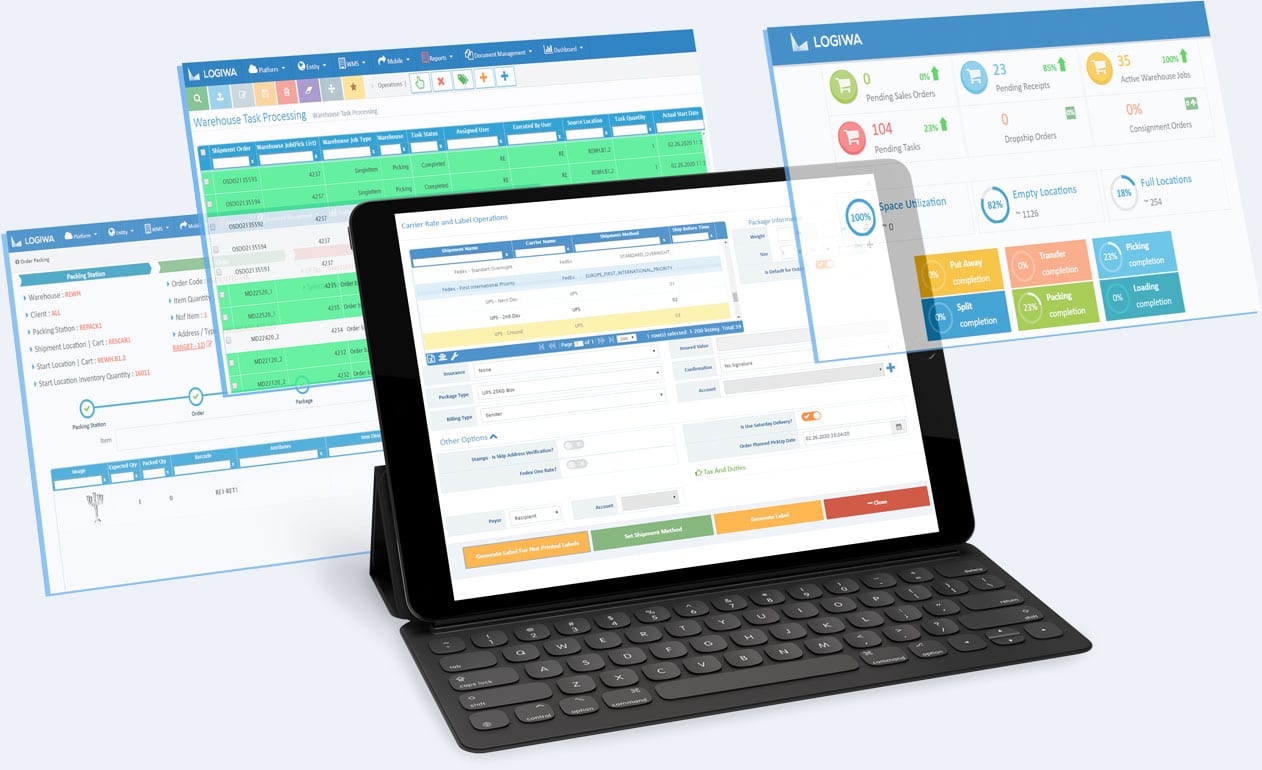 Transform your warehouse to a DTC fulfillment center
Multi-Location Inventory Management Technology
Multi-location inventory management refers to organizing inventory and product operations across more than one facility. This includes cloud fulfillment software and multi-warehouse management solutions that can track the inventory being processed at each of your distribution  and order-processing centers. 
Without multi-location inventory management functionalities, your team is more likely to struggle with communication, inventory control, and fulfillment results between each of your facilities. However, with the right multi-warehousing technology in place, the results of your 3PL operations will be able to reach new heights. 
Using multi-location inventory management technology helps 3PLs: 
Grow stable, successful fulfillment networks by keeping multiple facilities in sync (ex. keeping consumers from receiving multiples of the same order from different warehouses)

Surpass difficult fulfillment standards like tight delivery windows and hassle-free returns

Maintain strict logistics to ensure inventory levels are accurate and able to support demand (prevents overstock and shortages at one or more locations)

Enhance visibility and control over the warehouse operations and cost to eliminate bottlenecks and address inefficiencies quickly

Offer transparency over order processing, so your clients and customers can see where orders are at in the fulfillment process 

Optimize space utilization for the overall flow of your fulfillment network
Multi-location inventory management software monitors the end-to-end processing of ecommerce orders for 3PLs, while safeguarding the risks associated with multi-location warehousing operations.  
Fulfillment Solutions for Multi-Location Warehousing
The key to multi-location inventory management is ensuring your inventory is in sync with your other fulfillment solutions. Leading warehouse management systems (WMS) and cloud inventory management platforms like Logiwa WMS, offer real-time insight into current inventory levels, incoming orders, returns, and more across your entire 3PL network. With our cloud fulfillment solution in place, you can even automate the order fulfillment process using powerful algorithms and route orders to the optimal fulfillment center. 
From inbound operations, order processing, to distribution, Logiwa WMS was built with the challenges of 3PL operations in mind. Our solution enhances your multi-warehouse operations at both the macro and micro levels and offers the controls you need to optimize inventory management across all your facilities. Get real-time visibility into inventory at each warehouse, route orders to the best fulfillment center, and manage inventory transfers with ease. 
Learn more at: https://www.logiwa.com/products/digital-warehouse-management-software.
Grow your 3PL business don't let your existing WMS technology hold you back
Warehouse Management
Modern digital WMS powers a modern fulfillment experience