3 Steps to Maximizing Your Ecommerce Growth Strategy
Originally published on June 27, 2023 by Erhan Musaoglu, Updated on June 27, 2023
Over the course of two decades, the rise of ecommerce has forced thousands of retail stores and shopping centers to permanently close their doors. The term "retail apocalypse" is being used to describe the phenomenon and, according to industry experts, the shift from physical to digital is far from over.
Based on the latest reports from Wall Street and UBS, as many as 50,000 U.S. stores are expected to close by 2027. For many retailers, brands and 3PLs, the closing of brick-and-mortar stores means increased opportunity and competition over the ecommerce market. It also means increased pressure to achieve high-volume direct-to-consumer (DTC) fulfillment excellence.
In order to survive and thrive, it has become crucial to build out an ecommerce growth strategy for your operations. Let's talk through three key steps for ensuring success in the days ahead.
In this guide, we'll discuss:
The State of Ecommerce and Logistics
The acceleration of online shopping has made achieving flawless fulfillment logistics critical for beating out the competition and growing your presence within the ecommerce space. Billions of shoppers are now spending trillions online, and there's little tolerance for errors. Just consider the size of ecommerce in 2022:
This glimpse into online shopping illustrates the importance of prioritizing new technologies and upgrading one's ecommerce growth strategy. In order to meet fluctuating consumer demand and overcome difficult fulfillment standards (delivery from a regional fulfillment center, directly to a buyer's home, in just 1-2 days), it has become necessary to scale operations and boost profit margins at all costs.
Online shopping experience is no longer what defines the winners and losers of ecommerce; it is your ability to streamline supply chain operations, expand your fulfillment network, and provide an unforgettable customer experience.
Criteria for Competitive Fulfillment Logistics
When it comes to overseeing supply chain logistics, you need to fearlessly employ new strategies to stay on top. For operations falling short, the problem is usually one of three things: late deliveries, misshipments, or difficult returns. These mistakes have a variety of other consequences, including failed SLAs (for 3PLs), damaged brand reputation, and diminished customer loyalty.
For that reason, your growth strategy must prioritize:
To scale profitably, you need to accomplish all the aforementioned items consistently. This is where fulfillment technology comes into play.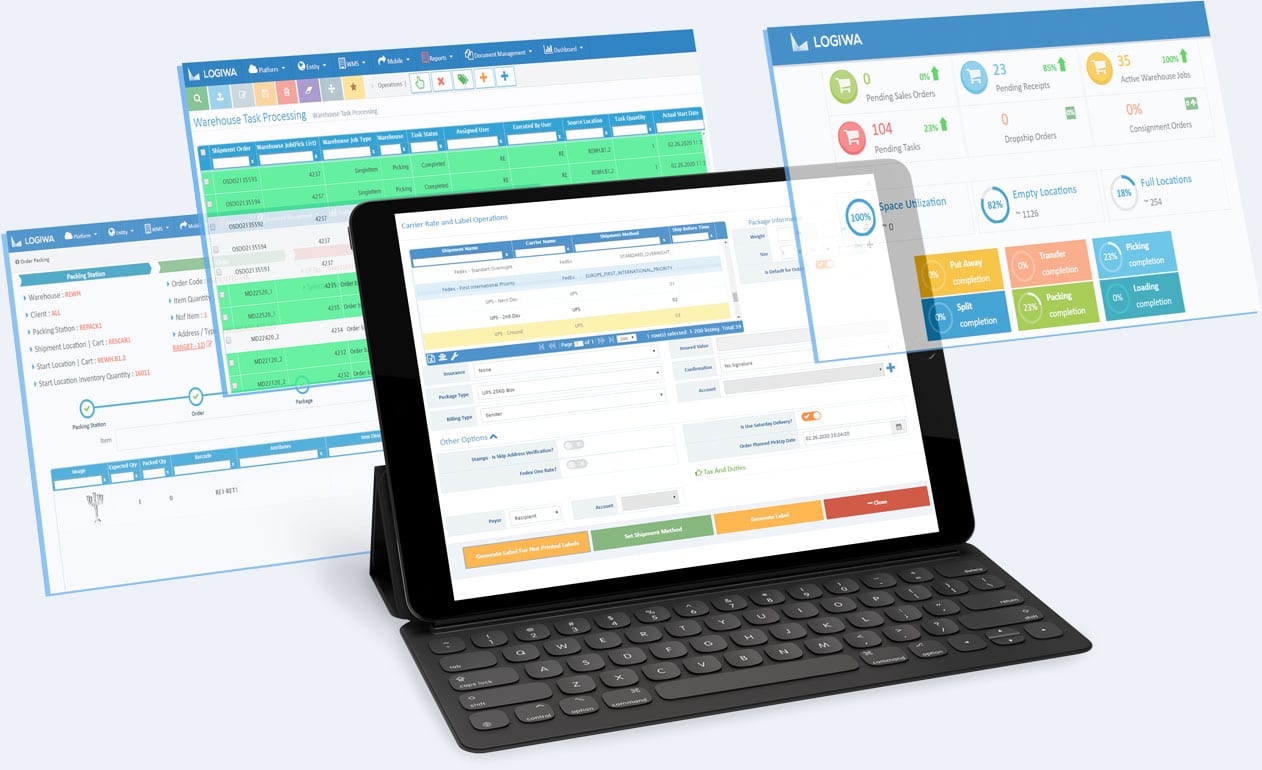 Transform your warehouse to a DTC fulfillment center
3 Steps to a Successful Ecommerce Growth Strategy
Ecommerce operations need to employ multiple strategies to succeed in modern high-volume DTC order fulfillment. This includes adopting flexible warehouse approaches and competitive technologies. Consider the following three steps to maximize the results of your ecommerce growth strategy.
#1 Invest in a DTC Fulfillment System
The first step to ensure success is adopting the right software. Unlike the on-premise WMS database systems of the 2000's and misleading "cloud" upgrades of the 2010's, today's cloud-based fulfillment solutions are designed to handle the complexities of modern ecommerce: from order consolidation to carrier rate shopping.
A DTC fulfillment system is able to optimize receiving, inventory management, and order distribution with maximum efficiency. It can oversee vast fulfillment networks with cloud-based accessibility; accurately process thousands of orders; and pick, pack and ship orders directly to consumers with ease.
To win the fulfillment race, make sure your solution is able to:
Consolidate and manage orders from multiple online stores and marketplaces;
Manage order fulfillment across all fulfillment centers within your distribution network;
Optimize fulfillment execution steps within individual centers; and
Enhance the shipping process – including suggesting the ideal shipping boxes for items, creating labels and return instructions, and selecting carriers that will get your orders delivered on time at the lowest cost.
#2 Add Automation to Your Order Fulfillment Strategies
The second step in managing a winning ecommerce growth strategy is automating as many fulfillment processes as you can. Warehouse automation makes the biggest impact on operational margins and can help you scale your business without breaking the bank. An example of this would be integrating your ecommerce and shipping systems with your DTC fulfillment system, which allows your fulfillment teams the maximum time possible to assemble orders and get them out the door as quickly as possible.
That said, automation goes beyond integrations. Modern fulfillment systems can automate everything from daily inbound and outbound operations, replenishment processes, and order routing to the best fulfillment center option. It can also guide picking, packing and shipping processes within an individual center to keep workflows as efficient as possible – especially if you choose to employ robotics technology.
For insights on using robotics to enhance your order fulfillment strategies, check out Logiwa's blog, "Where to Start With WMS Robotics."
#3 Build a Distributed Fulfillment Network
Since smart fulfillment systems are able to dynamically route orders to micro-fulfillment centers (based on proximity to the customer and available inventory), the next step in maximizing your ecommerce growth strategy is growing your network and decentralizing your fulfillment operations. Investing in a network of micro-fulfillment centers can reduce shipping costs and increase the likelihood of meeting customers' expectations and delivery dates.
Smart order routing takes into account inventory levels, shipping times, and operational costs all at the same time. In turn, it helps reduce shipping time and overall shipping costs to boost profits and help your operation grow.
Choose a Fulfillment Provider You Trust
Streamlining fulfillment logistics depends on more than just a powerful software solution; it requires a smart strategy and a provider that understands your unique operational goals.
Logiwa WMS is a true cloud fulfillment solution designed specifically for the challenges of high-volume DTC warehousing. Our flexible solution includes more than 200 pre-established integrations to popular ecommerce partners and offers highly configurable automation rules to ensure you can expand your network, add new inventory, and respond to evolving ecommerce trends with ease.
Take your fulfillment to the next level with Logiwa. Request a free consultation with our team of warehousing experts and schedule your demo today!
Modern cloud fulfillment software built specifically for B2C and DTC fulfillment
Warehouse Management
Modern digital WMS powers a modern fulfillment experience