inVia Robotics: The Future of Warehouse Picking Robots
Originally published on May 17, 2022 by Logiwa Marketing, Updated on May 31, 2023
Robots Are Here To Stay
The pressure to stay ahead of today's ecommerce trends has made the use of automation technology and robotics invaluable for industries like manufacturing and warehousing. Starting in 2019, the global pandemic created a major surge in online orders and put supply chains and fulfillment operations into overdrive.
Luckily, when it comes to taking on dangerous, exhausting or repetitive jobs, robots don't have the same limitations as human workers in meeting consumer demand. 
Robots may have started as large, stationary arms in assembly lines, but thanks to the improvements engineers have made to their sensors and response capabilities, modern robots are able to work collaboratively with humans and accomplish tasks like picking and replenishing inventory within a warehouse. Advancements in artificial intelligence (AI) and the Internet of Things (IoT) have also helped make them more effective at responding to unexpected events. This is key for high-volume direct-to-consumer (DTC) operations, where every day presents new challenges. 
With each passing year, more warehouses turn to robots to maximize the speed and accuracy of order fulfillment processes. According to the latest robotics industry statistics, there are more than 2.7 million industrial robots currently in-use around the globe, and 400,000 new robots arriving on the market every year. While we can't predict where automation technology will take us, one thing is for certain: robots are here to stay. 
In this guide, we'll explore:
Who Is inVia?
inVia's Goal
What Sets inVia Apart?
The inVia Robotics System
The inVia Robots
Implementation with inVia Robotics
inVia Robotics Cost
inVia Facilitates WMS Integrations
| inVia Robotics
Who Is inVia?
InVia was founded in 2015 by Lior Elazary, Dan Parks and Randolph Voorhies, who met while working on their Ph.D. degrees in robotics at the University of Southern California. Together, they developed the first robotics system to make autonomous mobile robotics affordable for businesses fulfilling ecommerce orders, allowing the benefits of automation to be accessible to their market. They received their first robotics patent on September 1, 2015 for their Autonomous Order Fulfillment and Inventory Control Robots, and continued to earn new patents for their product advancements in the years that followed. 
Their solution, whose name is derived from the phrase, "innovation via robotics," aims to aid human operations and warehouse efficiencies without replacing human workers. In the process of creating their automation bot, inVia's founders realized that the overarching problem with standard warehouse automation was actually adaptability. Their robots' ability to quickly and effectively adjust based on changing conditions has helped them make a name for themselves in the world of modern robotics.
inVia's Goal
inVia's goal was to help ensure the accurate and efficient movement of goods within warehouses while decreasing the strains created by the usual fulfillment obstacles: things like same day shipping and high-volume, DTC orders. As a result, they built their system to consist of agile robots, powerful AI-driven optimization software, and 24/7 systems monitoring to increase the results of fulfillment operations and supply chains. 
Their technology works by creating efficient workflows, eliminating motion waste, and ensuring smooth operations day and night with autonomous picking robots. This streamline effect helps automate repetitive tasks and give human workers time back to focus on elevating operations in other ways. 
inVia states that the effectiveness of their solution comes from having a complete approach, not just addressing one problem with one piece of hardware or software. To that end, they provide warehouse management software, an optimizing fulfillment system, as well as autonomous order fulfillment and inventory control robots to their customers. 
What Sets inVia Apart?
inVia sets themselves apart from other robotics companies because they consider themselves to be members of your virtual team, as opposed to just offering up robots as a solution. Their experts monitor, maintain and optimize your robots from afar, so you never have to worry about managing your robots alone! 
In addition, inVia's system is highly configurable to meet unique operational needs. This makes it easy to scale throughput based on order volume, or add and subtract robots when there are shifts in demand and peak seasons to plan for. As a provider, they have prioritized the importance of being able to react quickly to fluctuating circumstances and demand. 
inVia's flexibility and industry expertise add to their value as a robotics provider, as they seek to help businesses of every size compete on an even playing field while supporting individual company goals.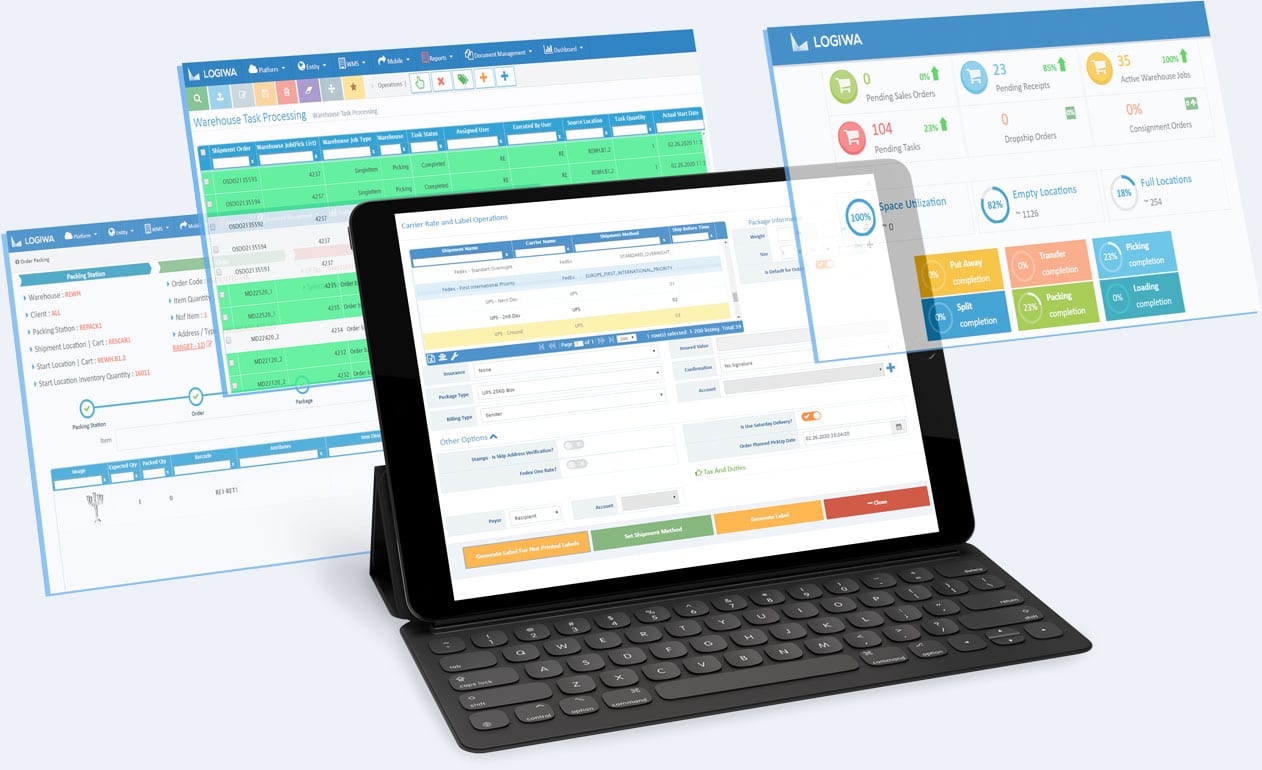 Transform your warehouse to a DTC fulfillment center with cloud WMS
The inVia Robotics System
inVia Robotics breaks down its solutions into three primary components: their inVia Automation System (think of this like an inVia WMS), inVia Logic Warehouse Execution System (WES), and inVia Picker Robots.
The first is their subscription-based service for optimizing warehouse operations. This includes the inVia Pickmate tool, which directs workers where to pick goods from inVia Logic.
The second, inVia Logic, is their AI-powered software for streamlining order fulfillment processes, which can be used with or without robots. The third is the warehouse picking robots, themselves.
As part of their solution, the inVia system offers a comprehensive set of modules that manage all the major fulfillment tasks in a warehouse. According to their site, there are three options for supporting fulfillment operations:
Software only: This option allows you to use inVia's AI technology to locate inventory throughout your warehouse and integrate tasks to best utilize all the members of your workforce.
Automated labor: Once you've optimized resource allocation and the locations of your inventory, this stage helps implement automated labor (picking robots) to boost productivity.
Automated warehouse: Once your space and labor are optimized, and your fleet of robots is working smoothly within your facility, this final phase helps maximize your automation and operational efficiencies.
With inVia's automation solutions, you gain the ability to organize your warehouse, direct people and robots more efficiently, and orchestrate workflows to minimize bottlenecks and idle workers.
You can adapt their warehouse platform with all of the following features, or you can pick and choose which ones to add to a given workflow:
Pick-to-color picking
Picking a sortation station
Picking with inVia PickerWall
Consolidation across zones
Replenishment and putaway
Hospital
Lot Batch Control/Serialization
Pack Out
Cubing
No need to worry if you've already got a WMS to help execute these features. inVia's platform makes it easy to integrate with other systems. That way, their systems can talk to yours to get the job done!
The inVia Warehouse Picking Robots
inVia uses a Robotics Operation Center (ROC) to help B2B and B2C/DTC businesses get the most out of their robotics technology. This center utilizes proactive and predictive monitoring, as well as live simulations of your warehouse, to help ensure your operations stay ahead of potential problems.
As for the inVia robots, themselves, inVia offers one super bot: their Picker Autonomous Mobile Robots (AMRs). inVia's Picker AMRs are compact, durable, adaptable, safe, and easy to use. They can retrieve putaway goods autonomously, and use an industrial suction cup to maintain a secure grip on warehouse items as they move.
Some of the benefits of inVia's Picker Robots include:
Their physical design is compact, yet effective. With dimensions of 35.5" H x 26.1" W, a payload capacity of 40 lbs, and a height reach of 8 ft. – these robots are good in virtually any size warehouse and setup.
They prevent physical strain for workers by automating order fulfillment tasks. They can retrieve and move goods from every corner of a warehouse (up to 5 mph), so employees no longer need to waste time walking up and down warehouse aisles.
They have nonstop operational power. Complete with hot-swappable batteries (10-hour battery), a self-charging feature, and built-in lighting that allows robots to see in the dark, you will be able to run operations 24/7.
They can operate without waiting on human workers. Unlike most other AMRs, inVia's robots can build out a dynamic inVia Picker Wall that contains each day's orders without the need for your employees to be present (a.k.a. offshift and overnight picking). This removes the usual dependency robots have on humans and leads to higher rates of productivity.
They increase order accuracy. inVia's robots work with machine precision, meaning they don't slow down or lose focus. This means error rates will go down while your accuracy rates go up.
They make scaling operations easy and accommodate order volume growth. inVia makes it easy to expand your system capacity, even if that means moving to a bigger warehouse or expanding your fulfillment network. Rather than sourcing and managing temporary workers, you have a scalable fleet of autonomous mobile robots (AMRs) to help meet fulfillment needs head-on.
They save your business money. inVia's robots help deliver goods-to-person efficiency at a fraction of the cost and can be used using a Robots as a Service (RaaS) payment plan.
The benefits of implementing robots into fulfillment operations speak for themselves, especially when it comes to taking on more orders or expanding your fulfillment network.
Regardless of your current size, workflows, and order channels – robots are a way to invest in warehouse safety, as well as the inventory accuracy, efficiency, and success of your DTC operations.
Studies have shown that the average savings of implementing robots in an industrial workplace can be as high as 21.85%!
Now that you understand inVia's warehouse automation technology and warehouse picking robots, let's discuss their implementation process, integration capabilities, and cost.
Implementation With inVia Robotics
inVia takes a methodical approach to help companies with robotics implementation and order fulfillment. They assess your current environment, including workflows and operational data, to create the right automation design for your warehouses.
This is followed by a simulation analysis, where their software calculates and synchronizes to your inventory movement. From there, they can build your customized robotics system.
The good news is that this process can happen in a matter of weeks, not months since you do not need to start from scratch. In other words, inVia does not require you to change your fulfillment center's existing infrastructure.
Instead, they use your existing WMS, warehouse layout, and racks so their robots can start helping you as quickly as possible.
inVia Cost
Like other major robotics companies, inVia offers a monthly subscription option for those wishing to reap the benefits of warehouse automation technology.
This payment model, also known as Robots as a Service (RaaS), means you do not need to pay for their robots outright or make a massive infrastructure investment before you've used their Picker robots.
According to their site, their monthly subscription includes all operating costs and aligns their services with your specific business goals. That means you only pay for what you need, even as your throughput requirements change. inVia owns, operates, and maintains the equipment you're using over the lifetime of your service contract.
Once inVia has completed its assessment of your current environment and runs its simulation analysis to build your ideal robotics fleet, they integrate its automation solutions with your existing systems.
Their system integrates with your existing systems through APIs and the help of their data translator, "inVia Connect." They then deploy their robots to map your warehouse, before completing a final round of optimization.
Integrate inVia Seamlessly With Logiwa
Logiwa knows that robotics is the future of competitive high-volume DTC operations. That's why we offer free robotics integrations with any robotics platform, including inVia Robotics.
Our cloud-based platform and open REST API make it easy to connect to your preferred stores/marketplaces, ERPs, BI tools, custom websites, and robotics providers, so you can maintain total visibility and control over each facet of your business.
As warehousing becomes increasingly competitive, and online shopping demands continue to rise, it's a good idea to consider the positive effect robots could have on your operational efficiency, customer satisfaction, and warehouse costs.
In the coming years, warehouse automation won't just be a competitive advantage, but a necessary component for achieving fulfillment excellence.
Rather than thinking of warehouse automation and robotics as a burden, or too big a change to tackle right now, consider the new heights it could help your business reach. To learn more about warehouse automation, request a demo of Logiwa today!
Run a fully digital warehouse with mobile apps, smart job batching, automation rules