How to Leverage Artificial Intelligence (AI) for Better Quality Control
Originally published on January 19, 2023 by Ayca Ozcan, Updated on March 3, 2023
Artificial intelligence (AI) has come to impact most industries today, and the fulfillment services sector is no exception. In fact, AI has had a major impact on the way retailers, wholesalers, online sellers, and third-party logistics (3PLs) services manage the rise of ecommerce, complex supply chains and competitive order fulfillment. 
If you oversee business-to-business (B2B), direct-to-consumer (DTC), or hybrid order operations, you are no stranger to the importance of quality control (QC) for high-volume fulfillment. In order to ensure fulfillment success and customer satisfaction, every item shipped must be accurate, arrive on time, and remain in good condition from your warehouse or fulfillment center. 
Unfortunately, now that most fulfillment networks oversee hundreds, if not thousands, of items every single day, checking individual products manually is not only time-consuming and expensive – but unrealistic. Luckily, AI can aid quality control logistics to support your workforce and help your business maintain fulfillment excellence. 
In this guide, we'll explore:
Quality Control in Fulfillment Operations
How AI Benefits Quality Control Operations
The Modern WMS & Quality Control
Quality Control in Fulfillment Operations
Depending on the types of inventory moving in and out of your warehouse, quality control can imply a variety of things. If you are working with pharmaceuticals, food items, or other perishables like cosmetics and dermatological products, for instance, QC checks involve inspecting expiration dates, reporting on container quality, checking facility temperatures, and more. 
Regardless of the types of items, upholding good quality control practices is crucial to meeting the standards set by modern consumers. Plus, if your operations are growing into a multi-state and multinational fulfillment network, you will be facing even more regulatory standards and challenges with customer trust. Any quality issues that trend against your labels, whether it be product or packaging-related, can undermine your reputation and the businesses associated with your brand. 
In order to prevent mistrust or customer concerns about safety, you must standardize quality control measures across your fulfillment network and monitor fulfillment results closely.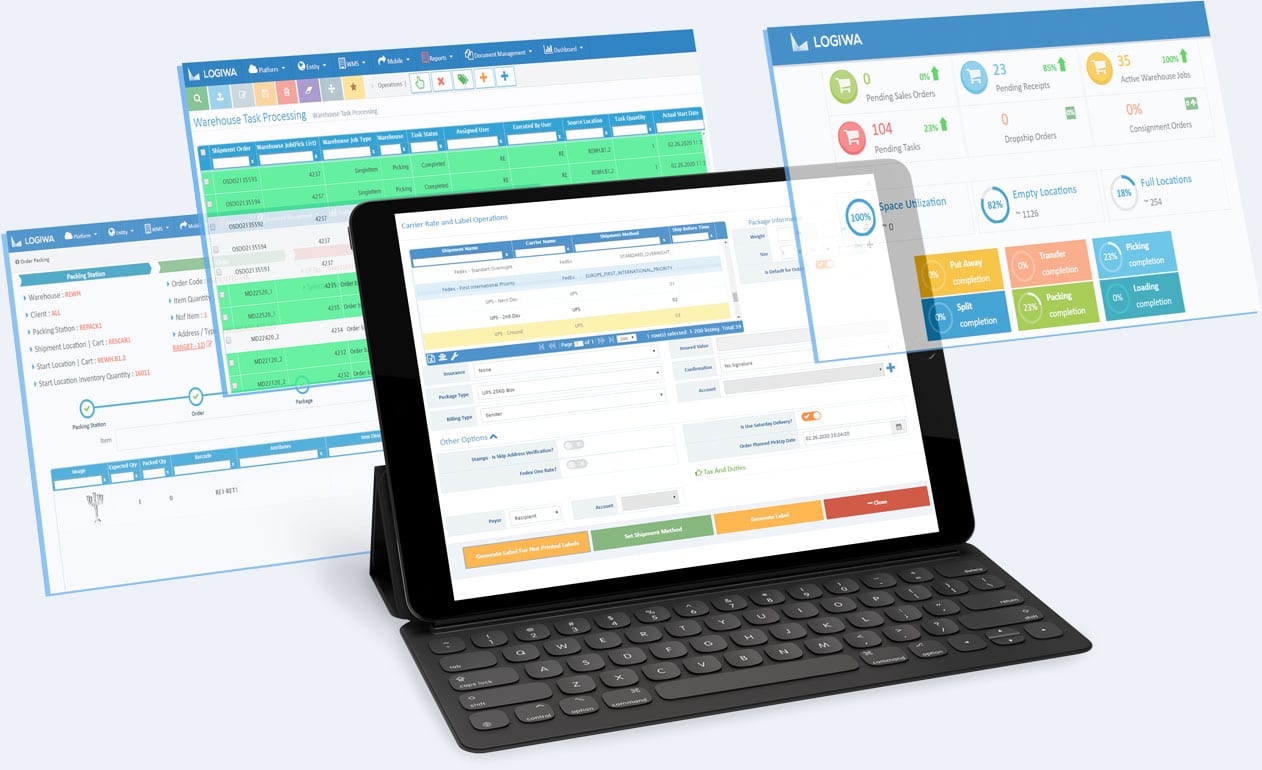 Transform your warehouse to a DTC fulfillment center
How AI Benefits Quality Control Operations
Working with your warehouse and inventory management software, AI can do a lot in the way of supporting quality control logistics. It can analyze products as they move in and out of your fulfillment stages and check for things like defects, careless packing methods that might endanger products, invalid labels, and more. It can also monitor the software helping run your operations and steer optimal decision making by interpreting data for you. Whether it be inbound processes, daily inspections, picking and packing operations, or pre-shipping tasks, or other intermediary steps – AI can help ensure your order items are meeting all the necessary standards. 
AI quality control methods also involve effectively analyzing your network's fulfillment data to identify overarching trends or problems, perhaps with the software solutions you are using to store and process inventory or one of the shippers you've been trusting. In other words, AI can tackle quality control on multiple fronts. 
Some of the top ways AI can improve quality control logistics, include: 
Tracking inventory levels and expiration dates, so you know when items need to be removed and replenished. 

Limiting wasted inventory/lost profits by capturing the state of inventory items in your warehouse or inventory management system.

Flagging discrepancies in item dimensions or weight so your warehouse team can deal with potential problems and remove flawed items from moving on in your supply chain or fulfillment process. 

Detecting defects in your warehouse management systems aka WMS software, integration connections, or warehouse hardware to keep issues from escalating into down time and quality control issues. 

Identifying missed steps in SOPs, product checklists or other procedural documents to notify employees if quality management system steps have been missed. 

Detecting defects based on customer feedback and returns data from your enterprise resource planning (ERP) solutions. 

Provides data-driven decision making that is objective, relieving your employees from having to predict or guess the right actions to take when something is wrong with one of your items. 

Optimize picking and packing waves, walking paths, and station traffic to lessen the likelihood of items getting damaged throughout the fulfillment process. 
To learn how else AI and machine learning (ML) technology can benefit your warehouse operations, download Logiwa's guide, "The Critical Role of Artificial Intelligence in Warehouse Operations." 
The Modern WMS & Quality Control
In order to keep up with high-volume ordering and deliver only the highest quality goods to market, you need effective ways to monitor inventory quality. Logiwa WMS was built with this in mind. Our industry-leading inventory management capabilities, robust analytics, and mobile scanning technology are just a few of the ways we help our clients manage quality control logistics.  
With Logiwa's built-in automation tools, live reporting capabilities, and leading integrations capabilities, we are able to provide maximum visibility into quality control efforts and their results. Moreover, our mobile scanning technology helps streamline reporting by allowing employees or autonomous mobile robots (AMRs) to scan products throughout workflows, sort out broken or damaged goods, and update your supply chains without disrupting your business. 
Our warehouse management systems (WMS)'s leading AI technology makes us the top solution for DTC order management. Request a demo today.
Adjust quickly to ever-changing fulfillment requirements with the most flexible WMS