DTC Logistics: 4 Key Steps to Streamlining Post-Holiday Returns
Originally published on January 10, 2023 by Elizabeth Walsh, Updated on March 3, 2023
It's that time of year… peak season has passed, order volumes are slowing after the final days of December, holiday orders are delivered,  and the gifts are unwrapped… that returns begin in the warehouse.  
For retailers and third-party logistics (3PLs), the weeks following Christmas and New Years make up one of the most crucial order return periods of the year—especially for ecommerce operations. According to the latest market insights, retailers and online sellers can expect an average of 17.9% of holiday merchandise to be returned this year, equating to nearly $171 billion. In fact, the expected returns rate for this holiday season is more than a full percentage point higher than the 16.5% average for the rest of the year. 
If your warehouse has not mastered the art of order return management, it could have significant repercussions on your supply chain, customer satisfaction, and warehouse operating costs—not to mention the long-term stability of your business. 
Direct-to-consumer (DTC) returns are inevitable, even when you are achieving fulfillment excellence. Here are Logiwa's top recommendations for managing holiday order returns effectively, as well as insights into how the right WMS can help!
Step 1: Use top-tier inventory management.
Inventory management software and warehouse management systems (WMS) use robust inventory tracking technology to help safeguard inventory and streamline return operations. They allow you to get returns moved to the appropriate storage areas, or determine future locations for DTC returns based on efficiency criteria (ex. damaged items, mis-shipments, carrier mishaps, etc.), current space availability, and more.  
By depending on inventory management technology, your returns management uses artificial intelligence and methods like directed putaway which can tell you whether or not an item should be placed back in its original location, a new location based on the best next step in the return process, or another shipping area to be sent somewhere else in your fulfillment network.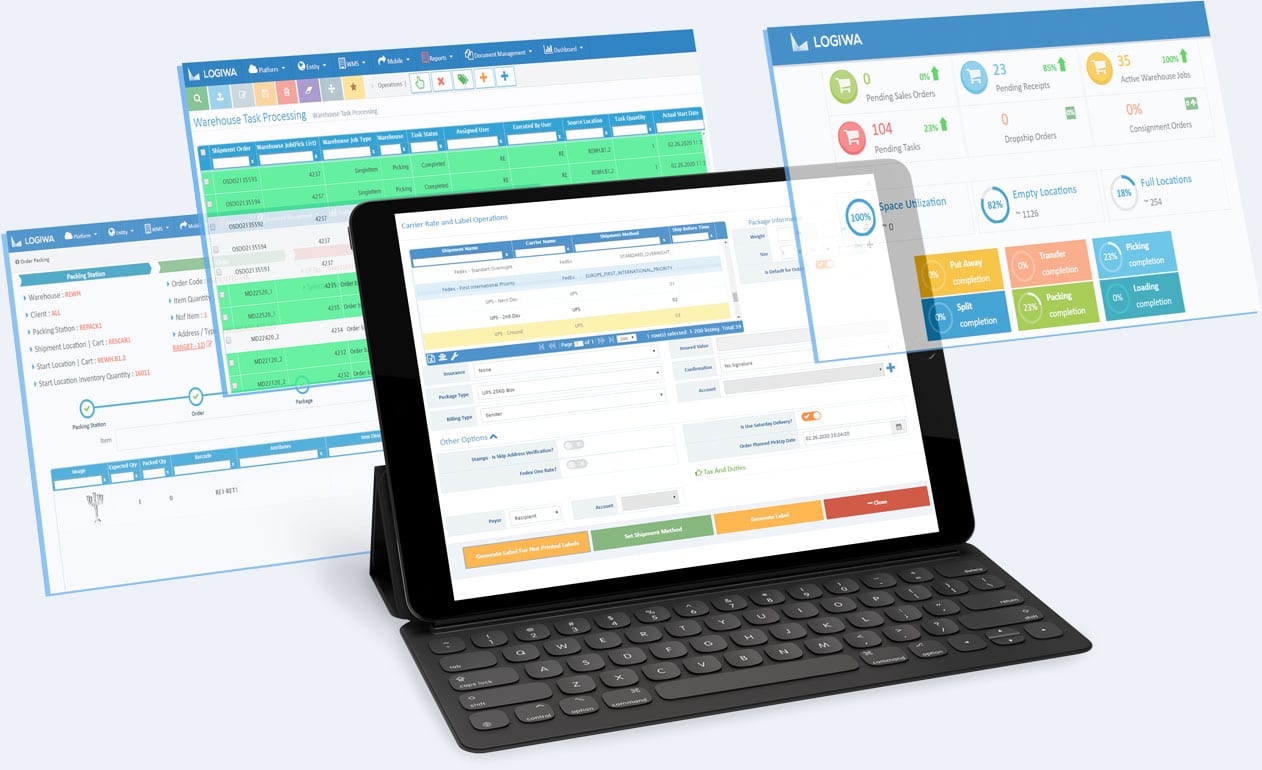 Transform your warehouse to a DTC fulfillment center
Step 2: Automatically print return labels for each order. 
One of the best ways to make holiday returns easy for both you and your customers from the get-go is to print and pack return labels as part of your fulfillment process. By automatically adding return labels to your DTC order shipments, you ensure an easy return process for consumers should an issue occur. This also gives you a highly efficient method for getting DTC returns back where they belong and an effective way to identify them when they arrive back at your warehouse. 
Step 3: Take advantage of bar coding and  mobile scanning.
Mobile scanning, or the use of barcode scanners with mobile devices, can quickly get returns back into your inventory management database and flowing in your warehouse as if they never left. Just like with the directed putaway algorithms, mobile scanning systems can be used to optimize the organization of your network's fluctuating inventory – whether they be new or returning inventory. As holiday returns pour in, consider adopting mobile scanners to help  keep your systems accurate and direct employees to the bins and shelves where returns need to go in a fraction of the time. 
Step 4: Add return centers to your fulfillment network.
In the fast-paced, growing world of ecommerce, fulfillment centers can become hyper-focused on only moving products out of the warehouse as quickly as possible. Without conscious planning, this can leave you with limited space and bandwidth for handling a returns process. Therefore, designing one or more centers for handling returns is a sensible approach for many. For large ecommerce operations who are already managing large-scale fulfillment networks, the addition of dedicated return centers becomes critical for multi-client and hybrid operations. 
Return Logistics with the Warehousing Experts
It's not enough to offer today's consumers a pleasant online shopping experience and accurate order delivery: you must ensure an easy returns process as well, one that seeks to streamline the process and avoid excess costs to your operations. 
Without the help of technology, your employees are more likely to leave returns off to the side of receiving areas, replenishing inventory storage inconsistently, and operating with skewed numbers—leading to further problems down the fulfillment process. 
Logiwa WMS was built specifically to handle the complicated nature of DTC fulfillment operations—even post-holiday returns. Our forecasting tools in our WMS can even help you plan for the DTC returns and ensure you are well-staffed to meet increased demands for post-peak season returns. Learn more about our industry-leading Cloud fulfillment solution at https://www.logiwa.com.
Optimize multi-warehouse and multi-client operations at both the macro and micro levels