Direct-to-Consumer (DTC) Fulfillment Explained by The Warehousing Experts
Originally published on November 24, 2022 by Logiwa Marketing, Updated on March 3, 2023
What types of customers do your fulfillment operations serve? Are you fulfilling orders for other businesses in business-to-business (B2B) or business-to-consumer (B2C) situations? Many warehouse operations fit into these two categories. And while business is steady, you may be thinking of ways to kick your profits up a notch or two.
Direct-to-consumer (DTC) warehousing can be the boost your business needs to grow as we move into another new year.  
In this guide, we'll explore:
Defining DTC Operations
Why DTC Fulfillment is Growing
DTC Fulfillment Technology for DTC Warehouses
Defining DTC Operations
DTC fulfillment is selling products directly to customers without intermediaries or third parties such as retailers or wholesalers. DTC sales typically happen online, and worldwide sales in this space grew significantly during the global pandemic.
DTC Fulfillment vs B2B Fulfillment
So, what's the difference between B2B and DTC fulfillment?
Imagine you have 10,000 pencils you need to ship. In a B2B fulfillment environment, you would put those 10,000 pencils on a couple of pallets, load them onto a truck, and then the truck drives away. You have successfully shipped 10,000 pencils.
In DTC warehousing, you could receive 8,000 different orders for pencils from 8,000 different customers. Your employees must make 8,000 boxes to package those orders and print 8,000 unique labels to ship the orders. In the DTC fulfillment space, you're constantly shipping to earn the same revenue, and the process is much more labor-intensive.
Another way to think about the difference between direct-to-consumer and business-to-business fulfillment is pieces versus cases. In DTC warehousing, you're shipping smaller pieces to different customers, while in B2B warehousing, you're shipping larger cases to fewer customers.
Why DTC Fulfillment is Growing
Our shopping habits have changed over the last few years. From groceries to clothing to mattresses and cars, we can buy almost everything we need without setting foot in a brick-and-mortar store. In fact, ecommerce revenues are expected to reach $6.54 trillion in 2022, and 40% of manufacturers are already implementing a direct-to-consumer growth strategy.
The rise in ecommerce has also opened the doors for smaller, niche brands to reach more customers. A recent report predicts there are more than 110,000 DTC businesses in the U.S. alone and 800,000 ecommerce websites. Subscription-based services are booming, giving consumers access to curated boxes suited to their lifestyle, and helping brands boost sales through customer loyalty.
In addition to providing the goods consumers want, DTC businesses can get products in their customer's hands quicker than ever before, with 25% of DTC brands offering next-day and two-day delivery. Now you can see why having a top-notch fulfillment execution system is vital when serving DTC retailers!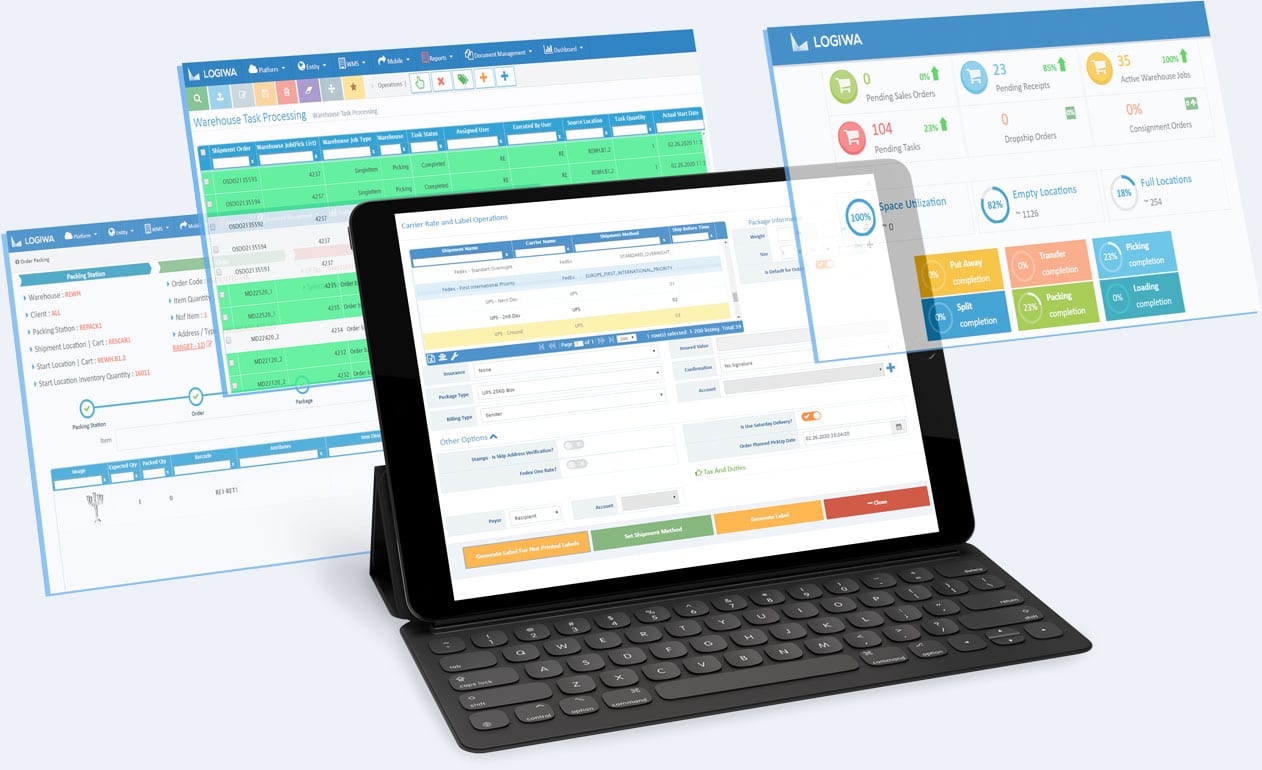 Transform your warehouse to a DTC fulfillment center
DTC Fulfillment Technology for DTC Warehouses
It should be clear by now that different warehousing environments need different technology solutions. B2B operations can work well with traditional warehouse management systems, as they are only concerned with what happens within the four walls of the warehouse. In the case of direct-to-consumer fulfillment, a more specialized fulfillment execution system is needed because the process involves actions and activities beyond the warehouse's walls.
A fulfillment execution system has to be connected and integrated with other systems:
Even if you currently use WMS software in your warehouse, it doesn't mean you're using a fulfillment execution system. Forgetting this point could be detrimental if you're trying to ship from B2B to DTC warehousing services or trying to scale your business.
How a DTC Fulfillment Execution System Works
When a consumer submits an online order, there are a lot of things that happen behind the scenes:
The software downloads the orders from marketplaces and websites and finds the best fulfillment center to complete that order.

The software assigns that order to the fulfillment center.

Software in the fulfillment center optimizes the entire business flow for pickers and packers. They can pick products, put them into boxes, print a shipping label, and ship them to the customer's home.
Essentially, a robust fulfillment execution system allows you to help customers ship a high volume of small orders to more customers, rather than a small volume of large orders, as in the B2B service model. Using Logiwa's systems, warehouses can help businesses ship three times more orders in the first quarter after implementation because it optimizes processes, labor resources, cycle time in the warehouse, and enables fast shipping. 
In the supply chain, businesses and retailers are like a body, while warehouses are the heart pumping blood to the organs. The business will stop if a warehouse can't push the inventory (blood) to the shipper, the consumer, or the store. As delivery windows get faster and tighter, like when the body is exerting itself, warehouses need to ship faster than before to keep the business alive. For online and ecommerce companies, warehouses are the most crucial element for success.
Like regular doctor visits, Logiwa's direct–to–consumer fulfillment execution software can keep your operations running in tip-top shape. With more than 200 available integrations, customizable algorithms, and minimal time required to set up, we can help you build or grow your DTC warehousing operations.
For more information, check out our DTC Fulfillment Playbook or our Introductory Guide for High-Volume B2C/DTC Fulfillment Centers.
If you have questions, reach out to a member of our team or request a demo.
Run a digital fulfillment network and grow your DTC business–without additional headcount