Cobots in Warehousing: What They Are & Their Impact on Ecommerce Fulfillment
Originally published on February 1, 2023 by Erhan Musaoglu, Updated on February 1, 2023
As times change and new challenges arise, technology evolves in order to help human operations stay successful.  Now that major brands, online sellers and third-party logistics (3PLs) find themselves facing both a historic ecommerce boom and Industry 4.0 (Fourth Industrial Revolution), many are seeking smart automation and AI-powered robotics to stay on top of consumer demands and temperamental supply chains.
According to a study by MIT (Massachusetts Institute of Technology), when humans work together with robots, non-productive time is reduced by 85%.
Regardless of whether you run a B2B, DTC or hybrid warehouse, cobot "collaborative robotics" technology is one of the easiest and most affordable ways to leverage automation and overcome many of the industry's toughest challenges: from complex inventory management to meeting competitive fulfillment standards like "free and easy" returns. Backed by artificial intelligence (AI) and Cloud-based software, cobots ultimately help to streamline warehousing processes and stabilize growth.
Today, there are more than 80 companies bringing cobot technology to the market, leading many to believe cobots will become a $6.8 billion market opportunity by 2025. Let's dig a little deeper into what cobots are and why they should matter to your operation.
In this guide, we'll explore:
What are Cobots (Collaborative Robots)?
Cobots, otherwise known as "collaborative robots," are built specifically to work in tandem with human beings. They are designed with multiple motion capabilities, advanced vision and radar sensors, and safety mechanisms like power and force limiting safeties to detect their environment and work safely alongside humans. Because of their highly attuned response capabilities and AI/machine learning functions, they are able to move freely in open environments, monitor their own speed and spacing, and learn how to master performing specific tasks.
The ultimate aim of adopting "coworker" robots is to reduce the number of risks faced by your employees and to have them  perform a wide variety of warehousing tasks to free your team up for less repetitive, critical-thinking type roles. Cobots also increase the accuracy and speed of  warehouse processes (picking, putaway and return processes) to reduce your operating costs, by guiding employees through tasks and assisting wherever possible.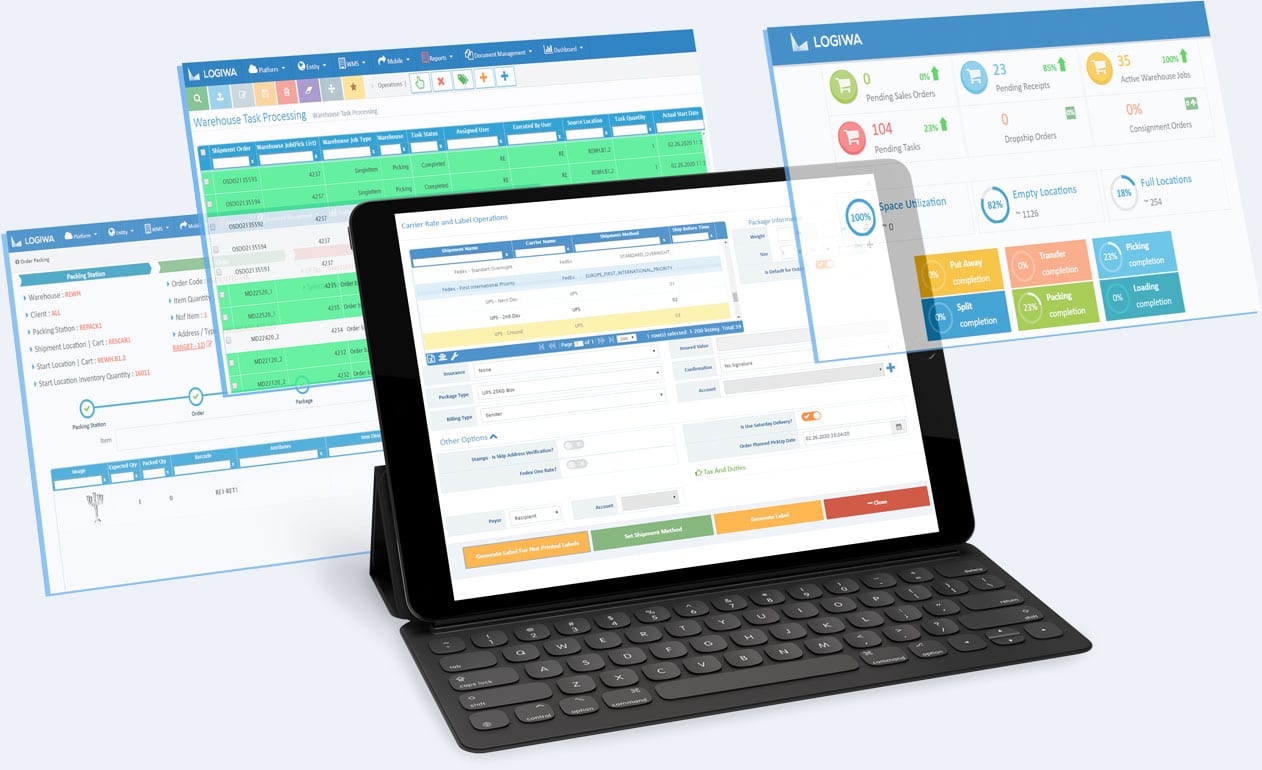 Transform your warehouse to a DTC fulfillment center
Benefits of Inviting Cobots in Warehouse Operations
Cobot technology does, of course, run on software and require programming in order to start benefiting your fulfillment operations. Luckily, cobots are faster, easier, and more cost-effective to deploy than most other types of robotics.
Once up and running, you can expect cobots to:
Maximize productivity. Cobots do not become worn out or strained as humans do, nor do they slow down and rest. This allows them to take over a multitude of repetitive or dangerous tasks (ex. lifting heavy items) around the clock, while your human operators focus on more complex jobs. In the end, they allow you to optimize labor management and maximize throughput due to higher rates of productivity.
Eliminate inaccuracies. Cobots are designed with built-in precision features to eliminate inefficiencies for quality control. They are programmed to help your employees execute tasks accurately, eliminate common manual errors, and help direct operations for a streamlined effect. Once programmed, cobots can guide your employees through your warehouse to ensure next steps are completed accurately and compliantly.
Increase safety of employees and merchandise. With cobots able to assist with tasks like picking, putaway, palletizing, etc. they can safeguard the success and safety of these time-consuming processes. They help reduce ergonomic injuries and strains that often occur when employees do repetitive work or lift heavy objects, which ultimately benefits employees and keeps the merchandise they are overseeing from getting  dropped or damaged.
Provide flexibility. If you deal with seasonal demand, overwhelming peak seasons, dynamic product lines, fluctuating demand, or hybrid fulfillment logistics, cobots can be easily integrated for additional aid whenever you need it. They are easy to get online when additional support is required and can be switched over to other tasks in your facility as unforeseen circumstances arise, ultimately giving you adaptability and scalability you need for long-term growth.
Lower your operational costs. Because of the accuracy and efficiency-boosting effect cobots have on warehouse processes, they help lower your total operational costs over time. With less human errors being made (which can cause a domino effect of surpluses, shortages, order returns, etc.), less employee injuries, less damaged goods, and better fulfillment results overall, you are able to maximize your ROI and take on more business.
Many robotics companies allow businesses to rent their robotics technology for a Robots as a Service (RaaS) model. This gives you the opportunity to try out cobot operations without a major financial commitment, or adopt robotics while simply paying for what you need.
Does Your Warehouse Management Systems (WMS) Support Cobot Integrations?
Ready to free up your employees to focus on things like data analytics, facility planning, quality control?  Cobots are a great way to get started, and can carry out multiple tasks while you focus on long-term success and client satisfaction. One key factor to keep in mind, however, is your warehouse management systems (WMS). Not all fulfillment platforms are up to the task of integrating with modern robotics solutions.
Logiwa was built specifically with the challenges of modern-day warehousing and high-volume DTC operations in mind. As fulfillment technology specialists, we know that robotics are the future of competitive order management. That is why we offer free robotics integrations to our clients, and will work with you to ensure our Cloud fulfillment platform is seamlessly connected to whichever cobots solutions you choose.
See for yourself how Logiwa helped our client MPR Logistics scale up their operations while maintaining a 100% shipping success rate by combining our WMS and Locus Robotics. By connecting our two fulfillment technologies, MRP Logistics is managing with a fraction of the staff of other traditional operations and is still growing today.
Learn more about WMS and robotics technology in our blog, "Warehouse Robotics and WMS Software: Everything You Need to Know" or reach out to the Logiwa team for a demo of our industry-leading software.
Scale up B2C fulfillment operations with an integrated digital warehouse and fulfillment system
Warehouse Management
Modern digital cloud WMS powers a modern fulfillment experience