Cloud Ecommerce Fulfillment: The Top 4 Benefits for Warehouses
Originally published on February 14, 2023 by Erhan Musaoglu, Updated on February 14, 2023
The benefits of using cloud ecommerce software for managing high-volume order fulfillment cannot be overstated.  In a post-pandemic world, logistics success depends on synchronicity, streamlined communication, and data accuracy – or in other words, cloud-built solutions.  
If you've been frustrated with clunky warehouse management systems or outdated interfaces, you may already be familiar with drawbacks of legacy ecommerce solutions. That said, many warehouse operators have yet to experience the ease of managing fulfillment operations for ecommerce in the cloud first hand, and fear the potential risks associated with digital warehousing rather than focusing on the benefits. 
Logiwa is a leader in the cloud ecommerce space, providing a cloud-based inventory management software unrivaled in the warehouse management and logistics industry. When it comes to inventory warehouse management, Logiwa offers the only cloud fulfillment solution on the market built especially for the challenges of high-volume DTC order fulfillment and hybrid multi-location inventory management.
In this article, we are going to discuss the top 4 benefits for cloud ecommerce solutions and how to choose the right one for your business.
4 Benefits of Cloud Computing for Ecommerce Warehouses
Ecommerce has continued to grow and evolve over the years, but now that B2B and DTC trends are more unpredictable than ever, it is important for warehouses to be flexible and adaptable to change, as well as consistent in ecommerce data management.
While making the jump to a fully-integrated cloud computing solution can provide a huge ROI, it can be difficult to know exactly how switching to a cloud ecommerce approach will affect your warehouse performance and fulfillment results. After all, when dealing with physical inventory and unique warehouse operations, it is easy to imagine cloud ecommerce solutions creating complications rather than direct benefits.
However, there are far more benefits to moving to a cloud-based computing solution than just four. But the primary benefits of cloud ecommerce software adoption including helping warehouses: 
Scale accurately and easily

Collaborate and communicate more effectively

Enhance your data security

Reduce your IT expenses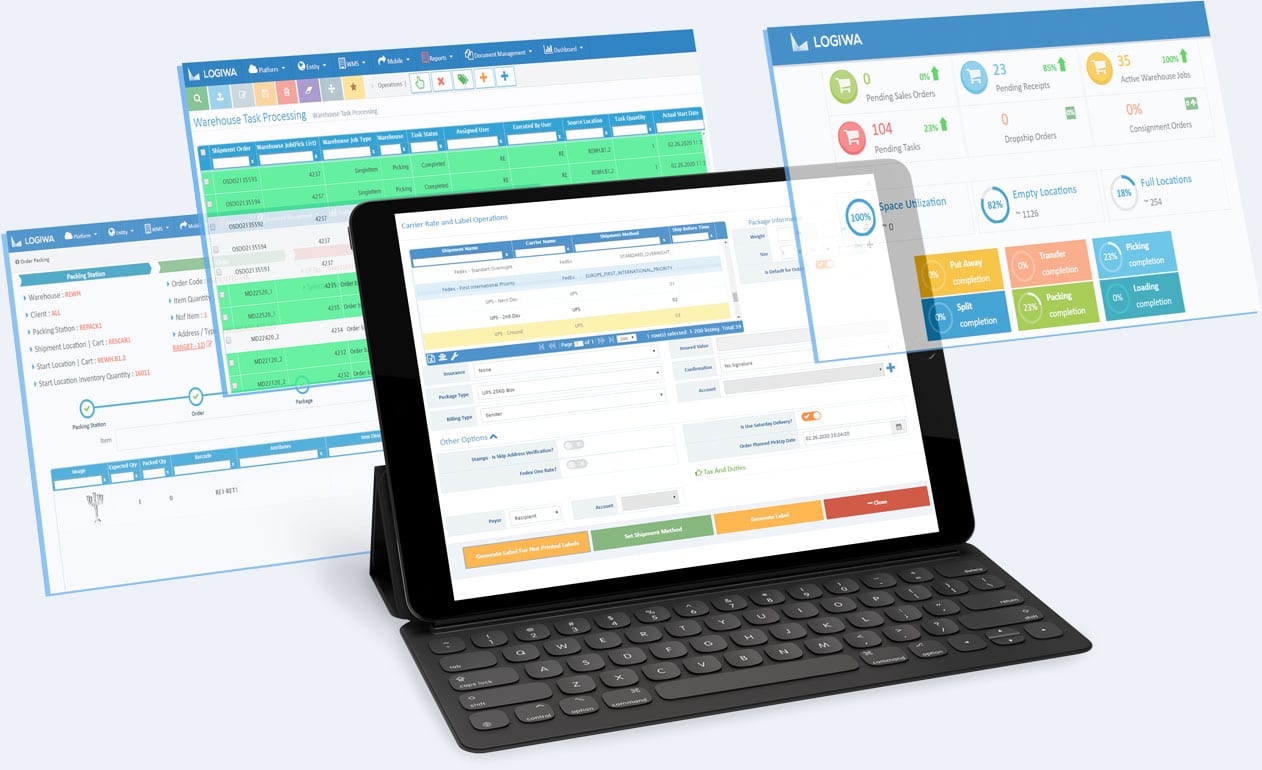 Transform your warehouse to a DTC fulfillment center
 #1 Improved Scalability and Accuracy
Let's start by looking at a concrete example of how scaling operations using a typical warehouse management system works. For each product being sold, accurate inventory records need to be maintained and transferred appropriately as items are relocated to other facilities in your fulfillment network. This creates a lot of opportunity for older warehouse management systems to falter, especially if everything is updated manually or written down.
One error in your system could require your distribution processes to have to halt in order to sort out any discrepancies. These types of inefficiencies lead to costly setbacks such as overselling stock, storing surpluses, and not meeting SLAs. You need to know exactly where each product is, where it is in a workflow, how it is to be distributed, and its specific order specifications… no matter where you or your items are in the warehouse. 
Utilizing cloud ecommerce solutions, like Logiwa WMS, can help you reduce the friction for data collection and augmentation for your warehouse inventory and business data. As the cloud system updates based on your online sales, returns, stock, etc. you can be sure that you are able to scale your business accurately whenever the need arises. Likewise, when events such as inflation affect consumer behavior or inventory costs, you can scale down as necessary.
Another difficulty in scaling without pivoting to ecommerce in the cloud is how much you will need to adjust for IT infrastructure. The time and resources put into creating and managing servers and other infrastructure can slow down your ability to scale up, and in some cases, even make it impossible.
Utilizing cloud computing for ecommerce warehouse management helps you:
Stay flexible and adaptable, scaling up or down as needed

Stay ahead of supply/demand that arise with a variety of products

Stay under your necessary spending on IT infrastructure
In the world of ecommerce, you need to be flexible and adaptable as quickly as possible. Working with cloud ecommerce solutions allows your business to be as agile and frictionless as you need because your data is updated and connected seamlessly. This is the greatest benefit a cloud ecommerce solution can offer warehouse management.
#2 Increased Collaboration & Communication
While you are scaling up and down based on market and consumer trends, the need for communication ramps up from being necessary to critical. Working within a solution that allows you to use ecommerce in the cloud drastically reduces the amount of effort spent collaborating and communicating, particularly if you are a third-party logistics (3PL) provider working with multiple clients. 
If you have ever tried to manually communicate between warehouse staff, client account managers, and even consumers, then you know just how frustrating it can be to keep everyone updated and informed. Taking full advantage of cloud ecommerce solutions like Logiwa's ecommerce warehouse management system, which allows real-time collaboration and communication of the appropriate data, can smooth out a lot of frustration and keep all parties on the same page. 
Communication and collaboration are tricky in the warehouse and logistics industry, but cloud fulfillment solutions provides ways to:
Keep vendors, warehouse staff, and managers updated on stock and demand of products

Alert management when issues arise in parts, supplies, etc.

Stay in touch with multiple departments in real-time
#3 Enhanced Data Security
While it is true that cloud computing operations experienced issues with security in the early stages of cloud adoption, cloud storage and computing software now have more security features in place than many servers and local IT infrastructure. Data breaches and hacking, for example, are much less of a risk because they require access to the physical servers. 
Logiwa enforces industry-accepted best practices for network-level and application-level security. Your warehouse data is protected by security protocols designed to limit who can access certain data and what they're allowed to see. Cloud ecommerce solutions like Logiwa WMS offer enhanced data security while also reducing your risk and stress keeping customer information protected. 
Transitioning your ecommerce data into the cloud allows you to:
Reduce your liability for customer data protection

Increase the security protocols around customer data

Allow for pertinent information to be shared without any sort of increased risk to customer data
#4 Reduced IT Costs
As mentioned, using a cloud ecommerce provider such as Logiwa means you can largely eliminate the need for IT infrastructure, services, and staff. When you are no longer hosting all of your data and warehouse management systems on-site, you are able to free up those resources for other revenue-increasing areas of your business.
Hardware for warehouse management solutions can become increasingly expensive, and switching to cloud ecommerce solutions negates those rising costs entirely. While you will still have IT needs for local systems, such as maintenance and support, the majority of those tasks can be eliminated with a cloud computing option.
Some considerable benefits to using a cloud computing software for your ecommerce warehouse management include:
Reduce the amount of time spent managing IT staff

Reduce the amount of financial resources spent on IT maintenance, staff, and infrastructure updates

Reduce the labor used for daily IT maintenance tasks
Selecting The Right Cloud Ecommerce Software For Your Warehouse
The logistics industry has been drastically altered in the past few years. On top of that, ecommerce is a global industry due to our interconnected world. While there are always going to be growing pains, the benefits of depending on an ecommerce cloud solution is clear:
Improved scalability

Increased collaboration and communication

Enhanced data security

Reduced IT costs
Cloud ecommerce solutions bring about a multitude of other benefits, both major and minor, that can't be discussed in just one article. For those looking to reduce their overhead costs, streamline their ability to grow, and stop fighting against your warehouse management system and start working with it, then looking into a cloud ecommerce solution is the best option. For more information, read Logiwa's blog, "Cloud WMS Software – A Game Changer for the Supply Chain." 
If you are a warehouse manager looking to explore your options for making the pivot to managing ecommerce in the cloud, contact the Logiwa team for a non-commitment demo of our industry-leading cloud fulfillment solution. Take advantage of what a cloud ecommerce solution has to offer today.
Modern cloud WMS Software built specifically for B2C and DTC fulfillment
Warehouse Management
Modern digital WMS powers a modern fulfillment experience