Using a Seller SKU for Inventory Management — Are SKUs Right for You?
Originally published on October 3, 2022 by Logiwa Marketing, Updated on March 3, 2023
If you manage inventory, proper coding of products is vital to your success. Even if you're selling items through an Amazon store or other online retailer, tracking your inventory is crucial. Amazon SKUs and seller SKUs, aka "stock keeping units," are essential to reaching your full sales potential in your Amazon store, regardless if you have a small product portfolio or thousands of products on offer.
What we'll cover in this guide:
What Is an SKU?
Tips for Making Seller SKUs
Amazon SKU vs. FNSKU
Examples of Amazon SKUs
How to Make an Amazon SKU
What is an Amazon-Generated SKU?
How SKUs Can Help My Business
What is an SKU?
SKUs or "Stock Keeping Units" are unique alpha-numeric codes assigned to your products and their variants on ecommerce platforms. It is an identification code to track a product for inventory and sales purposes. It may also include details about the product, such as color, size, and other variations.
You should always assign a unique SKU to a product, even if you sell the same product on another ecommerce platform. A seller SKU can help with inventory management in many ways, such as categorizing products quickly, measuring inventory levels, purchasing accurate items, and helping make communication between you, the vendors, and your customers smooth and efficient.
Amazon inventory management – Learn & apply Amazon's secrets to your own warehouse inventory management system!
SKUs vs. UPCs
You may notice a UPC or universal product code if you sell the same items on several ecommerce sites. UPCs easily identify product features, such as brand name, item, size, or color. While your items may have different SKUs depending on which site you're selling on, they will have the same UPC no matter where you sell them.
Tips for Making a Seller SKU
As you set up your online stores, you can make your own seller SKUs for each product. When doing so, keep these tips in mind:
Make unique SKUs: Unique SKUs differentiate between similar items, active inventory, and products you no longer sell.

Keep SKUs short: Most SKUs will be a maximum of 30 characters; longer than that, it becomes hard to interpret. We recommend you keep your SKUs to less than seven characters.

Avoid spaces or special characters: Use simple characters to make it simple and easy for you to understand.

Avoid using product titles in your SKU: Use short and brief descriptions for the product title.

Never start your SKU with a zero: If you're using an Excel spreadsheet, the system will remove the 0 automatically.
No matter the size of your product portfolio, what you sell, who your customer is, or what channel you sell on, every product should be identified with an SKU. Using inventory management software can make it very easy and fast to set up SKUs.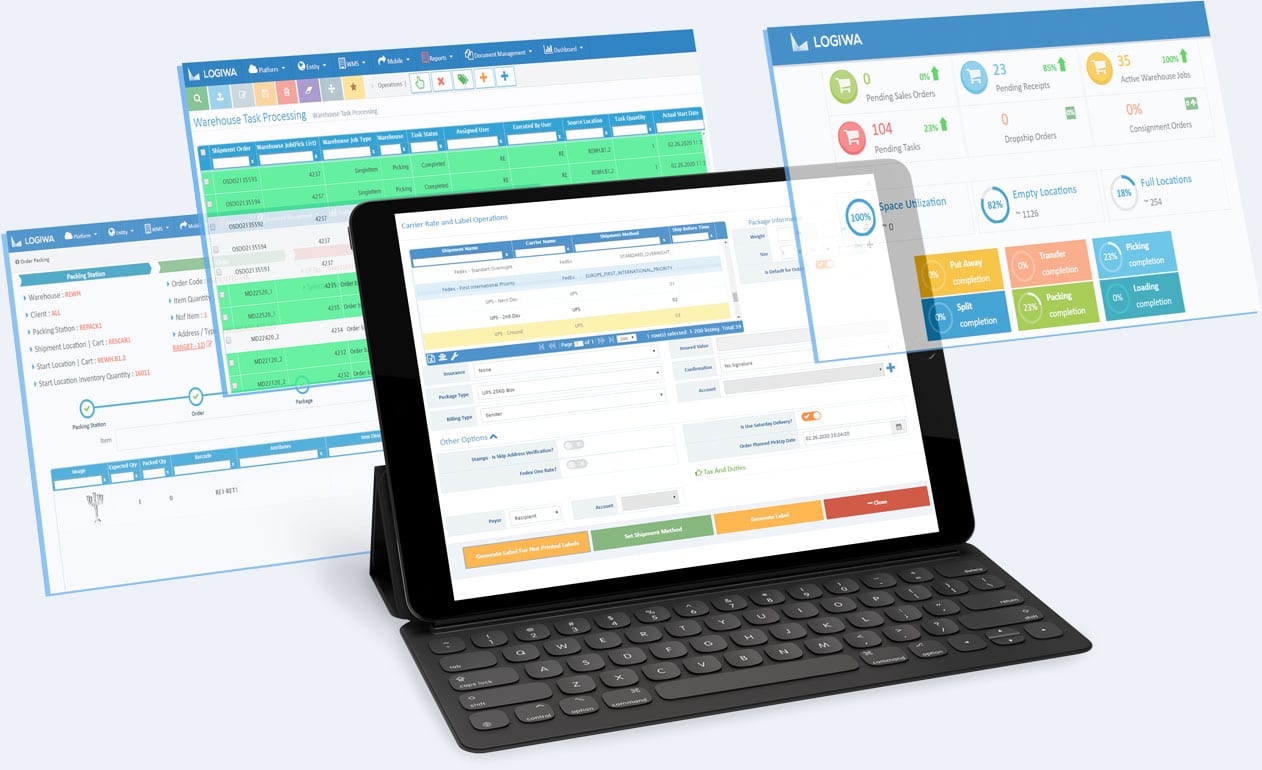 Transform your warehouse to a DTC fulfillment center
Amazon SKU vs FNSKU
As you set up your Amazon store, it's important not to get confused between your Amazon SKU and your Amazon FNSKU — the Amazon Fulfillment Network Stock Keeping Unit.
FNSKUs are used for products shipped through Fulfillment by Amazon. The FNSKU attributes your products to your business during the fulfillment process. As you can imagine, Amazon manages many products, some of which could be similar or the same as the ones you sell, so the FNSKU is a vital piece of data to get credited for your sales.
How to Make an Amazon SKU or Seller SKU
When creating your SKUs, consider the information that is helpful to you as you run your online stores. SKUs should help you categorize products (color, size, type), pick, pack and ship products quickly, and manage inventory sold across multiple channels.
SKUs should include as much information as possible, including codes to identify the product, the model or style, and the color.
An example of an SKU for a small red t-shirt could be ST-1-RD-AM:
ST = small t-shirt

1 = model no. 1

RD = red

AM = Amazon (you would not need this for a regular seller SKU)

login, and its difference from Amazon Vendor Central!
Looking to sell on Amazon Seller Central? Click here and learn the details of Amazon Seller Central, and its difference from Amazon Vendor Central!
What is an Amazon-Generated SKU?
Amazon can generate SKUs for your product listings if you're in a rush. However, using pre-generated SKUs could cause trouble down the line, as the SKU the system creates wouldn't include identifiers that are meaningful to you.
If you create the SKU ST-1-RD-AM for a small red t-shirt, Amazon might generate an SKU for the same product that is MN-89-RTL-03. None of these numbers or letters help identify your product, and keeping track of sales across various channels could become problematic.
While generating your seller SKU for each product can be tedious and time-consuming, especially if you have a lot of products on offer, tools are available to simplify the process.
How can a Seller SKU Help My Business?
Whether you use Amazon SKUs or make up your own, SKUs can help simplify inventory management and help with your ecommerce business.
Easy and Effective Inventory Management
It's much easier to measure your inventory when you identify every item you sell with an SKU. Using the item's name, title, or description to calculate your inventory level can create errors. You might not write down the same description every time, and another employee might have a different idea about what the product could be called. Using SKUs make it easy to identify a product, track inventory levels, and differentiate it from similar items. And an effective warehouse inventory management software can create SKUs for each item and track them internally.
Multiple Sales Channels Connect through SKU
Selling products on multiple ecommerce channels will require SKUs when listing your products. If you already have SKUs assigned to your products, it will be easier to match different listings of the same item amongst all your sales channels. An inventory management software can act as a hub for all your sales channels by connecting to other sales channels and feeding them the correct inventory quantity for the right product.
Customers Search for Items by SKU
Did you know potential customers can search for a specific item with UPCs? Using your UPC as your SKU code will allow customers to search by UPC, helping them find the exact item they're looking for.
Other Retailers Use SKUs to Search for Items
If you sell your products to other retailers, using SKUs can help other retailers find your items in your store, increasing your sales potential even further.
Inventory management is one of the critical factors to ecommerce success, whether you're a small business or a global enterprise. Creating an effective and easy-to-use SKU system will allow you to track your inventory across multiple ecommerce channels. If you're using a WMS, built-in functionality will simplify SKU creation and tracking processes.
To find out how Logiwa can help build your SKU systems, contact a member of our sales team or request a demo.
Adjust quickly to ever-changing fulfillment requirements with the most flexible WMS