AI for Ecommerce Warehousing – Key to Fulfilling Unpredictable Demand
Originally published on April 13, 2023 by Ayca Ozcan, Updated on April 13, 2023
With each passing year, ecommerce and supply chain operations become increasingly difficult to manage. For warehouse operators and third-party logistics (3PL) providers, intense fluctuations in consumer demand have become a permanent part of reality.
Regardless of the size of your organization, top-tier fulfillment means being able to find ways to not only keep up with consumer demand, but predict ecommerce trends and respond effectively to them.
Artificial intelligence (AI) has become a key component in managing the unpredictable nature of ecommerce, and it is one of the most effective ways in overcoming warehousing challenges created by unstable demand. Let's explore the influence of AI on ecommerce, as well as the top reasons it contributes to modern fulfillment success.
In this blog, we will discuss:
Artificial Intelligence (AI) & Ecommerce
Artificial intelligence has come to impact nearly every part of our lives, especially when it comes to online shopping. It's no coincidence when you see ads encouraging you to buy products that were once in your shopping cart, or when a product is suggested based on your previously purchased items. This is the direct result of AI.
According to Gartner, businesses adopting artificial intelligence have grown by 270% in the last four years.
And as BusinessDIT points out, AI-enabled ecommerce solutions are estimated to reach $16.8 billion in US market value by 2030.
As of now, 84% of ecommerce businesses have made taking on AI a top priority for managing their supply chains, according to Statistica – making ecommerce a leading industry in AI adoption.
AI for ecommerce helps brands, retailers, and online sellers execute better omni-channel operations and spot meaningful trends. Whether it's forecasting demand, ensuring competitive pricing, or anticipating consumer behavior – AI enables operations to make informed decisions and adapt effectively to an ever-changing landscape, increase customer satisfaction, and bolster profits.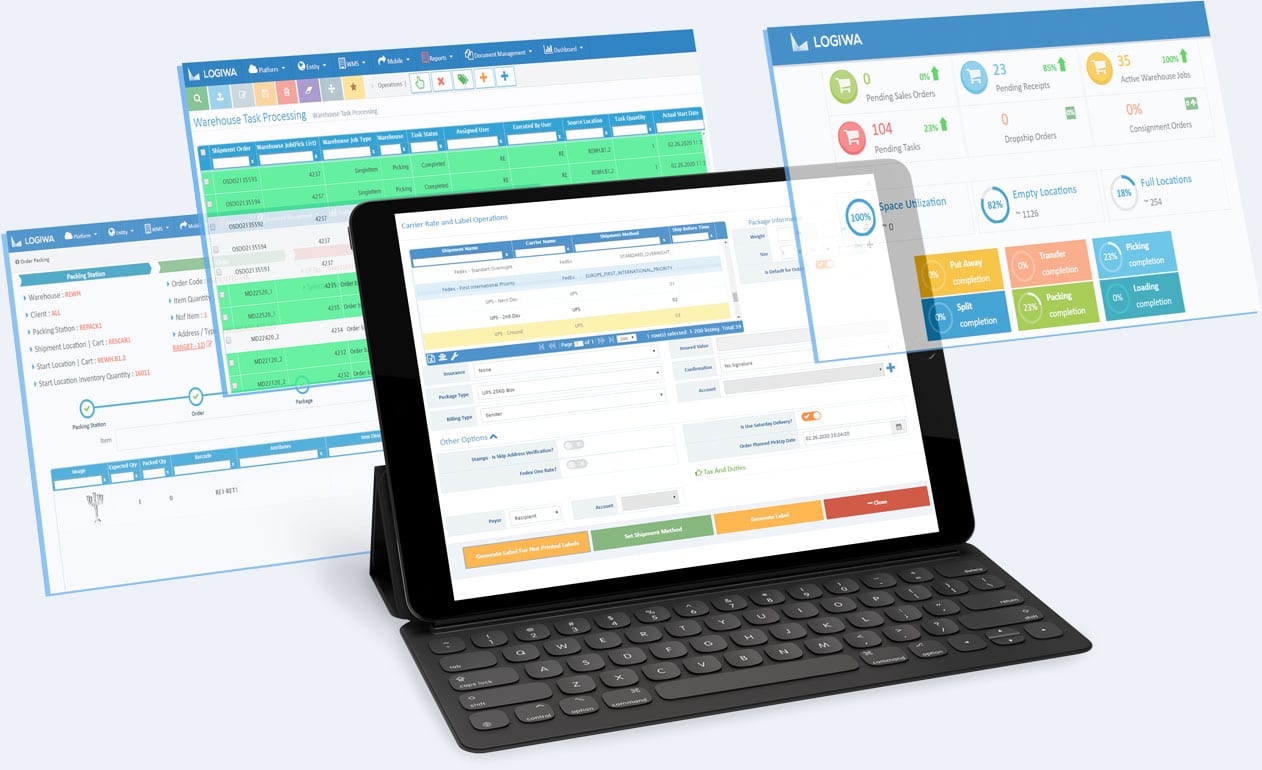 Transform your warehouse to a DTC fulfillment center
AI for Ecommerce Fulfillment Operations
Using AI for ecommerce operations not only benefits consumer analytics and customer marketing, but fulfillment operations as well. Put another way, AI helps keep warehouses and fulfillment networks functioning stably regardless of buyer behavior.
For those overseeing warehouses and supply chain logistics, AI helps take fulfillment processes to the next level with predictive analytics, smart inventory management, and order routing technology. These AI-powered functions help to streamline fulfillment and eliminate inventory shortages/overstock, inaccurate order shipments, bottlenecks in your fulfillment center, and costly oversights related to shipping.
Predictive Analytics
One of the most significant benefits of AI for ecommerce fulfillment is its ability to study and interpret consumer order trends. This helps you effectively plan for the future. With tools like demand forecasting and predictive analytics on your side, your warehouse is able to report on consumer behavior and prepare inventory and warehouse staff appropriately.
AI is particularly valuable for its ability to estimate demand based on shopping trends and peak busy seasons (like the holidays). Again, this allows you to prepare resources proactively (ex. dynamic staffing), measure success against projected sales, adapt for higher return volumes, and more. Using past operational data in conjunction with real-time insights, AI for ecommerce is able to paint a picture of what is to come and help avoid unnecessary setbacks.
Optimized Warehouse Processes
There's no guarantees when it comes to consumer demand, even with the help of predictive analytics. Luckily, AI for ecommerce helps fulfillment operations remain flexible, function fast, and maintain accuracy with far greater ease.
When it comes to high-volume order management, how well you're able to pivot is critical when circumstances change. Here are some examples of how AI for ecommerce aids warehouse flexibility:
With the combined powers of AI and warehouse management technology, ecommerce warehouses can enhance nearly every part of the fulfillment process. Even as order volumes fluctuate and consumer demands change, AI for ecommerce warehouses allows you to pivot and adjust your operations with confidence.
High-Efficiency Shipping
In addition to helping your warehouse operations retain flexibility and accuracy during unforeseeable changes in demand, AI for ecommerce safeguards customer satisfaction by ensuring high-speed fulfillment and returns. To be more specific, AI can automate the shipping process and simplify returns management.
Order routing and transportation management are key ways AI helps get orders to consumers in the fastest and cheapest way possible. AI helps shoulder the burden of getting orders to consumers within the promised delivery window by automating traditionally manual processes. For example, AI can ensure an incoming order is processed at the fulfillment center that has available stock and which is closest to an orders' end destination.
In addition, processes like shipping box selection, integrated scales, and dimensioning – as well as selecting the most cost-effective carrier for an order – are all elements of AI at work. With these processes being intelligently automated, your warehouse staff can spend more time concentrating on the other challenges of fluctuating demand.
AI, Warehouse Management Systems (WMS), & Hybrid Fulfillment
Changes in demand go beyond just order volume. As ecommerce continues to evolve, an increasing number of warehouses are switching from B2B to DTC fulfillment and hybrid B2B-DTC models. Should that day come for your organization, it helps to have a dependable WMS backed by AI.
Conducting dual B2B and DTC fulfillment operations in the same warehouse is not just possible, it is likely going to be the future of ecommerce. This requires dedicated planning, flexibility, and the help of AI-based warehouse management systems. Cloud-based fulfillment platforms like Logiwa WMS use AI to aid both B2B and DTC operations no matter how much high-volume ecommerce trends shift.
For more insight into how leading WMS technology uses AI for ecommerce fulfillment operations, check out our blog, "The Rise of Artificial Intelligence (AI) in Hybrid Fulfillment Warehousing." To learn more about Logiwa WMS, reach out to our team of warehousing and supply chain specialists for a live demo.
Run a fully digital warehouse with mobile apps, smart job batching, automation rules and robotics integrations
Warehouse Management
Modern digital WMS powers a modern fulfillment experience