6 River Systems (6RS): Leading Provider of Autonomous Warehouse Robots
Originally published on May 9, 2022 by Logiwa Marketing, Updated on May 31, 2023
Ever since the first industrial robots were implemented into a General Motors manufacturing plant in 1961, robotics technology has continued to rise in scope and popularity with each passing decade.
Despite the reluctance many initially felt about the potential risks of automating human operations, each year more businesses choose to adopt or expand their automation efforts to include them.
The reason for this is largely due to the improvements groups like 6 River Systems (6RS) have made to robot sensors and response capabilities. Advancements in artificial intelligence (AI) and the Internet of Things (IoT) have also helped make it possible for robots to work collaboratively and autonomously alongside humans, making them more useful and beneficial than ever.
For those overseeing manufacturing plants and warehouse operations, robots have become a dependable solution for managing today's complex supply chains, consumer trends, and fulfillment needs.
According to a recent article on robotics industry statistics, there are already more than 2.7 million industrial robots currently in use around the globe, and 400,000 new robots arriving on the market each year, helping meet the steep demands created by the rise of ecommerce.
With hundreds of thousands of robots becoming available, and more than 500 robotics companies currently making their robotics designs, the question of whether or not to use robots is being replaced with a new question: Which robots are right for your business?
In this guide, we'll discuss one of the leading providers of warehouse automation robots: 6 River Systems.
Who Is 6 River Systems?
Founded in Waltham, Massachusetts in 2015, 6 River Systems (6RS) is an industry-leading solutions provider of award-winning automation and fulfillment technology.
Founders Rylan Hamilton and Jerome Dubois (ex-Kiva executives) joined Chris Cacioppo to bring their deep understanding of robotics, software, and fulfillment operations together and create a solution that addressed the limitations they witnessed in traditional warehouse automation. It didn't take long for their improved warehouse automation solutions to take off.
Just two years after establishing 6 River Systems, the company had its first commercial pilot run for their robot, "Chuck." By 2018, their robots were helping fill over 1 million units during Cyber Week.
This helped propel them into Europe, and in 2019, Shopify acquired them to help bring fulfillment technology and operational efficiencies to companies of all sizes around the world.
With their ability to provide immediate value, as well as their human-focused approach, 6RS has become a major player in the robotics industry. Over the past two years, they have been able to expand their fulfillment solutions into a flexible ecosystem to take automation even further.
What Does 6 River Systems Do?
6 River Systems combines highly-configurable warehouse automation robots, artificial intelligence, and operational expertise to help fulfillment operations flow more smoothly and efficiently.
A major aspect of their system is its ability to increase efficiencies while remaining flexible for scaling operations. 6 River reports that their highly configurable robots can accomplish 80% of the productivity of a goods-to-person system at 20% of the cost.
As a solutions provider for 3PL, B2B, healthcare, retail, and ecommerce operations, their floor-to-ceiling, wall-to-wall fulfillment assistance was created to be intuitive and easy to deploy.
Their automation technology doesn't require you to change your infrastructure to adopt their system or use their robots. On the contrary, their solution integrates with your existing systems to help optimize existing operations.
This is just one of the many reasons that 70% of the top 3PLs are currently 6 River Systems customers.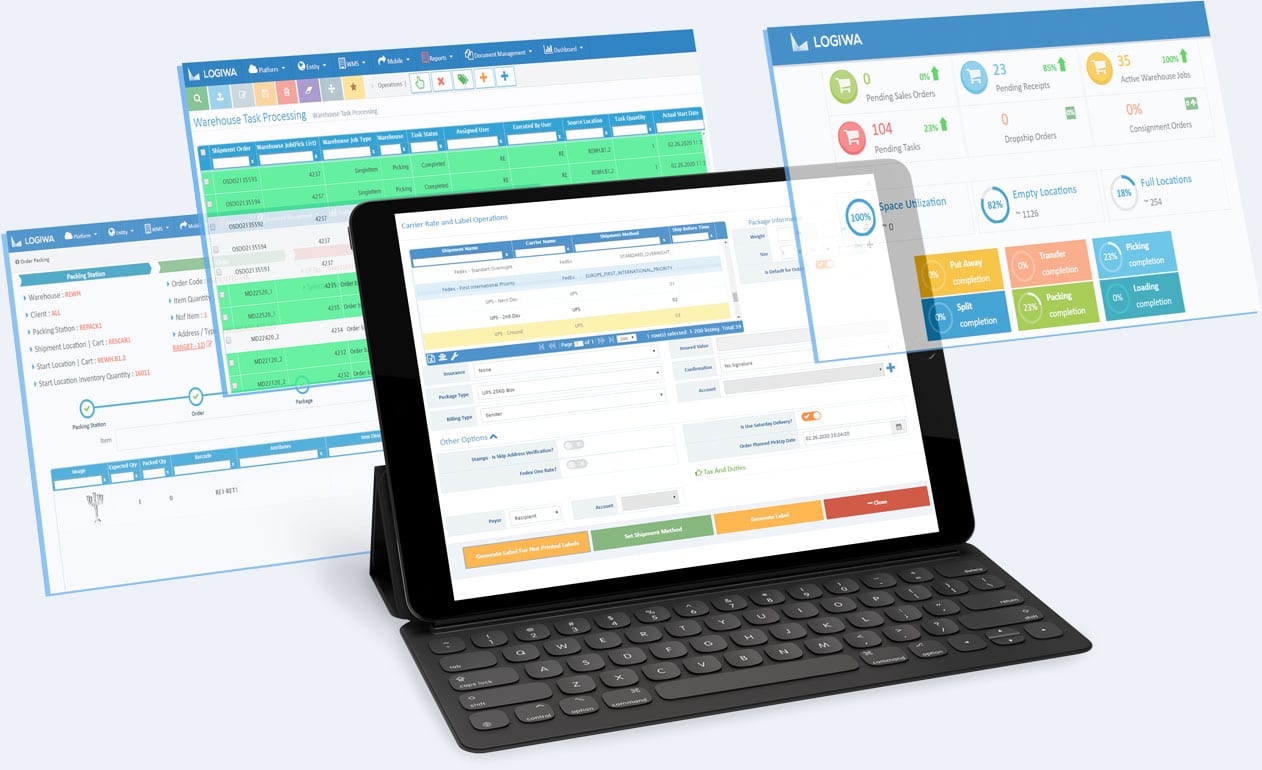 Transform your warehouse to a DTC fulfillment center with cloud WMS
How 6RS Benefits Distributors, Warehouses, and Wholesalers
Like other robotics companies, 6 River Systems helps distributors, warehouses, and wholesalers tackle the challenges of DTC fulfillment by providing technology that is designed with their unique challenges in mind.
One of the biggest robotic companies, 6RS prides itself on being able to double pick rates for fulfillment operations and offset labor shortages with its fleet of collaborative robots. They say they can boost manual cart performance from 50 to 100 units per hour (UPH) to 120 to 240+ UPH!
In general, autonomous warehouse robots aid fulfillment operations in the following ways:
Lower error rates (because robots do things right the first time!);
Higher productivity rates;
Better material handling;
Adaptable workforce (you can add or subtract robots based on capacity demand);
Increased warehouse safety;
Less manual labor; and
More consistent operations.
In addition to the aforementioned benefits, 6RS's robotics and automation technology works to help businesses:
Increase operational efficiency by automating and directing workflows to increase throughput and decrease operational costs;
Reduce business risks by giving you a flexible solution capable of responding quickly to changing customer demand and market opportunities;
Upgrade DTC fulfillment by delivering operational insights that allow you to forecast demand and continuously improve your business model; and
Improve customer satisfaction by providing better fulfillment experiences and showing that you are a brand that innovates.
6 River Systems' Robot "Chuck"
In terms of robots, 6RS offers one of the most configurable and collaborative robots on the market. Their "Chuck" robots come in three slightly different versions for optimum warehouse management.
Each comes with its own advantages, but all are geared toward optimizing warehouse operations. The first size is 42 inches long with multi-level shelves that are 36 inches across. The standard Chuck bot is 23.75 inches wide, and Chuck+ is 29.75 inches wide.
According to 6 River Systems, Chuck is the best mobile warehouse automation robot available for large, modular, and multi-level workspaces. It comes with a variety of beneficial features as a top-tier bot. These features include:
Up to 6 organizational levels (shelves) for a total of 44.6 ft² of workspace and a carrying capacity of 200 lbs.
Diverse use cases, including putaway, picking, counting, replenishment, and sorting tasks.
A highly configurable body capable of carrying multiple storage and sorting container types (outbound cartons, multiple totes, or canopies), as well as the ability to transport hanging garments, aid mixed picking methods (batch picking, zone picking, etc.), and incorporate equipment such as printers for on-the-go use.
Machine learning and artificial intelligence to help lead warehouse employees through work zones more quickly, minimize walking distance, stay on task, and work more efficiently.
State-of-the-art sensors to help it navigate in any warehouse without the need to add wires, cables, stickers, or new infrastructure.
Awareness of its surroundings, so it can move swiftly around boxes and racks, or slow down when equipment and people are in its vicinity.
Versatility for moving smoothly over all types of warehouse floors, including rack-supported mezzanine.
The ability to find a power station and charge autonomously for 24/7 running functionality. (Chuck can run for 16 hours straight, or approximately two shifts.)
Direct connection to the 6 River WMS for inventory information to help optimize inventory replenishment assignments and routes.
How 6 River Systems Integrates With Your WMS
6 River helps oversee fulfillment operations and maximize throughput with their control center, "The Bridge."
This central hub connects directly to their Chuck robots and gives warehouse supervisors the ability to manage fulfillment operations and connect data from the ground of fulfillment centers to a single, cloud-based command center. But the connections don't stop there.
6RS makes it easy to integrate with other warehouse management systems like Logiwa WMS. Their API connectivity uses JSON and HTTPS as well as a set of adapters to allow them to interface with virtually any type of message format and transport. This allows their solution to work seamlessly with other solutions to drive their Chuck robots.
6 River's integration experts help you define the right criteria for installing Chucks in your warehouse, so you know you are creating the best fleet for your unique fulfillment requirements.
The implementation of Chuck robots can take as little as 4-6 weeks thanks to 6RS's universally recognized lights, images, and prompts. This allows you to adopt robots and expedite training by directing them through collaborative tasks in a very short amount of time.
6 River Systems Cost
One of the primary deterrents for many B2B and B2C fulfillment businesses in adopting autonomous warehouse robots is the perceived cost of purchasing them. That's why 6RS offers an affordable starter kit, as well as a subscription-based system for customers.
Robots as a Service (RaaS) is an intuitive subscription-based way to add powerful autonomous mobile robotics to your warehouse operation without breaking the bank.
According to their website, 6RS offers multi-year rental agreements to support their customers' businesses. For their existing customers, it is also possible to rent additional Chucks during peak periods. This is great news because it allows Chucks to become your temporary workers when demand is high but bandwidth is low.
With RaaS, you can incorporate robots as part of your warehouse operations without taking on overwhelming financial commitments or stressors that come with deployment, integration, and ongoing maintenance.
Additional Warehouse Process Advantages With Robotics
The benefits of implementing warehouse robotics into fulfillment operations speak for themselves, especially when it comes to taking on more orders or expanding your fulfillment network.
But the benefits go beyond fulfillment excellence. Studies show that the average savings of implementing robots in an industrial workplace is 17.71%!
As previously mentioned, robots also help alleviate the physical burdens faced by employees by reducing the number of miles walked within your warehouse each day. On average, one robot can do the walking of 2-3 warehouse employees. In doing so, they reduce the physical stress placed on your staff and allow them to focus on the tasks that require critical thinking instead.
Harness the Power of Warehouse Automation Robots With Logiwa
Logiwa knows that robotics is the future of competitive high-volume DTC operations. That's why we offer free robotics integrations with any robotics platform, including 6 River Systems.
Our cloud-based platform and open REST API make it easy to connect to your preferred stores/marketplaces, ERPs, BI tools, custom websites, and robotics providers.
If you're using Logiwa WMS, you're already overseeing a fully digitized warehouse. This makes adding robots even easier.
As warehousing becomes more competitive and demand continues to rise, it's a good idea to consider the positive impact robots could have on your DTC operations. Rather than thinking of robots as a burden for your business, they could become your single greatest fulfillment asset.
To learn more about warehouse automation or robotics, request a demo of Logiwa today!
Automate jobs within your fulfillment center – either through robotics, smart batching