5 Workflow Automations to Adopt Before Peak Season
Originally published on May 30, 2023 by Erhan Musaoglu, Updated on June 2, 2023
Peak season fulfillment has become one of the most significant challenges in modern ecommerce. If you're a brand, retailer or 3PL (third-party logistics) provider, these cyclical surges in consumer demand require you to fulfill higher order volumes and meet SLAs without sacrificing speed, accuracy, or customer satisfaction.
Failure to learn from past mistakes, adopt competitive technology, or plan effectively for the next online shopping surge has dire consequences even for today's top fulfillment networks. And since peak seasons tend to directly affect the success of the one that follows (e.g. back-to-school, holidays like Christmas and Valentine's Day, etc.), it's even more important to get it right.
Now is as good a time as any to evaluate your warehouse's operational weak points and improve your technological approach before the next peak season arrives. For those still overseeing manual operations using legacy warehouse systems, that means embracing warehouse automation and optimizing workflows.
In this blog we will discuss the importance of workflow automation on peak season success, as well as five types of warehouse automation all operations need to boost productivity and profitability for the next DTC (direct-to-consumer) surge.
Workflow Automation & Peak Season Profitability
Fluctuating consumer trends, manufacturing shortages and setbacks stemming from unforeseeable global events have left today's supply chains and fulfillment operations facing ongoing stress and uncertainty. This has made peak seasons even more intimidating, but it also provides the perfect excuse to identify underperforming processes and enact more lucrative, competitive approaches through workflow automation.
According to Supply Chain Dive's roundup of peak season supply chain trends, only 42% of businesses feel confident in their system's ability to handle peak season and 79% are turning to warehouse management solutions to improve profitability. The key to avoiding inventory shortages, mis-shipments, and unexpected disruptions during peak season is indisputably warehouse automation.
If you're not sure how to get started, let's cover the 5 primary types of workflow automation that will benefit your operations the most.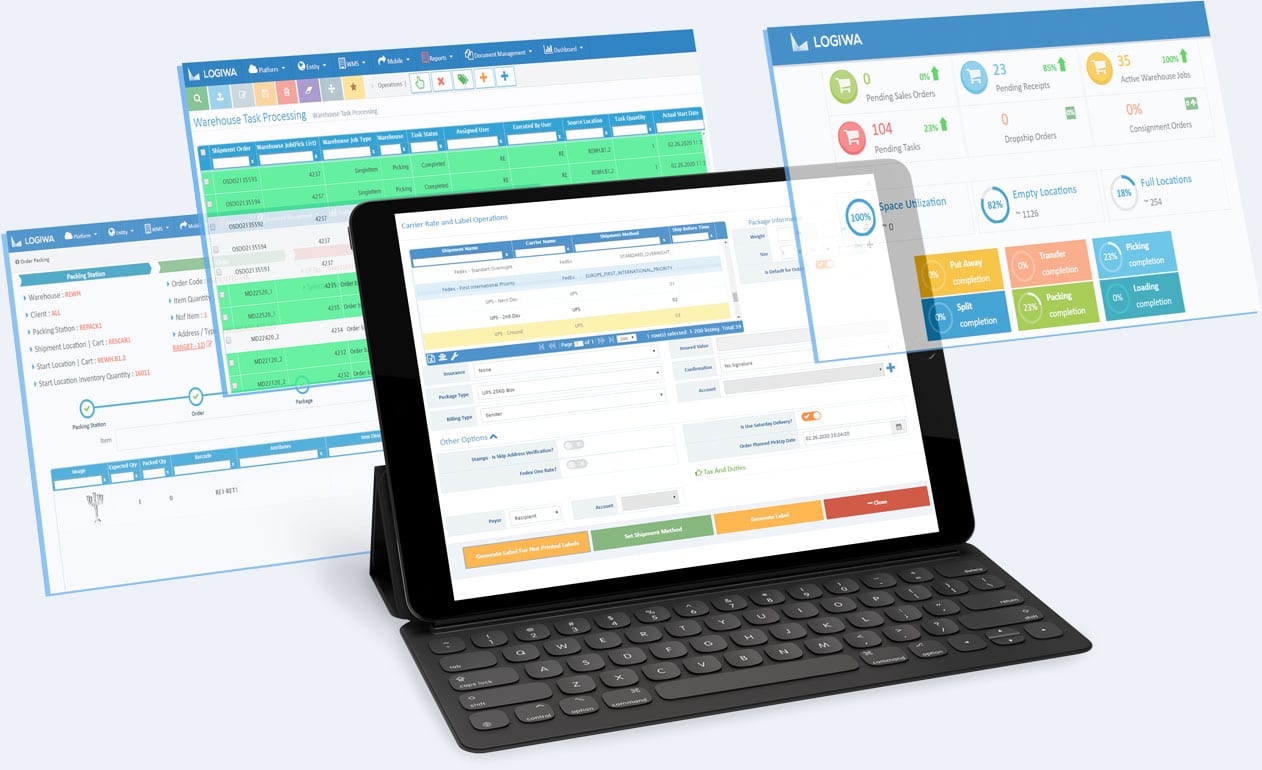 Transform your warehouse to a DTC fulfillment center
5 Workflows to Automate Before Peak Season
Embracing workflow automation has a profound impact on warehouse efficiency and simplifies the fulfillment process from start to finish. That said, warehouse automation comes in many forms, and there are 5 critical processes to streamline for DTC fulfillment during peak season.
#1 Job Creation
During peak season, high order volumes can leave your warehouse scrambling to stay on top of incoming orders and deadlines effectively. Automating job creation allows you to enter criteria (e.g. a set of orders that needs to be assembled and ready for pickup by a certain time or for a specific geographical location), and then let your system do the work of grouping orders into jobs based on priority.
From picking and packing orders to shipping them, automated job creation helps expedite internal warehouse processes and execute higher levels of fulfillment accuracy. Workflow automation approaches like this can be further enhanced using storage and retrieval systems, goods-to-person systems and automated dimensioning tools, so the correct products are picked and packed every single time.
Simplifying single item orders and multi-item job orders across one or more of your warehouses can be accomplished through the use of a modern warehouse management system (WMS) and relieve other fulfillment pressures all peak season long.
#2 Product Inventory Management
During peak season, you've got more items moving in and out of your warehouses than other periods throughout the year. That makes processes like optimizing inventory storage, forecasting accurate demand, tracking daily inventory levels, and overseeing replenishment (and appropriate levels of safety stock) vital for meeting demand and managing carrying costs.
Smart warehouse management solutions can execute workflow automation for each of these processes because they have real-time visibility in your inventory data and are integrated with online ecommerce platforms, as well as analytics tools and your internal warehouse technology. They keep your storage optimized (e.g. directed putaway) so items are in the best possible location for smooth picking and packing operations, as well.
Wearable technology, sensors, and automated storage systems help keep track of all the moving pieces of your operation and communicate them directly to your WMS to ensure optimized warehouse operations. This area of warehouse automation is especially helpful during peak seasons because it can take over time-consuming tasks, maintain stock control and accurately track items throughout multi-location warehousing networks for you.
#3 Order Routing
Peak season is hard enough for one warehouse, let alone if you've got multiple facilities within your network. Automating order routing helps to direct incoming ecommerce orders to whichever one of your warehouses is the closest to your buyer's location. If that facility is out of stock, your WMS can redirect the order to one with the appropriate items or help transfer what's needed to the ideal fulfillment center, all while ensuring replenishment processes continue uninterrupted.
This form of workflow automation leads to faster fulfillment, lower shipping costs (for you and your customers), the avoidance of duplicate shipments, and smoother inventory management overall. For an in-depth look at smart order routing, check out Logiwa's Smart Order Routing blog.
#4 Walking Path Optimization
For most warehouses, labor can be one of the most costly resources to manage (70% according to some industry experts), especially if picking and packing make up 50% of your warehouse's labor budget. During peak season, motion waste adds even more to this necessary but expensive line item.
Walking path optimization is a key way to cut down on motion waste and minimize the amount of inefficient walking done by your warehouse pickers. Rather than wandering up and down the warehouse floor gathering items and rushing them to the next area in your fulfillment process, a smart WMS can optimize the layout of your warehouse and devise optimal routes for your workers to take automatically.
This type of warehouse automation leads to effective storage management, smoother facility activities, cost-savings, and less burnt out employees during peak season. Learn more in our blog, "Peak Season Pitfalls: 8 Mistakes Brands Should Avoid."
#5 Receiving & Shipping
During the busiest order seasons of the year, you can't afford human error slipping in or disruptions derailing your fulfillment schedule. In fact, you can't really afford any processes that create additional work. That's where a WMS and smart automation rules can help, especially with inbound and outbound activities.
Workflow automation aids receiving and shipping operations by ensuring your team does not have to manually enter information like product type, compliance tags, or other categorical data into your system. It helps with package dimensioning, label creation (e.g. shipping label creation as new orders arrive), and last-touch steps before shipping, so all inbound and outbound processes are accomplished with maximum speed and accuracy.
Using smart automation rules, a WMS can automatically select the most cost-effective shipping routes for each order as well. This makes multi-carrier operations easier and ensures that the best shipping rates (via shipping rate shopping) and routes are executed without any extra decision-making involved. Your system simply knows which carriers to choose based on your automation rules to keep orders flowing to your peak season shoppers.
Workflow Automation for Brands, Retailers, and 3PLs
These days, warehouse management solutions are packed with configurable automation functions aimed at streamlining fulfillment. They not only help in major areas like receiving and putaway, picking and packing, replenishment, and shipping – but can take on even more specific processes like labeling, dimensioning, rate shopping, shipping box selection, and sorting to help tame the chaos created by peak buying seasons.
Logiwa WMS was built specifically to handle high-volume DTC fulfillment and enhance modern warehousing with flexible workflow automation capabilities. Our industry-leading cloud native platform uses real-time data to help you get up to 100% inventory accuracy and 2.5x shipments, making fulfillment during peak season easier and more profitable for brands, retailers and 3PLs.
Learn more about the countless ways Logiwa WMS can aid you next peak season by reading our customer case study on Deliverr, or contact our team for a free consultation and demo today.
Make high-volume order fulfillment your competitive advantage
Warehouse Management
Modern digital WMS powers a modern fulfillment experience