5 Ways You Can Succeed as a High-Volume DTC Business
Originally published on August 18, 2023 by Erhan Musaoglu, Updated on August 31, 2023
The weather isn't the only thing heating up these days. Studies predict that direct-to-consumer (DTC) sales in the United States will skyrocket to nearly
161 billion US dollars by 2024
, and there's little chance it will slow from there.
Since the pandemic, consumers have come to favor ecommerce over brick-and-mortar stores, and the convenience and choices shoppers have grown accustomed to have continued to create numerous challenges for DTC businesses.
So how can you adapt to stay competitive? How can you help your DTC operations grow and keep up with demand—without overheating? Start by implementing these five success strategies.
1. Scale Up Your Infrastructure
Architects of skyscrapers know that growth can't exist without flexibility. DTC operations are much the same. The first step in preparing for DTC success is to develop a scalable infrastructure that can handle increasing order volumes. To do this, you must embrace technology and automation.
The right warehouse management system (WMS) makes it easy to scale without sacrificing consistency. Logiwa's WMS cloud-based SaaS software allows you to manage high-volume DTC orders with a variety of features, including:
Highly connected with pre-built API integrations and webhooks
Flexible mobile-friendly platform
AI-powered algorithms
Seamless integrations and effortless scalability
Rapid configuration and implementation (6-8 weeks)
Whether you're adding new fulfillment centers to your network, taking on more orders or enabling automation to make picking and packing quicker, the Logiwa WMS system can take your warehouse efficiency to the next level.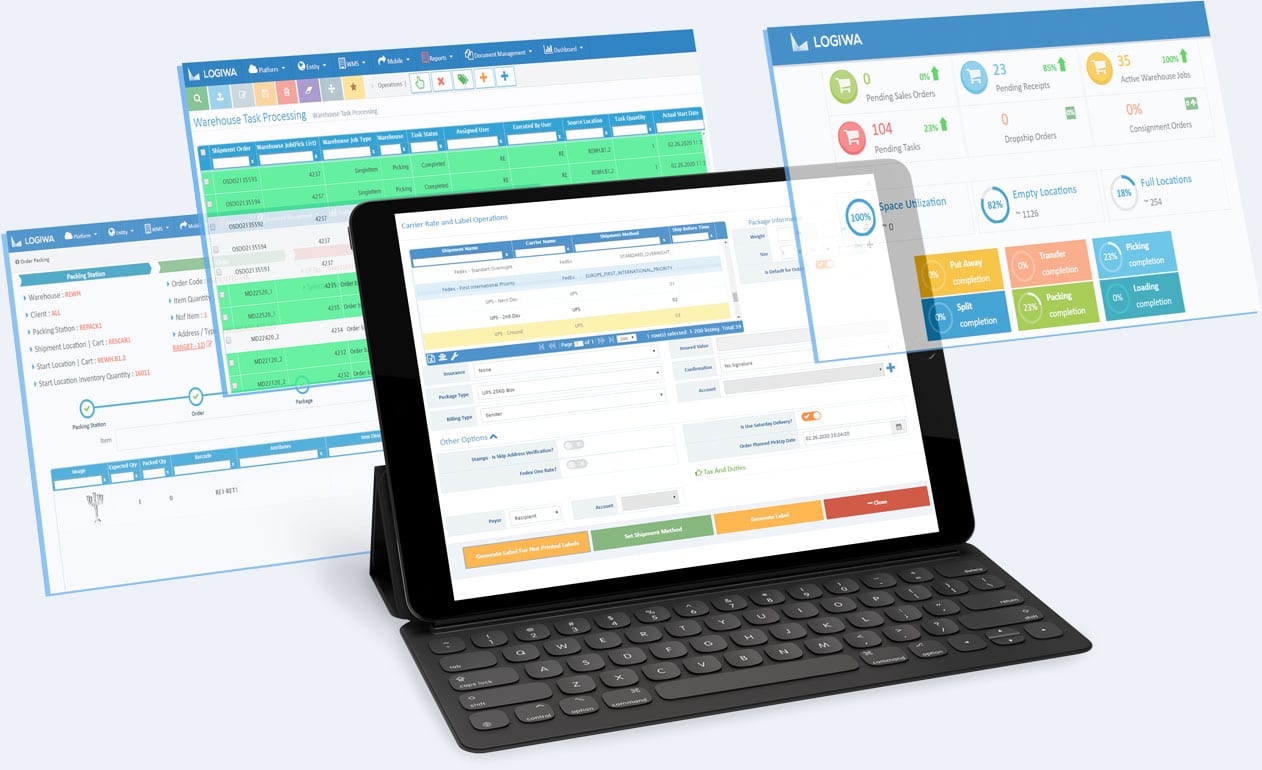 Transform your warehouse to a DTC fulfillment center
2. Streamline Your Order Fulfillment
In today's hyper-competitive ecommerce landscape, customer satisfaction is essential to the success of your DTC business. And what's essential to customer satisfaction? Order accuracy and fulfillment speed.
Long delivery times and errors in order processing will lose you customers and harm your reputation. Research shows that as much as 41% of online shoppers now expect 24-hour delivery, and 24% expect 2 hours or less.
Logiwa's multi-carrier shipping integrations connect your warehouses with today's top shipping companies (like FedEx, DHL, UPS and more) to ensure accurate, on-time deliveries. And with advanced algorithms and software integrations, you will be able to stay ahead of high-volume orders with fast, reliable shipping and impressive data analytics.
Logiwa WMS shipping integrations help maximize cost-savings and customer satisfaction with features like carrier rate shopping, automated box selection, smart label printing, order tracking and more.
3. Make Your Customer Service Shine
According to research, 94% of customers say they're more likely to purchase again after a positive customer service experience. In the DTC world, exceptional customer service is non-negotiable.
Moreover, 61% of consumers say they'd switch to a competitor after just one poor customer service experience. One strike is all you need to be out these days.
To enhance customer service and support, consider investing in chatbots, powered customer service tools, and 24/7 support channels. When you're able to address customer questions and resolve issues promptly, you're building trust and nurturing loyalty to your DTC brand.
Related: Best Customer Experience in Peak Season—Is Your Business Ready?
4. Use Your Data to Drive Decisions
In the age of big data, leveraging information can make or break your DTC business. But how do you do it without having to recruit data professionals and expend time and money on set up?
The answer is: Logiwa WMS Analytics. Logiwa's advanced analytics capabilities collect and analyze sales patterns, seasonality and market trends to optimize inventory levels, reduce carrying costs and prevent stockouts.
You can also gather data on employee performance and workload distribution, order fulfillment rates, inventory turnover and much more. Best of all, you can configure and create customized reports and dashboards that only show the data most relevant to you, so you're always ready to meet demand and stay ahead of the curve.
5. Get Creative with Your Customer Acquisition
Competing for attention in an always-on ecommerce world can be daunting. With traditional retailers entering the DTC arena and competing with digitally native brands, it's getting harder to stand out from the crowd.
One of the biggest pain points for DTC businesses is the restrictions around third-party data. It's not as easy to target customers to grow your DTC brand as it used to be, but it doesn't mean it's not possible. Leverage DTC marketing channels like social media platforms, build partnerships with influencers, and diversify your marketing channels with SMS, email and print to get consumers to notice you.
Did You Know:
Retail ecommerce sales made on mobile phones are expected to account for more than
44% of total sales by 2025.
Your Future DTC Success And Growth Starts with Logiwa
To truly thrive in today's booming ecommerce market, you need a solid game plan to navigate the peaks and valleys of high-volume DTC fulfillment. Everything must scale: your infrastructure, order fulfillment, customer service, data analytics and even your acquisition marketing.
The good news is partnering with Logiwa makes navigating these high-volume fulfillment waters and growing your DTC brand a lot easier.
To start putting these successful strategies into action and set your high-volume fulfillment business up for success, visit logiwa.com/request-a-demo today.
Scale up B2C fulfillment operations with an integrated digital warehouse and fulfillment system
Warehouse Management
Modern digital WMS powers a modern fulfillment experience