5 Trends Reshaping the Logistics and Fulfillment Landscape
Originally published on July 21, 2023 by Erhan Musaoglu, Updated on October 16, 2023
While some predicted the world would return to pre-pandemic shopping (and shipping) conditions, what occurred instead surprised even the most optimistic retailers. Brick-and-mortar shops may have reopened, but the overwhelming trend continues to favor online shopping. According to
Statista
, ecommerce growth has been significant, with revenue generated by online consumerism forecasted to increase by USD 509.4 billion between 2023 and 2027, and reach an estimated USD 1.4 trillion in 2027.
Amid the rise of a click-and-ship economy, what matters most is how purchases get from retailer to consumer. From last-mile delivery innovations to the integration of artificial intelligence and automation, the current fulfillment landscape requires DTC operations to streamline processes and maximize efficiency to win and retain customers.
Trend #1: Robotics for All
One of the leading logistics trends is the use of automation and robotics technologies to streamline fulfillment operations. Research shows that ecommerce and grocery sectors will generate the largest demand for warehouse automation equipment, seeing growth reaching high into the double digits by 2027.
While the tech is cool, the benefits are a no-brainer: automated picking systems help improve fulfillment accuracy and speed, and robots can take over repetitive tasks to reduce physical strain on human workers. Software providers like Logiwa are helping businesses succeed by making the use of robotics even more accessible.
Logiwa offers a highly configurable WMS and fulfillment solution that has pre-built robotics integrations. By partnering with providers like Locus Robotics, Dematic Robotics and 6 River Systems Robotics, Logiwa makes it easy to get started with AMRs, picking bots and drones today, not years down the road. Logiwa also offers free integration with any robotics provider to encourage companies who are hesitant to invest in automation.
A 2022 report estimates 4 million commercial warehouse robots will be installed in over 50,000 warehouses by 2025.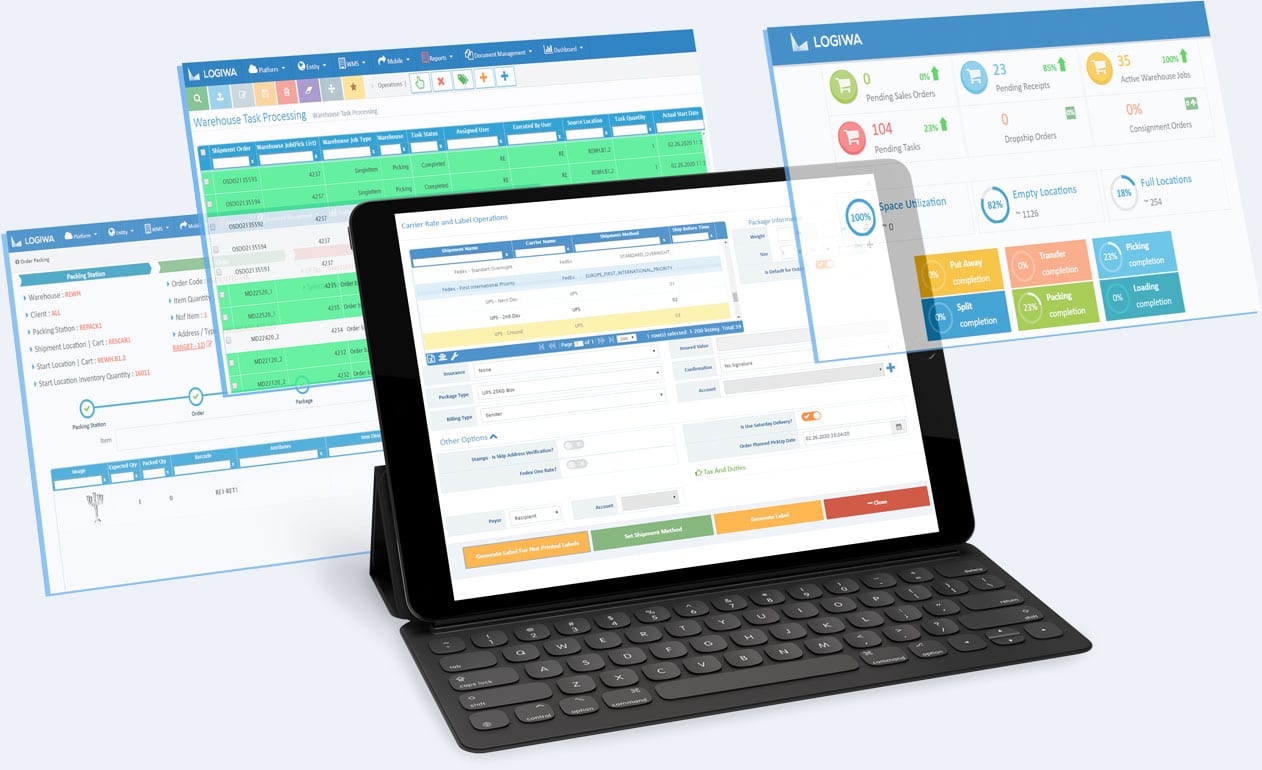 Transform your warehouse to a DTC fulfillment center
Trend #2: Think in Omnichannel
Customers are spoiled by 24/7 online shopping and next-day delivery trends. As a result, logistics companies must ensure online and offline channels are seamlessly integrated to meet demand.
Omnichannel fulfillment strategies are crucial to meeting (and exceeding) ever-evolving customer expectations. The latest best practices include:
Robust inventory tracking: Advanced inventory management systems can track orders and stock across multiple channels, provide real-time updates and enable efficient order processing.
Integrated WMS platforms: Logiwa's Cloud Fulfillment Platform gives you a competitive edge with real-time inventory updates, streamlined order processing and enhanced supply chain visibility that can keep up with high-volume orders.
Dynamic order fulfillment: Methods like ship-from-store leverages inventory from multiple locations, making it easier to fulfill online orders quickly while reducing delivery time and costs.
Related: Top 8 WMS Software Benefits for Your Business
Trend #3: Decisive Data
You may not have a crystal ball, but you have information. And nothing gives you the power to make effective decisions like combining the right data with predictive analytics. Implementing BI and analytics tools is crucial in the fulfillment landscape and will continue to be a trend past 2023 because it allows you to:
Optimize supply chain efficiency
Implement predictive maintenance strategies
Minimize transportation costs
Enhance customer satisfaction
With the power of data analytics and predictive insights, logistics and fulfillment operations can become more efficient, responsive and proactive—a huge competitive advantage in a dynamic and rapidly-moving industry.
The global market for supply chain analytics is expected to reach $38.78 billion by 2032, growing at a CAGR of 18% from 2023 to 2032.
Trend #4: Advanced Intelligence
Traffic apps. Smart thermostats. E-transfers. Artificial intelligence (AI) and machine learning (ML) are part of our everyday lives. They're also revolutionizing logistics and WMS processes. Here are some ways AI is making an impact in fulfillment:
Demand forecasting: AI algorithms can analyze large amounts of data faster than humans, making it easier to accurately forecast future demand patterns.
Inventory optimization: Software that makes it easy to sync real-time inventory levels with revenue information to prevent overstock and stockouts, grow online sales and manage your bottom line better.
Automated sorting and picking: Using machine learning algorithms, AI-powered sorting and picking systems can handle more products and fulfill more orders at a higher rate of efficiency.
Intelligent virtual assistants: AI-driven virtual assistants can handle customer inquiries, track shipments, and provide real-time updates (without ever calling in sick).
Trend #5: Winning the Last Mile
In any race, the final leg makes or breaks a winner. That's why last-mile delivery has led to some exciting innovations like drone delivery, which makes it possible to reach remote areas and reduce delivery times. Similarly, autonomous vehicles improve efficiency and reduce labor costs, and offer the added benefit of minimizing the environmental impact of traditional delivery vehicles. For even more sustainability, crowd-shipping is a cost-effective use of the sharing economy, connecting people who are willing to deliver packages to local destinations.
Big Changes Bring Big Opportunities
There is no question that we're already in a new era of fulfillment shaped by futuristic logistics trends. Thanks to cloud technology, the integration of automation, robotics and AI into logistics and fulfillment processes is a reality, not a dream. With the ability to store and process vast amounts of data, collaborate in real-time, and leverage advanced analytics, cloud-based WMS systems are revolutionizing supply chain management.
Now is the time to embrace the trends and leverage the power of this technology to gain a competitive edge in the ever-evolving landscape and trends of logistics and fulfillment. Are you ready?
Get Ahead of What's Next
Logiwa is already integrating future technologies into our platform and closely following logistics and fulfillment trends. Book a demo to see how we can propel your high-volume fulfillment business forward.
Logiwa Ecommerce fulfillment software pre-integrated with all your sales channels and order management platforms
Warehouse Management
Modern digital WMS powers a modern fulfillment experience