4 Warehouse Fundamentals for Peak Season Success
Originally published on August 5, 2022 by Logiwa Marketing, Updated on June 2, 2023
Holiday commercials seem to be running earlier and earlier each year. Long before kids are headed back to school, we're seeing advertisements for Halloween candy. And before Thanksgiving is even over, promotions for Black Friday and Christmas are already taking over the media. The same can be said for getting an early start Valentine's Day, Mother's Day, and Fourth of July weekend…
No matter what time of year it is, there's always a new peak shopping season on the horizon. For retailers, brands, and 3PLs—that means prepping early and amping up warehouse operations to be able to handle the influx of online orders. Only one question remains: Is your warehouse ready?
In this guide, we'll be looking at:
Defining Peak Season in Warehousing
Peak seasons are periods characterized by high-volume ordering and in-person shopping. And while this can include any number of seasonal upticks in consumerism trends, there's one particular peak season that reigns supreme for ecommerce and supply chain operations.
In North America, warehousing's peak season runs from Halloween through the New Year, or October through January. Some key dates to keep in mind for preparing your logistics operations:
Halloween (October 31)
Black Friday (the day after Thanksgiving)
Cyber Monday (the Monday after Black Friday)
Super Saturday (the last Saturday before Christmas)
Christmas Week (December 25)
New Year's Day (January 1)
Why is Peak Season Important for Warehouse Operations?
Peak season means increased demand for warehouse operators, and that inevitably comes with increased challenges as well. Without proper planning for peak season (you should start around July or August), your fulfillment operations could face significant warehouse limitations, logisticsal setbacks, difficulty balancing inventory, and labor shortages – all of which can result in difficulty meeting demand, failure to uphold SLAs, and fulfillment problems like late orders and mis-shipments.
Since peak season is seen as an opportunity to grow profits and customer base, unhappy clients and dissatisfied customers can make or break your long-term operational success. Proper planning for peak season helps, and it involves four key steps to ensure your fulfillment network navigates and survives the increased demand.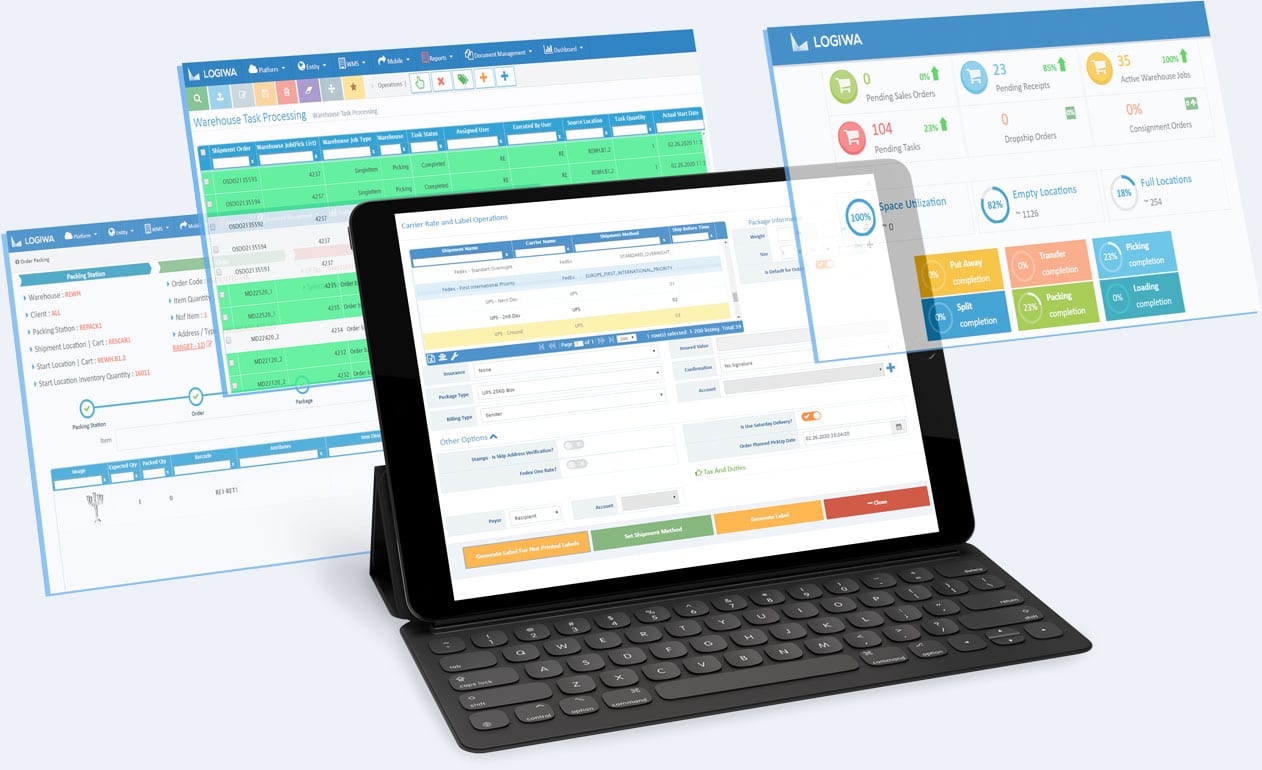 Transform your warehouse to a DTC fulfillment center
4 Warehouse Fundamentals for Peak Season Success
Summertime is the perfect time to evaluate the efficiency of your warehouse, especially the efficiency of your fulfillment processes, and make the necessary enhancements to crucial elements in advance of peak season, including:
#1 Labor Planning:
Establish whether or not you have enough staff to handle the increased demands of peak season. That includes executing extra training initiatives to ensure your entire staff is comfortable with the technologies used in your warehouse, creating dynamic and flexible schedules to keep up with demand and workloads, and even hiring temporary workers if necessary. As an added measure, you may need to consider adding in supplementary robotics to help automate repetitive workflows and keep operations running 24/7.
#2 Optimized Warehouse Layout:
Identify bottlenecks and high-traffic areas with zone strategies to help you get orders out quickly. Streamlining your operations will improve the efficiency of your pick and pack processes. Optimize your storage space by maximizing vertical space and shelf depth, or consider using additional warehouses in peak season. And whenever possible, streamline fulfillment with warehouse automation.
#3 Get your Inventory Ready:
It's essential to start the peak season with accurate inventory to avoid surprise shortages or misplaced stock. Moreover, before peak season, evaluate your inventory management strategies to establish a system that will help you meet the surge in high-volume ordering. This can include adding in more safety stock, automating replenishment, or even re-organizing your storage systems to make fulfilling fast-moving or top-selling products easier.
#4 Putting Data to Use:
Data is your friend no matter what time of year it is, but it is particularly critical for preparing for peak season. You can use historical data and real-time monitoring to develop the best game plan for your operations.
Historical data can be used for executing a proactive approach peak season activity, including demand forecasting, labor planning (e.g. training staff based on previous peak season issues, organizing teams and shifts to maximize productivity, calculating the number of people you need, etc.), calculating risk, and showing you what to expect based on past activity.
Real-time data visibility can give you timely, accurate, and actionable insights into your operations, as well as help you track shipments, deliveries, returns, and current orders and inventory levels to prevent shortages or overstock.
Peak Season Tech Advantages
Warehouses can no longer operate with manual processes and spreadsheets alone. To be successful, you need to upgrade from legacy systems and implement modern technologies designed for high-volume, DTC fulfillment. To meet peak season needs, consider the following technologies:
Warehouse Management Systems (WMS): WMS software can provide real-time inventory monitoring, optimized labor and storage management, workflow automation, and cost-effective shipping to help you achieve fulfillment excellence.
Additional supply chain technologies: These sorts of technologies include solutions for product lifecycle management, transport management, labor planning, and other processes that may benefit from computer enhancement.
Automation: Automating fulfillment processes is vital to boosting efficiency and meeting the demands and workloads of peak season. Some of the most beneficial examples include automated storage and retrieval systems, smart picking and packing software, sorting and dimensioning tools, AMRs (autonomous mobile robotics), and high-efficiency replenishment systems.
Integrated systems: An effective WMS will integrate with your preferred ecommerce channels, online marketplaces, shipping carriers, and robotics companies. It should also be able to connect effortlessly with billing and invoicing systems, labor management software, resource planning solutions, and the tools within your warehouse: barcode scanners, hand terminals, mobile printers, and more.
To learn more about preparing your warehouse for peak season, check out Logiwa's QuickTake webinar, "Tuning Up Your Warehouse for Peak Season."
Planning for Peak Season with Logiwa WMS
With automation tools, warehouse efficiency planning, real-time data, and 24/7 visibility into your operations, WMS software can help you plan for a great peak season and set you and your clients up for success year-round.
Logiwa WMS is the only scalable cloud fulfillment platform designed specifically for the needs of high-volume B2B, DTC, and hybrid operations. We help warehouse operations achieve up to 40% higher labor efficiency, save an average of 8% on shipping costs, and triple the number of shipments in weeks instead of months!
See for yourself how we helped Deliverr a handle 10x volume increase during their peak season without a hitch. To learn more about how Logiwa can help your business, contact a member of our sales team to request a free demo of our system.
Run a fully digital warehouse with mobile apps, smart job batching, automation rules